Escape from Tarkov has rapidly become a solid favourite for many, with its hyper-realistic gameplay offering a new and engaging experience for fans of the loot and shoot battle royale genre. However, there is still some confusion for new players as to where the game can be purchased, and how to install it. This article will hopefully ease that confusion, and instead, point you in the right direction.
Due to the game still being in its beta stage, it isn't available for purchase on well-known platforms such as Steam, but rather exclusively through the game's official website. In addition to this, Escape from Tarkov technically can't be purchased outright because it is not yet a complete and officially released game. Instead, the game can be bought within the idea of a 'pre-order' as you are pre-ordering a finished game before it has been released.
Until then, you will only have access to the game in its beta form, where a smooth, bug-free gameplay is not a 100% certainty, and major changes to how the game functions can happen at any time.
Having said this, for a game of this size and complexity, it does run at a very well and will provide an enjoyable experience so you can be sure that it won't simply be money wasted.
Four versions to choose from
Once on the official Escape from Tarkov website, you can click the large pre-order image which will take you to the pre-order page, and it is here where you can choose between four different versions of the game, each one increasing in value and content – the Standard Edition, the Left Behind Edition, the Prepare for Escape Edition and the Edge of Darkness Limited Edition – with prices starting at £34.99 and increasing all the way up to £109.99.
Each version offers an increased inventory size, vitally allowing you to carry more weapons and resources, and also gives you a larger array of starting items making those first few raids less daunting.
Step-by-step Guide
To make the whole process as easy as possible, we have put together this step-by-step guide on how to purchase and download Escape from Tarkov:
Step 1:
Head to the Escape from Tarkov official website and click on the pre-order button shown in the image below.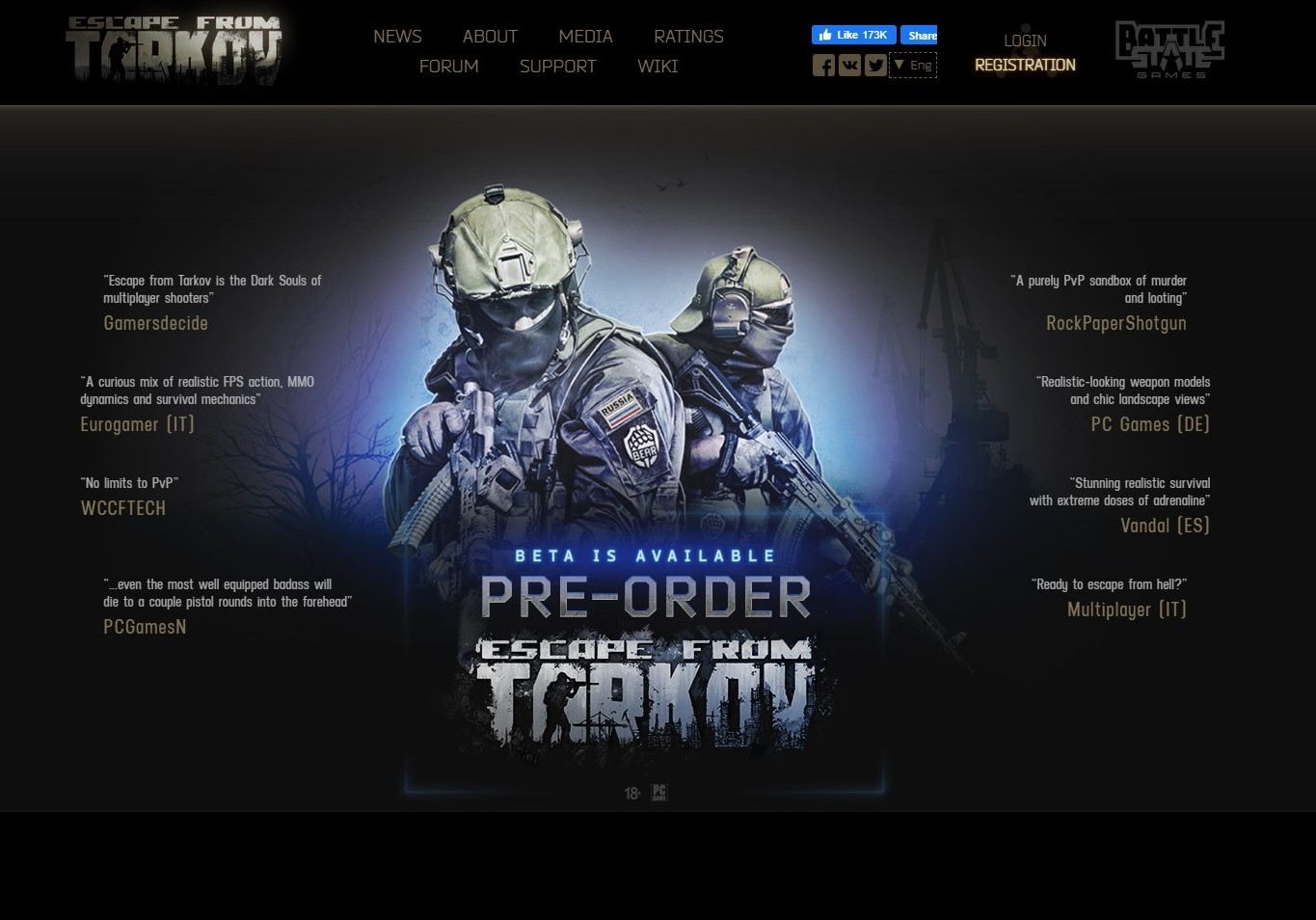 Step 2:
This will take you to product page where the four different versions of the game are available for you to choose and purchase.
Step 3:
After deciding which version you would like, follow the on-screen instructions and complete the purchase and account registration.
Step 4:
Once the purchase has been successful, head back to the homepage and login using your new account credentials.
Step 5:
Within your profile, you should now see the version of the game you purchased and a button telling you to install the Battlestate Games Launcher. Click this and begin the installation. (If your profile is empty, simply refresh the page by pressing 'ctrl + F5' and your purchase should appear).
Step 6:
Once the launcher has downloaded, open it up and you should be directed to begin the installation of the game itself. Click the install button and follow the instructions during the installation process until the game is fully downloaded.
One thing we will recommended at this stage, is to install the game onto your SSD drive. This is because an SSD has faster read and write speeds than an HDD and so will make the game run a lot quicker, as loading times will be reduced. If you don't currently have an SSD in your system, we would definitely recommend making the upgrade as it will noticeably improve your PC experience. Here is an article that explains why SSDs are so great and why every PC needs one.
Step 7:
After following these instructions, your game should now be fully installed, and you are ready to load up the Battlestate launcher and dive in to your first raid in Escape from Tarkov!
Issues?
If, however, when you start playing the game you notice that it isn't running as smoothly as you had hoped, there are a few tweaks and changes you can make that should improve its performance noticeably. To help you with this, we have put together a comprehensive guide that highlights a multitude of these possible alterations, that when followed, will improve your gameplay experience for the better.
More resources:
Check out this article if you still aren't sure on the PC requirements for Escape From Tarkov!