When customising a PC it's easy to assume that the fastest CPU or video card will bring the biggest boost to system performance. In actual fact, your storage system is most likely to be causing the biggest bottleneck.
If we look at how the performance of PC components has evolved over the last ten years, CPUs and video cards are anywhere from 50-100x faster depending on the benchmark. Hard drives, on the other hand, are only around 1.5x quicker, so it has become a massive bottleneck in an otherwise very rapid modern PC architecture. An SSD is anywhere from 5 and 500 times the speed of a mechanical drive, an advantage that is particularly pronounced when performing multiple tasks at once.
A mechanical hard drive can be likened to a record player. In the same way as you cannot play two vinyl tracks at the same time, the reading head on a hard disk can only be in one place at any given time. This means that when performing multiple read and write requests, the reading head wastes more time flicking back and forth across the surface of the disk than it does reading data.
Let's take a look at some numbers to back this up: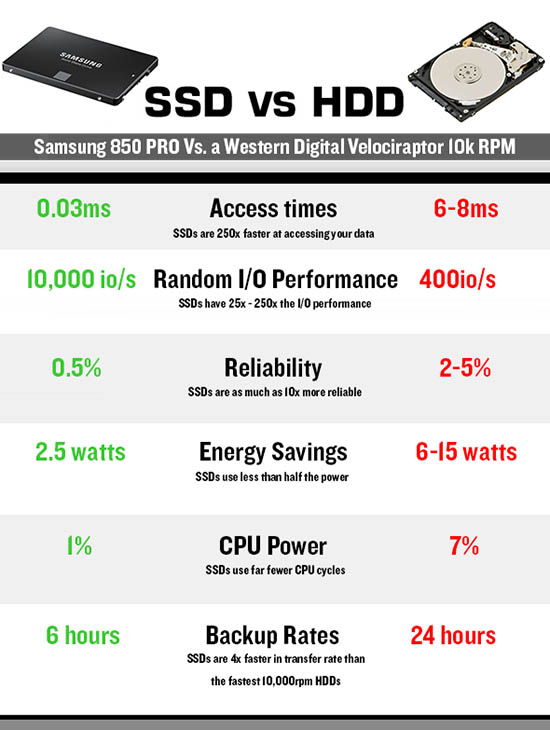 As you can see, even the fastest mechanical drive on the market gets absolutely destroyed by a Samsung SSD drive in every drive metric.
Why Samsung?
At the time of writing, Chillblast exclusively uses the Samsung 850 series of 2.5" SSDs. By partnering with Samsung we are able to offer drives with the strongest compatibility and the lowest failure rate of any manufacturer. It's easy to be blinded by blistering read/write speed claims but it's just as important to consider reliability – after all you don't want the inconvenience of data loss, even if you make regular backups. With Samsung you don't have to choose – Samsung SSDs are both the fastest, and the most reliable. It's simple common sense.
Samsung 850 EVO
Samsung's unique and innovative 3D V-NAND flash memory architecture used in the 850 EVO is a breakthrough in overcoming the density limitations, performance and endurance of today's conventional planar NAND architecture. 3D VNAND is fabricated by stacking 32 cell layers vertically over one another rather than decreasing the cells dimensions and trying to fit itself onto a fixed horizontal space resulting in higher density and better performance utilizing a smaller footprint. Samsung 850 EVO drives are available in capacities as large as 2TB per drive, and deliver blistering performance:
– Sequential Read: 540Mbps
– Sequential Write: 520Mbps
– 4KB Random Read (QD1): Max 10,000 IOPS
– 4KB Random Write (QD1): Max 40,000 IOPS
– 4KB Random Read (QD32): Max 98,000 IOPS
– 4KB Random Read (QD32): Max 90,000 IOPS
– Reliability: MTBF: 1.5 million hours
– Warranty: 5 Years
Samsung 850 PRO
The Samsung SSD 850 PRO delivers builds on the solid foundation of the 850 EVO by offering even faster read speeds with exceptionally high endurance. The series provides the highest performance of any SSD with a SATA III (6Gb / s) interface. The sequential read performance is achieved up to 550 megabytes per second, the Write performance up to 520 MB / s The random read performance of up to 100,000 Input/Output- Operations per second (IOPS), the write speeds up to 90,000 IOPS.
– Sequential Read: 550 MB/s
– Sequential Write: 520MB/s
– Random 4KB IOPS Read (QD=1): 10,000
– Random 4KB IOPS Write (QD=1): 36,000
– Random 4KB IOPS Read (QD=32): 100,000
– Random 4KB IOPS Write (QD=32): 90,000
– Reliability: MTBF: 2 million hours
– Warranty: 10 Years
As you can see, the benefits of having an SSD at the heart of your system is obvious. For more information about the SSD advantage please give your friendly Chillblast representative a call on 01202068333 or email us at [email protected].
More resources:
Check out this blog for a look at the Barracuda range of SSDs on offer by Seagate!