Seagate – a Slumbering Beast Awoken
After a very late arrival to the SSD party, Seagate has been releasing new products at a furious rate. Its initial 2.5" offerings were competitive with industry stalwarts Samsung and have been priced more competitively, whilst the firm's Barracuda and Firecuda 510 M.2 drives once again compare pretty favourably to the Samsung 970 EVO series that have been enthusiast favourites for so long. With this new Firecuda 520 M.2 drive, however, Seagate is one of the first manufacturers to take advantage of the new PCI Express 4 technology available on the latest AMD Ryzen chipsets.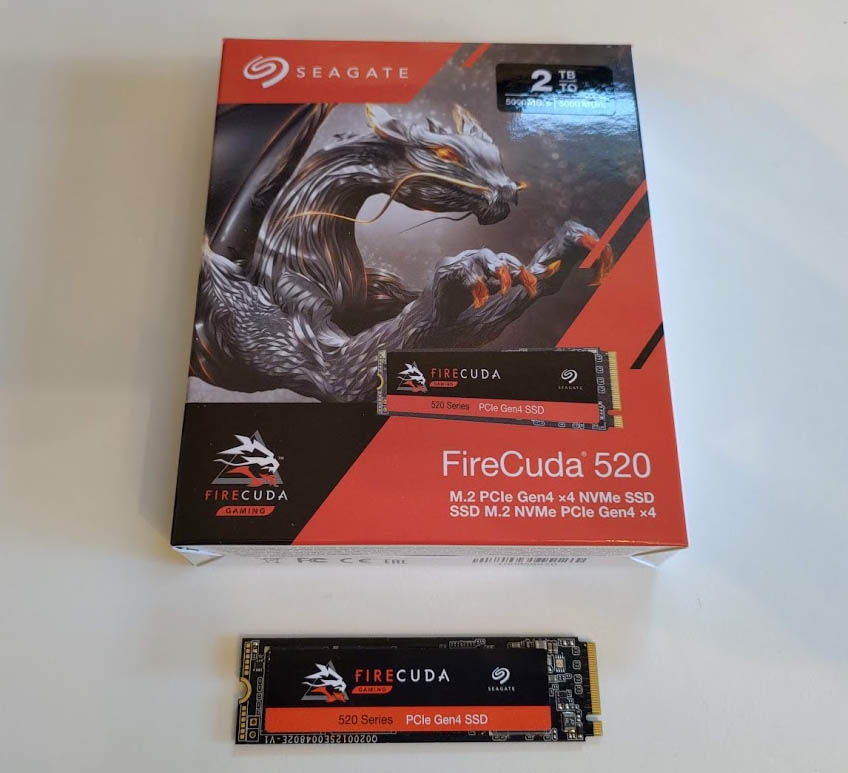 What is PCIe 4?
PCIe 4.0 offers double the peak theoretical bandwidth of the previous 3.0 specification and is featured in AMD's X570 (Ryzen) and TRX40 (Threadripper) chipsets. At time of writing, Intel's most advanced chipsets – the Z390 and positively ancient HEDT X299 – remain limited to PCIe 3.0. Does this really matter? Well, yes it does.
Current flagship M.2 SSD drives are so fast that the 3500-3600 MB/s they max out at when reading and writing is because of PCIe bus saturation rather than a limitation of the chipsets themselves. Unfortunately, plugging a PCIe 3.0 drive into a PCIe 4.0 slot doesn't magic up any extra bandwidth; you need support at both a chipset and an SSD controller level.
Enter the Seagate Firecuda 520
Seagate's FireCuda 520 series is one of only a few PCIe 4 drives to hit the market, and the first from a storage-focussed manufacturer. Like other PCIe 4 drives we've seen from Gigabyte and Corsair, Seagate's new flagship uses the Phison E16 controller. The headline quoted figures are mighty, with a quoted sequential read of 5,000MB/s and a sequential write of 4,400MB/s. IOPS are rated at up to 760,000 and there is a 3600 TBW endurance rating on this 2TB model – the largest available. How does that compare to the Samsung 970 EVO, long a Chillblast favourite? Very favourably is the answer.
Samsung claims sequential maximum throughput of 3400MB/s and 2500MB/s for Read and Write respectively, while the IOPS rating of Samsung's largest NVMe is 500K. Endurance-wise Seagate has really taken its rival to the sword – the 970 EVO is rated to only a third of the Firecuda's 3600TBW rating with just 1200 TBW.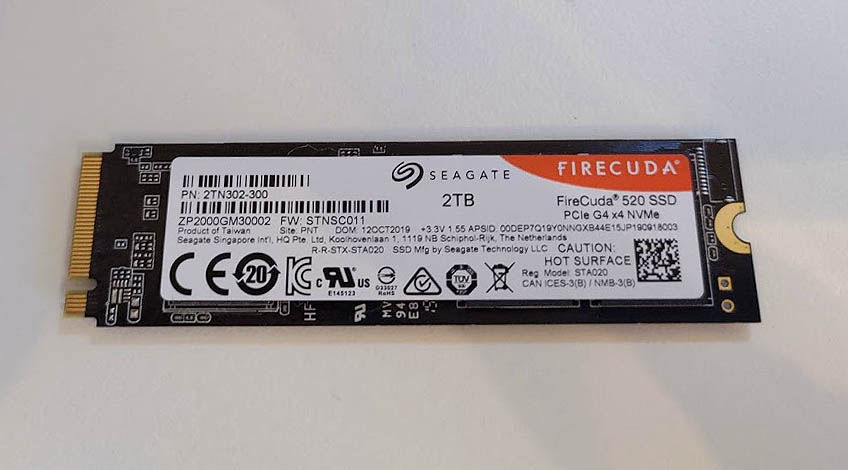 All of Seagate's drives benefit from the free Seatools software that allows you to monitor the health status of your drive, perform a secure erase, update the firmware and clone your data to a new drive.
Benchmarks
In Crystal Disk Mark, the Seagate Firecuda 520 is the first M.2 drive we've seen to bust through the 5GB/s barrier. Sequential write speed was no less impressive, with the drive recording an epic 4.3GB/s. That's nearly a full GB/s quicker than Samsung's market leader. Things are a lot closer when we look at small file random read and write performance, but the Firecuda 520 is still meaningfully faster than the 970 EVO Plus.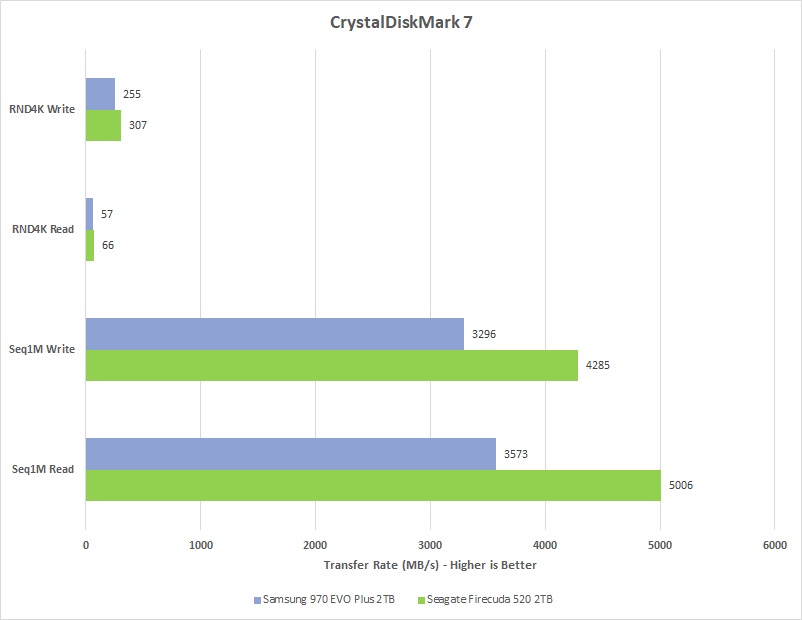 Game Load Times
Moving onto real-world gaming tests, we see that the Firecuda 520 doesn't really load environments any faster than other M.2 drives. That's due to a mixture of factors. Firstly, game levels normally consist of lots of small reads rather than large sequential data sets, and secondly because game level loading is becoming increasingly CPU bound due to data decompression.
PCMark 8
PCMark 8 has long been our go-to benchmark for analysing the real-world performance of a drive because it closely replicates workloads actual applications produce. In this test Samsung drives have traditionally held a commanding lead over the competition, but despite getting close, they were unable to unseat the PCIe 4.0 Firecuda 520. That makes this the first drive we've tested to beat a Samsung 970 series drive in a real-world test. Great job Seagate.
100GB Directory Copy
Our final benchmark is a directory copy from a massive 100GB folder of files stored on the drive to a new folder. As this is using the same drive as the source and the destination, and the directory has a mixture of data of all different kinds, the transfer rates will be a lot less than the headline sequential results. Lower is better in this case.
Our thoughts
All in all the Seagate Firecuda 520 sets a new benchmark for home PC storage performance. The PCIe 4.0 technology provides a real-world advantage compared to PCIe 3.0 drives and unseats our previous champ, the Samsung 970 EVO comfortably. Add to that an extremely generous MTBF rating and warranty, and Seagate's Firecuda 520 is our new favourite M.2 SSD.
More resources:
Check out this article for a more in-depth look at Seagate's range of FireCuda and BarraCuda SSD's!
Not a Seagate fan? Check out this article that reviews Corsair's MP510 M.2 SSD!