Corsair's SSD pedigree with its Force series is longstanding, with the firm debuting the first drives in this series nearly ten years ago. Based on the then-ground-breaking SandForce SF-1200 controller, those vintage 2010 SSDs came in capacities as low as 30GB and offered blistering transfer rates of up to 285MB/s. At the time, they formed the foundation of many a Chillblast gaming desktop when the SSD was seen by many as a luxury addition. Things have moved on quite a bit since then, and the new flagship drives offer transfer rates more than a dozen times faster than their distant relatives on the very latest M.2 interface.
The new MP510 series is not to be confused with the outgoing MP500, as its based on a totally new controller and Toshiba's latest 64-layer 3D TLC NAND flash chips. As a result, these new drives should be put into direct competition with Samsung's all-conquering 970 series which have, for the most part, been untroubled at the top end of the consumer SSD market.
Corsair Force Series MP510 Specifications
Capacity
240 GB
480 GB
960 GB
1920 GB
Sequential Read
3100 MB/s
3480 MB/s
3480 MB/s
3480 MB/s
Sequential Write
1050 MB/s
2000 MB/s
3000 MB/s
2700 MB/s
Random Read
180k IOPS
360k IOPS
610k IOPS
485k IOPS
Random Write
240k IOPS
440k IOPS
570k IOPS
530k IOPS
Warranty
5 years
As usual, the lower capacity drives suffer on write performance compared to the bigger counterparts as there is less opportunity for concurrent writes. But, it is also interesting to note the 960GB variant seems to be the sweet spot for performance users with the highest achievable throughput on each metric according to Corsair's Specifications.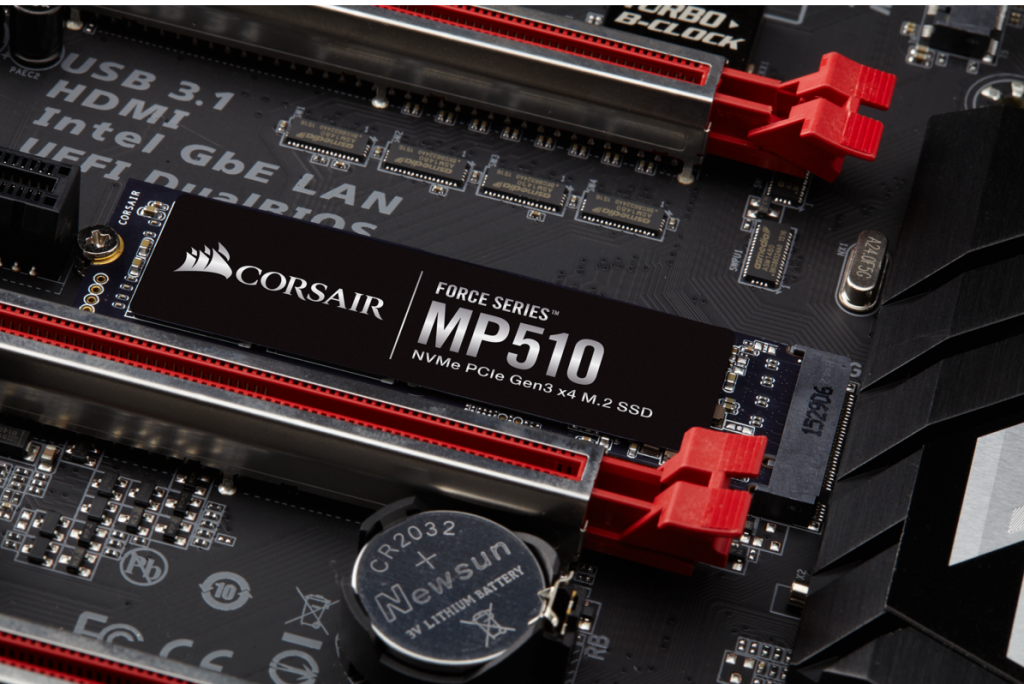 Performance
Performance from the Corsair MP510 is certainly there or thereabouts compared to high end offerings from Samsung and Western Digital – two other drives regularly used by Chillblast. This is impressive work from Phison on the E12 controller underpinning the MP510, and also from Corsair's firmware team that helps tweak different attributes of the controller's performance to deliver the best blend of performance across different scenarios. Also impressive is the drive's power consumption; it registered nearly half a watt improvement over our previous frugal champion from WD during active idle state, and almost an entire watt compared to Samsung's undeniably thirsty 970 EVO.
Conclusion
It's clear when looking at the performance spectrum of PCIe SSDs that the current generations are essentially maxing out the potential of the interface. Peak transfer rates record differences that barely register as statistically significant, whilst all the high-end drives on test put in a good show in our suite. Corsair's biggest problem is thus one of differentiation against its competitors. Their product, warranty and pricing is all extremely competitive against the incumbents, so it ultimately comes down to the price on the day, brand loyalty and availability. After the mediocre MP500, Corsair has stormed back into contention for the best PCIe M.2 SSD in the market and it's one of several great options available to consumers shopping for a fast PICe Gen3 M.2 SSD.
More resources:
If Corsair doesn't do it for you, instead check out this article that details Seagate's BarraCuda and FireCuda SSDs!
If NVMe SSDs still cause you a bit of confusion, check out this article that takes a deeper look at NVMe storage!