The Seagate Barracuda brand is known for hard disks – but how does it handle SSD technology?
The Seagate brand and the Barracuda name are two of the biggest when it comes to storage, but they're usually associated with hard disks rather than SSDs. It's 2019 now, though, and SSDs have been a big deal for more than a decade – with lower prices, higher capacities and faster transfer speeds. SSDs are more of a threat to the humble hard disk than they've ever been, which means companies like Seagate are having to adapt.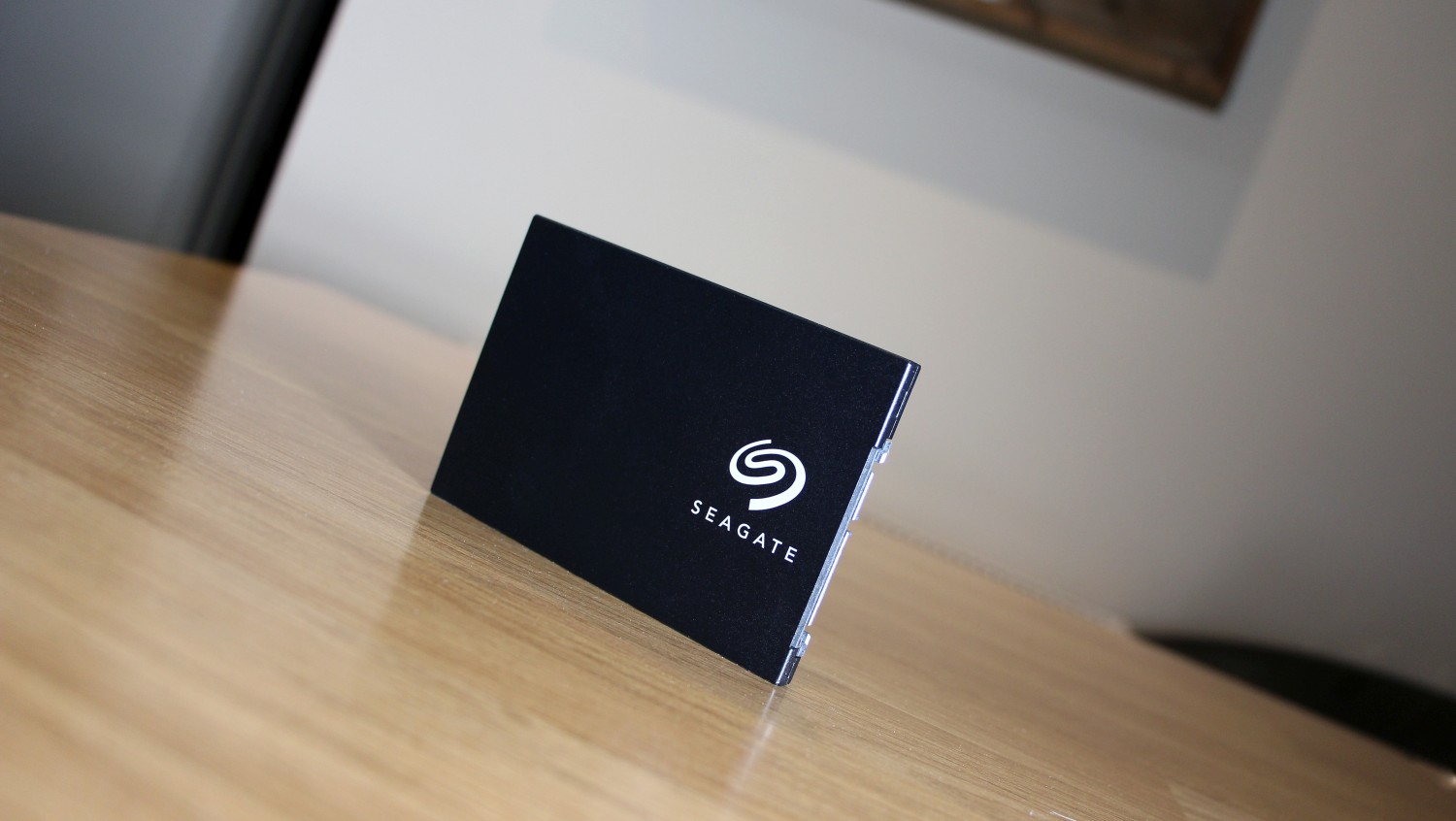 The need to evolve means that Seagate is building Barracuda SSDs alongside its hard disks. But can these new drives deliver a speed boost and earn a place in your next PC? Let's find out.
The Seagate Barracuda SSD
The new Barracuda SSDs come in four different capacities: 250GB, 500GB, 1TB and 2TB. The 250GB model is the most affordable, at £44, with the three remaining drives arriving at £70, £135 and £300.
Those prices ensure that the new Barracuda drives could be an entry-level bargain. The most common SATA drive on the market remains the evergreen Samsung 860 EVO, and that product comes in the same capacities – alongside a huge 4TB model. Samsung's drives are more expensive: the 250GB model is £50, the 500GB drive is £75, and the 1TB, 2TB and 4TB drives will set you back £150, £300 and £800.
The Barracuda's pricing bodes well for saving cash. However, it also goes some way towards dictating the kind of design that Seagate has used for these new products.
The Design
It's a SATA drive, for instance, which means it uses the older, cheaper SATA 3 interface rather than the newer NVMe connection. That means you'll get speeds that easily beat hard disks, but don't expect the pace that you'll find on more expensive NVMe drives that use the extra bandwidth of PCI-Express.
The decision to use a SATA interface also means that the Barracuda uses the 2.5in form factor. That means the drive is narrower and smaller than conventional 3.5in hard disks, and it also means that the Barracuda can be installed into the 2.5in or 3.5in drive bays that are found in today's PC cases. However, the Seagate remains larger than NVMe drives, which use tiny circuit-board designs that slot right on top of your motherboard.
On the outside, Seagate has done a good job: the Barracuda SSDs are smart, with a matte black finish and a white Seagate logo. They're 7mm tall, which is entirely standard – and it means that the Barracuda will fit inside any PC or laptop with a 2.5in drive bay.
Under the Hood
Under the hood, Seagate has built the Barracuda using tried-and-tested technology. The entire SSD is managed by a Phison S10 controller that's been doing a reliable job inside consumer SSDs for some years, and updated and customised firmware means that it's set up for today's workloads. However, the controller is older than the hardware used by Samsung.
The Toshiba-made memory does a good job of balancing efficiency, reliability and performance. The memory is built using 64 layers of 3D V-NAND, which is about as many layers as you'll get in a consumer SSD these days.
It mimics the technology pioneered by Samsung over the past few years, and the use of vertical layers – rather than just horizontal arrangements that were previously used – means that the transistors can be larger and not so crammed in, which leads to better performance, improved efficiency and less electrical strain.
Elsewhere, the Barracuda has DDR3 memory rather than DDR4 – a move to keep costs down, but one that will impact on speed. You also get the usual TRIM and S.M.A.R.T support, which means the drive can dynamically wipe unused space and monitor itself for errors. However, there's no automatic error correction and no encryption, although these features are more important for business drives rather than consumer products.
The four different Barracuda drives have different endurance ratings. The 250GB and 500GB models are covered for 120TB and 249TB of file writes, while the 1TB and 2TB models can handle 485TB and 1,067TB of file writes.
They're excellent figures that won't trouble the vast majority of users – you won't approach those figures unless you're writing hundreds of gigabytes of data to the drive every single day for five years. In short, it's nothing to worry about.
Performance
Every Seagate Barracuda drive – and the Samsung 860 EVO – uses the SATA interface. That means that there's not enough bandwidth to transfer files beyond 550-600MB/s. That's far better than hard disks, which are restricted by the discs themselves, but several times slower than NVMe drives.
CrystalDiskMark 6 Benchmarks
That said, the Barracuda is a good performer. In CrystalDiskMark the 250GB version of the drive returned sequential read and write speeds of 565MB/s and 533MB/s. The former score is pushing the limit of the SATA interface, and the 500GB and 1TB versions of the Barracuda offer similar sequential read and write speeds.
All three Barracuda drives offered similar sequential read and write pace to the 250GB Samsung 860 EVO – although it should be noted that the Barracuda drives were usually a little quicker than Samsung's SSD.
The 250GB Barracuda traded blows with the Samsung in CrystalDiskMark's other file reading benchmarks, and it was consistently quicker in the other file write tests. The larger Barracuda drives were a little slower, but never too far behind.
Atto Disk Benchmarks
The 250GB Barracuda continued to lead the way in Atto Disk Benchmark's file read tests, too. This application tests an SSD's small-file performance by running through a selection of ascending file sizes – from a tiny 1KB file to a relatively small 8MB file. It's an important benchmark, because the vast majority of an SSD's work will involve flinging small files around.
The 250GB version of Seagate's SSD nearly delivered a clean sweep in Atto's file-reading tests. It outpaced its stablemates in eight out of eleven tests – and it beat the Samsung in all eleven benchmarks. Its better speeds throughout the range of file sizes were topped off by a peak speed of 565.7MB/s that was achieved in the five largest file tests – which means the 250GB Barracuda was both faster and more consistent than its main rival.
The 500GB and 1TB Barracuda drives beat the Samsung drive in eight of the Atto read tests.
All of this bodes well for Seagate. In most consumer scenarios an SSD will spend more time reading than writing – whether it's loading games, accessing movie files or running web browsers. It's a solid victory for the Barracuda.
The situation is murkier when it comes to writing files. The 250GB version of the Barracuda is a little slower than the 500GB and 1TB versions of the Seagate drive, and that 1TB drive is the fastest of the entire group – including the Samsung, which proved quick with the smallest files but too inconsistent overall.
Evaluation
It's worth examining what these results mean. Firstly, none of these drives are slow – you won't notice your PC chugging to a halt because your SSD is a little behind another product in certain benchmarks.
That's good, but it does bare a little more consideration if you want a new SSD for a machine that's going to be used for a work PC. File-writing is more prevalent in these kinds of applications. The 1TB Barracuda is the best option – it's faster and more consistent than the other Seagate drives and the Samsung, and its increased capacity also delivers more space for important work files.
Our final test, PC Mark 8, uses office and productivity tools to test a drive's real-world performance.
The best Seagate drive in this test was the 1TB model, which had an overall result of 4,935 points with the other two capacities very close behind. The Samsung 860 EVO returned an overall score of 4,995 points.
There's very little between the Samsung and the Seagate drives in this real-world test, then, and the Barracuda is not slow.
Conclusion
So, is it worth considering Seagate's entry-level Barracuda drives if you want to save some cash when compared to the popular Samsung models? Yes, absolutely.
The 250GB Barracuda is the star of the show, with table-topping sequential speeds in CrystalDiskMark and Atto Disk Benchmark – results that outpace the more expensive Samsung 860 EVO. Those read results are vital, because those are the most important results for gaming, media and general-purpose home use.
And, while the 250GB drive may be the smallest from the new range, it's still got ample space for Windows and a handful of favourite games and key applications.
The 500GB and 1TB Barracuda drives deliver great results, too, with Samsung-beating speeds in Atto and competitive scores in CrystalDiskMark. The 1TB drive is the best option here for productivity, thanks to the quickest and most consistent file write results out of the entire group.
The Barracudas were also nearly able to match the Samsung 860 EVO in the PC Mark 8 suite of real-world tests, and they back up their performance with lower prices than the Samsung and with solid endurance ratings.
All in all, these Seagate Barracuda SSDs are a superb option if you're after an affordable SSD that won't slow down your system. Contact a member of our Chillblast sales and support team if you'd like to discuss having a Seagate SSD in your next PC!
More resources:
Looking for even faster storage options? Check out this article that examines Seagate's NVMe drives!
If Seagate drives don't tickle your fancy, why not look into a Corsair SSD?