It seems that the Evil Dead franchise is just as unkillable as its titular Deadite entities, with a brand new Evil Dead: The Game experience shortly set to wreak havoc on our PCs and psyches. This one borrows elements from Dead by Daylight and Friday the 13th, to deliver an asymmetric horror-action mashup with iconic characters from the Evil Dead franchise.
It's going to be a lot of fun, but as the most modern and prettiest Evil Dead game ever made, it's going to be the most taxing on modern systems, too.
It's not so demanding that you'll need a high-end, cutting-edge PC to run it, but if you want to make the most of its visuals and have the highest frame rates, a newer-generation gaming PC wouldn't hurt.
If you're excited to kick some Deadite ass as Ash, Scotty, Lord Arthur, Pablo, and more, then make sure your PC is up to spec before you start. Here's what you need to play Evil Dead: The Game.
Minimum System Requirements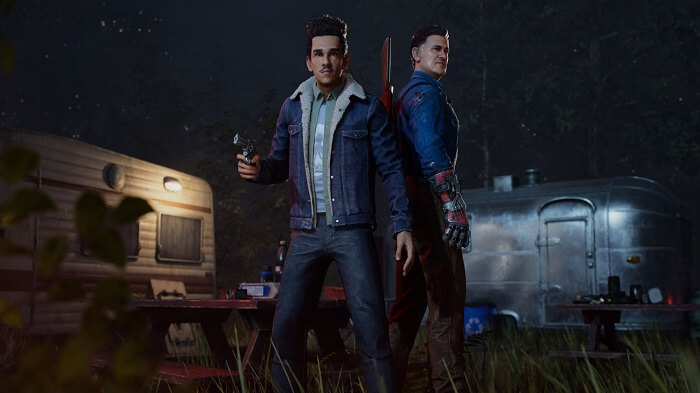 Saber Interactive has released recommended, but not minimum system requirements for this game at the time of writing, leaving us to mostly speculate about what it would take to get the game up and running. However, based on what you need for the recommended settings, and the demands of similar games also running on the Unreal Engine which are designed for new and last-gen consoles, we can make some educated guesses.
The Systems Requirements Lab suggests that the minimum system requirements for Evil Dead: The Game should be something like this:
CPU: Intel Core i5-4590 or AMD FX-8350
RAM: 8GB
Graphics: Nvidia GTX 960 or AMD Radeon R9 270
Video RAM: 2GB
Operating System: Windows 10
The 8GB of RAM is confirmed, as Saber Interactive has made it clear that you won't need 16GB of RAM to get the game up and running. The rest is an educated guess, but one that seems quite likely to play out in reality.
A system like this should mean you can get Evil Dead: The Game up and running and play it at a comfortable 30+ FPS on average, with the resolution at 1080p, and all settings on Low or Medium.
While that won't make the game look its best, it should be perfectly playable, and with system specifications like the above, almost any mid-range gaming PC from the past five years should have no problem playing it at all. The graphics cards are approaching 10 years old, and the processors would be outclassed by even the most affordable processors of today. So, if you have any kind of gaming PC at all, you shouldn't have any difficulty getting this game up and running.
Meeting The Minimum With a Modern PC
If you don't have a gaming PC currently, or find that even with the lenient specifications above you just aren't able to get the game running in a playable state, then you'll need to consider an upgrade or better yet, a new gaming PC.
Although you might be able to buy some second-hand parts to upgrade what you have, it's difficult to make recommendations there, as GPU prices are still out of whack with where they should be. And without knowing your specific PC components as they are, it's impossible to know what needs the most attention or budget.
With a new gaming PC, however, it's much easier to make suggestions.
If you're looking for the most affordable gaming PC you can build or buy to get Evil Dead: The Game running, you'll want to opt for a great budget gaming processor, like the Intel Core i3-10105F. This CPU was refreshed in 2021 with a slightly higher boost clock than the 10100F it was based on, and delivers excellent entry-level gaming with its four cores and eight threads.
As for graphics, the most affordable modern(ish) graphics card would be the Nvidia GTX 1650. This is a super-affordable GPU that can be had for just a couple of hundred pounds by itself, or within many of the most cost-effective gaming pre-built gaming PCs. It's far more capable than either of the GPUs in the minimum specs for this game, and will mean you can turn some of the detail settings up higher, or enjoy higher frame rates for smoother and more responsive gameplay.
With no storage demands given for this game just yet, it's not clear how much space you'll need, but make sure to install it on an SSD for fast load times.
Recommended System Requirements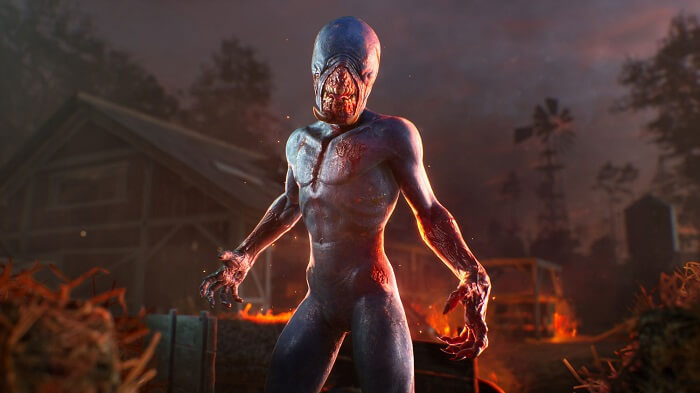 Saber Interactive has released the official Recommended specs for Evil Dead: The Game. It provides a good insight into what you'll need to run it at 1080p with most of the settings on high, whilst still enjoying a 30-60FPS average frame rate throughout each round of play. They aren't too strenuous, giving most mid-range gaming PCs from the past few years a good chance of running the game at these settings without much difficulty or need for an upgrade.
CPU: Intel Core i7-7700 or AMD Ryzen 5 2600X
RAM: 16GB
Graphics: Nvidia GTX 1070 Ti or AMD Radeon RX 5600 XT
Video RAM: 6GB
Operating System: Windows 10
Here the CPU is a big upgrade over the minimum specs, with a capable quad and hexacore option, depending on whether you have an Intel or AMD processor. The graphics cards are a much starker upgrade, however.
While neither are cutting edge, or were flagship cards in their day, these cards still command a reasonable price tag if bought second hand – you can blame scalpers and cryptocurrency miners for that – making them cards worth hanging on to if you still have them, and a little bit difficult to come by if you don't.
Still, if you have a gaming PC that meets or exceeds these specifications, you should have a great gaming experience with Evil Dead: The Game. Depending on what kind of gameplay you like, you could up some of the visual details to improve how it looks, or lower them a tad to make for a smoother frame rate and more responsive gameplay.
Meeting The Recommended With a Modern PC
If your gaming PC can't measure up to the recommended system requirements for this game, or you don't have a gaming PC at all and want to aim for that 1080p, high-detail setting, then there are plenty of options to consider. Modern gaming PCs can be far more powerful than this sort of hardware, but you can also get a very affordable gaming PC that will easily meet these specifications, too.
On the processor front, something like the Intel Core i5-10400F would be a fantastic option, giving you a little additional performance over the recommended CPUs, but without stretching your budget too far. If you want something from the latest generations of processors, you could opt for an AMD Ryzen 5 5600X, though it's noticeably more expensive and more powerful than you need. A more affordable alternative would be Intel's new-generation Core i3-12100F, though you'd have to factor in the cost of a more expensive motherboard as part of the bargain.
On the graphics front, there are still some Nvidia RTX 2060 GPUs kicking around that would be a great fit for this game. Not only would they offer slightly better performance than the recommended graphics cards, but they come with Nvidia's Tensor cores onboard, giving you access to deep learning super sampling (DLSS). This dynamic upscaling technology is fully supported by Evil Dead: The Game, helping you to maximize your GPU performance for greater detail levels and much-improved frame rates.
If you want a card from the latest generations, an Nvidia RTX 3060, or AMD Radeon RX 6600 would be solid choices.
System Requirements for 1440p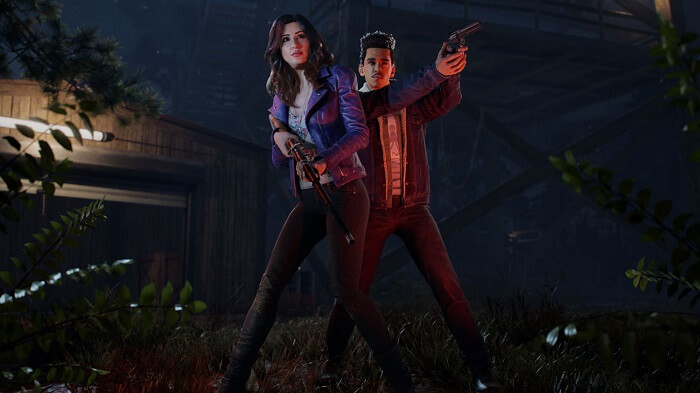 We don't have any firm specifications for what you'd need to play this game at 1440p resolution, but as with most games, it's going to need a noticeable jump in graphical power. So, we can make some educated guesses based on the recommended specs, and other games based on Unreal Engine 4.
CPU: Intel Core i7-8700K or AMD Ryzen 5 3600X
RAM: 16GB
Graphics: Nvidia RTX 2070 Super or AMD Radeon RX 6600 XT.
Video RAM: 8GB
Operating System: Windows 10
This build upgrades the processors by a generation, guaranteeing a minimum of six cores at much higher clock speeds and with improved instructions per clock. That helps maintain higher frame rates in the game, even though the CPU isn't as stressed as much as the graphics card at higher resolutions.
That's why it's the GPU that takes the biggest leap here, demanding an Nvidia RTX 2070 Super, or an AMD Radeon RX 6600 XT.
Although the Nvidia card isn't cutting-edge anymore, it's still a great GPU with some powerful components and access to that all-important DLSS for boosting frame rates. In games where DLSS isn't usable, the 6600 XT would likely be the slightly more capable card, but in Evil Dead: The Game, the 2070 Super with DLSS enabled should see much higher frame rates thanks to the upscaling technology.
With this kind of gaming PC, you could feel comfortable playing at 1440p with all of the settings on High and enjoy a comfortable 60 FPS gameplay experience. For those who prefer a more fluid frame rate for high refresh rate monitors, you might instead use 1080p and Ultra settings, where you could be expected to hit 100+ FPS throughout most gameplay rounds.
A Modern PC For 1440p Play
If you're buying or building a new PC to play Evil Dead: The Game at 1440p, a Radeon RX 6600 XT is still a great GPU to opt for as it's readily available at retailers and system builders like Chillblast, but the rest of the options might be a bit harder to come by. Nvidia fans should opt for an RTX 3060 Ti, or if budget allows, a 3070, for more consistent frame rates and a much higher threshold for detail.
On the CPU front, an Intel Core i5-11400F would be a great fit, while AMD fans may prefer a Ryzen 5 5600X – it's usually more cost-effective than the 3600X, which is overpriced as it becomes rarer.
You should still opt for at least 16GB of RAM, though if you want to future proof your PC a little more, you might opt for 32GB. It would also guarantee that no background tasks will get in the way of your gameplay experience.
What About 4K?
As with 1440p, there is no official guidance on what you'd need to play Evil Dead: The Game at 4K, but with most modern games 4K is extremely demanding, so this one is unlikely to be any different.
You wouldn't necessarily need much in the way of a more powerful CPU, with options like the 12400F, or 5600X being more than enough to get the kind of frame rates you'd expect to play most games at 4K. You could opt for a 12600K if you want more gaming power, but that will incur extra cost that could be put into the graphics card.
It's the GPU that's most important in a 4K gaming PC, after all, and you really can't spend too much. You'll be able to get a playable 4K experience with Evil Dead: The Game with an RTX 3070 Ti, or Radeon RX 6800, but you'll get better frame rates with the RTX 3080, especially over any alternative AMD graphics cards, since it can take full advantage of DLSS.
The 3080 Ti, 3090, and 3090 Ti are likely overkill for this game, but they are some of the best gaming graphics cards ever made, making them a great option if you want to play modern AAA games in 4K too.
With the minimum and recommended requirements mentioned, you should be able to play Evil Dead: The Game on any PC bought within the last 5-10 years. It will be more than adequate to run the game at 1080p with the settings on low to medium, whilst achieving decent framerates.
However, if you really want to make the most of the game's graphical beauty and achieve buttery-smooth FPS, you might want to consider an upgrade.