When it comes to buying a graphics card, 2021 is the best and worst of times.
The new Nvidia RTX 3000 series and AMD RX 6000 GPUs are some of the most exciting cards we've seen in generations. They offer an enormous uplift in intergenerational performance, and a huge leap in ray tracing and upscaling potential.
But thanks to a combination of a global semi-conductor shortage, and huge interest in the cards from gamers and cryptocurrency miners alike, they're almost impossible to get hold of. Even when they are, you have to pay a huge price premium, no matter which model you opt for. And if you brave the second-hand market, the cost can be even dearer.
The fact that this has gone on for months and looks set to continue for the foreseeable while supply lines expand and demand stabilizes, has left many gamers feeling despondent. If their current graphics card is showing its age, or even worse, kicks the bucket after many years of long service, how are they supposed to buy a new one? Is it better to pay over the odds for something great now, for the performance and features they want, or try to save some money and opt for an older, still overpriced, second-hand card instead?
It's clear that getting a GPU in 2021 isn't easy, but there are ways to do it. In fact, if you're willing to upgrade more than just your graphics card, there are ways to get all the new-generation performance you want, without having to pay a huge premium for it, either.
Get Quick, Get Lucky, and Get Busy Waiting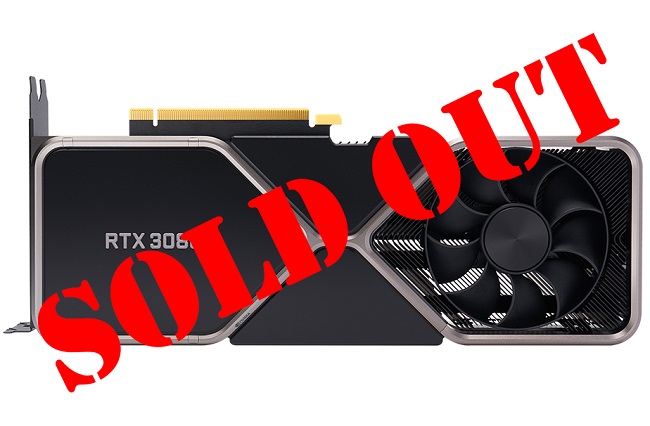 If you're only in the market for a graphics card, the best way to guarantee a good price is to buy direct from a reputable retailer. The downside to that, though, is that you'll be competing with everyone else trying to buy one.
That includes other games, cryptocurrency miners, scalpers, and the bots they're all using to help them buy the card before you. It's not uncommon for RTX 3000 series and RX 6000 cards to disappear from stock just seconds after going on sale, so you'll need to be first, and you'll need to be fast.
To make that happen, you can open up the GPU store pages for some of the most popular retailers that regularly receive stock drops of the new-generation cards, and periodically hit refresh. Although, you'll need to keep at it because missing the boat by a few minutes can be enough to see you miss out on even the largest arrivals of new stock.
Stock Alert Services
There are stock alert services, like NowInStock and Stock Informer, which can help you spot when specific cards go on sale at a variety of retailers. You can even set an alarm that will go off when stock alerts are triggered.
There are also a few dedicated hardware Twitter accounts worth following that provide live stock notifications of their own. Alternatively, the Distil browser extension lets you set up custom site change alerts, which can be useful for watching smaller retailers that may not be picked up by some of the big stock tracking services.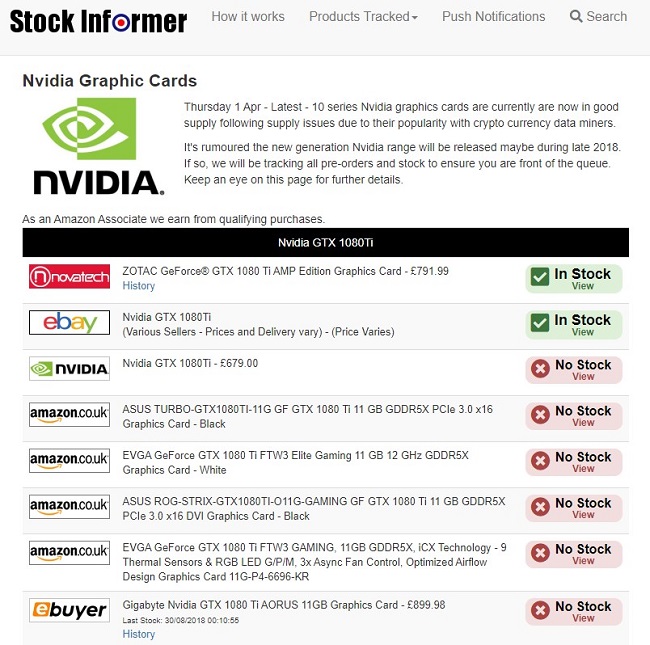 Retailer Lotteries
Some retailers are even operating lotteries to give random customers the opportunity to buy cards ahead of everyone else, so it can be a good idea to sign up to those – although again, you'll be competing with potentially thousands of customers.
Others are operating gamer certification programs that let you prove you're not a scalper or bot in a variety of ways, which can also get you on the list for maybe buying a card at some point if you're lucky.
The Option to Pre-Order
You can also consider pre-ordering a GPU with some retailers. Do bear in mind, however, that stock limits are still in place, so even getting the option to pre-order a graphics card in 2021 isn't easy. With so many particular models available too, there's no guarantee that the model you picked will be back in stock at any point in the near future, or at all.
You also typically have to pay upfront in full, which is a hell of a committent for an expensive GPU that you may not get for a long time – some wait times have been longer than six months. Some retailers have even had to return pre-order deposits where they haven't been able to fulfil orders at all, which could leave you waiting around for a card that never arrives.
If that all sounds like too much luck, guesswork, and downtime with your fingers crossed, there's a much better way to guarantee a card at a good price and in a short time frame…
The Sure-Fire Way To Get A 3000 Series GPU
The problem with buying a graphics card from retailers is that they sell out almost instantly because they're being bought by cryptocurrency miners, bots, and scalpers, just as much as real gamers. However, there's one place that you can buy from that doesn't have all that competition for stock, though, and that's dedicated system builders.
Cryptocurrency miners don't want to buy a whole gaming PC, they just need the GPU. Scalpers aren't going to make anywhere near as much profit flipping a new gaming PC, so they don't bother either.
The only people who are buying full, new gaming systems are gamers, and that means that companies like Chillblast not only have a wide range of graphics cards to offer our customers, but we have stock of GPUs right now just waiting to be played with.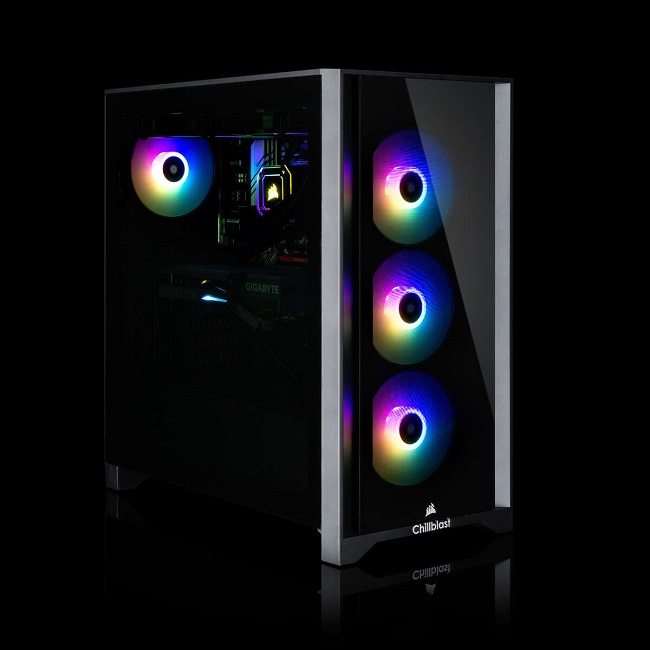 You Get Plenty Of Choice
Whether you're interested in one of the new Nvidia RTX 3000 series GPUs or one of AMD's RX 6000 RDNA 2 cards, Chillblast has a wide range of options.
When buying a custom-built gaming PC, you can pick whatever card you like. A couple of specific models have slightly longer wait times, but they're nothing like what you'd get if you pre-ordered and crossed your fingers with a retailer.
We pair all of these super-powerful graphics cards with a variety of CPUs to suit every taste, too. So if you need an ultra-powerful gaming PC, we have plenty on offer, but if you want something more modest, we can cater to that too with more affordable chips and memory. However, those new processors and memory aren't just an upgrade over what you have now, they're what you need to take full advantage of the new graphics cards.
You also have the option of PCIexpress 4.0, which opens up the full bandwidth of RTX 3000 and RX 6000 cards, as well as motherboards with support for Smart Access Memory and Resizeable BAR. Both of which can improve GPU performance by a few percent. Trying to run them on older systems without that support is just leaving performance on the table.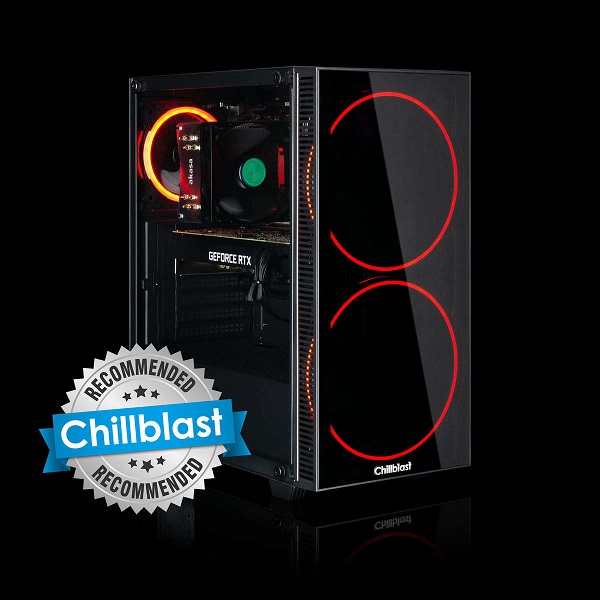 Fair Prices
But just as important as having those graphics cards in stock is having them at a fair price. The entire GPU industry has been upheaved by the availability issues, and that means price rises for everyone. But where retail (and especially second-hand) prices have gotten completely out of hand, system builders are still able to offer GPUs at a fair price as part of a larger system build.
Whether you're buying something with an entry-level GTX 1660 Super, or a super-powered RTX 3090, Chillblast has immediate access to cards and doesn't mark them up like some other sources do.
Yes, the price is higher than buying a card by itself (if you get extremely lucky and find one at MSRP) but you're not just paying over the odds, you're getting a whole gaming PC as part of the package. If your PC isn't just feeling outdated on the graphics front but could benefit from a whole processor, RAM, PSU, and even case upgrade, then buying a new gaming PC outright is the best way to get a graphics card in 2021.
Buying a new gaming PC guarantees you access to the widest range of graphics card options, at a fair price and within a reasonable time frame. No long waits, no guesswork, no luck at all. Just a great product at a good price.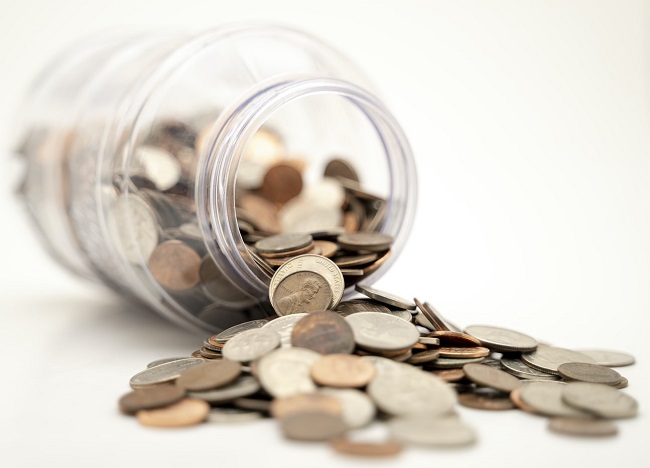 All The Added Value
Not to mention all of the extras that buying a custom gaming PC from an award-winning system builder gives you.
Every Chillblast gaming PC is built by one of our own highly qualified system engineers and tuned and stability tested by our software team to guarantee it works perfectly right out of the box. And if you do run into any issues, we run a robust support system. Whatever PC you buy, you're covered by a full five-year warranty which offers you extensive protection and peace of mind against all eventualities.
Want even more performance for your money? Chillblast even offers a custom overclocking service for every customer at no extra charge. We can't promise you how much your new system will be capable of going beyond its stock frequencies, but if you want to absolutely make the most of your new high powered graphics card and processor, we can push it further for you. It won't even invalidate your warranty.
Brave the Auction Sites
If you're committed to only buying a graphics card and just want it right now, money be damned, then the second-hand market is also an option.
Gumtree, eBay and other auction and classified sites have hundreds of GPUs for sale at any one time, covering the gamut from the latest-generation RTX 3000 and RX 6000 cards, right back to Pascal generation GTX 10-series GPUs. The only problem is you'll pay anywhere up to three times their recommended retail price to get them.
And they're probably used, too.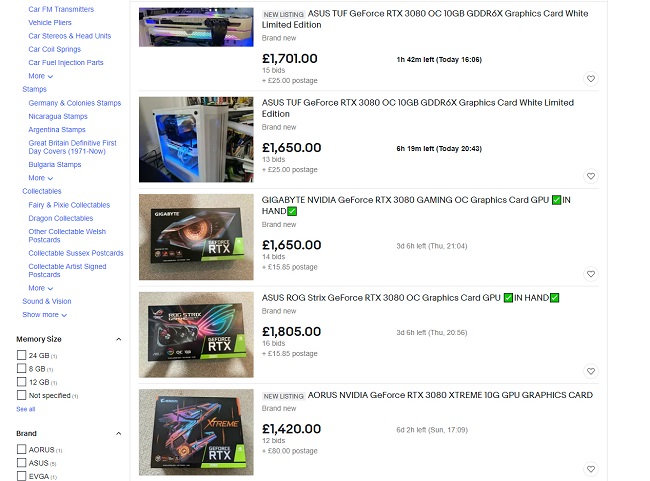 Traditionally, buying the best of the best graphics card from the previous generation when new ones were released was quite a smart move. A GTX 1080 Ti in 2018 when the RTX 2000 was released, was still an excellent card and you could get it significantly cheaper than retail. You were still rolling the dice on whether it'd been used for mining 24 hours a day for a couple of years, but it would still be a great graphics card at a reasonable price.
That's not true today, though.
Even Older Cards Can Break The Bank
A GTX 1080 Ti in 2021 will cost you significantly more than it did when it was brand new and at over four years old, likely with some cryptocurrency mining under its belt, there's no guarantee how long it will last.
Newer RTX 2000 cards aren't quite such a gamble and you get ray tracing and DLSS support as part of the bargain, but prices are even more ridiculous, easily eclipsing their original cost when new by quite some margin. This is especially true for the most powerful cards that offer some competition to newer RTX 3000 and RX 6000 cards.
For the most unbelievable GPU prices, you can try searching for the latest of new-generation GPUs. Markups of as much as 300 percent aren't uncommon. But if you're willing to spend thousands on a graphics card alone, why not buy a brand new gaming PC for roughly the same money, and enjoy all the warranty and after-sale support with it?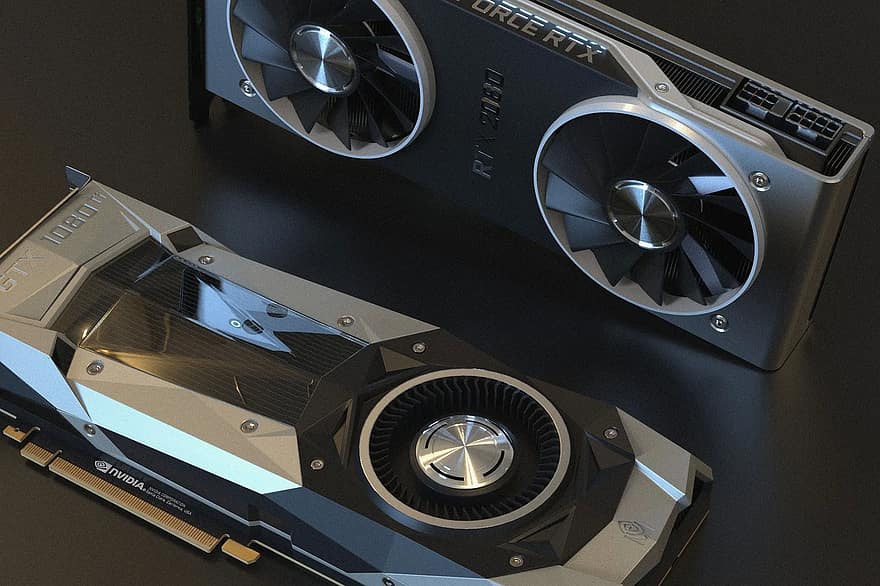 The Best Way to Buy a GPU in 2021? Buy a Custom Gaming PC
As much as retailer efforts to offer graphics cards to gamers at fair pricing has eased supply problems a little, super high demand and bots have made it a chore to buy a new graphics card in 2021. The second-hand market is even worse, where availability might be better, but prices are undeniably higher.
The only way to really get a new graphics card at a fair price in 2021 is to buy it as part of a new gaming PC. If you were already considering paying over the odds for a GPU, consider buying a custom gaming PC from Chillblast instead. You can always sell your old parts to make up some of the cost that way.
Your old graphics card might even go for more than you'd expect.
Have you struggled to find an RTX 3000 series GPU? Let us know in the comments below.