AMD's longstanding AM4 socket is set to be replaced after five years of long service by the incoming AM5 socket for next-generation Zen 4, Ryzen 7000 CPUs later this year. It's a huge change for team red, with a switch to a land grid array (LGA) design, and a hard break in compatibility between CPU generations that for close to five years have enjoyed extensive backwards compatibility.
But before the AM4 socket sails off into the sunset, AMD has one final hurrah for its champion of easy upgrades and skyrocketing performance: Ryzen 5800X3D.
This overhauled Ryzen 5800X processor will be the first CPU to use AMD's 3D VCache technology to boost performance, especially in gaming, by potentially quite dramatic amounts. If AMD's internal benchmarks are to be believed, it could give AMD the gaming crown once more while we await the launch of Zen 4 later this year.
It may not last long as the king of AMD's CPU court, but it could mark a glorious send-off for AMD's beloved AM4 series of processors.
AMD Ryzen 5800X3D – What it is, and what it isn't
| | | | | |
| --- | --- | --- | --- | --- |
| | 5900X | 5800X3D | 5800X | 5600X |
| Cores | 12 | 8 | 8 | 6 |
| Threads | 24 | 16 | 16 | 12 |
| L3 Cache | 64MB | 96MB | 32MB | 32MB |
| Base clock | 3.7Ghz | 3.4GHz | 3.8GHz | 3.7GHz |
| Boost clock | 4.8GHz | 4.5GHz | 4.7GHz | 4.6GHz |
| TDP | 105W | 105W | 105W | 65W |
The Ryzen 5800X3D is, at its heart, a Zen 3 CPU. In almost every facet it is the same as its 5800X counterpart. But where it differs, it differs hugely.
Where the 5800X has 32MB of L3 Cache, the 5800X3D triples that, to 96MB, using a new technology called 3D VCache.
To understand why that's an exciting prospect for this CPU and what it means, we need to consider what that new cache is, and how AMD applied it to this otherwise generic Zen 3 CPU.
AMD's 3D VCache technology was a surprise announcement when it was first made at Computex 2021. While its roadmap for processor development from Zen, through Zen 2, 3, 4 and beyond, has been known about and reinforced over the years, 3D VCache came out of left field with little to no lead in, and not much of a follow on afterwards. But it was intriguing right out of the gate.
AMD CEO Lisa Su showed off a Zen 3 processor with dual chiplets that featured a 64MB SRAM chip built using TSMC's 7nm process stacked right on top of them. This effectively tripled the amount of L3 cache the chip had access to and reportedly increased the bandwidth to the point that it was faster than the L1 cache, although operating at a much higher latency.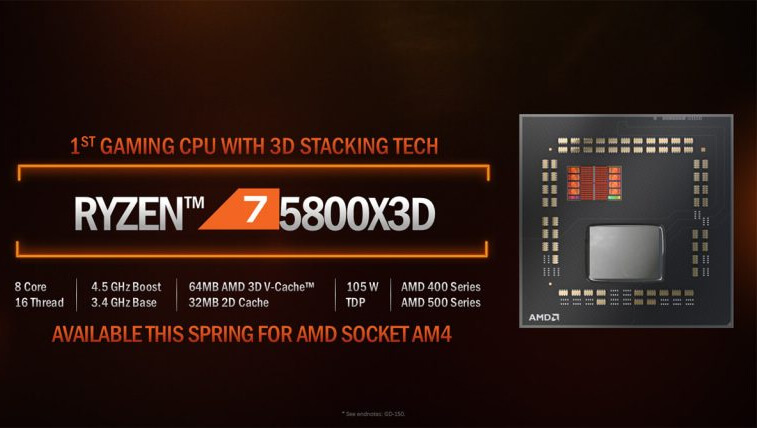 Real world performance & speeds
In terms of real-world performance, AMD showed some internal numbers which pitted a 5900X clocked at 4GHz versus a similar 12 core Zen 3 CPU at the same frequency with the additional 3D VCache. The results showed between a four and 25 percent improvement in gaming performance, averaging around 15 percent across the board.
In the months that followed, not much was heard from AMD on the 3D VCache front, until CES 2022, when it announced the 5800X3D; the first 3D VCache CPU of its generation. Instead of the 12 cores of a 5900X, it will only have eight, with the standard 16 threads. But it will enjoy a full 96MB of L3 cache.
One other area where it will differ from the standard 5800X, though, is clock speed.
The base clock and boost clock of the 5800X3D are 400 and 200 MHz lower, respectively. This was reportedly to keep the CPU within AMD's own desired thermal and power limits, and meant that it wouldn't need to bin the CPU as aggressively, helping to improve yield numbers.
This may suggest that for bold overclockers or those with hefty cooling solutions, there is some added performance left on the table, which may be extracted post-launch.
Despite that fall in clock speed, however, AMD hailed the 5800X3D as the World's Fastest Gaming Processor, in an aping of Intel's claims about its recently-released 12900K. It also made it clear that the 5800X3D would be the only chip of the Zen 3 generation to be given the 3D VCache treatment, leaving any future use of the technology, to future generations.
Performance potential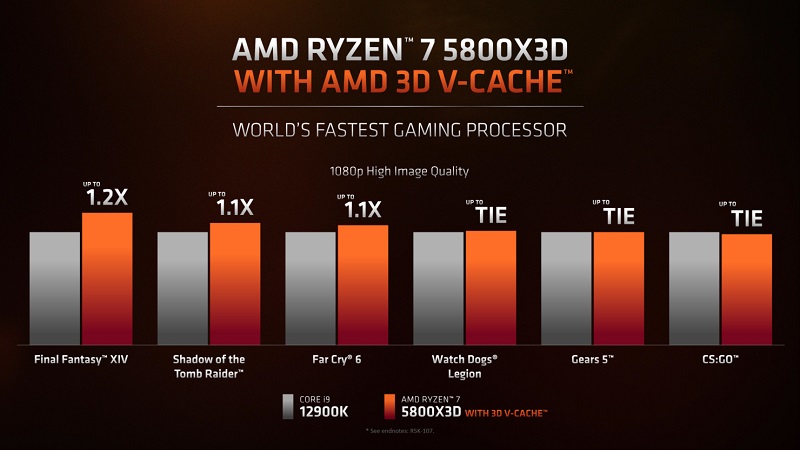 AMD's first hints at the performance potential of Zen 3 VCache CPUs at Computex 2021 suggested an average of 15 percent performance uplift over standard Zen 3 CPUs. At the debut of the 5800X3D at CES 2021, it made more overt and specific claims.
In a direct comparison with its own Zen 3 Ryzen 9 5900X, AMD claimed that the newly enhanced 5800X3D would deliver as much as a 36 percent improvement in frame rates in Watch Dogs: Legion, and a 24 percent in Far Cry 6.
These jumps in capability would also let it pull level with Intel's 12900K in CS:GO, and even offer a performance advantage in Shadow of the Tomb Raider, and Final Fantasy XIV, of as much as 20 percent.
The list of games isn't exhaustive, and the performance numbers were in percentages or multiples, rather than absolute frame rates.
That might just mean these numbers are rounder and make for better slides, but there is always the potential for putting the best foot forward with first-party benchmarks. We'll need to wait on the general release of this CPU to find out just how well it performs.
What seems most likely, however, is that when it does launch, it will be AMD's fastest gaming processor to date, with the potential for some advances in productivity applications, too. With AMD confirming that it has no plans to release a Ryzen 9 version of this processor, the 5800X3D will become AMD's short-lived flagship in the months leading up to its true successors.
AMD 5800X3D release and legacy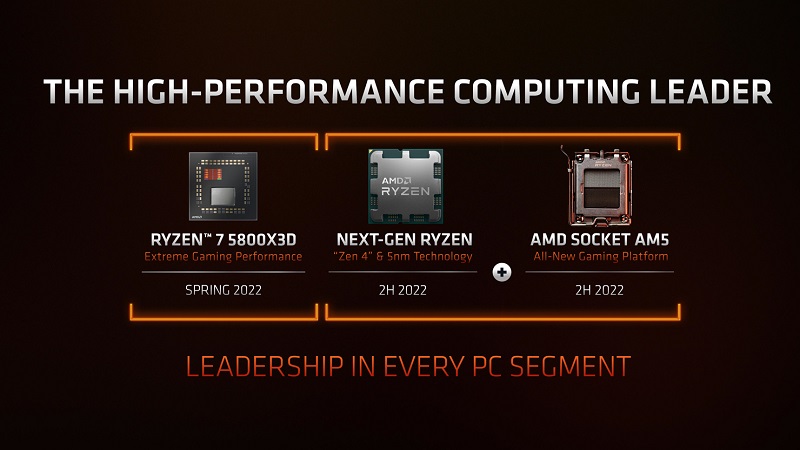 The 5800X3D is set to release sometime in Q2 of 2022, and likely in the earlier months to give enough breathing room for Zen 4 later in the year. Cost is harder to discern, though it will certainly be at least as expensive as the 5800X was at launch, and likely more, considering AMD hailing it the fastest gaming processor in the world.
If it'll be faster than the 5900X, and the 12900K, it could easily exceed £500 at launch.
When the 5800X3D debuts, however, it won't just be AMD's fastest processor to date, and a keen competitor with Intel's high-end gaming chips, but will be the final release of AMD's AM4 generation of motherboards and processors. What began with first-generation, Zen-powered Ryzen 1000 CPUs in 2017, will end with the 5800X3D in 2022.
It's a fitting endpoint for one of the most remarkable advances in PC performance in the industry's history.
From being practically irrelevant outside of extreme budget builds in the mid-2010s, AMD's Zen architecture and successors have made it both hotly competitive with Intel, and a trendsetter in many areas.
It forced higher core counts on the CPU market and gave Intel the encouragement it needed to make major innovations of its own with the recent 12th-generation Alder Lake release.
Upgradability & Future Proofing
One final bump to platform performance with the 5800X3D is a great way to send off the AM4 platform: on top. But it also provides a wonderful upgrade path for a whole host of AMD PC users.
The 5800X3D will be officially supported by both 400-series and 500-series motherboards, but as we've seen with standard Zen 3 CPUs, there's every chance that some manufacturers will enable 5800X3D support on older x370 motherboards as well.
This means that anyone who bought into an AMD PC at some point in the life cycle of AMD's AM4 platform will have the option to upgrade to a cutting-edge 2022 CPU with a simple BIOS upgrade.
Being able to upgrade to one of the fastest CPUs on the planet with a motherboard that could be as much as five years old, is an incredibly exciting option for those running older AMD PCs. And it will add extreme longevity to AM4 in the future, as the second-hand market begins to filter through with AM4 boards, and ultimately 5800X3D CPUs in the years to come.
In the more near-term, however, the 5800X3D will go toe to toe, and perhaps even eclipse the Intel Core i9-12900K.
Enough so that Intel felt the need to announce the Core i9-12900KS at CES 2022. This specially-binned, overclocked 12900K will have all the same cores, but should be capable of a 5.5GHz boost clock. That may be enough to dethrone the 5800X3D in turn, but its price is likely to be high, and its power and thermal demands even more so.
The 5800X3D shouldn't put any greater strain on a system than the existing 5800X, even if it may have some overclocking potential for those who want to test its limits.
AMD 5800X3D VS Zen4 Vs Raptor Lake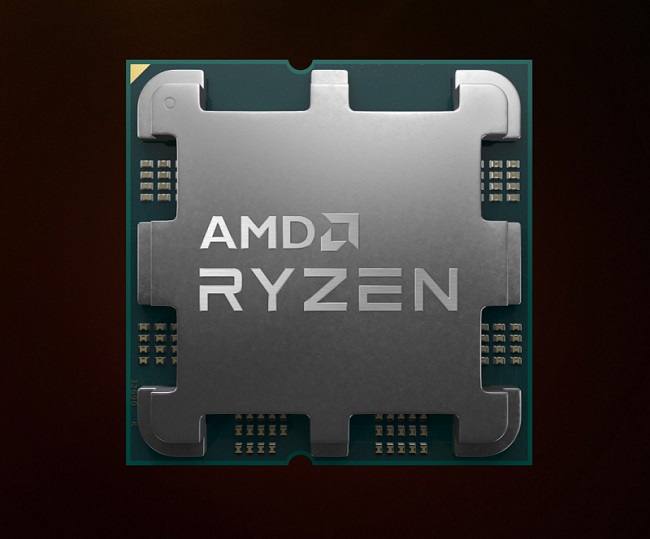 Even if the 5800X3D can take the gaming crown back for AMD, it won't hold on to it for long. A Spring 2022 release could give it only three to four months of lead over the incoming Zen 4 processors, which promise to be as big of a change in architectural design as the original Zen was over AMD's FX design.
It likely won't see quite the same performance uplift, but it should be substantial nonetheless. AM4 will be built on a smaller, 5nm process from TSMC, shrinking down from the 7nm node used with the 5000 series, and incoming 5800X3D. It will also have increased clock speeds, with AMD already demoing one of its Zen 4 CPUs at CES 2022 running at an all-core boost clock of 5GHz.
Changes to the architecture itself are currently under wraps, but rumours have suggested that Zen 4 will also utilize the 3D VCache trialled in the 5800X3D.
The end result of the increased process density, higher clock speeds, and architectural improvements, could make Zen 4 as much as 40 percent faster in real world applications than Zen 3, according to some. Whether that will include the 5800X3D, remains to be seen.
ZEN4's Big Changes
Zen 4 will also add support for DDR5, and PCIE 5, so will offer improved features over the 5800X3D.
The biggest change for the next-generation chips, could be in the use of the AM5 socket. It will start afresh with no backwards compatibility; although forwards compatibility with Zen 5 and other future architectures seems likely.
AM4 coolers will work with the new design, but with changes to the physical makeup of the socket through the use of LGA, rather than PGA design, and a new generation of supporting CPUs, Zen 4 Ryzen 7000s CPUs will be a landmark launch for AMD.
With all of its improvements and advances, Zen 4 is likely to offer greater performance than any AMD CPUs that have come before – the 5800X3D included – as well as Intel's entire lineup of Alder Lake processors. But that's to be expected, because Zen 4 is really designed to go up against Intel's Raptor Lake.
Little is known about that design as of yet, but it is expected to increase the number of efficiency (E) cores, as well as improve IPC, raise total cache, and use Intel's own smaller process node.
Both lines of CPUs are likely to leave the 5800X3D behind, both in terms of performance and features, but the legacy of that last AM4 CPU is likely to be a strong one. Though it may be expensive and launch in relatively limited numbers, it will be the last and most powerful of AMD's AM4 CPUs, helping gamers with older PCs to remain competitive with much newer generations of hardware for years to come.