As fantastic as AMD's recent CPU developments have been, there's one crown that Intel retains a firm grasp on, and that's gaming. If you want the absolute pinnacle of gaming performance whether you're buying an entry-level CPU, a mid-range powerhouse, or even one of the multithreaded monsters at the top of the price and performance spectrum, Intel chips will give you all the power and performance you need.
You don't have to buy the best to get it, either, especially if the games you play don't demand it. Figuring out which Intel CPU is best for gaming, really means figuring out the best Intel CPU for the types of games you play and one that fits within your budget.
For a quick explainer on Intel CPUs in general, check out this buying guide.
Budget, Esport, and Indie Gaming Intel CPUs
The gaming market is so often tied to the most powerful of graphics cards and most expensive processors, but one of the best aspects of modern gaming is that there's such a depth and breadth of games you can play.
If you don't plan to play the latest AAA games, at the highest resolutions, or even prefer your games to be a little low-res and independent in nature, then you can build a gaming PC with a much more affordable selection of hardware; CPU included.
i3-9100
You can get a very capable gaming PC with an entry-level Intel CPU for as little as £500. Taking advantage of price drops in the wake of Intel's 10th generation CPU releases, you can now find the powerful quad-core Core i3-9100 CPU at more affordable prices than ever before.
All four of its cores can boost up to 4.0GHz when required, and up to 4.2GHz by themselves. Its onboard graphics won't be able to run the latest AAA games, but if you don't mind constraining your resolution or detail level, it's not impossible to play even a few beautiful games from the middle of the last decade without them looking like slide shows.
More of a competitive gamer? Popular Esports games like League of Legends, CS:GO, and even more modern titles like Fortnite, are perfectly playable without an add-in graphics card using even an entry-level CPU like this one. You'll get far better frame rates and resolution support if you pair it with a graphics card like a budget-conscious Nvidia GT 1030, or better yet, a GTX 1650 – but it's not mandatory.
i5-9400F
If you want to be more competitive in such games, or even run modern AAA titles at lower settings, you'll need a little more power. At around the £700 mark, your gaming PC options really open up. That gives you access to the stupendous Core i5-9400F – a powerful hexacore gaming CPU that is one of the best bang for buck gaming processors ever made.
It doesn't have onboard graphics, so you will need a dedicated graphics card to play your favourite games, but at that kind of price, you should expect to budget one into your built to make the most of your money.
The 9400F makes its appearance in a number of Chillblast's pre-built gaming PCs, including the extremely popular Fusion Sentinel, paired with a GTX 1650 Super, all for under £800.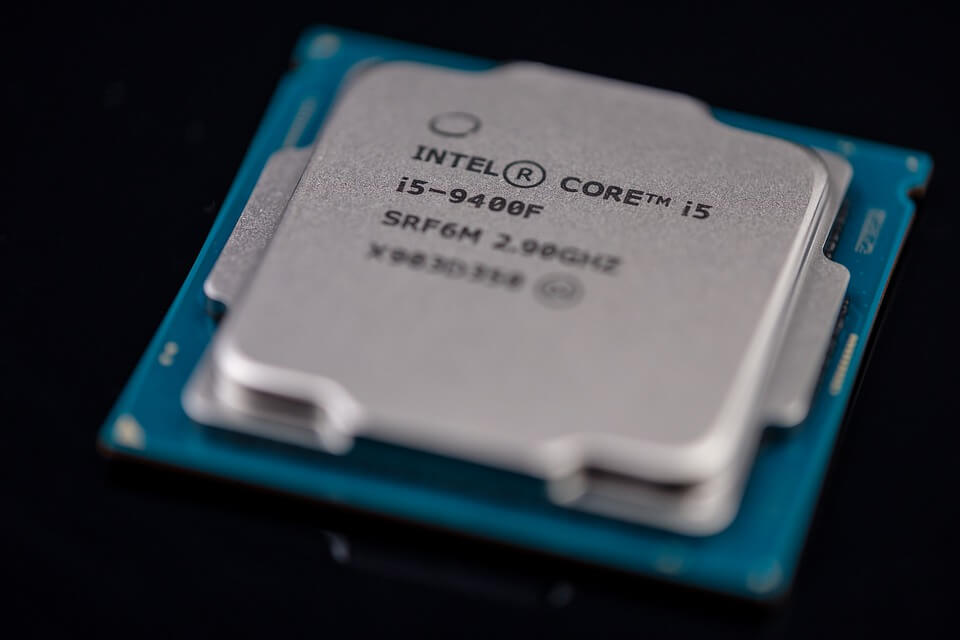 Mid-range value Intel CPUs
The mid-range PCs, priced between £800 and £1,500, offer you the greatest array of options when it comes to Intel gaming CPUs and the powerful graphics cards you are going to want to pair them with. These processors come with more threads, higher clock speeds, and have the additional performance needed to take advantage of much higher-powered GPUs.
Every one of Chillblast's mid-range Intel gaming PCs are more than capable of handling high frame rates at 1080p resolution in all but the most demanding of games, making them fantastic for competitive gaming and a great way to experience the most beautiful AAA games.
That doesn't mean you can't enjoy the odd pixelated indie games – maxing out the settings to make those blocky titles look better than ever – but these systems really shine with something a bit meatier to render.
i5-9600K
For under £1,200, a Chillblast Fusion custom gaming PC gives you the full power of an Intel Core i5-9600K. Like the 9400F, it has six cores, but this chip can boost up to 4.6GHz on a single core, making it far more capable. The real selling point of this chip, though, is teased in its name. The "K" suffix tells you that this CPU is unlocked and therefore capable of being overclocked.
The 9600K happens to be an excellent overclocker too, easily capable of hitting 5.0GHz with a little tweaking – something Chillblast can do for you absolutely free and without invalidating your warranty. That extra clock speed will give you the kind of performance you'd only typically expect from more expensive options, like the Core i7-9700K.
One downside of the 9600K, though, is that like the rest of the Core i5 and i7 CPUs in its generation, it lacks hyperthreading. That was corrected in the 10th-generation, giving the Intel Core i5-10600K a sizeable leg up in multi-threaded performance, as it can handle up to 12 threads at any one time.
That makes it much more capable in productivity tasks, but also gives it a noticeable bump in gaming performance in more modern games that can take advantage of those additional threads.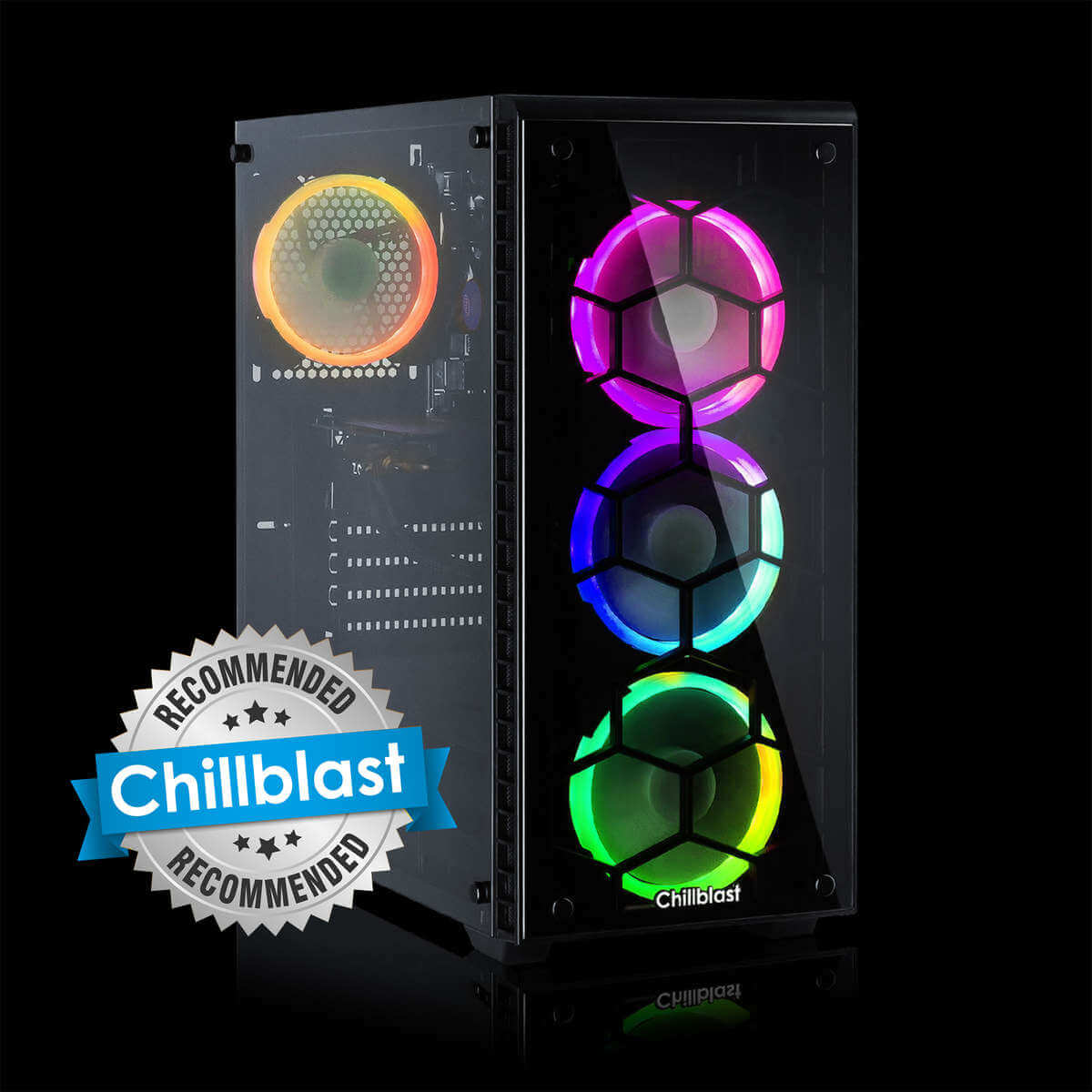 i5-10600K
The 10600K can be found in build-your-own Chillblast gaming PCs at around the £1,500 mark and is not only a serious gaming powerhouse in its own right, but it has the most potential of arguably any CPU of its generation.
With a boost clock of 4.8GHz, it's tantalizing close to the 5.0GHz mark, and with some overclocking, can be taken there and further (with enough cooling.) There have even been many instances of 10600Ks competing with the far more expensive Intel Core i9-10900K in games when overclocked.
Chillblast can provide overclocking for any and all components you purchase as part of the system building process. Just ask for more details when purchasing and see how much extra power your PC can enjoy. It doesn't even invalidate your five-year warranty.
High-end power Intel CPUs
If you want to game at super-high frame rates in modern Esports games, or enjoy the prettiest of contemporary AAA games at 4K, you need a super-powered graphics card for the job. You don't necessarily need a top-tier CPU along with it, but the last thing you want is to hamstring your expensive GPU with an entry-level processor.
i7-9700K
With a budget between £1,600 and £2,500, your Intel gaming PC has plenty of powerful options to pick from. If you refocus your budget on other aspects of your PC, then the 10600K is still a fantastic option, but if more real cores are a better option for your gaming experience, the last-generation Core i7-9700K is still one of the world's best gaming processors.
With eight cores, and a stock boost clock of 4.9GHz, its a monstrously powerful chip, especially when paired with a high-end GPU like an Nvidia RTX 2070 Super, or even 2080 Super. Overclocking unlocks even more potential, making it possible to hit 5.0GHz on all cores with ease. You'll want a hefty cooler though, as the 9700K is quite a toasty chip when it's been pushed to its limits for an extended period of time.
This chip shows up in some of Chillblast's most popular PCs, including the extremely capable Fusion Cirrus 4 which manages to come in at just under £1,650. For an alternative with more GPU power, the Excel Sports Esports GrandMaster gaming PC is a super-compact system with the same 9700K and an incredibly powerful Nvidia RTX 2080 Super GPU, for just over £2,000.
i7-10700K
For that bit more CPU power, especially in modern games where every thread counts, the Intel Core i7-10700K enjoys the same hyperthreading benefits of its smaller cousin, the 10600K. It has eight cores, but can support 16-simultaneous threads and can turbo up to 5.1GHz on a single core as and when needed – 4.7GHz all core, too. As with its contemporaries, overclocking this chip is a breeze, netting a 5.0GHz all-core overclock with minimal fuss.
You'll find this chip in some of Chillblast's most awarded systems, including the Fusion RTX 2080 Ultimate, where it's partnered with 16GB of high-speed memory, 2.5TB of fast storage, and a super capable RTX 2080 Super from Nvidia; all priced at less than £2,000.
When you start to choose higher-end components like these, you'll also need to factor in a more capable power supply too. You don't have to pay for the best of the best, but as the wattage demands start to climb, it can be good to consider a more efficient PSU too, as you'll not only be kinder to the planet but save yourself considerably on energy costs too.
No Budget, No Limits
At above £2,500 for an Intel gaming PC, there's nothing stopping you from packing in the most powerful processors available. That said, as great as it is to buy the best of the best, it's always (even at this level) worth considering where your budget might be best spent.
It may not be worth grabbing a few extra frames per second if your cooling is on the low side and you end up with a louder system than you'd like. Maybe your memory ends up bottlenecking your performance, or you find that loading times are longer than you'd like because you didn't budget for a capable SSD.
Chillblast's pre-built gaming PCs take all of this into consideration, making for great all round gaming PCs, whatever your budget. At the top end though, you can unlock the full potential of your graphics card, your memory, and just about everything else in your system by opting for the best of the best Intel CPUs.
i9-9900K
The unequivocal king of its generation, the Core i9-9900K is still one of the world's fastest gaming processors. With eight cores, support for 16 threads, and the ability to boost to 5.0GHz on up to three cores at a time – 4.8GHz across all cores – it was the first CPU to breach such barriers and managed to hold on to the gaming performance crown even under serious assault from AMD's Ryzen 3000 series.
It's an excellent overclocker too, with the best examples being able to exceed 5.0GHz all-core in some cases.
You'll find that CPU in everything from the £2,870 Chillblast Dreamliner Flight Sim PC, all the way up to the £4,500 Chillblast Hailstorm X RGB gaming PC with its hardline custom water cooling system.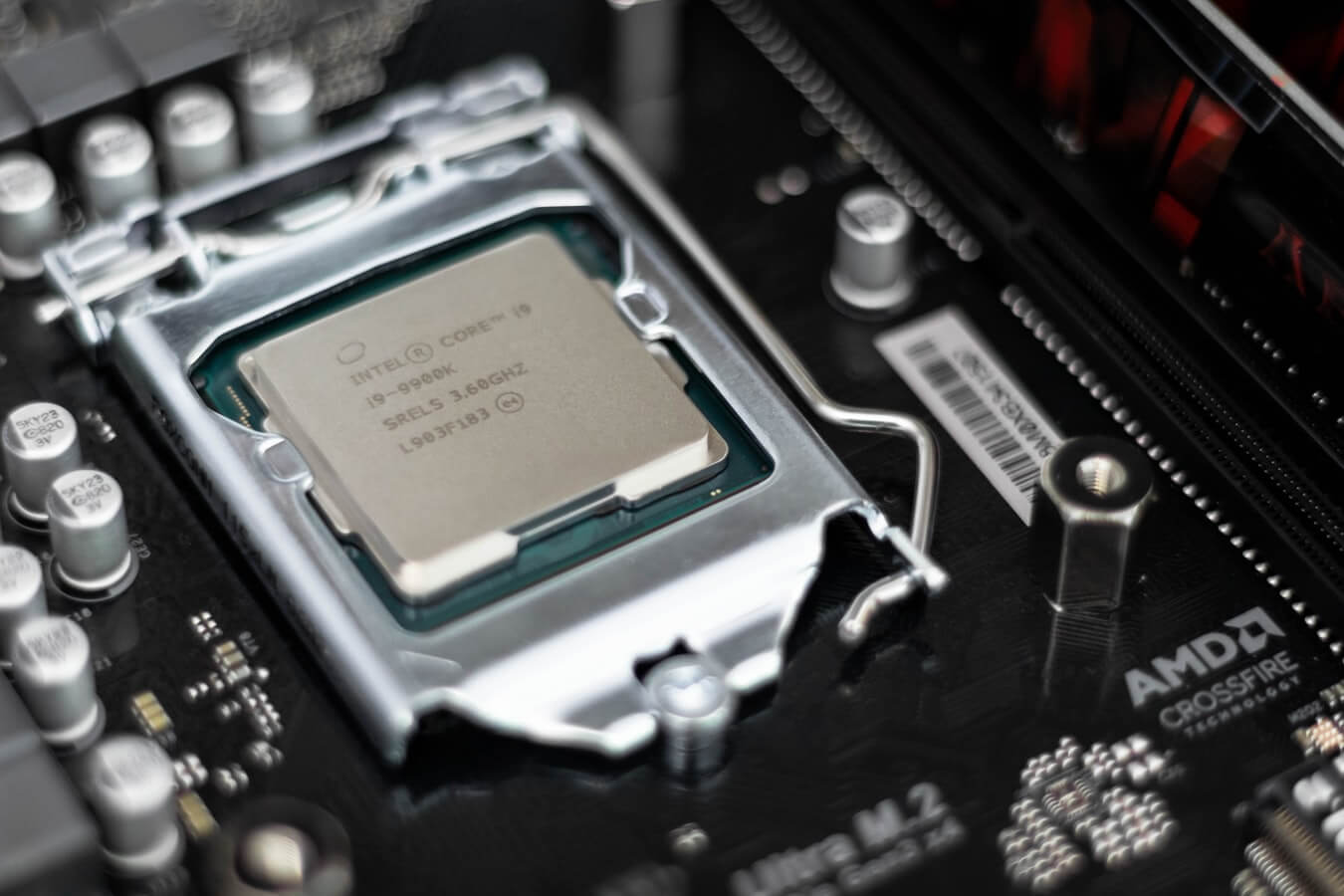 i9-10850K & i9-10900K
As great as that CPU is though, it's not quite the pinnacle of performance it once was. It now merely nips at the heels of its 10th-generation counterparts: the Core i9-10850K and 10900K. Both have 10 cores and support up to 20 simultaneous threads, making them better multitasking chips, as well as in games that support additional threads.
The only real difference between the two new-generation chips is clock speed, with the former offering 3.6GHz at base, and boosting to 5.1GHz when needed. The 10900K is just 100MHz faster at both, with a 3.7GHz base clock and 5.2GHz boost clock; although both chips can boost 100MHz higher using Intel's new velocity boost algorithm when temperatures are low.
You'll save a lot of money opting for the 10850K over the 10900K, but the latter is a more proven overclocker, with many showing it capable of hitting 5.3GHz on all cores if the cooling can keep up. 5.4GHz isn't impossible for single core boosts on the right chips, although you'll have to do well on the silicon lottery to achieve it.
10980XE – Intel's Top-Tier Offering
If you're wondering if Intel has anything that can match AMD's top-tier CPUs in terms of core counts, the answer is, yes.
Intel's high-end desktop (HEDT) CPUs, like the 10980XE, with up to 18-cores, are very capable processors in their own right and can be found in some of the most high-performance systems Chillblast offers. The £7,780 Fusion Dreadnaught X299 RTX 2080 TI SLI is a behemoth of a system, with not only one of the most powerful Intel CPUs money can buy, but also two of the most powerful graphics cards alongside it.
There is a catch with Intel's X-Series CPUs, though. They aren't really designed with gaming in mind.
They're based on older technology and can't hit the same kind of clock speeds as the newer mainstream Intel ninth and 10th-generation CPUs. That makes them great for video editing, for video transcoding, or alongside powerful graphics cards for complex 3D work. But if you want the best gaming performance, the Core i9-9900K, 10850K, and 10900K are far more capable processors for gaming.
Should you water cool an Intel CPU for gaming?
Modern-day air cooling has come a long way over the past decade. Where once water cooling was all but a necessity for the most powerful of CPUs, offering both advantages in terms of performance and noise levels, that's no longer the case. The most high-end of gaming processors can be cooled just as effectively using a powerful air cooler with plenty of fin space, a large number of heat pipes, and big, slow-spinning fans.
Watercooling has more points of failure too, and is typically more expensive, even for all-in-one coolers that don't require maintenance and upkeep. Custom loops can be far more costly again, depending on your choice of fittings and accessories.
It Does Offer Some Positive Enhancements
But there are some areas where water cooling can be preferable. Depending on your tastes, they can be a far more aesthetically pleasing cooling solution.
They let you hide the large fins of your radiators away from the main compartment, for a more open-plan looking system. And they are much more expandable, with the option to add additional fans and radiators to other parts of the loop where traditional air coolers are limited to the initial offering.
Watercooling systems are also, generally, near-silent. While the biggest and best air coolers can operate at near silence, a water cooling loop with its large body of water to soak up the heat, and even larger radiators to disperse it, typically uses lower RPM fans, leading to a quieter overall experience – especially if you are building a high-end PC with the fastest Intel processor and highest performance graphics card(s).
Watercooling is far from the necessity it once was for the kind of performance you should expect from a high-end Intel gaming PC, but it is a nice extra. Some of Chillblast's best looking and best performing gaming computers come fitted with gorgeous water cooling solutions.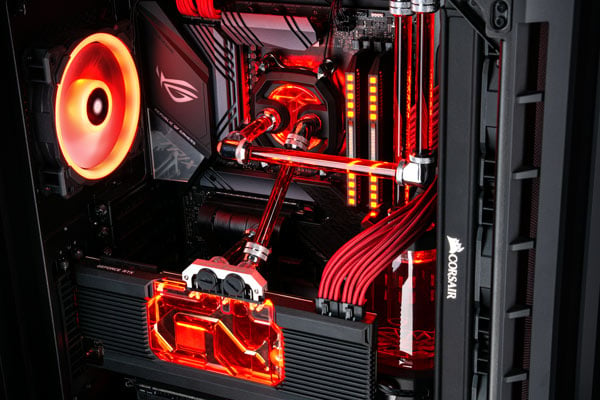 In Conclusion
No matter your budget, there is an Intel CPU out there that will meet your needs whilst offering a tremendous PC gaming experience. Whether you want the most powerful component, or are content at the lower end of the spectrum, there is a CPU for you.
If you are still unsure about which one is best for you, get in contact with us and we'll be glad to walk you through it even further.
Additionally, if you have any questions about water cooling Intel CPUs, give Chillblast a ring and one of our highly experienced system builders will be able to talk you through exactly what you need to make your Intel gaming PC experience just how you want it.