The Valve Steam Deck is one of the most exciting hardware releases of the year, with impressive performance, a great looking screen, and (especially at lower storage sizes) an affordable price tag.
With graphics card prices still relatively high, you may well be wondering if you should buy a Steam Deck or a gaming PC. There are advantages and disadvantages to both, from the hardware options available, to the portability of the device.
If you're weighing up the Steam Deck and a new gaming PC for your next upgrade, here are some points to consider which might sway you one way or the other.
The Steam Deck is more portable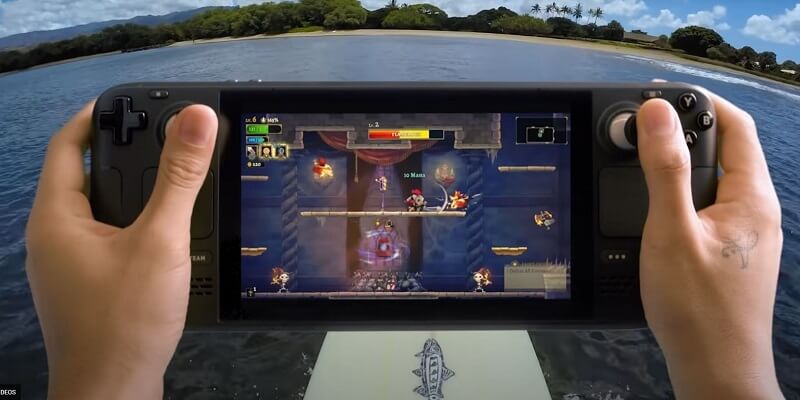 The big selling point of the Steam Deck is that it's a portable gaming PC.
You can take it anywhere with you and enjoy multiple hours of gameplay without the need for anything else – even the charger. Actual battery life lasts between one and a half and eight hours in real-world testing, depending on the game being played and your particular Steam Deck settings, like screen brightness, and what FPS it's locked to.
Gaming PCs, on the other hand, aren't quite so portable. Desktops, even small ones, can't be played with on the go. And though gaming laptops are, in many ways, just as portable as a Steam Deck, even the smallest ones aren't as compact, nor come with the array of controller inputs and performance capabilities at the same sort of size.
The Steam Deck is like a Nintendo Switch: a completely self-contained gaming system that you can take almost anywhere and enjoy a full gaming PC experience.
It is, however, much larger than a Switch, weighing just under 700g, and measuring almost 30CM long. A Switch is around half the weight of that and notably smaller, too. That means less screen space and certainly less performance, but where the Steam Deck is much more portable than a standard gaming PC (desktop or laptop) it isn't necessarily the most portable gaming system overall.
PCs can be vastly more powerful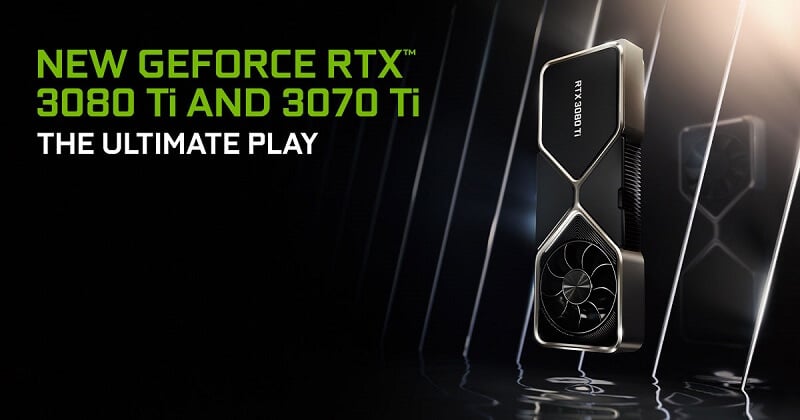 When it comes to gaming, there's nothing like a desktop gaming PC.
Whether it's competing against handheld portable gaming systems like the Steam Deck, gaming laptops, or even the latest generation of games consoles, desktop gaming PCs have always offered bleeding-edge performance for those willing to pay for it. Desktop PCs get the fastest processors, the most powerful graphics cards, the most storage, and the most exotic cooling solutions, all helping to deliver the fastest and most detailed contemporary gaming experience.
That's not to say that the Steam Deck isn't impressive. It sports a specially crafted AMD Aerith APU, which has a total of four AMD Ryzen Zen 2 CPU cores. Those are the same cores found in Microsoft and Sony's current-generation consoles, and AMD's Ryzen 3000 desktop CPUs. They're paired with an AMD RDNA 2 graphics chip with eight compute units. That gives it roughly comparable GPU performance to an Nvidia GTX 1050 – a five-year-old entry-level GPU.
Although the Steam Deck uses clever optimization, a lightweight operating system, and a relatively low-resolution screen to deliver solid performance at decent detail levels in many modern games, it's not a patch on the capability of a fully-fledged gaming PC. Those can run at 4K resolution, with ray tracing, and at much higher frame rates.
The only downside to that is that a gaming PC costs a lot more.
The Steam Deck is much cheaper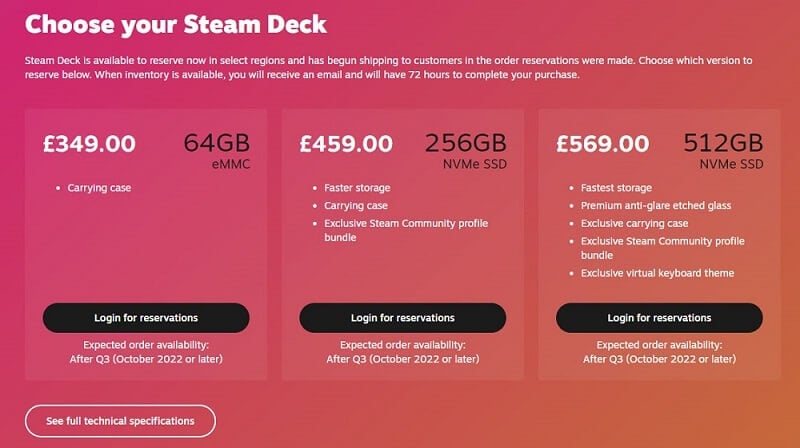 The Steam Deck isn't cheap, but it is affordable. For its base 64GB eMMC model, it's priced at £350, rising to £460, and £570 for the 256GB and 512GB versions, respectively. The two more expensive options have faster storage and come with extras like a carry case, an anti-glare screen, and exclusive community profile extras.
You aren't going to get a desktop gaming PC of any calibre at those sorts of prices.
A PC that performs about as well as the mid-range Steam Deck would cost you close to twice as much once you factor in the cost of the monitor, a mouse and keyboard, headset, and any other controllers or accessories you might need. It wouldn't take much more money to get something that vastly outperforms a Steam Deck, but when it comes to pure budget gaming, the Steam Deck is head and shoulders above most gaming PCs.
That's not necessarily the case with some laptops.
Entry-level gaming laptops should provide significantly greater performance than the Steam Deck for a price that's relatively close to that of the high-end Steam Deck, and if you just want to play older and indie games, some budget laptops would have just about enough power to get them up and running.
Even then, though, the Steam Deck is a specially-crafted gaming device with all the power it needs to play just about anything. Its screen size, internal hardware, and software are all designed around providing comfortable performance and good looking games. Larger, comparably-priced laptops just won't be able to deliver the same kind of quality gaming experience and no desktop PC will be able to compete on price.
PCs offer a much greater breadth of hardware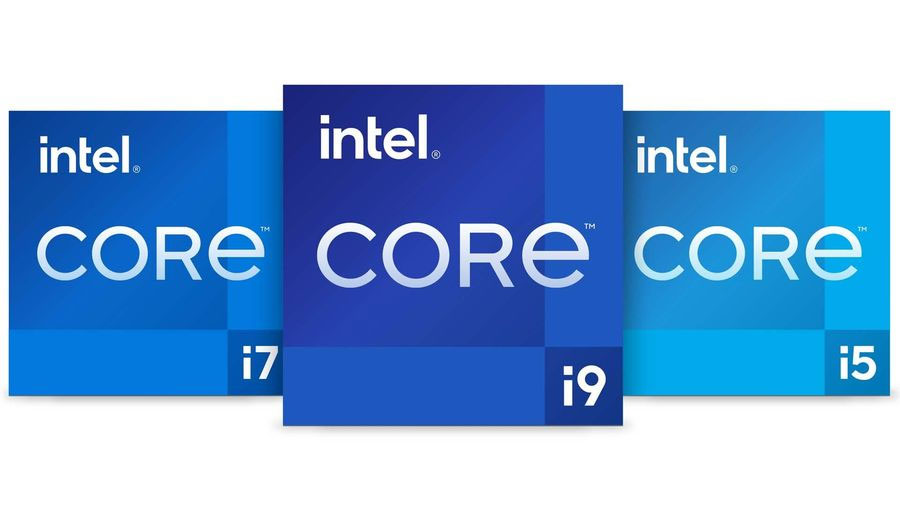 If you know what you want in a gaming device, then a gaming PC is always going to offer more choice. The Steam Deck has capable hardware, but your only choice in terms of what's inside comes in the form of storage. You can pick from 64GB of eMMC flash storage, or a 256GB or 512GB NVMe SSD.
A gaming PC can have just about anything that you want, as long as the components support one another. Want a budget gaming system with the bare minimum specifications? You can pick the components for that. Want the fastest gaming PC money can buy with the latest and greatest components? You can have it. Want something with rainbow LED lighting, water cooling and tens of terabytes of storage space? You got it.
Although buying a Steam Deck is a quick and easy way to get a capable gaming system, especially if you aren't sure what you need to play the games you want, a PC will always offer more choice.
Worried that you don't know what you need? That's not a problem. Gaming PC builders like Chillblast can use our extensive knowledge of PC building to recommend components for the games you want to play so that you get maximum performance at a fair price. We can put it together for you too, so it's ready to play right away.
The Steam Deck has all the inputs you could want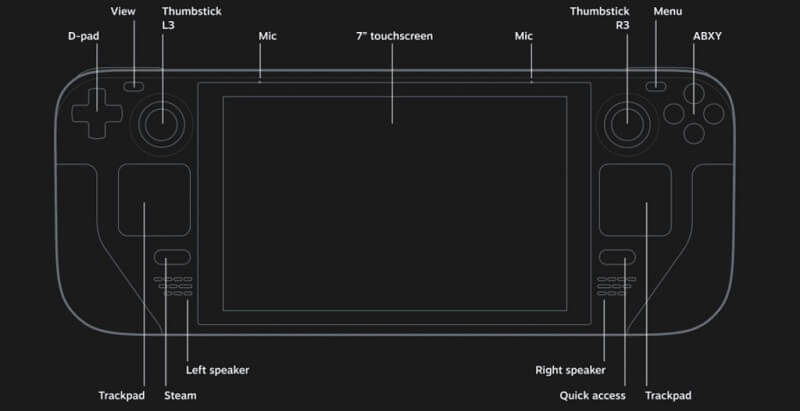 The Steam Deck is a culmination of several historical Valve hardware projects, combining the extensive research and (to some extent, failed) ambitions of its Steam Controller and Steam Machine projects, to bring to bear not only excellent hardware and software, but an amazing array of controller inputs, too.
It offers the usual face buttons, D-Pad, and dual analogue stick controls found on most gamepads and combines them with dual trackpads, a 7-inch touchscreen, analogue triggers and bumper buttons. The analogue sticks also have capacitive touch functionality, and the trackpads have both haptic feedback and configurable click-strength pressure sensitivity, for customizable, and extremely intuitive inputs.
There's even a gyroscope for limited motion control.
That's more controller inputs than even some of the most expensive gamepads and you get that all as part of the Steam Deck package. You can replicate it on a PC, but it wouldn't be cheap.
PCs have a much bigger supported game library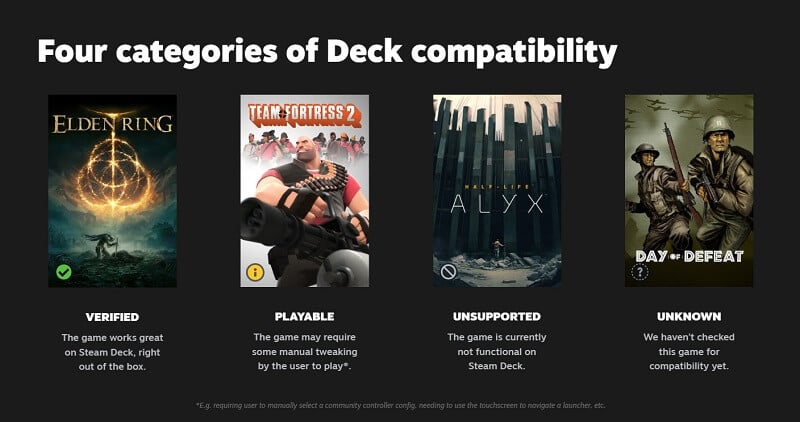 Valve has done an admirable job at getting the Steam Deck ready for release – that is preparing a solid list of compatible games that can be easily and readily played on the handheld system. Between a mix of Verified games that work flawlessly and Playable games that work well enough, there are hundreds of games that you can enjoy on the Steam Deck as if you were playing them on a PC. In some cases, the experience might even be a bit better, since the Steam Deck's controller inputs are so comprehensive.
But that's still paltry compared to the number of games you can play on your PC.
Every Steam game works well with PCs, otherwise, it wouldn't be allowed on Steam in the first place, and the catalogue of games on Steam is in excess of 50,000. That includes a lot of poorly made games, clones, ripoffs, and old games that don't stand the test of time, but that is a vastly superior array of games.
Steam also gets all the big new releases, and though most of those will probably get Steam Deck verified status as the number of Steam Deck players increases, that won't be the case for all. This is especially true for smaller indie games where the teams working on them have limited time to add compatibility for something that will likely retain a small player base for the next few years at least.
For now, if you want to play anything and everything, PCs are vastly superior to the Steam Deck in terms of game compatibility.
The Steam Deck is running the best version of Steam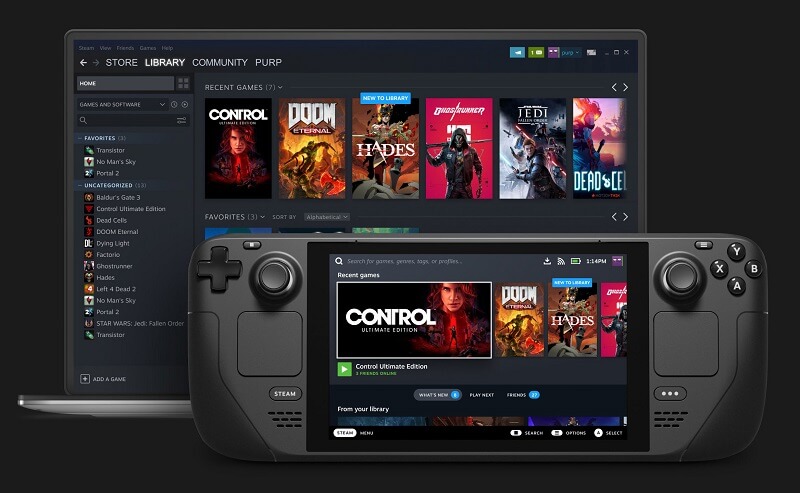 The Steam Deck has one serious software edge on PCs, and that's how bespoke it is. Not only is it running an operating system that is leaner than Windows, but it's running a version of Steam that was specially crafted for it. It's running the latest version of the application and it has all of the best features turned on by default and is readily accessible in a console-like manner.
That makes the version of Steam on the Steam Deck arguably the best version of Steam available today.
It has game library organisation and game management options turned on by default, rather than only accessible as part of dynamic library settings. The reduced number of games also provides a measure of curation and focus that just isn't possible on PC. It's quite easy to be swamped by the sheer number of games on offer, and existing game libraries can feel bloated. With the Steam Deck's focus on compatible games, the games that are available and compatible tend to be of higher quality.
There are still thousands of games that will hopefully make their way to the Steam Deck in the future, and it may be that some of the features that have been so praised on the Steam Deck become more readily accessible on the desktop version of Steam in the future. But, for now, the Steam Deck's version of Steam is arguably the best.
PCs are available right now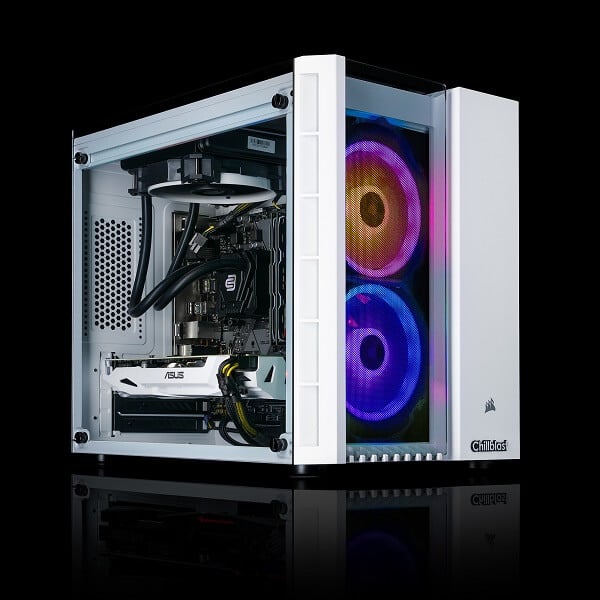 The most glaring flaw in the Steam Deck in early-2022 isn't anything to do with the hardware or software, it's the availability or lack thereof.
Despite extreme interest in the new portable system, the only orders that have shipped so far are from pre-orders made last year. If you order it today, you aren't going to see yours ship out to you until, at best, July, and more likely closer to September. Wait a few more weeks and you might be looking at a holiday 2022 release.
Valve is increasing production on the Steam Deck in an attempt to match demand, but that will take time and as we've seen from the past couple of years, silicon shortages won't be helping.
For now, the multi-month wait is a long time for any kind of device, especially in the realm of PC hardware, whereby the time many Steam Deck buyers get their hands on their new device, we may well be looking at new generations of processors, motherboards, RAM, and graphics cards; with all of the associated gains in performance, efficiency, and affordability that that brings.
They may make buying a Steam Deck a harder sell, especially if the rumours of GPU shortages abating throughout the year might make gaming PCs a little more affordable.
If you want something to play PC games on right now, a gaming PC is your only real choice.
Shop our NEW & IMPROVED Next Day PCs!
Browse our range of recently revamped Next Day PCs. Choose from a selection of high-performance PCs delivered the very next day to get you set up and gaming as soon as possible.

Buy today, play tomorrow.