Skull and Bones is finally almost here. For real this time. Probably.
Ubisoft's piratical vaporware has been just over the horizon for almost a decade but it's finally going to sail into view in 2023. Almost certainly, as it has recently been delayed again, but it's for sure coming out this year, so it's a good time to consider whether your PC is ready for when the game is.
Skull and Bones is a demanding game, too, so you'll need to think hard on it. Despite beginning its development when the average CPU had just two cores, the latest incarnation of Skull and Bones is set to test gaming PCs like almost nothing else, demanding near-flagship level hardware for even a 1440p experience at 60 FPS.
But let's not put the shot before the cannon. You won't need a monstrous gaming PC just to get Skull and Bones up and running, with the minimum specs recommending the most popular graphics card in Steam gaming's history.
Here's everything you need to know about Skull and Bones' system requirements, and a closer look at where you should focus your upgrades to get the best experience playing it.
Skull and Bones Minimum System Requirements
Processor: AMD Ryzen 5 1600 @ 3.2 GHz or Intel Core i7-4790 @ 3.6 GHz
RAM: 8 GB (running dual-channel mode)
Graphics: AMD Radeon RX 570 (8 GB) or NVIDIA GeForce GTX 1060 (6 GB)
Storage: 65 GB SSD
Operating system: Windows 10 (64-bit version)
DirectX version: DirectX 12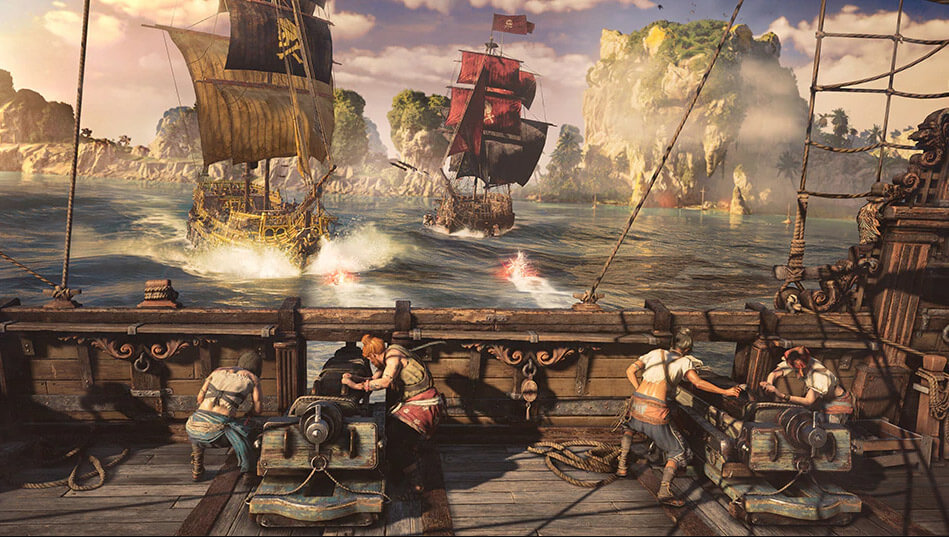 Like most mainstream games from a big publisher, Ubisoft has made sure that almost anyone with any kind of gaming PC can get Skull and Bones up and running. You'll only need a mid-range CPU from over half a decade ago, paired with a mid-range GPU from over six years ago. You only need 8GB of RAM – although it does specify dual-channel (so you'll want two sticks of 4GB if you can) and 65GB of storage – although it does need to be an SSD.
All of that will let you play Skull and Bones at 1080p resolution, with all settings on low, and at 30 frames per second. That's a very low-grade "cinematic" experience that most gamers would prefer to exceed. But, if your budget or existing PC won't let you, then this is a perfectly adequate way to enjoy the game.
Better yet, these kind of minimum system requirements mean that you could enjoy Skull and Bones on the Steam Deck at high frame rates. There's no guarantee Ubisoft will make it readily compatible, but considering the system's popularity, it's quite likely.
Meeting The Minimum With A Modern PC
Although almost any gaming PC from the past five years will have no trouble running Skull and Bones, if you don't have a gaming PC that's up to scratch, or don't have a gaming PC at all, then building a new one is your best bet. Second hand hardware is an option, but you have no idea what it's been used for, or how long it'll last, and if something goes wrong, you're on your own.
With a new PC you can rest assured that not only will you be able to play Skull and Bones, but heaps of other games too, and you'll have a warranty and support system behind you, should you run into any problems.
For a modern PC that can get Skull and Bones running on a budget, a CPU like the Intel Core i3-12100F is a great pick. Super affordable, but with four cores and eight threads it punches well above its weight. Pair it with an affordable B660 motherboard and 16GB of DDR4 memory – it's so cheap you might as well.
As for graphics, almost anything you buy will be better than the cards recommended for Skull and Bones at this sort of specifications. However, your most affordable options are the AMD Radeon RX 6500 XT, or the Nvidia GTX 1650 Super.
Both are entry-level GPUs, but offer more than enough to enjoy this game on low settings. If you can stretch your budget a bit further, an RX 6600 will give you a lot more for your money and let you raise some settings above low, or improve your frame rate for a smoother gaming experience.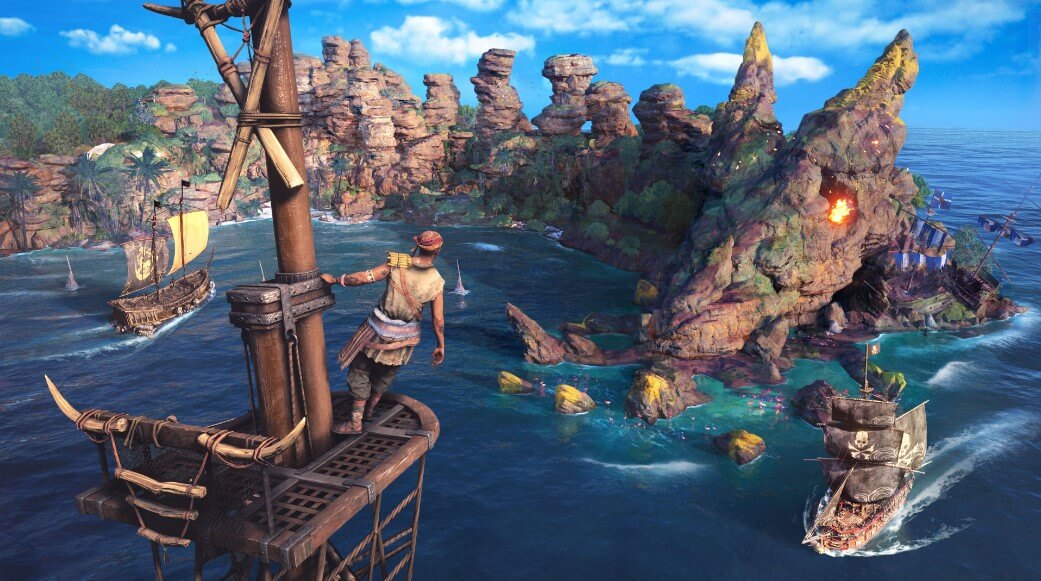 What PC do we recommend?
Equipped to handle modern PC games, the Fusion Reaver is the ideal starter PC package to get Skull and Bones up and running.
Graphics are handled by NVIDIA's excellent GeForce GTX 1650 graphics card, whilst a modern Intel 12th Gen Core i3 CPU capably handles photo and video editing. It's a PC that is ideal for enjoying both the most popular mainstream PC titles like Minecraft, League of Legends, DOTA2, Hearthstone and CS:GO, but is also capable of running much more demanding games like Skull and Bones at full HD resolution.
All of this is backed up by a superb WiFi-enabled Gigabyte motherboard, 16GB of ultra-fast DDR4 memory and a stylish M-ATX case, complete with a tempered glass side panel so you can see all the goodness inside.
It's also been rated 5/5 stars by PC PRO Magazine and branded as PC PRO Recommended.
"This PC is a hot contender if your budget is limited"

Tim Danton, PC PRO issue 332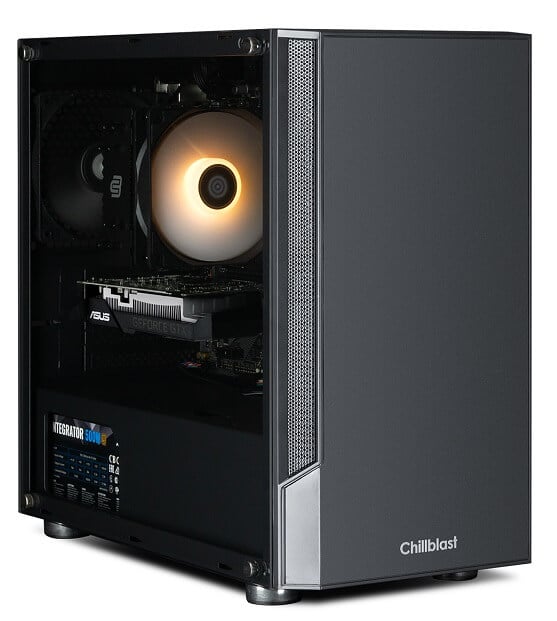 Skull and Bones Recommended System Requirements
Processor: AMD Ryzen 5 3600 @ 3.6 GHz or Intel Core i7-8700K @ 3.7 GHz
RAM: 16 GB (running dual-channel mode)
Graphics: AMD Radeon RX 5700 XT (8 GB) or NVIDIA GeForce RTX 2070 (8 GB)
Storage: 65 GB SSD
Operating system: Windows 10 (64-bit version)
DirectX version: DirectX 12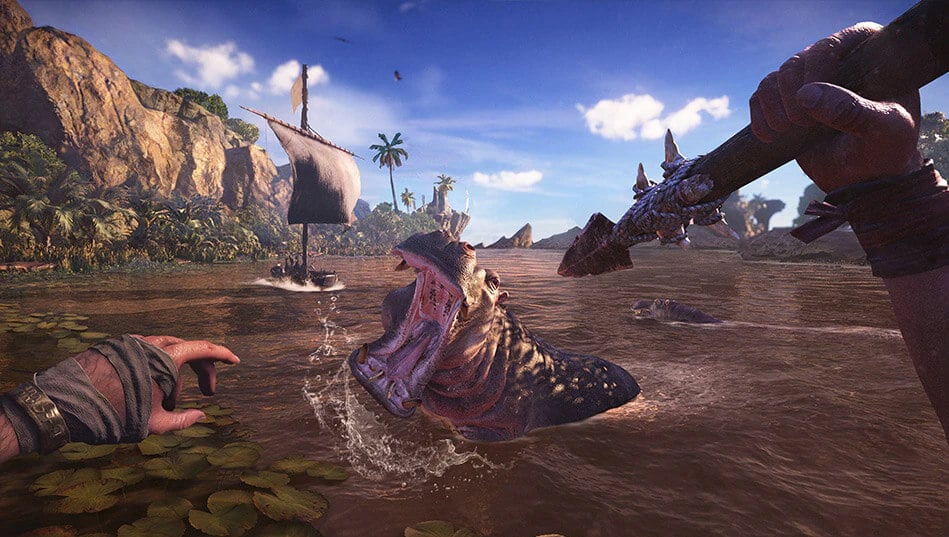 Raising the bar to recommended system requirements, Skull and Bones gets a lot more demanding. No longer can you get away with half-decade-old CPUs and graphics. The processors are powerful options from just a few years ago, and the graphics cards were upper mid-range just a couple of generations back.
Most high-end gaming PCs from recent years shouldn't have much trouble hitting these specs, but mid-range systems may need to upgrade the odd component to hit these recommended specifications.
While that might gatekeep a few more gamers from enjoying Skull and Bones, the result is worth it for those who can make the grade. You'll get 60 frames per second at High settings, which will make the game look far better and smoother, even if it is still locked at 1080p resolution. Still, that additional GPU headroom gives you options, too, with the ability to tweak settings for greater detail or frame rate, depending on how you prefer to play.
Meeting The Recommended With A Modern PC
With how much these kinds of graphics cards were in short supply during the GPU pricing crisis of the past few years, buying any of them second hand isn't recommendable. They've likely been used for mining and will have been worked hard if so, giving you little guarantee of how long they'll last.
Fortunately, there are more cost-effective and more capable modern graphics cards and other components you can buy instead, making buying a new PC for Skull and Bones a better option if you want to hit the higher detail settings and frame rates.
For your CPU, you have a breadth of options. The most affordable, would be a last-generation AMD CPU like the Ryzen 5 5600, letting you use older motherboards and DDR4 memory. Alternatively, if you want a better upgrade path, an Intel Core i5-12400, or 13400 would be a powerful alternative, leaving you with more options for upgrading. The AMD Ryzen 5 7600 would give you the best upgrade path, but it demands DDR5 and motherboards aren't cheap.
For graphics, an AMD RX 6700 is a super-powerful option at a great price. The Nvidia RTX 3060 Ti will give you comparable frame rates and access to the powerful deep learning super sampling (DLSS) upscaler, but you can use FidelityFX Super Resolution (FSR) with the AMD card instead and it's almost as good. You'll get slightly better ray tracing performance on the Nvidia GPU too, but at this kind of detail level, raw performance is more important.
For RAM, 16GB of high-speed DDR4 is perfectly fine, though if your CPU and motherboard support it, DDR5 will offer better performance at a considerably higher cost.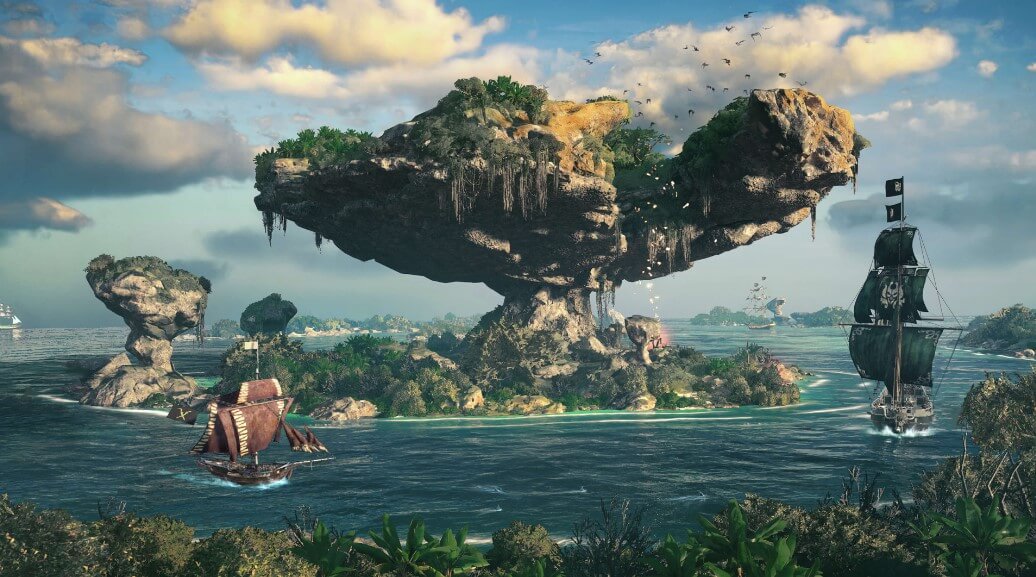 What PC do we recommend?
As a well-balanced all-rounder, our Akula Gaming PC is a great option to hit the recommended specs for Skull and Bones.
It's built around AMD's 6-core, 12-threaded Ryzen 5 5600X processor and 16GB of ultra-fast DDR4 memory, while graphics duties are handled by the latest NVIDIA's GeForce RTX 3060Ti graphics card – a potent combination for those looking for a PC with great performance today and upgradeability for the future.
A quality motherboard from Gigabyte provides plenty of USB 3.2 ports, and a 1TB M.2 Solid State Drive reduces Windows and other applications load times with a capacity to store all your games. All of this is wrapped up in the stylish Corsair's 4000D Airflow Case giving this gaming PC a cool and understated look.
– Awarded 5/5 and the PC Pro A-List award!
– Was Awarded 5/5 in ComputerActive!
– Awarded ComputerActive "Buy It" Award!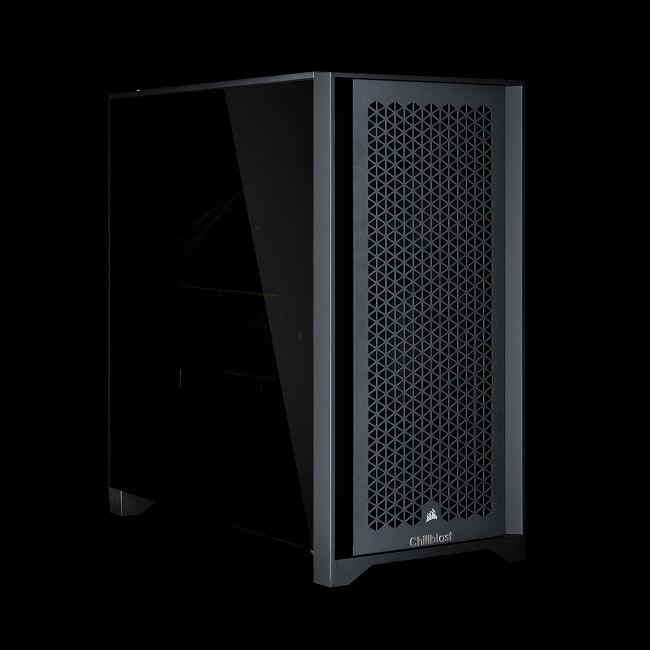 Skull and Bones High Configuration System Requirements
Processor: AMD Ryzen 5 5600X @ 3.7 GHz or Intel Core i7-9700K @ 3.6 GHz
RAM: 16 GB (running dual-channel mode)
Graphics: AMD Radeon RX 6800 (16 GB) or NVIDIA GeForce RTX 3070 (8 GB)
Storage: 65 GB SSD
Operating system: Windows 10 (64-bit version)
DirectX version: DirectX 12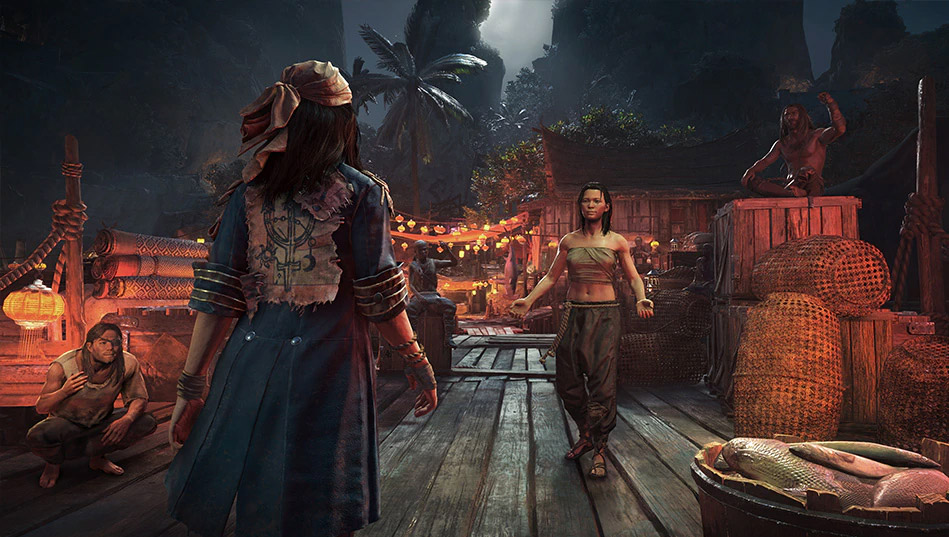 If you want to really make Skull and Bones look its best, you're going to have to brave the horizon beyond 1080p resolution.
Unfortunately, that means a serious upgrade in hardware as this game gets very demanding once you bump the number of pixels up. With its recommended specifications, you'll need a modern mid-range CPU and a high-end graphics card from one of the latest generations.
If you can meet or exceed these specs, though, you'll get to play the game at high settings, at 1440p, at a steady 60 frames per second. That's still not enough for those with high refresh rate monitors to make the most of them, but it's enough to make the game look much more next-gen.
Meeting The High Specs With A Modern PC
As for building a PC for this configuration, there's little additional guidance needed. All of these components can be bought today at good prices and you can get great pre-built gaming PCs with this kind of configuration from Chillblast and elsewhere. The only consideration potentially worth making is which generation of CPU/motherboard you opt for.
The 5600X and 9700K are older processors on older motherboards. While they will be more affordable than buying an Intel 12th or 13th generation, or an AMD 7000-series CPU, those offer better upgrade paths. The Intel CPUs also let you use DDR4 or DDR5 memory, as well, potentially making them the cheaper option. Alternatively, the Ryzen 7 5800X3D is stupendously powerful and very affordable compared to new-gen options, but its upgrade path is limited.
For graphics, there are newer-generation cards that you could consider instead. The Nvidia RTX 4070 Ti will give you greater performance than either of the cards recommended here, and access to DLSS 3.0 frame generation, but it's much more expensive.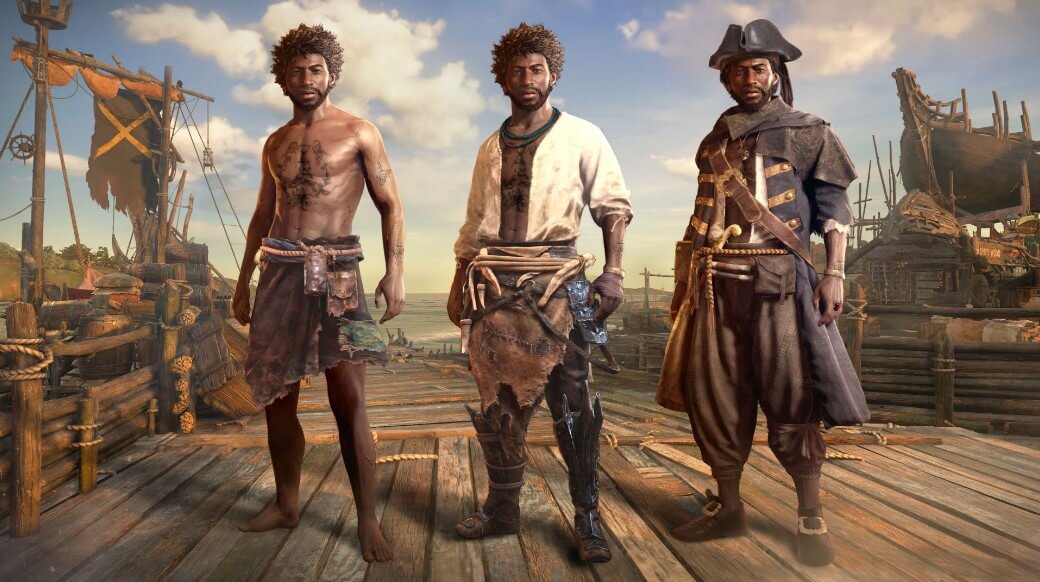 What PC do we recommend?
The Chillblast Chronos Gaming PC is a sleek and stealthy machine featuring the high-performance technology needed to hit the high configuration specs for Skull and Bones.
To help achieve that 1440p sweet spot, the NVIDIA GeForce RTX 3070 is ready for action. With 8GB of VRAM and 5888 CUDA Cores, it is a force to be reckoned with. 
The CPU is Intel's Alder Lake 10 core i5-12600K which is coupled with 16GB of DDR4 RAM and the exceptional Gigabyte Z690 UD AX Motherboard forms the backbone of the system. A 1TB PCIe Samsung M.2 Gen 4 SSD sends your OS into warp speed and houses your entire Steam collection. All of this is housed within the stealthy Fractal Meshify 2 Tempered Glass case and powered by a Corsair's Gold rated 750W PSU.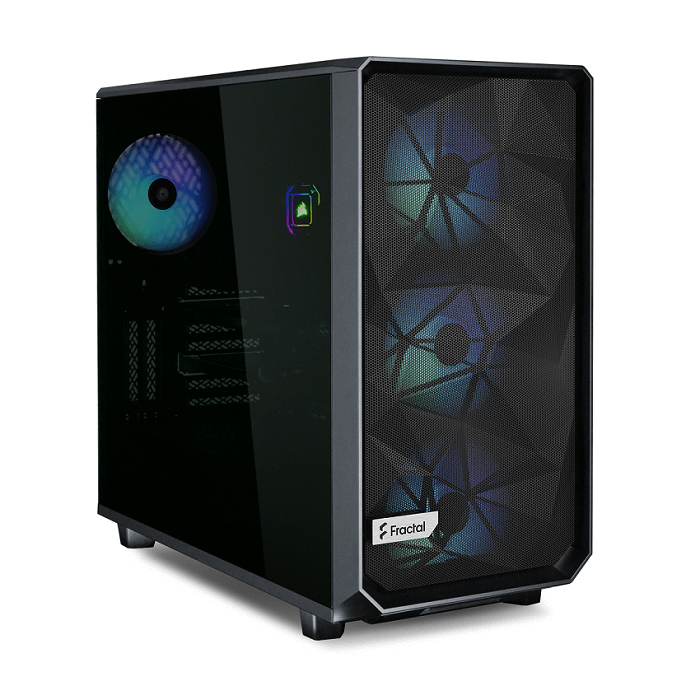 Skull and Bones '2K' Configuration System Requirements
Processor: AMD Ryzen 5 5600X @ 3.7 GHz or Intel Core i7-11600K @ 3.6 GHz
RAM: 16 GB (running dual-channel mode)
Graphics: AMD Radeon RX 6800 XT (16 GB) or NVIDIA GeForce RTX 3080 (10 GB)
Storage: 65 GB SSD
Operating system: Windows 10 (64-bit version)
DirectX version: DirectX 12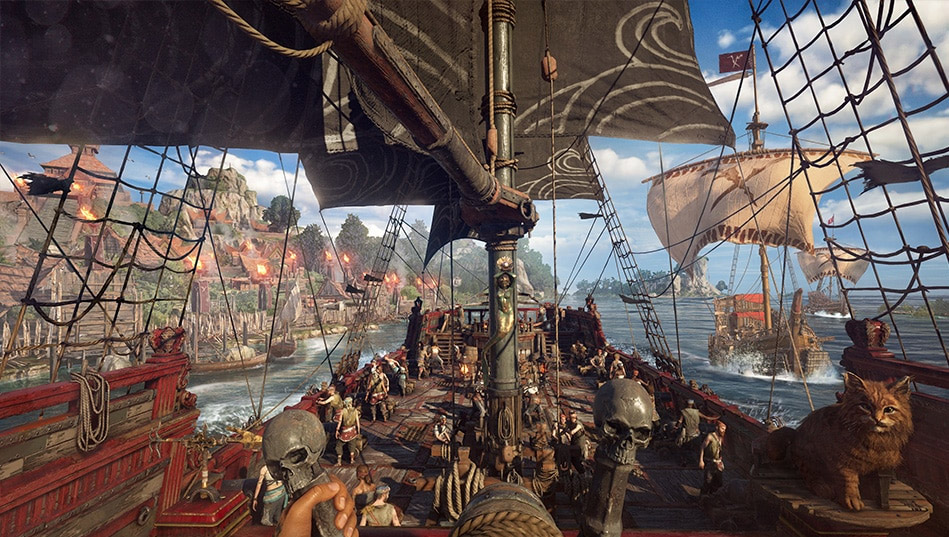 Ubisoft calls this its recommended "2K" configuration, but it's for the arbitrary "2160p" resolution that works out to 3840 x 2160 – or what everyone else refers to as 4K.
Ubisoft's odd decision-making with this spec aside, it's clear that if you want the premium 4K experience with Skull and Bones, you're going to need a powerful gaming PC.
If you can match or exceed these specs, you'll unlock 4K resolution at 60 FPS with everything on Ultra. But, that is with FSR or DLSS set to balanced, so if you want a true native 4K experience, you're going to need a more powerful system.
Meeting The '2K' Specs With A Modern PC
The processors are relatively pedestrian in this case, and there are plenty of more powerful options you could consider. The 5800X3D is still a strong contender for AMD, even on an older platform with limited upgrade potential. A more modern alternative would be the 7700X, or on the Intel side of things, the 13600K or 13700K are absolutely killer gaming processors.
For graphics, the recommended options are still great picks, even if they are last-generation.
If you want higher frame rates than 60 FPS or to set FSR and DLSS to higher quality settings, then something like the RTX 4080 or RX 7900 XTX would be a big upgrade. Alternatively, if you have deeper pockets and want the best Skull and Bones experience possible, there's still nothing quite like the RTX 4090.
If you're buying that, too, make sure you get yourself 32GB of DDR5 memory so that you're maximizing system performance and ensuring no background tasks hold back your game.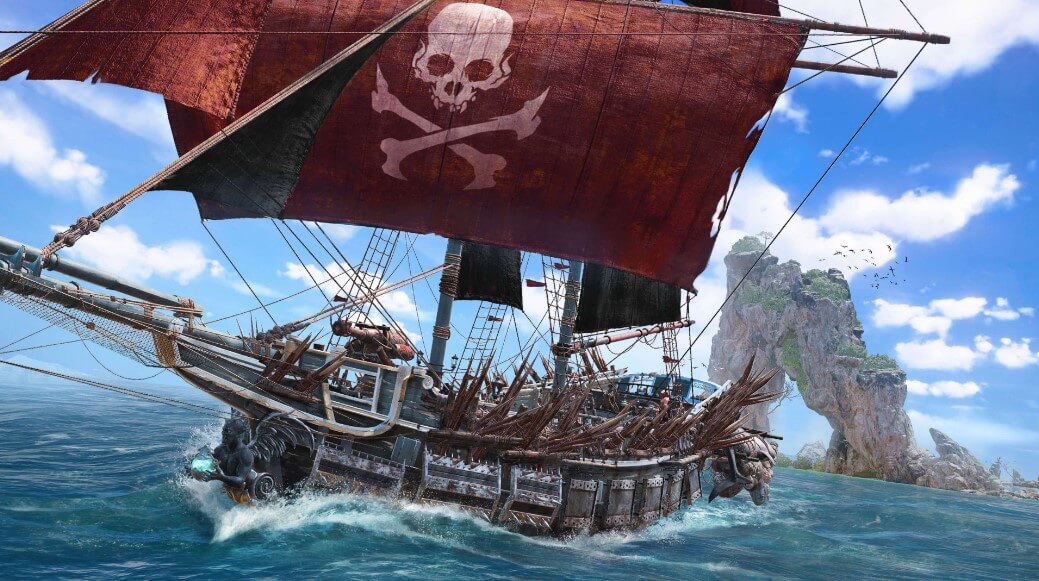 What PC do we recommend?
Our Chillblast Synapse is a stunning gaming PC using the very latest components available to deliver a perfectly balanced Skull and Bones experience at 4K resolution.
At the heart of the Synapse beats a powerful 5GHz twelve-cored Intel Core i7-12700K coupled with 16GB of RAM, making the system ideal for video and photo-editing workloads. Graphics are provided by the exceptionally powerful NVIDIA GeForce RTX 4080 Graphics Card – a 16GB monster that was designed to enable premium gaming experiences even on multi monitor and VR headsets.
The Asus TUF Z690-PLUS Wifi motherboard comes with native Wi-Fi 6, USB 3.2 and NVME, so you can be sure you are as future proof as possible. Built-in 2.5 Gigabit ethernet means you can make the best of the fastest of broadband connections, and enjoy the delights of catch up TV and Youtube with no stutter.
Plus, all of your triple-A games will load up at lightning speeds thanks to Samsung's 980 PRO M.2 solid state drive – a storage device 12x faster than a conventional 2.5" Solid State Drive. Power is provided by an excellent 80 PLUS Gold certified PSU, and it is all housed in a Phanteks G500A DRGB case complete with a tempered glass side pannel.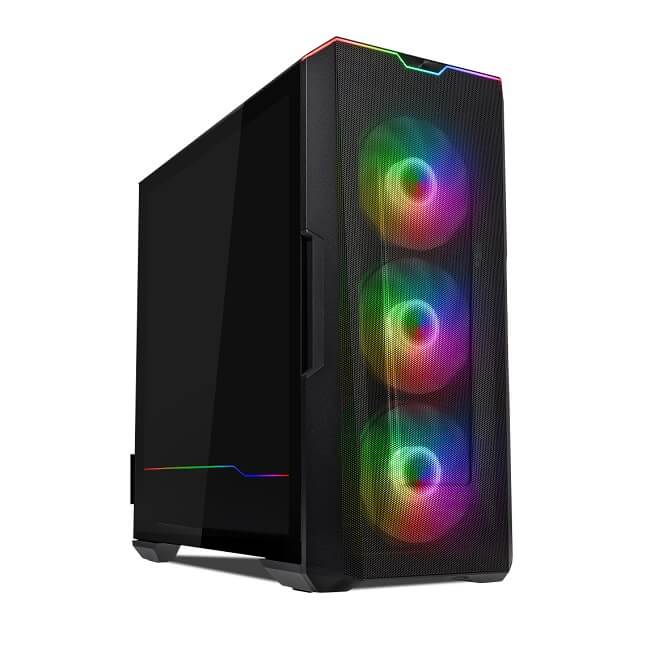 Conclusion
Skull and Bones looks set to finally release in 2023 and you're going to need a powerful PC to make it look its best, but with relatively lightweight demands on the CPU, memory, and storage, there are a few different ways you can cut back to make a more affordable gaming system for Skull and Bones.
If you're interested in upgrading for this game and want even more insight into what you need, get in touch with Chillblast and one of our highly qualified system builders will answer any questions you have.