Samsung has been a trendsetter and frontrunner in the SSD market for years, pushing the boundaries on performance and durability for mainstream and professional PC performance. Its SATA SSDs are still some of the most lauded and easy to recommend, but it's in the NVMe market that its current lineup of drives really shines.
One of its most popular current options is the 980 Pro, a PCIexpress 4.0 NVMe SSD that uses the latest generation of LPDDR4 DRAM cache, the latest generation Samsung Elpis controller, high-quality TLC NAND Flash memory, and includes an SLC cache for added measure.
It's a cutting edge SSD designed to offer cutting edge performance, whether you're looking to use it for a boot drive, big game library, or for super fast data transfers in more professional settings.
It doesn't stand alone, though. The Samsung 980 Pro faces stiff competition from Seagate, Sabrent, and Western Digital, among others, all of whom offer high-performance, competitive, and well-priced PCIexpress 4 NVMe SSDs.
Can the Samsung 980 Pro stay competitive enough with these drives that you consider it for your next PC build? Let's find out.
The Samsung 980 Pro SSD – By The numbers
All NVMe SSDs offer excellent performance, but the latest round of PCIexpress 4.0 drives are something quite special, offering a huge leap in performance over previous-generation devices.
Like older SATA and NVMe drives, however, performance and capabilities do vary depending on the model and capacity you opt for. A look at the range of available Samsung 980 Pro models showcases that there are some quite stark differences between them.
Samsung 980 Pro Models
250GB
512GB
1TB
2TB
Cache Memory
512MB LPDDR4
512MB LPDDR4
1GB LPDDR4
2GB LPDDR4
Sequential Read
Up to 6,400MBps
Up to 6,900MBps
Up to 7,000MBps
Up to 7,000MBps
Sequential Write
Up to 2,700MBps
Up to 5,000MBps
Up to 5,000MBps
Up to 5,100MBps
Random Read 4K QD32
Up to 500,000 IOPS
Up to 800,000 IOPS
Up to 1,000,000 IOPS
Up to 1,000,000 IOPS
Random Write 4K QD32
Up to 600,000 IOPS
Up to 1,000,000 IOPS
Up to 1,000,000 IOPS
Up to 1,000,000 IOPS
Random Read 4K QD1
Up to 22,000 IOPS
Up to 22,000 IOPS
Up to 22,000 IOPS
Up to 22,000 IOPS
Random Write 4K QD1
Up to 60,000 IOPS
Up to 60,000 IOPS
Up to 60,000 IOPS
Up to 60,000 IOPS
Reliability
150 TBW
300 TBW
600 TBW
1,200 TBW
By the raw specifications, the 512GB model and up provide the best overall performance, with a negligible difference between it and the 1TB and 2TB models; even if those higher capacity models are still quicker, especially when it comes to random 4K QD32 read performance.
The Reliability Factor
Another important consideration is the reliability of these drives.
All of them feature extensive total bytes written (more colloquially considered as terabytes written) ratings, which would mean filling the drives several hundred times over before you even approached those sorts of figures, with the greatest reliability being found in the largest models. By virtue of having more memory chips to spread the write commands out to, there's a greater capacity for lifetime writes.
The overall reliability figures are decent compared to the competition, although it is a step back from the 970 Pro range of drives. This is thanks to its use of TLC flash instead of MLC, making the 980 Pro drives the first flagship devices from Samsung to not use MLC.
While that is a shame for some users who opt for maximum reliability over anything else when buying drives, it's a move that makes sense for Samsung. According to its data, less than one percent of all Pro drive buyers use over 156 TB within five years, and just 0.3 percent write over 600 TB. So, providing up to 1,200 TB of TBW at the top end should be enough for most of its customers and this way it can help keep costs reasonable.
Despite the difference in TBW between generations, the Samsung 980 Pro drives still sport the same five-year warranties as its predecessors.
A New Controller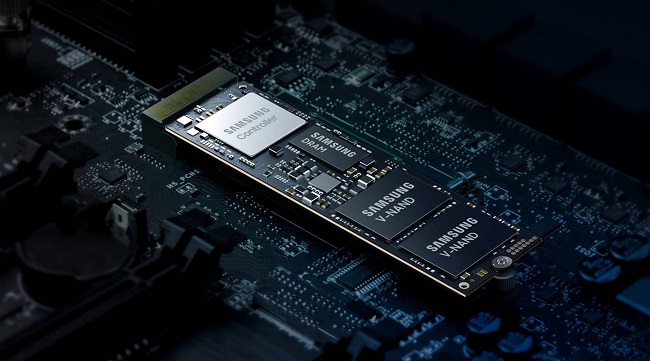 Although there are a number of high-speed PCIE 4.0 NVMe drives that came before the Samsung 980 Pro, few of them got close to realising their monstrous performance potential. This was due to the controllers simply not being able to keep up, and they consumed a lot of extra power to enable the performance improvements they could do.
To make sure that didn't happen with this drive, Samsung equipped it with a new generation Elpsis controller, which was built on a more mature and efficient 8nm process node. This cuts back on its power requirements and is what should enable the 980 Pro to hit peak speeds as much as twice that of its predecessors.
SLC and TurboWrite
The Samsung 980 Pro features TurboWrite 2.0 to enable greater burst performance where required, leveraging an onboard SLC cache to achieve it. This is the same system that Samsung used in its last-generation 970 Evo Max and 970 Pro drives, but it's enhanced to deliver a larger dynamic cache, which should lead to extended higher sustained write speeds.
When the cache is full, the performance will still likely fall as the drive writes directly to the TLC flash instead, but the TurboWrite 2.0 function should help keep the drive running at peak performance where shorter write periods are concerned.
Real-World Performance of the Samsung 980 Pro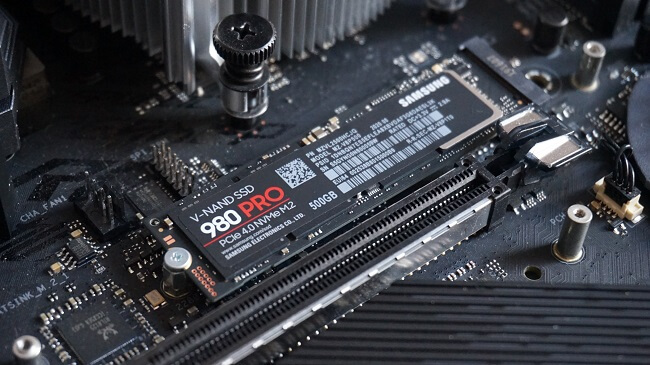 As with any electronics, the official specifications are a great starting point for understanding the capabilities of SSDs, but they aren't the same as looking at real-world performance numbers. That's where the rubber meets the digital road and we find out just how good these drives are at handling your data.
The Samsung 980 Pro knocks it out of the park in synthetic data transfer tests, delivering consistent, class-leading performance at all capacities. In the mainstream PCMark 10 benchmark, the 500GB, 1TB, and 2TB drives scored over 3,100 points each, with only much more expensive alternatives like the Intel Optane 905P beating it by a sizeable margin; everything else came close or fell short.
These kinds of results are repeated in real-world file transfers, where transferring up to 100GB of mixed large and small files between drives sees the 980 Pro pulling well ahead of any other mainstream NVMe SSD out there.
Reading back some of those files afterwards saw other standouts like the WD Black Sn850 and Sabrent Rocket 4 Plus providing credible competition, but in all-round file transfer performance, the Samsung 980 Pro is a class leader in a class of its own.
Video Capture Test
Another test that many reviewers ran is a video capture test, which can be an important check for spotting any write holes caused by TLC or QLC flash memory, where the onboard cache runs out and leaves you with lacklustre performance. Since the 980 Pro uses TLC flash, it was a real imperative to confirm whether this would be an issue with the new drives. But, with Samsung's expanded and upgraded TurboWrite 2.0 feature and dynamic SLC cache, it seems as if that potential problem has been averted.
Performance remains consistent throughout video capture, hitting multiple gigabyte per second write speeds. While it's not impossible that the cache will run out at some point during extensive filming, if you're capturing for shorter periods of time, it'll absolutely be up to the task.
Game Load Times
Game load times were a little less impressive on the 980 Pro. Not because the drive performs poorly, but because the alternatives are just as good.
NVMe SSDs provide very little overall performance advantage compared to even mid-range SATA SSDs, let alone fast NVMe drives. That said, that's just the state of play now. With the new-generation consoles from both Microsoft and Sony offering a faster loading and faster-paced gaming experience with their new NVMe drives, expect PC games in the not-too-distant future to be able to take full advantage of these new-generation NVMe drives for significantly faster load times.
As you might expect, the higher capacity drives delivered the best real-world performance in real-world testing. That said, in most instances, the 1TB and 2TB models provide very comparable performance, so capacity is more of a consideration when opting between the drives – it's certainly not worth spending more for the bigger drive if you aren't going to use it.
Keeping It's Cool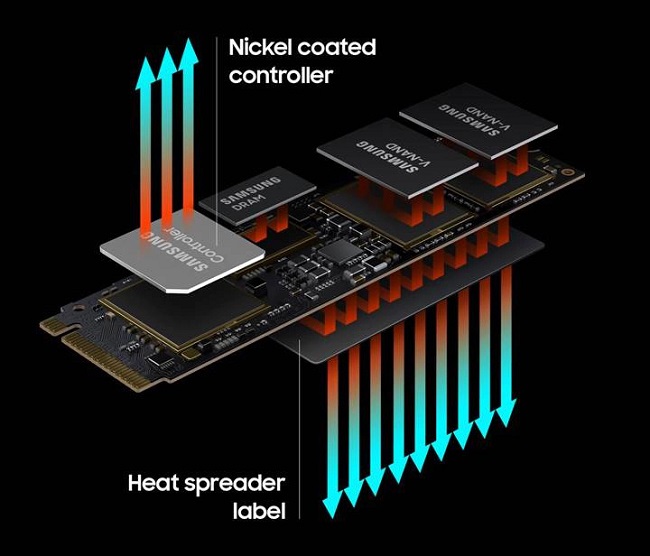 With such a high-performance drive, it's no surprise that the Samsung 980 Pro needs a little help staying cool. Like other high-powered Samsung SSDs, the 980 Pro of all capacities uses a copper heatspreader on the rear side which helps absorb some of the heat load when it's being pushed hard.
Unlike previous generations of Pro drives, Samsung has also added a nickel coating to the SSD controller, which Samsung claims has improved overall cooling by seven percent. That's hardly huge, but when combined with the shrink to an 8nm process, is enough to keep the SSD temperatures in check.
As long as you have adequate airflow within your chassis, the Samsung 980 Pro will have no trouble staying within safe operating temperatures to ensure it avoids any kind of thermal throttling.
Hopefully, Samsung will consider expanding the cooling capabilities of whatever drive comes next for the flagship SSD range, as it feels like we could be hitting the thermal limits of what such simplistic cooling solutions can achieve. Although any big hunk of heatsink metal slapped on top of an SSD contributes to an increase in price, it may be necessary in the future to help maintain consistent performance.
You Need a PCIE 4 PC for PCIE 4 Speeds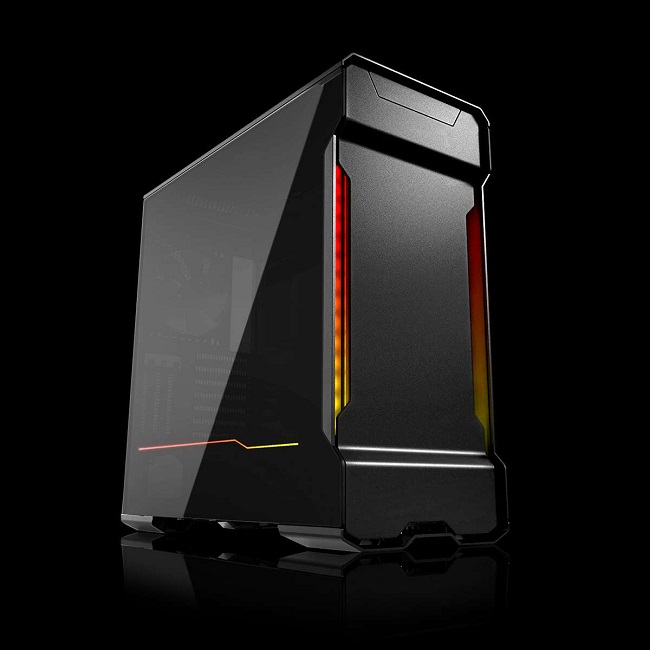 If you're interested in including the Samsung 980 Pro in your next PC, you'll need the right kind of system to take advantage of it. With a PCIExpress 4.0 interface, the Samsung 980 Pro needs a PC with PCIe 4 support.
That means AMD Ryzen 3000 or 5000 CPUs in an AMD x570 or B550 motherboard, or an Intel Rocket Lake processor in a 500-series motherboard.
You can find those in either of the Chillblast configurable AMD or Intel custom PCs, or in a number of pre-built PCs designed for gaming and professional use, like the Chillblast Fusion gaming PC, with its Ryzen 5800X, Nvidia RTX 3070 Ti, and Seagate Firecuda 5120 PCIe 4 SSD.
All you have to do to add the Samsung 980 Pro instead, is hit that customise button.
Are There Other SSDs Worth Considering?
Absolutely. As great as the Samsung 980 Pro is, it's not the only NVMe SSD worth paying attention to.
Chillblast offers a number of alternative drives to consider whenever you buy a new PC from us. Base model Chillblast PCs start with the still-excellent Samsung 970 Evo Plus in a 250GB capacity. You can upgrade that through 500GB or 1TB options too, for only a few pounds more.
Those drives aren't quite as fast as the newer 980 Pro, but they are still exceedingly quick and they make use of MLC, so offer excellent reliability (double that of comparable capacities for the 980 Pro range).
Seagate Drives Are Great Too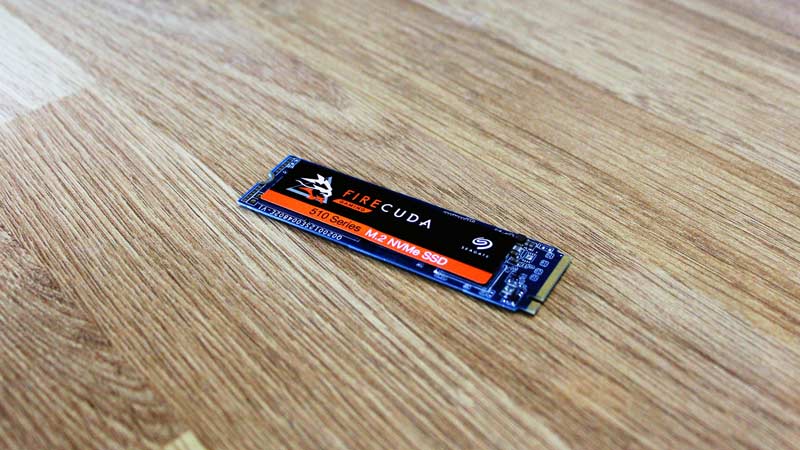 Another brand Chillblast heartily recommends is Seagate's Firecuda drives. They come in 510 and 520 flavours, and offer performance that's pretty close to the best Samsung NVMe SSDs.
They're also backed by Seagate's fantastic warranty and recovery support system, so if you ever lose access to your data, Seagate can help you recover it. They offer both PCIE 3 (510) and PCIE 4 (520) options, so are a great pick whether you're looking to build a new-generation custom gaming PC with AMD and Intel's latest chips, or something more modest from a previous generation.
Chillblast recommends NVMe SSDs for system boot drives due to their improved performance and compact form factor, giving you plenty of extra physical space for larger game library or storage drives if you wish.
If you want to expand your SSD storage significantly without paying the extra high prices of NVMe drives, you can also opt for more traditional SATA SSDs. Samsung's own 870 Evo and 870 QVO drives are solid options, available at Chillblast in capacities up to 8TB. That's overkill for most however, where massive capacities like that are better catered to by hard drives, which are substantially cheaper, whilst still offering decent performance.
---
Have you got a Samsung 980 Pro SSD in your PC? If so, let us know your thoughts in the comments below!