Overwatch 2 (or OW2 for short) is the free-to-play sequel to the popular 2016 hero shooter game Overwatch. Developed and published by Blizzard Entertainment, and in a similar fashion to its predecessor, this first-person shooter's requirements aren't too demanding. But, as with most PC games, if you're looking to crank up the settings to their maximum and play at 4K with high frame rates, you won't be able to get away with a machine with a decade-old GPU.
Most notably, the game gets its performance capabilities from the processor, graphics card and RAM. So, making sure they line up with the requirements and specifications listed by the developers at Blizzard Entertainment will stand you in good stead.
If upon cross-referencing your build to the specifications in the tables below you find that they fall short, you may need to think about either upgrading individual components, or simply upgrading to a new PC entirely. Both of these options can be fulfilled by us here at Chillblast, and we even have a dedicated list of Overwatch 2 PCs that we think will provide a top-notch experience, no matter your budget.
So, let's take a look at Overwatch 2 and see just what you need to run it (and how you can build a PC to make the most of it).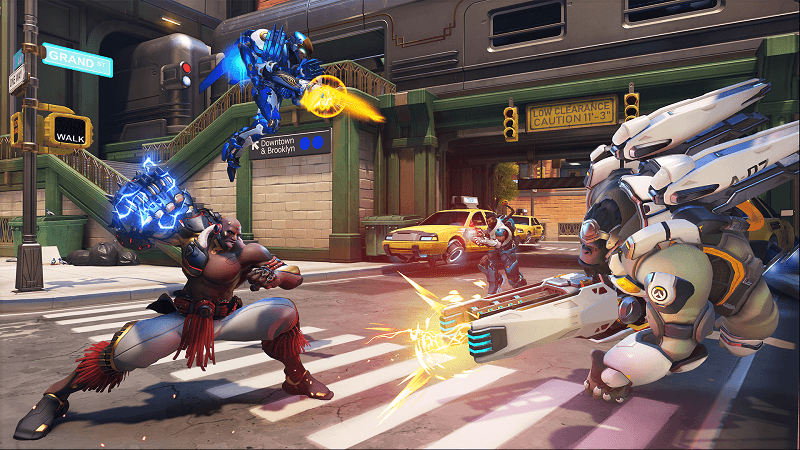 But first, what is Overwatch 2?
Overwatch 2 is the sequel to the highly popular team-based hero shooter Overwatch, expanding on it with more heroes, more maps, and lots of balance changes and graphical updates to revitalize the game.
Some have argued though, that rather than a sequel, Overwatch 2 can instead be seen as a big update to the first game, bringing new content and freshening things up with a revitalised UI design. However, at its core, the gameplay, mechanics and overall design have remained the same.
You play as one of many 'heroes' that fill the role of either Tank, Damage Dealer, or Healer and work together to fight the opposing team and complete the objective of the round. This can include holding various points on the map and keeping control of them until the timer ends, or guiding a slow-moving vehicle from one side of the map to the other before time is up.

Overwatch 2 doesn't stray from the objective-focused modes of OW1, but instead has switched it up by changing the team sizes from 6v6 to 5v5. This change has meant that teams now have only one Tank role rather than 2, ultimately resulting in players having to adapt their previous playstyles to fit the new team builds.
Additionally, a new game mode has also been introduced called Push which sees teams fighting for control over a wall-pushing robot that scores points when advancing further into enemy territory; moving in either direction depending on which team has gained control of it. Not too dissimilar from a game of tug-of-war.
Alongside this, Blizzard is also using Overwatch 2 to introduce a more campaign-focused mode of co-op PvE missions. This will give players a new way to play the game and bring the world of Overwatch lore to life.
Overwatch 2 PC Minimum Requirements
| | |
| --- | --- |
| Component | Minimum |
| OS | Windows 10 64-bit |
| CPU | Intel Core i3 or AMD Phenom X3 8650 |
| GPU | NVIDIA GeForce GTX 600 Series, AMD Radeon HD 7000 Series1 compatible with 1GB VRAM |
| RAM | 6GB |
| Disk Space | 50GB available |
| Sound Card | DirectX compatible |
| Network | Permanent internet connection |
| Resolution | 1024 x 768 minimum display resolution |
This table outlines the Overwatch 2 minimum PC requirements that Blizzard thinks will get the game up and running and should provide at least a 720p experience.
However, the Intel Core i3 CPU was entry-level when it launched over eight years ago and the graphics cards were low-range options when they launched over six years ago. Although that doesn't mean they aren't capable of playing modern games, as this game's specs clearly show, it does suggest that just about any gaming PC from the past five(ish) years will have no trouble getting this game up and running.
If your PC just meets these specifications, however, you will need to be content with the lowest settings. You'll only be able to play at around 720p at 30 FPS with pretty much all the settings on low, which is fine if you're playing on a small monitor, but if you're trying to play on a larger monitor or even a TV, it's not going to look great. Plus, the low frame rate will have an impact on your gameplay experience as you'll start to feel your sluggish reaction times in comparison to your enemies playing on more powerful PCs.
What PC do we recommend?
A PC that we'd recommend at this level would be the Chillblast Fusion Reaver Gaming PC. However, as the minimum specs suggest rather old components, this PC does exceed them by a fair amount. But, because of this, the Reaver provides more future-proofing and a smooth 1080p OW2 experience at low settings, all for a nice low budget.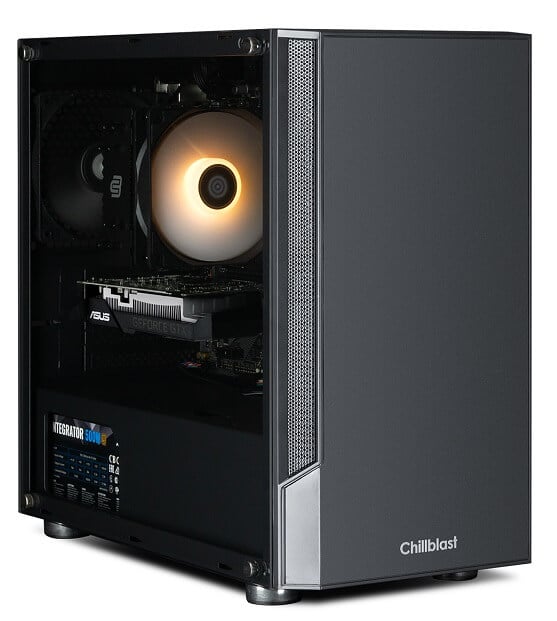 Overwatch 2 PC Recommended Requirements
| | |
| --- | --- |
| Component | Recommended |
| OS | Windows 10 64-bit |
| CPU | Intel Core i7 or AMD Ryzen 5 |
| GPU | NVIDIA GeForce GTX 1060 / 1650 or AMD R9 308 / AMD RX 6400 |
| RAM | 8GB or more |
| Disk Space | 50GB available |
| Sound Card | DirectX compatible |
| Network | Permanent internet connection |
| Resolution | 1024 x 768 minimum display resolution |
Systems that fall within these recommended specifications will likely provide a great gameplay experience at 1080p, raising framerates from those achieved using the minimum specs, whilst maintaining visual integrity.
Opting for the stronger GTX 16 series graphics card out of those listed will ensure that your visual settings can be turned up to mid/high, and you'll also be able to achieve much higher FPS, bringing you closer to that competitive edge.
Saying this, however, if you really want to achieve the best FPS whilst not sacrificing on graphical settings, you will need to look at PCs with more powerful parts, ideally from the most recent generations. Opting for a 12th gen CPU and 3000 series GPU (or even waiting for the upcoming 13th gen and 4000 series) will stand you in better stead when it comes to playing fast, competitive shooters like Overwatch 2.
To really be effective and have a higher chance of winning, using more recent components will provide you with the ever-important high framerates and smooth gameplay, reducing the times you could be caught out by lag or simply being a few frames behind everyone else.
What PC do we recommend?
A PC that we'd recommend at this level would be the Chillblast Fusion Prime 11 Gaming PC. It utilises the top GPU from the ones suggested and pairs it with one of the best mid-range CPUs on the market. It'll provide a highly enjoyable 1080p gaming experience with the ability to turn some of the settings up to medium, without sacrificing too many frames per second.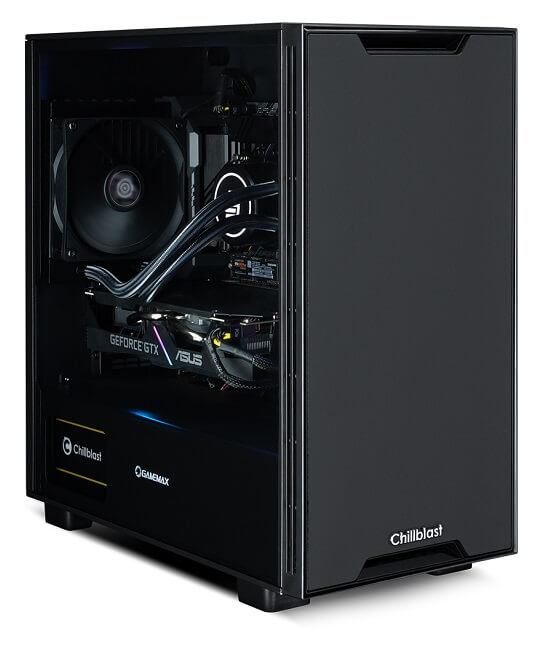 An OW2 PC for 1440p Play
If you have the budget and want a gaming PC that will let you enjoy Overwatch 2 at 1440p with all settings turned to high or even ultra, all whilst maintaining the super high frame rates needed for competitive play, this is what Chillblast recommends: the Chillblast Fusion Crystal Lite.
It houses a 12th-generation Intel i5 CPU combined with the excellent Nvidia RTX 3060 GPU. Arguably even more importantly, it has a massive 1TB M.2 NVMe SSD giving you ample room to download the game and enjoy lightning-fast load speeds.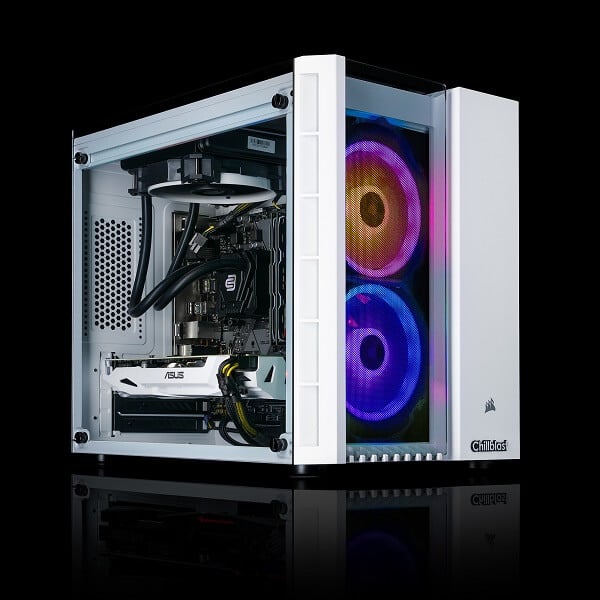 Stick to the recommended side of things
If you don't have the budget to cover a more high-end PC, we'd recommend bypassing the list of minimum specifications entirely and instead aim to use the recommended specs as your starting point.
Even with games that list relatively undemanding requirements, you'll almost always be better off aiming for the most up-to-date components. Both to ensure you get the best gameplay experience possible, and to give your system the most amount of future-proofing.
If you are stuck when it comes to choosing a graphics card, this article comparing AMD and Nvidia GPUs could help narrow down your choices. As can this article about the decision between Intel or AMD CPUs.
Invest in fast storage options
Lastly, as the game itself is rather large and also requires smooth loading in order for an efficient play experience, we recommend getting an SSD to store it on. These have a much faster drive speed, reducing load times drastically compared to HDDs.
Even though the game is around 50GB in size, a standard 250GB-500GB SSD would be the best value option as it will leave plenty of room for other game downloads further down the line, and shouldn't cost an arm and a leg.
This article on PC storage types can provide you with a more in-depth understanding of how they perform and how they differ from their HDD counterparts.
What does Chillblast recommend?
Overall, the recommended specifications listed by Blizzard Entertainment will no doubt provide you with a good experience but if you really want to amp it up and get the best experience you can, we'd suggest heading to our dedicated Overwatch 2 PCs page to browse our range of PCs that offer a stellar gameplay experience for a wide array of budgets.
If you need any further help building the PC to play this, and other games you're excited about, get in touch with Chillblast and our system-building experts will walk you through everything you need.