Motherboards are arguably one of the least exciting components to put in your PC, but much like the oft-neglected power supply, they are one of the key components that brings all of your other parts together. And quite literally in the case of the motherboard, as you wouldn't have anything to plug your high-powered CPU and GPU into without it.
But knowing which motherboard to buy is tricky.
Not only do you have to make sure that you buy one that has the right socket for your particular brand of CPU, that it has all the ports and slots you need and fits within your budget, but there are multiple chipsets to consider too.
Depending on your particular brand and generation of processor, there can be a handful of chipsets to pick from, each with its own range of features and specifications. Pricing can even cross over between chipsets, making it hard to know whether to pick an expensive lower-tier chipset or a higher-end option that's more affordable.
It's a motherboard minefield, but we're here to help. Whether you have an AMD or Intel CPU, are set on buying the best motherboard you can afford, or just need something that sticks within a strict budget, here's everything you need to know about the current crop of motherboards and which might be the best for your next upgrade.
Socket Compatibility
The first and most important consideration you need to make when selecting a motherboard is making sure it supports your processor. And that means getting one with the right size socket.
For AMD's latest generation of processors, that is Ryzen 5000, it's socket AM4. This is the same socket that AMD has used for multiple generations of processors; from the Ryzen 1000, right through 2000, 3000, the limited-run 4000 models, and now the latest processors. They all run on socket AM4, and though some chipsets support some chips better than others, and some need a firmware update to add compatibility for more recent CPU releases, most of the motherboards from the last few years will support most AMD Ryzen CPUs.
Although, that's going to change with the next-generation Zen 4 CPUs, which will run on the AM5 socket. But we'll cross that bridge when we get to it later this year.
For Intel motherboards, the latest 12th generation Alder Lake processors run on Intel's LGA1700 socket design. As that was brand new with this most recent generation of CPUs, Alder Lake processors are only compatible with the latest generation of motherboards. Older Intel 10th and 11th generation processors ran on the Intel LGA 1200 socket, so are not compatible with LGA 1700 motherboards, and vice versa.
Intel will release its 13th generation Raptor Lake processors later this year, and they too will be socket compatible with LGA 1700 motherboards.
Intel Motherboard Chipsets
Now that we've narrowed down your next choice of motherboard to a particular socket, we can investigate the more varied options provided by the range of available chipsets. All motherboards are based on a particular chipset, which denotes what features it has access to, and usually also relates to the quality of the components used in its construction, as well as the rough range for its price tag.
The current lineup of Intel chipsets for its 12th generation Alder Lake processors are all part of the 600 series. There's the flagship Z690, the enthusiast-grade H670, the mid-range B660, and the entry-level H610. They all offer support for a range of PCIexpress ports, NVMe storage, and have a unified TDP of just 6W. However, beyond that, their features, potential performance, and range of ports and connections vary dramatically.
Z690 vs. H670 vs. B660 vs. H610
The Z690 motherboards are the most performative and target the most high-end gaming and desktop PCs. It's the only chipset in the entire lineup that offers official CPU overclocking support, though all but the H610 boards support memory overclocking.
The Z690 boards also support PCIExpress 5.0 on the CPU and PCIExpress 4 on the chipset. It supports both DDR4 and DDR5 memory (though actual support will be dictated by individual motherboards), and has the greatest number of overall PCIExpress lanes, and USB ports, including USB-C 3.2 Gen 2×2 (20Gbps).
H670 is the next in the lineup, and though it doesn't support CPU overclocking, its only difference in PCIExpress lanes is four fewer PCI 3.0, which means it has the full complement of PCIE5 and PCIE 4 for high-speed graphics and storage support. It also has the option of almost as many high-speed USB ports as Z690 boards.
B660 lowers the bar further, halving the number of PCIe 4 and 3 lanes as Z690 boards, a reduced number of SATA storage drives, and fewer USB ports again. These boards tend to be built with lower-quality components, though that's not always the case.
The entry-level H610 chipset is the most limited, restricted to just two memory channels, no PCIExpress 4 support, and the fewest number of USB connections.
So, which one is right for you?
If you're building a flagship gaming PC or want to overclock, Z690 is your only real option. For anyone wanting excellent performance without breaking the bank, H670 is perfectly fine as it is pretty comparable to the top end and it's usually much more affordable. B660 is fine if your system doesn't need a lot of accessories or storage, while H610 is too limited for most, though would be perfectly fine in an HTPC or low-end system.
What about 11th gen?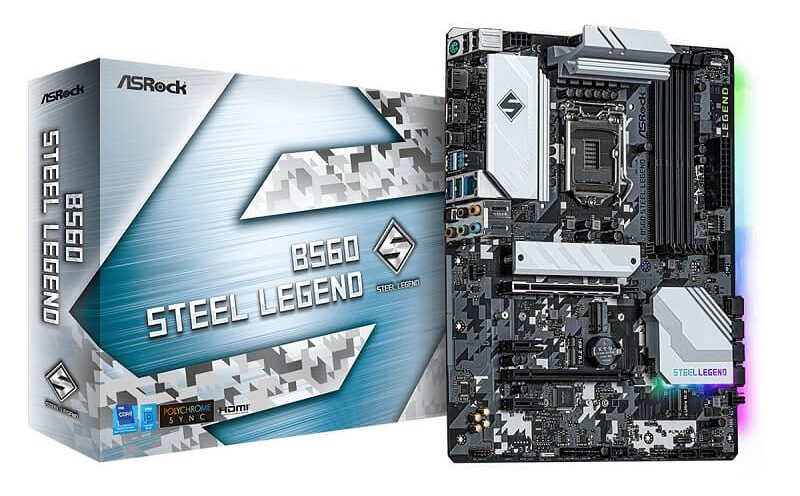 If you're building an older system based on an Intel 10th or 11th generation CPU, then your range of compatible motherboards is much more varied. You can pick from any board in the 400 or 500 series, giving you the option of H410, B460, H470, Z490, W480, H510, B560, H570, Z590, and W580 boards.
That's all rather confusing as specs and support can vary wildly, just like the newer 600-series boards. However, the same sort of stats applies here as they do with the newer motherboards. The best performance and support are found in the Z590, W580, and H570 boards, especially when it comes to USB ports.
No 400 series boards support USB 3.2 Gen 2×2 (20Gbps), and the H510, B460, and H410 chipsets lack support for USB 3.2 Gen 2×1 (10 Gbps) as well. So if you want to take advantage of higher speed USB devices, stick to the higher-end motherboards.
The H410 and B460 motherboards lack support for 11th generation Rocket Lake CPUs as well, so don't try to save on your motherboard too much if you're building a budget system.
AMD Motherboard Chipsets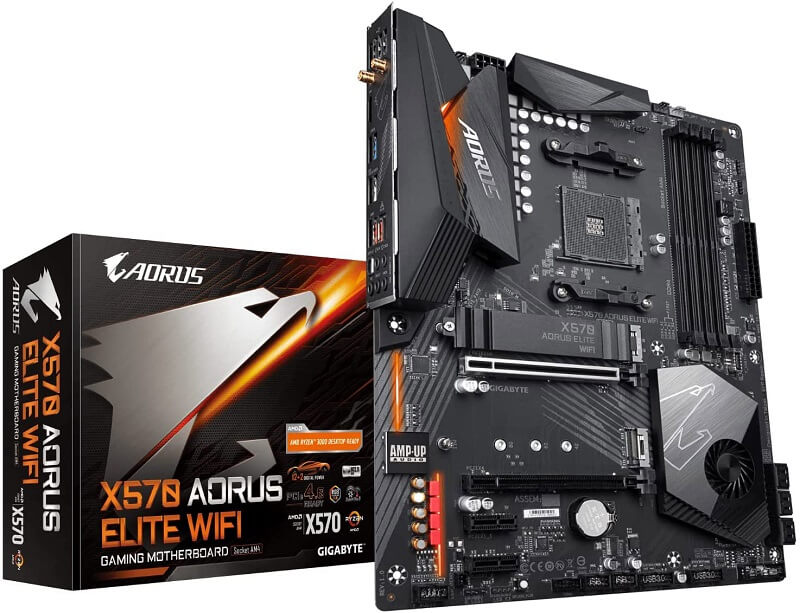 Since AMD's motherboards have been based on the AM4 socket since the release of Ryzen 1000 CPUs, there's technically a huge range of AMD chipsets you can use.
While the early A320, B350, and x370 motherboards can in some cases support newer-generation CPUs, if you're building a new AMD system in 2022, then it's typically best to build a system based on the newer 500-series chipsets. They offer better features, native support for the latest generation processors, and they'll receive support for a longer period of time than older boards, where there's no guarantee of additional updates.
With that in mind, let's take a look at the latest crop of AMD chipsets: X570, B550, and A520.
X570 vs. B550 vs. A520
AMD's chipsets aren't quite so restrictive on features as Intel's, though you still get the best range of features and the best quality motherboards at the higher-end of the stack. You can overclock your CPU on almost any AMD chipset, although the better quality VRMs on the top boards will give you better results in general. Some A520 motherboards don't support it at all, but that varies with the manufacturer.
Where the X570 stands apart is in its USB, SATA, and PCIExpress support. It's the only lineup of motherboards that offers PCIe 4 support from the chipset, meaning there's a secondary PCIE 4 x16 slot available – other boards just have the one from the Ryzen 5000 CPU, if that's what you use. It has the greatest number of USB ports, with the greatest number of high-speed options, as well as the greatest number of SATA ports – up to 12. AMD StoreMI is supported across all chipsets, too.
A big differentiating factor with X570, however, is its 15W TDP. This means that the x570 boards need active cooling on the chipset. That's a potential failure point and noise-generating component that isn't present on the other chipsets, so that's something to bear in mind when buying or building an AMD PC.
The B550 boards have most of the same specs as the x570 boards, though tend to be cheaper and have lower quality components. They don't have as many USB ports, are restricted to a single PCIe 4 x16 slot, supporting it with x10 worth of PCIe 3 lanes. It also has half the number of SATA ports.
A520 boards are the weakest, with limited PCIexpress 4 and 3 support, just four SATA ports, only one high-speed USB port (though there are plenty of slower ones) and often no overclocking support too.
Motherboard Sizes

Another major factor to consider when buying a motherboard is its size. Alongside chipset choice, motherboards are available in E-ATX, ATX, mATX, and Mini-ITX form factors. Your choice will depend on the case you're putting the board into, and the eventual size of the system you want.
ATX boards are the most common and fit into most PC cases. They give you space for four memory slots, plenty of PCIExpress slots, and space for all the USB ports, and other connectors you could want. Micro ATX, or mATX boards are slightly smaller, and often restrict the number of PCIExpress slots, or the space around them to help them fit into smaller PC cases. You can get excellent boards at that size too, with all of the same features as the best ATX boards.
Mini-ITX boards get much smaller and are typically restricted to just one PCIE x16 slot, and two memory slots, so you'll need to plan your system out well if you want to use this smaller board size. They do fit into much smaller cases, though, so if you want to build a compact system, Mini-ITX is often your best bet. Your range of motherboards will be more limited, however, and you won't get the same high-end options.
E-ATX, or Extended ATX, is a niche form factor that isn't widely available with all motherboard makers, or chipsets. However, they give you extra space for larger coolers and components, potentially leading to greater overclocking performance, but that's no guarantee. Check individual reviews to make sure an eATX board is right for your build ideas.
Additional Motherboard Features
Whether you're building or buying an Intel or AMD PC, there are a few other features you want to look out for too.
If you aren't going to use an add-in sound card or external USB DAC for your headphones, make sure the board has decent audio. Most offer basic 7.1 surround support, but some boards have much better audio than others. If it's important to you, then make sure yours has quality sound.
High-speed Ethernet and Wi-Fi 6 and 6E are available on newer, high-end boards, giving you access to up to 2.5 Gigabit Ethernet and the fastest wireless connection standards. Not all boards support it natively, though most will have a least a Gigabit Ethernet port. The same goes for other connection options like USB-C, USB 4, Bluetooth, and Thunderbolt connections.
If you're using integrated graphics rather than a standalone video card, make sure the motherboard has the video outputs you need. Does it have DisplayPort and/or HDMI? Does it have enough for the number of monitors you want to connect? Double check before buying.
Colour coded motherboards are much more common today than they were in years past, especially at the budget end of the spectrum, but make sure yours matches the colour of the system you're putting together. There are motherboards of all kinds of colours, so if you want a system that matches colours throughout, make sure to get a board that fits with your colour sheme.