PC game streaming is everywhere and it's never been easier to get involved. Whether you want to be the next Ninja or just share your gaming with your friends, there are stacks of free ways to get online and straight into the eyes of the internet. But it's useful to have a few pointers before you dive in. Here we'll outline the streaming services to consider, the best software to use, and and the hardware to think about if you're looking at making streaming a serious pastime. To finish, there are also a few key tips to keep in mind when it comes to content and where and when to stream. Here's your quick starter guide to how to stream your PC gaming.
Where To Stream?
So, first things first, you've decided you want to stream but you'll have to decide on a platform. Twitch, YouTube, and Facebook are all hungry for live content so you'll have to think about where you feel most at home. It's a personal choice initially and while you might eventually look at the monetisation options down the line, the first thing you should be thinking about is where you want to stream. If you don't already have a YouTube presence, then starting there or Twitch doesn't make much of a difference but there are a few things to think about.
The most important of which is how you want people to be able to find your content. If you know you'll be streaming the most popular games, then Twitch's opening home page of streamers to discover by game might be more appealing than someone finding it slightly more difficult to see your content on YouTube. And the joy of it all is that if you trial one and don't like it, you can always try another streaming platform.
Choose Your Software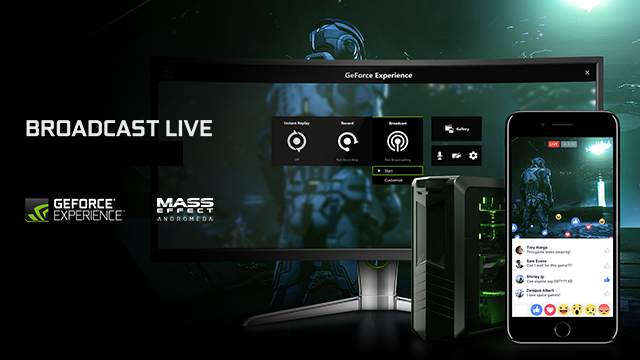 GeForce Experience
Next up, it's time to think about exactly how you want to capture your gameplay. There are a number of different options when it comes to software and, helpfully, a stack of them are absolutely free. First off, Nvidia's GeForce Experience application is easily the simplest way to get capturing what's on your screen if you've chosen an Nvidia graphics card. As well as a handy screenshot shortcut and the ability to record capture, Nvidia's ShadowPlay tech includes a Broadcast function for live streaming.
GeForce Experience works with Facebook Live, Twitch, and YouTube so there's no shortage of options of where to post. All you need to do is connect your account and you'll be good to go. Plus, when it comes to video and audio, it does most of the heavy lifting for you, letting you choose your inputs, position your webcam on screen, and the resolution of the stream itself. Easy.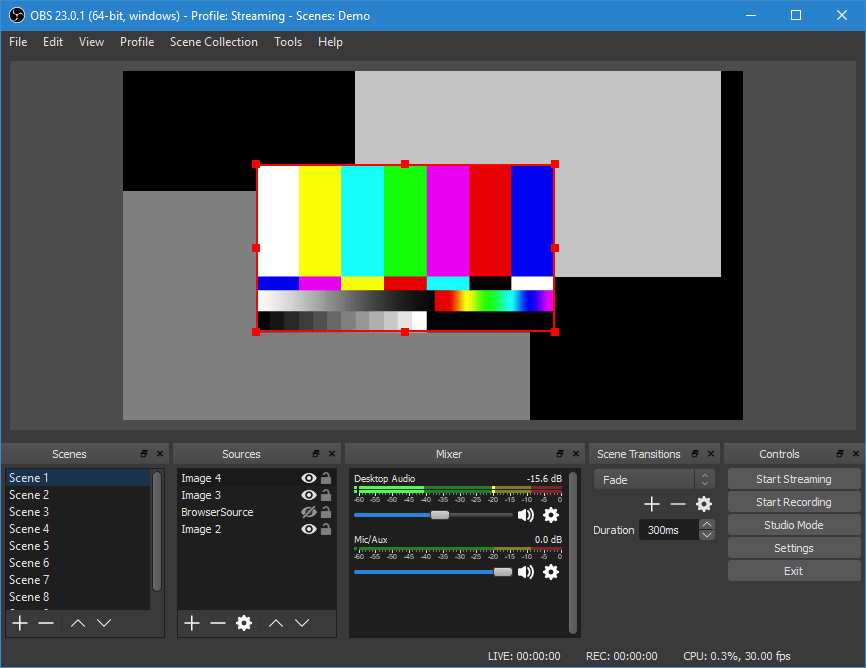 OBS
The second most widely used, if a little more complex, PC capture tool is Open Broadcaster Software, aka OBS. This is another completely free solution and a brilliant one for a much more customisable PC streaming set-up. It doesn't look as glossy as GeForce, but OBS is a powerful tool for a personalised stream. OBS works in what it calls 'scenes' which is basically what you want to have on screen at any one time. Each scene is fully customisable and building each one is a case of adding 'sources'. You'll want the window capture of your game as a base level and then to add your microphone and webcam on top.
Unlike GeForce's Shadowplay, everything here has its own batch of settings, sometimes overwhelmingly so, but get to grips with the basics and OBS feels like unlocking a new level of personalised streaming. It's also easy to connect to your preferred streaming platforms. Head into settings and you can link directly with your Twitch account, add your streaming key, or connect with a slew of other platforms. Then it's just a case of hitting the 'start streaming' button to go live.
Capture Cards
Finally, it's also important to note that you can of course stream your console gaming via your PC. Whether you play on PS4 or Xbox One, you can pick up a capture device such as an Elgato HD60 or AverMedia Live Gamer Portable 4K and plug into your PC. While you could use OBS as your streaming solution and add the capture as one of your sources, you also have the option of using the software that comes with the capture card. AverMedia and Elgato both have applications with built in streaming tech for you to add your own audio and video and go live so there are plenty of different options available.
Pick The Right Peripherals For You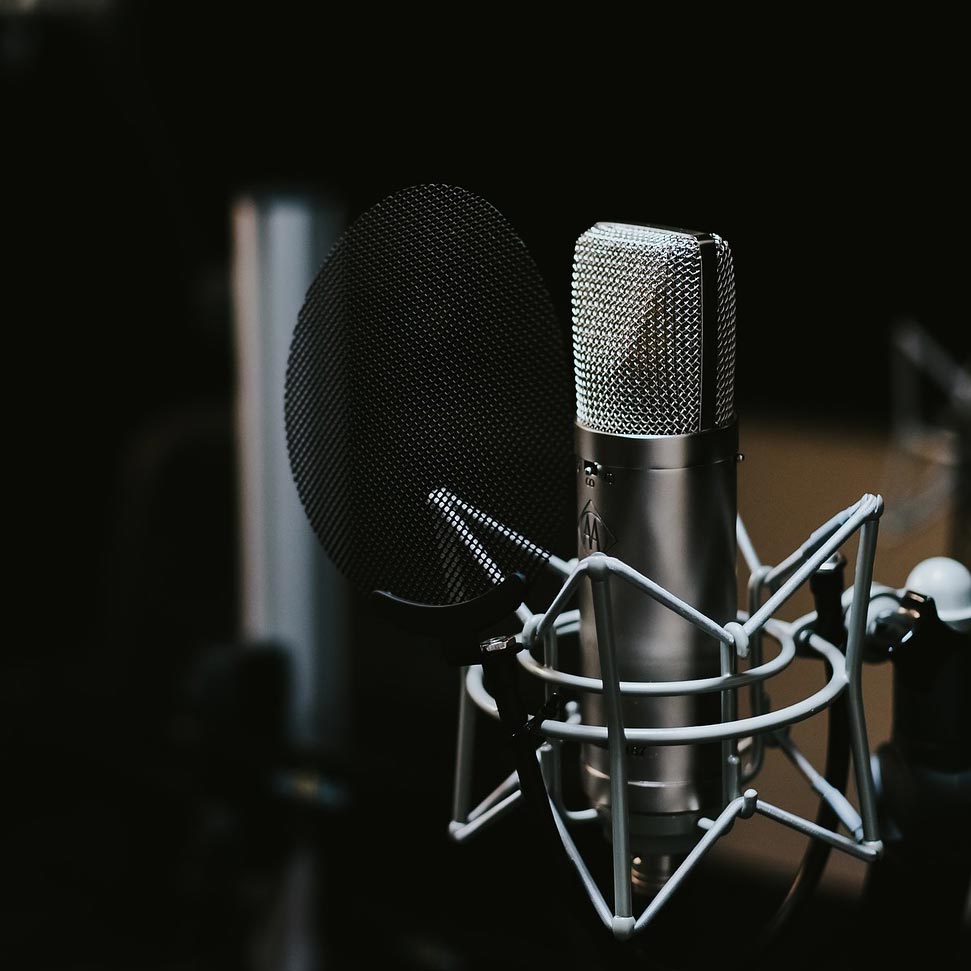 So despite it being harder than a decision in The Witcher 3, you've chosen a streaming platform and your weapon of choice when it comes to software but hardware is equally important. First off, it's time to decide if you want your audience to just be able to hear your dulcet tones or be able to see you as well. Your combination of webcam and microphone is vital to make sure that you are as watchable and, well, listenable as possible.
Hit the Mic Right
Let's talk about microphones first. While you can use the mic that's built into your gaming headset, if you're going to be doing a lot of streaming, a specific USB microphone is a must-have. This will deliver a much better experience for your audience when it comes to the quality of your voice recording. There are no shortage of microphones on the market and it's important to keep a few things in mind while you're shopping.
Mics have what are called 'polar' or 'pick up' patterns. 'Omnidirectional' mics pick up everything around them, 'cardioid' are only sensitive to audio from the front, and 'bidirectional' microphones take audio from the front and back. Most USB mics, like the Blue Yeti, have multiple polar pattern settings to make sure they can be used in a variety of situations. For lone streaming purposes you'll want to focus on the cardioid setting to make things sound as close and as personal as possible, but it's good to have a mic that you could also use for something like podcasting with a group. It's also important to make sure you invest in a pop shield to attach to your mic. These aren't expensive and your audience will thank you whenever you say the letter 'p'…
Wondering Which Webcam?
Video wise, it's time to look at webcams. Just like microphones, it's easy to become lost in the waves of endless options but the most important thing here is the clarity of image. You want a webcam that will capture in the highest resolution possible to make sure you don't just look like a cluster of pixels in the bottom corner of your pristine game capture. 1080p resolution capture is an ideal benchmark which is available across multiple brands but you'll also want to look at how webcams deal with light.
Dependent on how your streaming set-up looks, you're going to want to make sure that there's always consistent lighting to make sure that the webcam isn't struggling and constantly changing focus. If you're going to be doing a lot of streaming and want to make sure you're always looking as bright as possible, there's always the option of a ring light. In fact, Razer's Kiyo webcam actually comes with one so it's a good way to trial your very own Hollywood lighting set-up and not have to invest in a separate lamp for your desk. There's a rabbit hole of green screens and other lighting options to fall down but for starting out, making sure your audience can see and hear you clearly are the most vital points.
General Streaming Tips
Choose your games wisely – Twitch is a busy place so it's important to check what everyone is playing. Do you want to follow the crowd and play the latest trend or do you want to dive into your specialist subject of your favourite game series? Check out the top-selling and trending sections of Steam to find out what's hot.
Remember to talk – It might sound like ridiculous advice but do remember to chat on your stream. You'll get a new respect for radio presenters talking to themselves in a room but get vocal about what you're doing. Don't worry, people will quickly reply as you start to build your audience, and you won't feel nearly as self conscious. It's a skill that gets easier the more you do it.
Set yourself a schedule – It's time to get that calendar out. If you want to build an audience, people are going to have to know where and when to find you online. Consistency is key here. Stream in the same place at the same time every week and don't over promise. It might sound easy to say you'll do it every day but start simple and increase your streams incrementally when it feels right.
Use social media – Tying in with the previous tip, your social media is a perfect place to talk about your next streams. Whether you use Instagram or Twitter, tell people about what's on the way and what time you'll be streaming from. #Important #Goals
Have fun – It might sound corny but the most important thing here is that you enjoy what you're doing. Choose the games that make you happy with a set-up that you feel comfortable in, and your viewers will feel much better too.
More resources:
Check out this article that examines the best PC set-up to start your streaming journey!