So, part 1 showed us that there are some of the best upcoming games in 2022 that often slip past our game radar. There are also some titles that are available right now with a modest following. The games in Part 1 of this article series and in Part 2 below are some of the most interesting and playable games we've seen in months – definitely worth a look!
Released & Upcoming Games 2022
We're not short of AAA feasts for the eyes or microtransaction-ridden sequels we were eagerly waiting for. I'm looking at you, Gran Turismo 7.
Truly, though, we're in it for the playability, and there are some incredible indie games available on Steam right now, and just a few moments of your time will help you decide if these Early Access titles are for you.
The Steam Summer Sale is almost upon us, so you can expect to see a lot of these titles available at a discounted price, too. Supporting smaller development studios is an extremely wholesome thing to do, and helps the gaming industry immensely, so you can feel good about playing these titles.
Indie devs love to keep their ear to the ground with their fanbase, although it is great to see it with bigger studios (such as Techland with Dying Light), so you can really involve yourself with the evolution of a game if it matters to you.
Games You Should Play In 2022 (Part 2)
From a sweeping, evocative vehicle adventure to a back to basics logic puzzle game, there's plenty for all kinds of players here.
First off, this is a game that is close to this author's heart, having played it recently – and loved every moment.
FAR: Changing Tides is the follow up from Okomotive AG, a Swiss development team that brought us FAR: Lone Sails. As an aside – Lone Sails is also highly recommended!
Described as an atmospheric vehicle adventure following the emotional journey of a young man captaining his self-built ship, dealing with the many trials and tribulations of a sole journeyman.
The game centres around you and your ship as you embark on a journey to find a new home, involving puzzle solving and patience as you steer, maintain and upgrade your ingenious craft.
Changing Tides – much like Lone Sails – is often a meditative game.You'll find yourself absorbing your surroundings as you travel through beautifully drawn parallax worlds. Though you are often aware of the many jobs you need to do to keep you moving along, there's plenty of opportunity to fill your sails and take a moment to enjoy the vistas.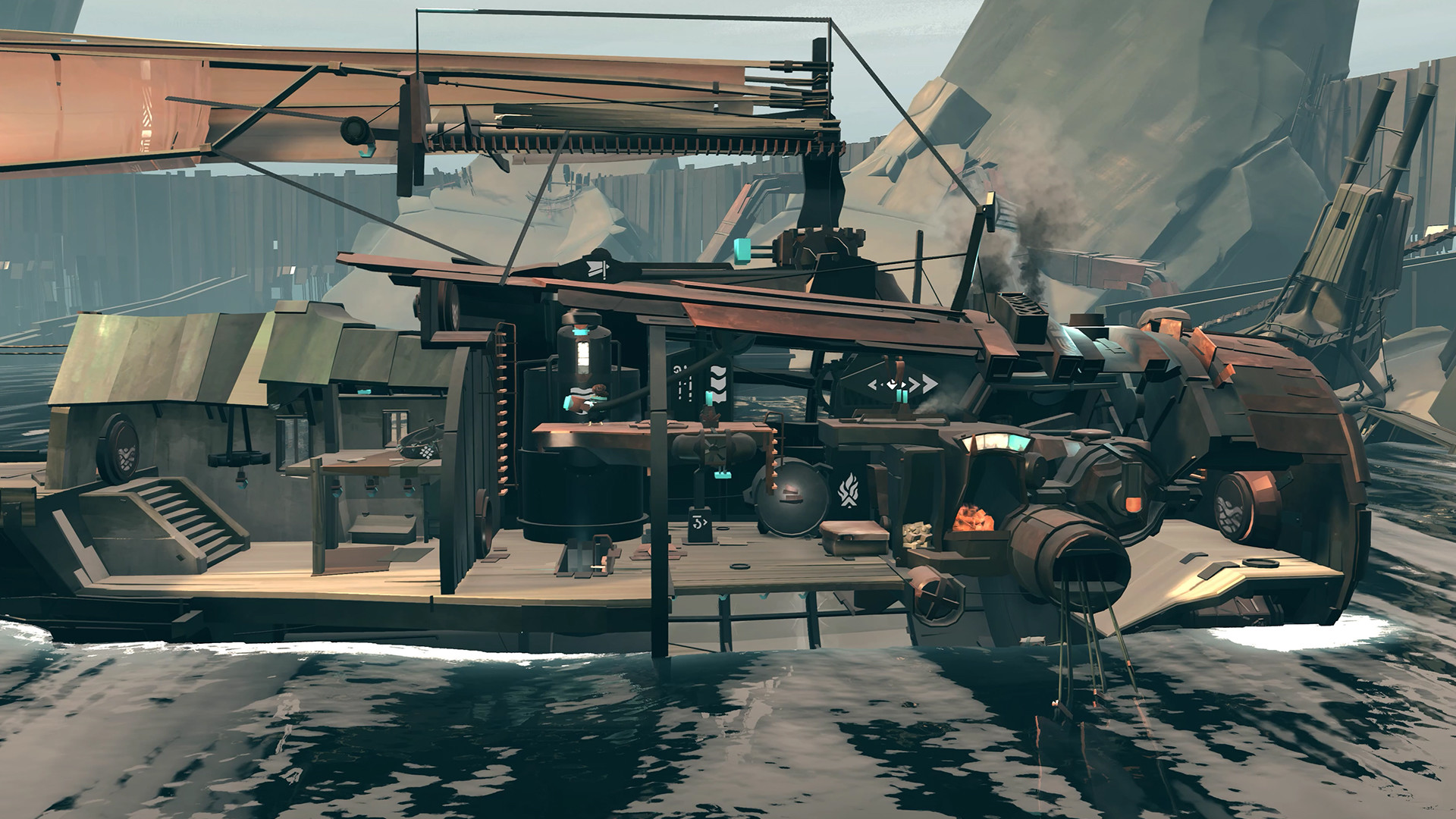 A game that will be best-suited to puzzle adventure fans, FAR: Changing Tides is a captivating experience for any gamer. Highly recommended as a respite from the frantic shooters and chaotic multiplayers we have constantly rammed down our necks.
Having just made some new upgrades to my ship, I cannot wait to pick up the controller again, and explore this eclectic, utterly enthralling game even further.
OUTLIER (Coming Soon – Early Access)
OUTLIER is an adventure roguelite VR game that encompasses both first-person shooter and RPG elements. There is a complex array of combinable abilities, an assortment of weapons, and detailed, expansive worlds to explore. The levels have been beautifully drawn, and are procedurally generated, yet elaborate in design. This makes OUTLIER one of the more diverse VR games, but also one of the most interesting of the upcoming games in this format.
You play the captain of one of the last remaining post-apocalyptic human arks. You are in search of a new home for humanity, and much to your chagrin, your vessel is sucked into a black hole.
In a realm where space and time have no context, you bare witness to an unknown race decimating a solar system that could become humanity's new residence.
The black hole you inhabit affords you mysterious powers. This allows you to exist in parallel worlds – one of which you will find yourself in a battle to provide a home to the transient human race.
Although met with very few reviews on Steam, what is clear from the YouTube trailer is that OUTLIER is a fun, fast-paced action thriller that has the benefits of VR for immersion, and ability mechanics that will appeal to those who bore of shooters.
Fans of Minesweeper will no doubt see this as a distant cousin of the frustratingly difficult Windows freebie, albeit more simplistic in format.
As simple as Ripple looks, the complexity is bafflingly apparent as you progress through the 50 levels. You will begin to rethink your every mouse-click. This is the key to any puzzle, and balanced perfectly in Ripple. Your only task is to click squares so that adjacent squares turn blue – but this is more difficult than it sounds.
This Means Warp (Coming Soon Early Access)
I had the pleasure of speaking with the developers, Outlier Games, long before This Means Warp had a stable beta available, and was immediately interested in the way the game manages to juxtapose complexity and simplicity.
Interest in this game is now seeing an increase, and it is highly anticipated to be one of the best indie upcoming games of 2022.
With a huge nod to pop culture space combat, This Means Warp has been shaped by players themselves in alpha and beta releases, making for a spectacularly intuitive game that puts playability first.
The players experience frantic co-op space battles involving strategy and cunning, always being dealt enough variety that the game never gets boring or feels like anything else out there.
A thoroughly enjoyable party game, This Means Warp engages from the first moment, and doesn't let up until you are in fits of laughter.
Stray (Coming Soon)
Everyone loves cats on Reddit. And cyberpunk. And gaming.
It makes sense that if you combine gaming, cyberpunk and involve cats, you're on to something. Thanks to the resounding success of early iterations of Stray way back in 2017 (originally titled HK Project), the developer has fleshed out a masterpiece in third-person third-feline adventure.​ The game has featured on many top lists of upcoming games in 2022, and has begun to attract attention from a global audience – all of whom are no doubt feline-friendly fans!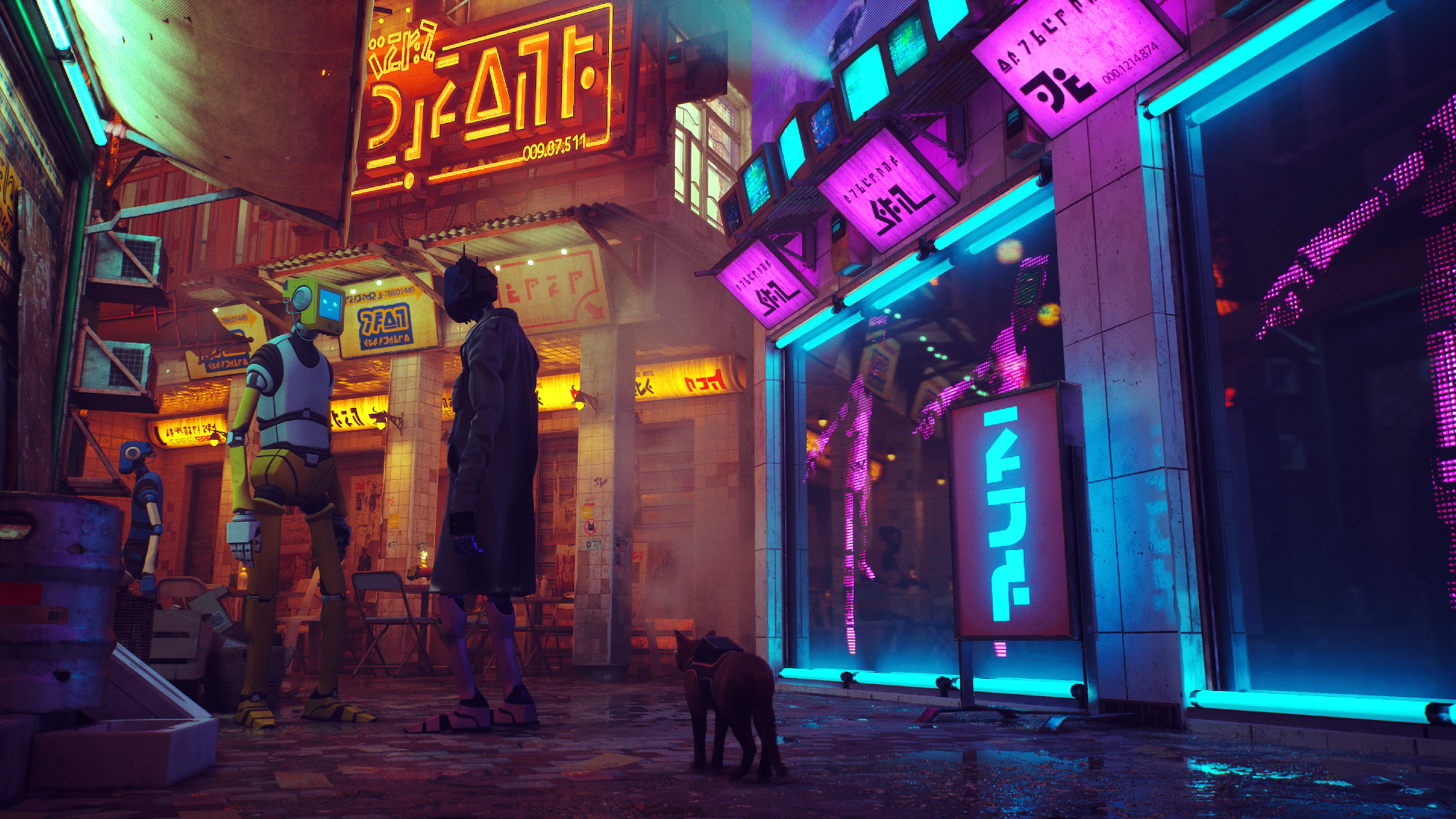 Stray is delicious. That much is clear. With incredibly detailed cyberpunk levels to explore and interact with in interesting and fun ways. The game is developed by BlueTwelve Studio, a small game dev team from the south of France. Aptly, they are "mostly made of cats and a handful of humans".
Always surprising, never dull, and beautifully crafted, Stray is one to watch – and certainly one to play this year.
Last on our best upcomign games list (for now) is The Wandering Village. I first heard of this game in the indie dev scene on Reddit. The game saw an eruption of praise and anticipation from fans of everything from anime to Zelda. Since their first post, the developers have continued to keep in touch with their following on Reddit.
The premise has the makings of an epic fantasy, for sure. Strange toxic spores have contaminated your home planet. A pocket of survivors have begun to take shelter on the back of a giant, wandering animal, and you must lead them and survive a hostile world.
You will help build a settlement and form a symbiotic relationship with the creature. You will then find yourself exploring a beautiful and expansive world that has danger and opportunity at every turn.
Developing a pragmatic village forms the basis of your survival, and you must expand it (across the creature's back) to grow. You'll plan production lines and optimise the limited space to work as efficiently as possible, creating a society that thrives.
An interesting concept, for sure, but the developers, Stray Fawn Studio, have clearly found a winning formula when it comes to marketing and finding your audience. Powered by a surge of interest on Reddit, The Wandering Village has (rightfully so) amassed an enviable following: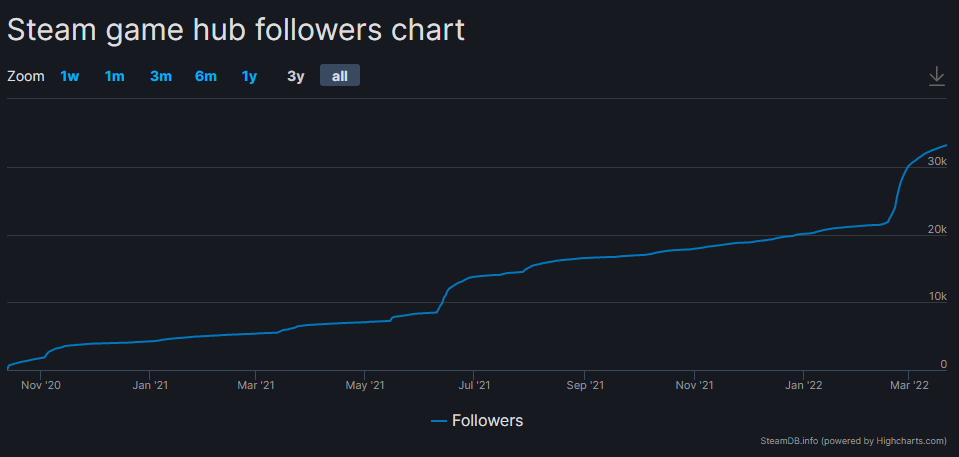 More Upcoming Games?
If you know of any games we've missed off, and should include, let us know in the comments! With more Steam NextFests and the Steam Summer Sale on the horizon, we'll no doubt be seeing more quality games. There are some hot titles from both indie and mainstream studios in the works. We'll be sure to keep you updated with any gems we find.
Register and subscribe to our newsletter so you don't miss any releases, or check back soon!
Some of the best upcoming games in 2022 – (Part 1 & 2 combined list)