Microsoft said that Windows 10 would be the last version of Windows ever. It turns out that's not the case.
Windows 11, as it's now known, is very much an upgrade over what's come before. It will come packed with a bevvy of features designed to improve the look and feel of Windows, making it a more efficient operating system for work and play.
However, it does have slightly more stringent demands than Windows 10, needing more storage space and memory. It also ditches long-standing applications like Internet Explorer 10, and doesn't come with default applications like Skype and Cortana.
But besides those slight reductions, Windows 11 is very much an expansion. With heaps of new tools, widgets, and functions, Windows 11 is looking to be the best Windows yet.
Better yet? It's going to be an entirely free upgrade for anyone who already owns a Windows 10 license.
Here's everything you need to know about Windows 11, so you can make the choice to upgrade or not when it releases this Winter.
New Look, New Feel, New Design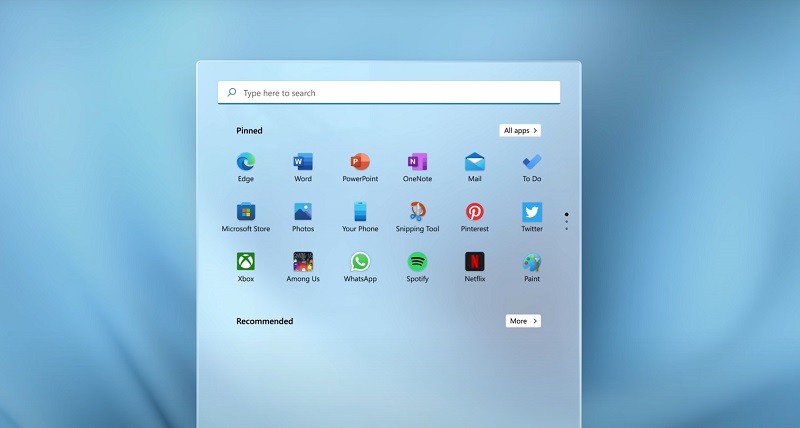 The most obvious change with Windows 11, at least on the surface, is its new look.
Borrowing design ideas from Windows Vista and Mac OS, Windows 11 has a cleaner, fresher look, and has been re-jigged to make accessing your most important and oft-used applications and documents even quicker and easier.
Windows 11 prioritises ease of use
File explorer windows, applications, and the Start menu have all been given a frosted-glass effect that is designed to ground them to the desktop, or the Windows behind them. Their corners have also been rounded, making them look less boxy, and the layout of files and app shortcuts has been tweaked so they're more intuitively laid out and legible.
The most jarring difference for long-term Windows users is the relocation of the Start button and pinned applications.
No longer are they sequestered in the bottom-left corner where they've been for decades, but now sat right in the centre of the taskbar (which is no longer easily movable). That's a big part of Windows 11's overhaul – putting everything in an easier to reach place, even if you will have to retrain your muscle memory to find it.
Clicking or tapping the Start button gives you access to the heavily redesigned Start menu.
No longer is it packed to the gills with live tiles, photos, news stories, and a list of every application on your PC. Instead, it now includes shortcuts to all of your most used, and most recently used applications, as well as the folders and documents that you've been working and playing with.
You can still access every application if you want to, with the search bar readily available should you need to find something hidden within your deep nests of folders. But the big focus is on smartly suggesting what you may want to work on next, based on what you've been working on recently.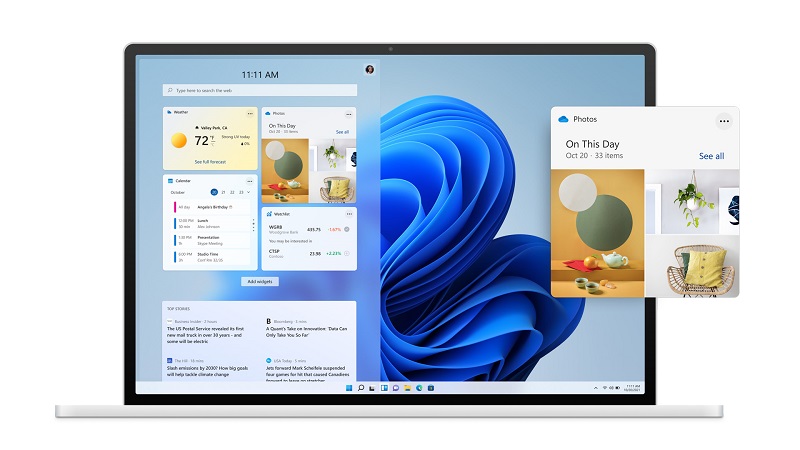 Redesigned Animations
Beautifying the process of navigating through Windows 11 are a number of new animations.
Instead of popping up from the bottom of the screen, chosen applications, folders, and the Start menu all slide up smoothly. Others, slide in from the side. Navigated menus make the same transition from left to right, and vice versa.
When using the new snap and window grouping system (more on that below) colourful highlights appear to make it easier to select where you want them to transition to; a movement that they do smoothly, rather than immediately popping into place.
If you aren't a fan of the central taskbar placement, though, there's a drop-down toggle in the Settings menu that lets you change it back. And as the icons move from one position to another, they cascade across the screen, rather than just snapping into place.
All of the animations enjoy a more natural, weighty feel, whilst still happening quick enough to not impede productivity. It's a feature that backs up the frosted glass effect of the menu system, helping to ground the operating system in a more natural feeling environment than Windows operating systems of the past.
A Push For Improved Productivity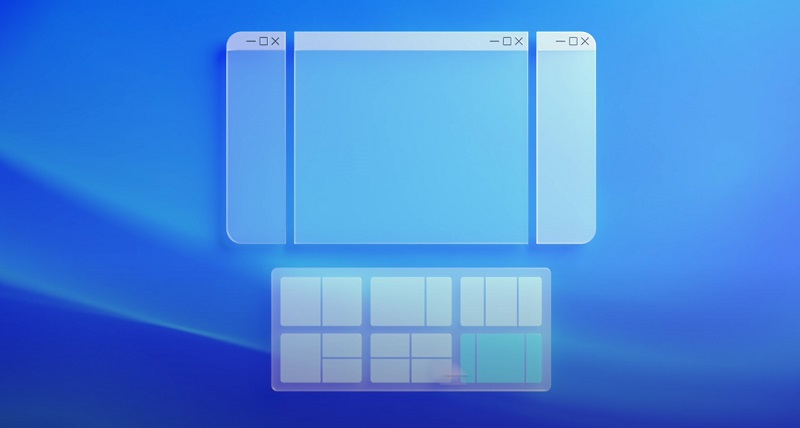 Windows 11 Snap Groups
Windows 10 is already one of the best platforms when it comes to snapping windows to better improve productivity. But Windows 11 will do an even better job, giving users greater customization of where they put their windows.
Drawing inspiration from the FancyZones utility which provides this kind of in-depth control over the shape, size, and placement of individual windows, it helps to make you more productive, and gives those with larger displays the option to create complicated window layouts that benefit them the most.
Microsoft has promised that Windows 11 will remember these Snap layouts, making it easier to access them in the future. So, if you have some favourite applications and like to launch them together in a particular way, Windows 11's snap tools will remember them for you.
That new feature is all a part of Windows 11's Snap Groups. It allows collections of Windows to be placed out of the way and recalled quickly with the touch of a button. That way you can have multiple projects open at the same time and easily switch between them without having to reconfigure your active windows, or rely on a second monitor to display them.
That said, if you like to display that layout on a second, or even external monitor, Windows 11 will remember that for you. So, the next time you pull that group up, it'll immediately jump to your preferred display. This is particularly useful if you regularly swap or unplug displays, as Windows 10 has a real penchant for forgetting where you wanted everything when a display comes back online.
Virtual Desktops
Taking things one step further is Windows 11's improved virtual desktop feature.
Already a feature in Windows 10, but far from easy to implement, Windows 11's virtual desktops will let you set up multiple desktops with specific functions in mind. If like many over the past year, you've used your PC for both work and play, you might not want your game library within tempting reach during the workday. Or, you might not want your collection of work folders and applications reminding you that your evening gaming session will end all too soon.
Virtual desktops get around this problem by giving you the option of constructing a new desktop for any and all tasks that you want to perform. You could have a desktop for day to day work, another for play, and a third for a special interest.
All of them can help you focus on the task at hand and help tidy up your desktop so that only what you need is within easy reach. Windows 11 improves upon this with detailed customization for each desktop, helping you set unique wallpapers so that you can make them look and feel distinct.
A Boost for Games and Gamers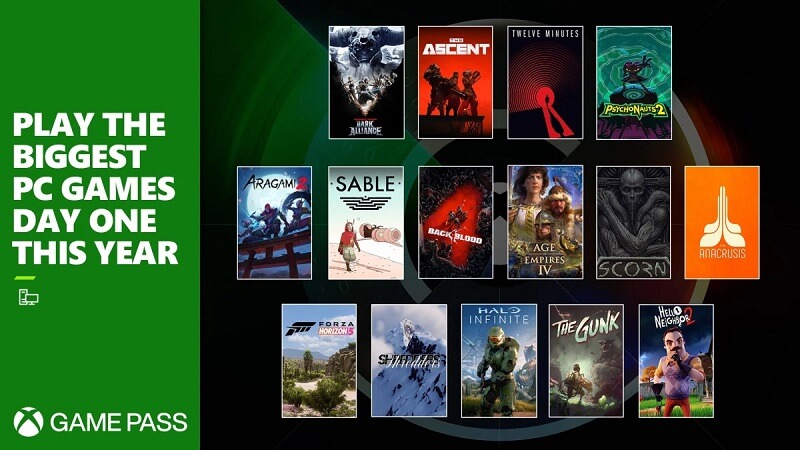 Gaming was a big focus of Microsoft's Windows 11 reveal event and rightly so.
Although still by far the flagship operating system for gaming, it faces continued pressure from Linux, mobile platforms, and even MacOS thanks to game streaming. To highlight exactly why it's the best operating system to play games on, Microsoft announced a number of new features in Windows 11 that will benefit gamers and make the games they play that bit better too.
Auto HDR
Auto HDR is coming to over 1,000 games as part of the Windows 11 experience. Working like the post-processing Reshade filters that have been around for years, but more universally available and more easily applied, Auto HDR will apply greater contrast to many of the world's most popular games.
Although Microsoft decided to use the 10-year-old Elder Scrolls: Skyrim to showcase the technology, it was indeed relatively impressive, adding a lot more detail and contrast to the game's brighter and darker areas.
In the past, Windows hasn't had the best integration of HDR content, be it for gaming or movies, so we'll need to wait and see how well Auto HDR is implemented before drawing any conclusions on how useful this feature is. But, if it can be applied with minimum overhead for the CPU and GPU, that can only be a good thing for the games and gamers it supports.
DirectX12 Ultimate
Microsoft also talked up DirectX12 Ultimate, which is already available on Windows 10, but will see further development on Windows 11. This will happen with the introduction of version 1.1 of its raytracing algorithm, improvements to variable-rate shading, and better sampler feedback.
All of this will give game developers more tools for making more immersive and responsive games. Windows 10 should benefit too, but there may come a time in the future where there is a segregation between the two.
Windows 11 Has Closer links with Xbox
Xbox and PC are becoming even more closely linked with Windows 11 too, with the Xbox app and Xbox Game Pass built right into the operating system. That will make it easier than ever to enjoy your Xbox game library, but also use Microsoft's subscription pass to play all manner of games.
It will feature the existing catalogue of titles to play, as well as early play and first-day release play for some of the biggest upcoming games in 2021 and beyond, including Square Enix's Outriders.
Borrowing another feature from the Xbox platform, Windows 11 will also offer support for the DirectStorage API which is helping some Xbox Series S/X games to load faster than ever. It should allow desktop and laptop PCs to take full advantage of NVMe SSD storage drives for incredibly fast game load times and faster asset retrieval, potentially enabling faster-paced games too.
Android Apps and App Stores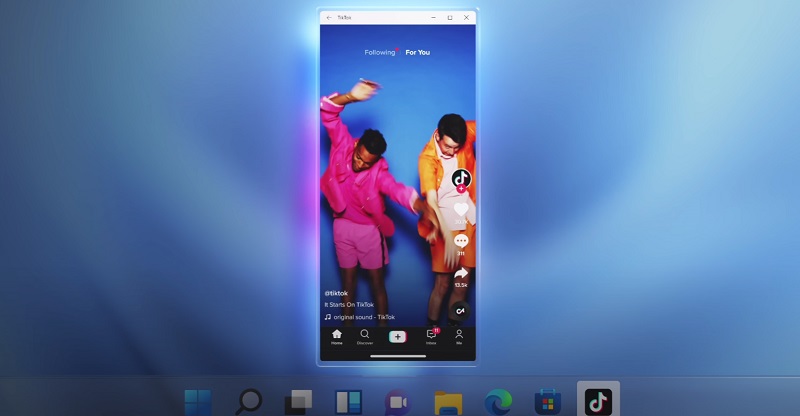 When support for Android apps arrived on Chrome OS it made a huge difference to the functionality of the browser-based OS. Now it could do the same with Windows, because Windows 11 will have native support for Android apps, expanding options for apps by the millions.
There will no doubt be a heap of compatibility issues to overcome – not all Android apps are designed with desktop and laptop displays in mind – but the potential is there to bring over some of the most fun and functional apps from the Android ecosystem to Windows for the first time.
These apps will all be available through the new and overhauled Microsoft store via the Amazon Appstore.
It's not clear if other app stores will be available in the future, but from launch, the Amazon app marketplace will be the main source of Android apps. That will in turn let users use a variety of streaming services, like Netflix, Disney Plus, and Prime Video, within the Microsoft store. You can even watch and record TikTok videos, right within Windows.
Alongside these apps, Microsoft is also bringing back Widgets to the Windows ecosystem. These miniature applications will form part of the Windows 11 feed and will give you immediate access to information like the weather, news, a to-do list, your calendar, and more. You'll also be able to customize the feed with the widgets you want.
Here's hoping it finds more use than Windows 10's live tiles.
Interact How You Want
Accessibility and different input methods have been something Microsoft has continually improved on in recent years, especially following the growth of its Surface line of 2-in-1s.
Windows 11 will fully integrate touch control as its own input mechanism, offering it in every facet of Windows and with nuanced touch and pencil control. Windows 11 also supports more nuanced gestures, including three-finger swipes and two-finger scrolling, whether you're using an advanced touchpad or not.
Haptic feedback can be improved in supporting devices too, letting users have more realistic control and feel with pencils and other touch accessories. The on-screen keyboard has also been improved, recognizing when physical keyboards are plugged in and reacting accordingly.
Greater Demands, But Free To All
All of these new features do come at a cost, but it's not the typical one.
Windows 11 will have slightly higher demands on hardware compared to Windows 10; the biggest change being the storage space required. Windows 11 will demand 64GB, where Windows 10 requires just 32GB (albeit without the most recent updates). It will also need 4GB of RAM at a minimum, and a 64-bit CPU.
However, one stipulation which has ruffled some feathers is for a specific security feature in the CPU, known as Trusted Platform Module 2.0. That means only Intel 8th-generation, or AMD Ryzen 2nd generation CPUs and newer are compatible. That may change in the future, though, as it locks out a large portion of the current Windows user base.
Still, if you want to make sure that your PC is ready for Windows 11, why not pick up one of Chillblast's recommended gaming or office PCs? Any of them will be a perfect fit for Windows 11 and can do much more besides gaming.
One cost you won't have to pay with Windows 11, however, is a sticker price. If you have Windows 10 already, you'll be able to upgrade to Windows 11 for free. This process will begin to roll out in early 2022, with those buying new licenses getting the chance to jump into the new operating system in late 2021.