Wild Hearts is the latest Monster-Hunter-like game to hit the digital store shelves and it's brought with it a few exciting innovations for the genre. It features more dynamic aerial combat and larger machinations and traps to bring to bear against the dangerous wildlife of its world.
It also has a colourful host of gigantic, fearsome beasts to tackle, tame, and if you can survive long enough, slaughter.
Where Monster Hunter games aren't typically the most visually exciting, nor the most demanding on even powerful systems, Wild Hearts doesn't have any such trappings. Its system requirements are relatively strenuous, for even 1080p play. So, if you're hoping to max this game out with 4K resolution and all the pretty settings at their max, you're going to need a powerful system.
That is especially true this close to launch, as there have been a few teething issues with optimizations. While that is down to the developers to fix, in the meantime, the best way around it is to play with the settings to find a comfortable medium between performance and beauty, or simply brute force it with the most powerful hardware you can afford.
Either way, you're sure to have a fun time slaying this dynamic world's colourful Kaiju. So, whatever settings you're targeting, here's all you need to know about the game's requirements, and what kind of hardware you might need to upgrade to hit them.
Minimum System Requirements For Wild Hearts
Processor: Intel Core i5-8400 or AMD Ryzen 5 2600
Memory: 12GB
Graphics: Nvidia GTX 1060 6GB or AMD Radeon RX 5500 XT
Storage: 80GB
Operating system: Windows 10
Sound Card: 16bit 48kHz WAVE format stereo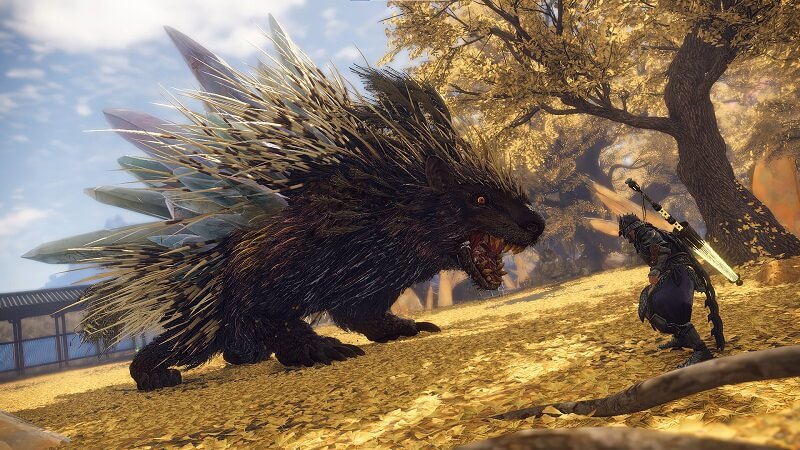 Image source:
EA Games
Despite its reportedly problematic optimization, getting Wild Hearts running isn't too strenuous a task. Indeed, with recommendations for processors that are generations old and graphics cards that were mid-range over five years ago, most gaming PCs built in the past half-decade will have no problem playing Wild Hearts at entry-level settings.
That will only mean that you get it at 1080p resolution with most settings on low, and you'll be restricted to 30-60 FPS at best, but it will at least be playable and smooth enough that you'll get to enjoy the sheer fluidity of the combat.
Storage demands aren't overly strenuous either, but while they don't recommend an SSD for this game, Chillblast absolutely does. Every gaming PC we build has an SSD at its heart for the boot drive and at least one or two games. Playing on a hard drive is just too slow and really hampers your enjoyment of modern games.
The sound card recommendation is intriguing though, as you rarely see that on modern games.
Much has been made of the sound work in Wild Hearts, and though you do want a decent audio solution to be able to enjoy it, most motherboards released in the past few years have support for the frequency ranges and audio qualities that Wild Heart needs to sound its best, so this isn't a bar that's too difficult to meet.
Meeting The Minimum With A Modern PC
If you don't have a gaming PC that can quite match the minimum requirements for Wild Hearts, or you don't have a gaming PC at all, then you'll need to make some upgrades or buy a new PC instead.
You could opt for buying second-hand components or a second-hand system to save some money, but there's never any guarantee of how long any of those parts will last, and you don't have any kind of support if something goes wrong.
Building or buying a new PC for a modern game like this is a much better solution, and there is a wide range of contemporary hardware that is both more powerful than what this game demands, and very affordable.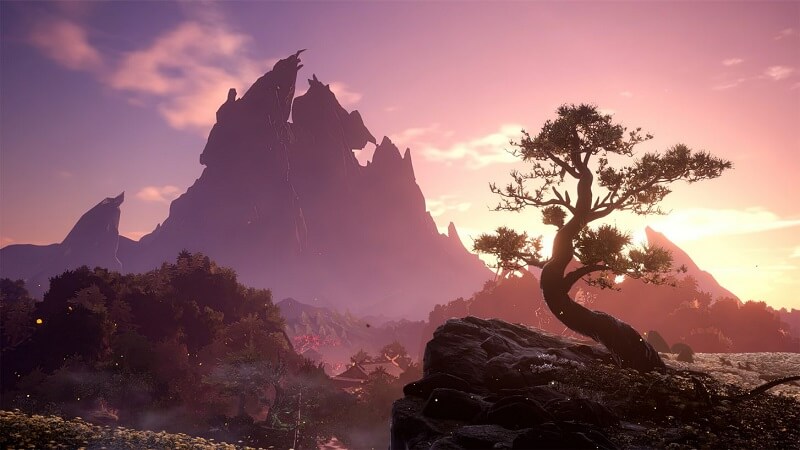 For a processor, the Intel Core i3-12100F is still a fantastic solution. It has four cores, eight threads, and a 4.3 GHz boost clock, giving it plenty of power for a game like this. If you're an AMD fan, a Ryzen 5 5500 is a good alternative, but its upgrade path is severely limited in comparison.
Pair whatever CPU you buy with a mid-range 16GB kit of DDR4 memory to save money and give you a little more room for running background tasks while you're playing.
For budget graphics cards, AMD is king in early 2023, so an AMD RX 6500 would be a good starting point for this kind of game. However, if you can stretch your budget a bit further, the AMD RX 6600 is much, much faster and offers far better bang for buck.
It's much more than you need for this kind of performance tier, so only consider it if you can afford it and want to play at more than the minimum, but it will last you far longer for comparatively not much more money.
What PC do we recommend?
Equipped to handle modern PC games, the Fusion Reaver is the ideal starter PC package to get Wild Hearts up and running.
Albeit a tad more expensive than the AMD option, graphics are handled by NVIDIA's excellent GeForce GTX 1650 graphics card. Whilst the suggested Intel Core i3-12100F CPU capably handles photo and video editing plus any background tasks.
It's a PC that is ideal for enjoying both the most popular mainstream PC titles like Minecraft, League of Legends, DOTA2, Hearthstone and CS:GO, but is also capable of running more demanding games like Wild Hearts at full HD resolution.
All of this is backed up by a superb WiFi-enabled Gigabyte motherboard, 16GB of ultra-fast DDR4 memory and a stylish M-ATX case, complete with a tempered glass side panel so you can see all the goodness inside.
It's also been rated 5/5 stars by PC PRO Magazine and branded as 'PC PRO Recommended'.
"This PC is a hot contender if your budget is limited"

Tim Danton, PC PRO issue 332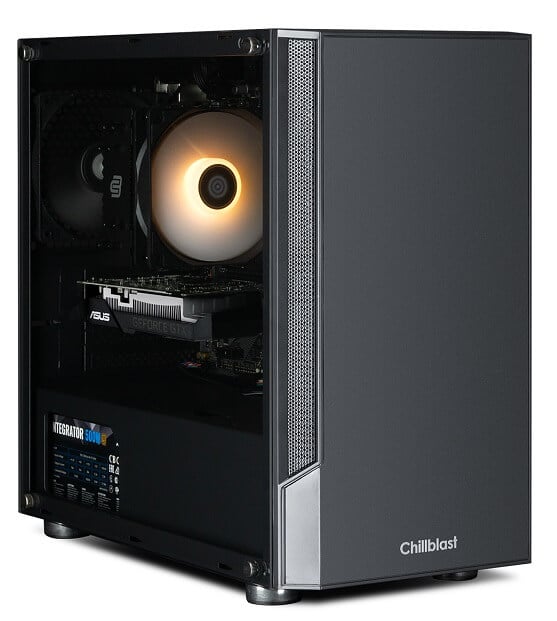 Recommended System Requirements For Wild Hearts
Processor: Intel Core i7-8700K or AMD Ryzen 5 3600
Memory: 16GB
Graphics: Nvidia RTX 2070 or AMD Radeon RX 5700 XT
Storage: 80GB
Operating system: Windows 10
Sound Card: 16bit/24bit 48kHz WAVE format Stereo/Surround (5.1ch/7.1ch)/Spatial sound (headphone/speaker)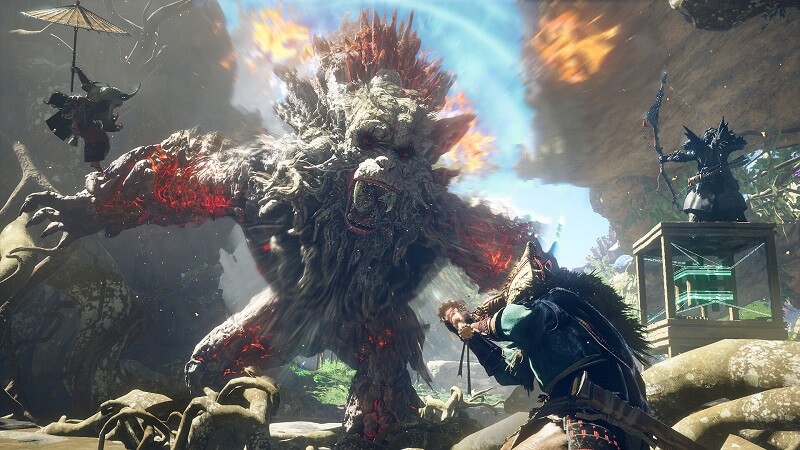 Image source: EA Games
The recommended system requirements for Wild Hearts are a modest step up from the minimums, but nothing too strenuous.
True, they do eclipse a good 50% of the PCs currently gaming on Steam, but with mid-range GPUs from a couple of generations past, and processors that haven't been considered powerful in years, it's clear that a large swathe of gamers will have no trouble hitting these specs.
That includes the sound card suggestion, too.
While not everyone will have surround sound systems, most modern gaming headsets have some form of virtual surround sound option, which can add immersion in a game like this that supports such 3D sound effects. The sound card features are also common on most motherboard onboard sound, so you needn't go above and beyond to hit that spec.
If you can meet these system requirements, you'll get a solid 1080p gaming experience, with most or all of the settings at their highest, and a 60+FPS average throughout the game, with only minor stuttering in the most demanding areas. At least in theory. This game is suffering from optimization issues at the time of writing, so take these system requirements with a pinch of salt.
If you have a mid-range gaming PC from the past couple of years, you shouldn't have too much difficulty hitting these sorts of specs. But, it wouldn't hurt to have something more powerful to brute force your way through the performance issues that the game is still struggling with.
Meeting The Recommended With A Modern PC
Buying a PC or components that match the recommended system requirements is still possible if you look at second-hand auctions and classified sites, but you should only do so if you can get a firm guarantee of the hardware's quality. The past few years have been some of the most turbulent times for buying gaming PCs and particularly the kinds of graphics cards recommended here.
Any second-hand GPUs you find that can meet these specs stand a good chance of having been used for cryptocurrency mining. That may mean a degradation in their performance, or at worst, a very short shelf life.
You are better off buying or building a new gaming PC that offers equivalent – or ideally better – specifications.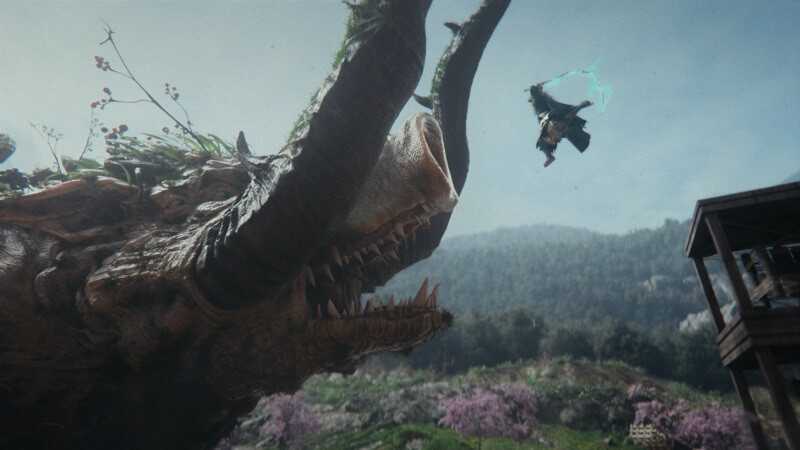 Image source: EA Games
To that end, a processor like the Intel Core i5-12400 paired with 16GB of DDR4 3200MHz memory will be plenty for Wild Hearts. Combine that with an AMD RX 6750 XT and you will have a monster of a mid-range gaming PC that will easily exceed the recommended demands for this game.
If you particularly want an Nvidia card, the RTX 3060 Ti or RTX 3070 are good alternatives, but they aren't quite as fast and are typically more expensive than the AMD option. They do give you better ray tracing and DLSS support, though. While DLSS isn't supported in Wild Hearts at this time, it is coming in a future patch, along with additional performance improvements.
If you want to go further to give yourself a buffer against optimization issues, then the AMD RX 6800 is an affordable upgrade that will even make 1440p play possible.
What PC do we recommend?
As a well-balanced all-rounder, our Akula Gaming PC is a great option to hit the recommended specs for Wild Hearts.
It's built around AMD's 6-core, 12-threaded Ryzen 5 5600X processor and 16GB of ultra-fast DDR4 memory, while graphics duties are handled by the latest NVIDIA's GeForce RTX 3060Ti graphics card – a potent combination for those looking for a PC with great performance today and upgradeability for the future.
A quality motherboard from Gigabyte provides plenty of USB 3.2 ports, and a 1TB M.2 Solid State Drive reduces Windows and other applications' load times with a capacity to store all your games. All of this is wrapped up in the stylish Corsair's 4000D Airflow Case giving this gaming PC a cool and understated look.
– Awarded 5/5 and the PC Pro A-List award!
– Was Awarded 5/5 in ComputerActive!
– Awarded ComputerActive "Buy It" Award!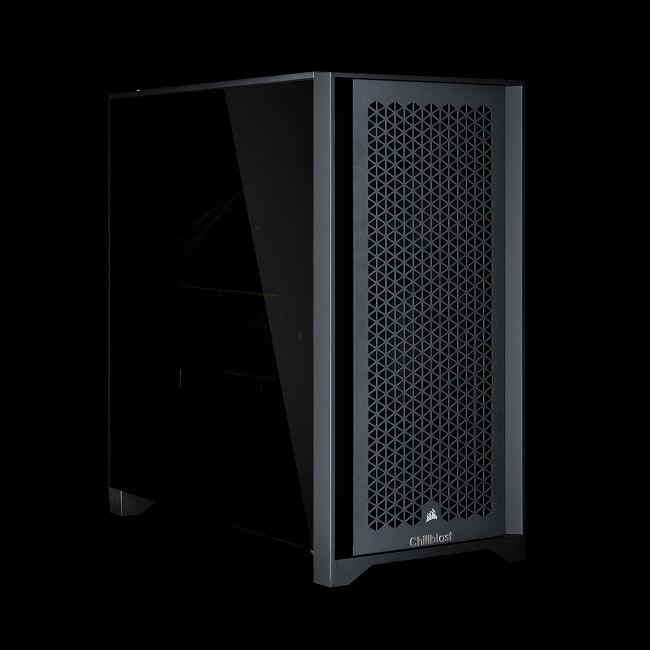 What Do You Need To Play Wild Hearts At 1440p?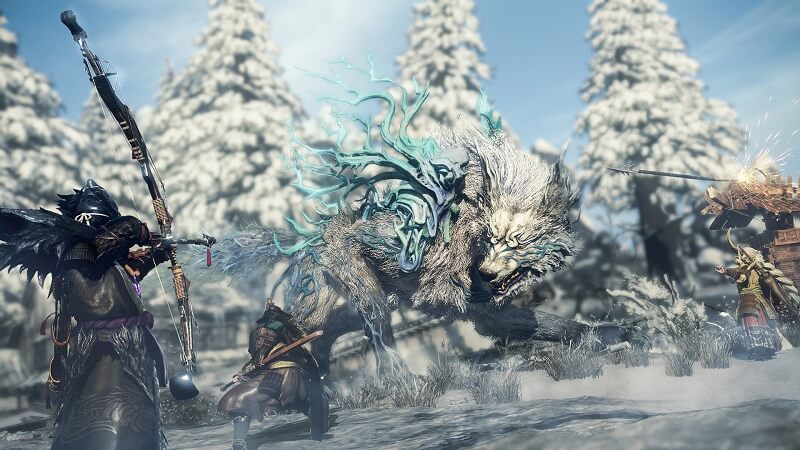 Image source: EA Games
Wild Hearts is a pretty game, and we were already getting into relatively high system specs for our enhanced "Recommended" PC at 1080p. So what will we need for comfortable frame rates at 1440p?
As you might expect, we need not only a jump in CPU performance, but a sizeable upgrade in the GPU to guarantee stable performance.
Since we have no official guidance on this, we'll use publicly available gameplay footage from reviews and home users to estimate a recommendable set of components that will give you both a gorgeous-looking and well-performing Wild Hearts gameplay experience at 1440p, with all the settings at their maximum.
For the CPU, the latest-generation Intel Core i5-13600K is an absolute killer that gets close to the performance of its Core i9 companions, as well as seeing off most of AMD's top gaming CPUs.
You could opt for an AMD Ryzen 5800X3D if you don't mind locking yourself to an older platform, but the Intel CPU is better and has a much more exciting upgrade path. It also gives you the option of DDR4 memory, to cut costs, if you need to.
For graphics, the Nvidia RTX 3080 is still a fantastic card for gaming at 1440p and 4K, but for this game it will give you stellar frame rates between 60 and 80 FPS throughout Wild Hearts, even with everything else maxed out. Once DLSS is available, it'll push you close to 100 FPS.
Alternatively, the AMD RX 6800 XT is more affordable and offers similar performance, but doesn't support DLSS. It does support FidelityFX Super Resolution, though, which is coming in future updates.
What PC do we recommend?
A PC that we think will provide the best 1440p Wild Hearts experience whilst also being the best value for money is the Chillblast Fusion Torrent Mini.
As suggested, it houses the excellent RTX 3080 graphics card alongside a 12th generation Intel CPU (the i7-12700K). Not only this, but it also contains a massive 32GB of super-fast RAM plus a whopping 1TB of SSD storage, drastically reducing load times.
To make things even better, all of this is housed inside the awesomely tiny Fractal Torrent Nano case, which is roughly half the size of a standard PC. It's not every day that you find a 4K gaming beast inside such a small package.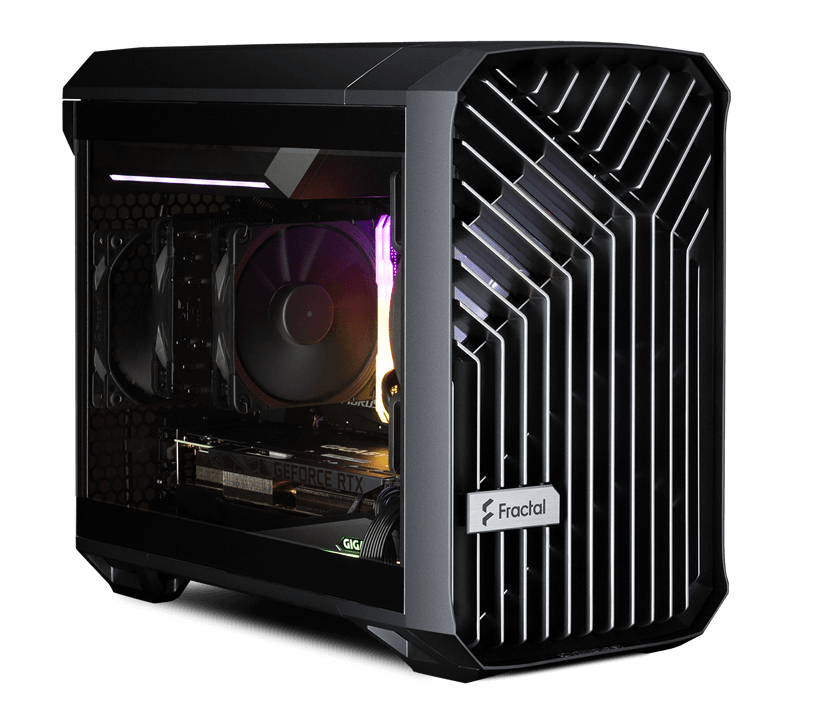 What Do You Need To Play Wild Hearts At 4K?
As with the 1440p system requirements, we don't have any official guidance on what you need to play this game at 4K. What we can see, though, is that this is a demanding game at lower settings and with its current state of optimization, you're going to want an absolute monster of a PC to play Wild Hearts at 4K.
For the processor, a little extra power wouldn't go amiss, so we'd recommend the Intel Core i7-13700K, or the AMD Ryzen 7900X. You could opt for the more powerful 13900K or 7950X, but they won't give you much additional performance and are much more expensive.
Pair whatever you get with 32GB of DDR5 memory, though, to ensure peak performance from your CPU and to make sure no background tasks get in the way of your game.
For the graphics card, only the best will do. If you want to maximize your bang for buck at the high end, the AMD RX 7900 XTX is the card to buy. It's the second most powerful graphics card you can buy for games without ray tracing and it's far cheaper than anything Nvidia offers at that performance tier. It has 24GB of memory, so it'll have no problem enabling all the beautifying settings and maintaining a steady 60-70 FPS throughout.
As with any game you play at 4K in early 2023, though, the true performance king is Nvidia's RTX 4090.
It might be close to double the cost of the 7900 XTX if you get a factory-overclocked model, but it is in a class of its own when it comes to performance. It'll give you 70+ FPS throughout the game at all times and is the least likely to be affected by stuttering or optimization issues prior to the patch's release.
What PC do we recommend?
If you have the budget and want a gaming PC that will let you enjoy Wild Hearts at 4K with intense settings like ray tracing turned on, all whilst maintaining high frame rates, this is what Chillblast recommends: the Chillblast Eclipse Gaming PC.
It houses an AMD Ryzen 7 7700X (released to market only a few months ago) combined with the cutting-edge Nvidia RTX 4080 GPU. It's a step down from the RTX 4090 mentioned above, but for value for money, this card ticks all the right boxes.
Alongside this, it has a massive 1TB M.2 NVMe SSD giving you ample room to download the game and enjoy lightning-fast load speeds. Plus, the system also hits the 32GB RAM recommendation, using blisteringly fast 6000MHz sticks.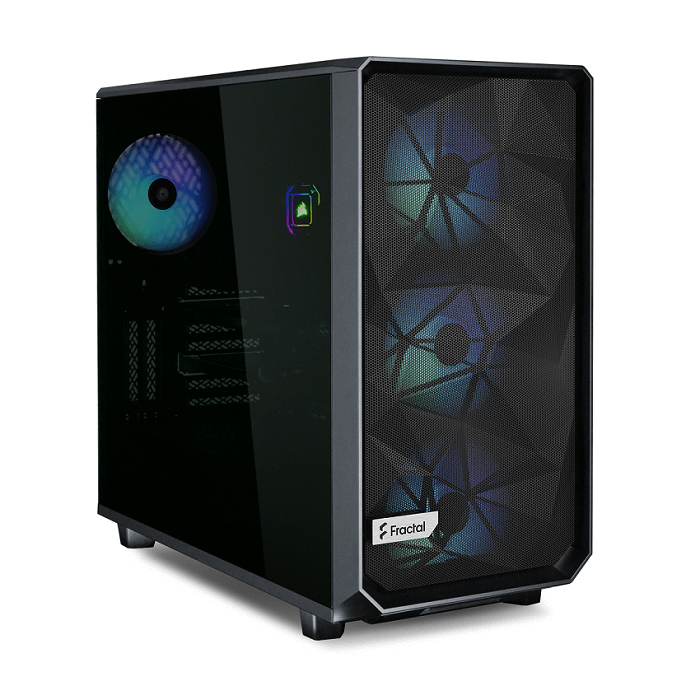 Conclusion
Wild Hearts is a game that demands a lot from the PC that runs it, especially prior to the release of its upcoming performance patch. It's also a gorgeous-looking game, though, so it is worth playing it on something capable if you can get your hands on it.
For any more help in putting together the best Wild Hearts gaming PC for you, be sure to get in touch with Chillblast and one of our highly experienced system builders will talk you through exactly what you need.