The Nvidia RTX 4090 is the most powerful graphics card ever made, with sky-high CUDA core counts, blazingly fast clock speeds, and heaps of memory.
It is the best graphics card for 4K gaming and is arguably the only card that can reliably play all games at 4K with ray tracing enabled whilst maintaining a steady 60 frames per second (FPS). It's even capable of a little 8K gaming if you enable deep learning super sampling (DLSS).
But all of that performance comes at a cost, and we don't just mean monetarily. The RTX 4090 consumes a lot of power. The official TDP target maximum is 450W, which is 100W more than the previous generation kingpin, the RTX 3090 Ti, and almost 100W more than the latest high-end card from AMD, the RX 7900 XTX.
Fortunately, Nvidia has built the RTX 4090 with this kind of incredible power demand in mind. It has an absolutely monstrous cooler, weighs a tonne thanks to its huge heatsink, and it has some incredibly impressive power management components to keep the card stable while managing all of that power. It even has a brand new power connector, a miniature 16-pin design that supplants the one-generation 12-pin plug of the RTX 3000 series.
You don't have to have a power supply with such a connector, but you do need one that can serve up all the power this monster of a card needs; not to mention the rest of your no-doubt high-end gaming PC.
If you're looking to put together an RTX 4090 gaming PC, or want to upgrade to the most powerful GPU in the world, here's everything you need to know about picking a compatible power supply.
What PSU Do You Need For The RTX 4090?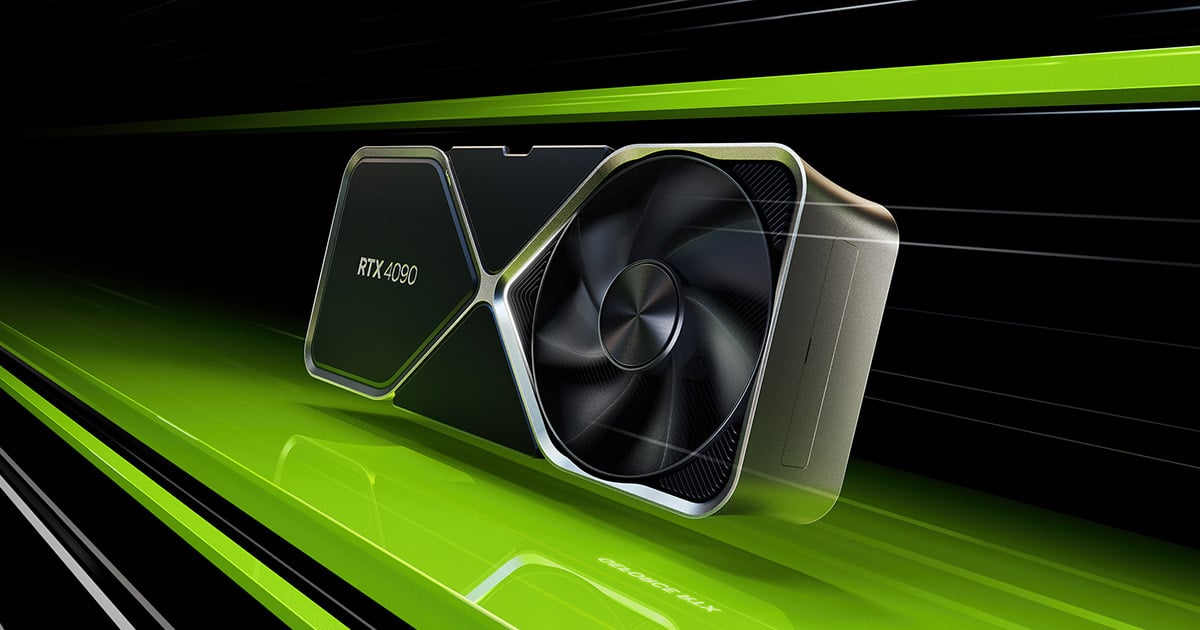 The Nvidia RTX 4090 has an official power draw of 450W, though momentary spikes of power, known as transients, may mean that it will draw more on occasion. Nvidia set the TDP of its RTX 4000 graphics cards as more of a maximum power draw, rather than a power target, so these should be less common with this generation.
However, with boost algorithms and rapid energy management tools, it's possible that they'll still be a problem with the RTX 4090. This could result in the card pulling 1.5 times its TDP, or even more, for a fraction of a second, which considering its high power draw before spiking, would be a lot.
With that in mind, Nvidia recommends at least an 850W power supply to run an RTX 4090. While that is a good baseline that should cover most buyers, it doesn't give you a lot of detail and doesn't address the new power connector Nvidia debuted with this new generation of cards.
A new GPU brings a new type of connector
If you want to have a power supply that natively supports an RTX 4090 (and there are reasons why you might want to, which we'll delve into below) then you need one with the new ATX 3.0 native 16-pin power connector, which only a handful of the latest, high-end power supplies support.
That typically limits you to the most expensive power supplies, and while you should definitely make sure you're pairing your £1,600+ graphics card with a very capable and stable power supply, you don't necessarily need to shell out hundreds for the best of the best.
If you're using an older ATX 2.X power supply that is in excess of 850W, and you're looking to run a reference, Founders Edition RTX 4090, then you should be okay with what you have. That might not be the case with some of the factory overclocked, tweaked and upgraded add-in-board partner cards, however.
Do You Need A New ATX 3.0 PSU For The RTX 4090?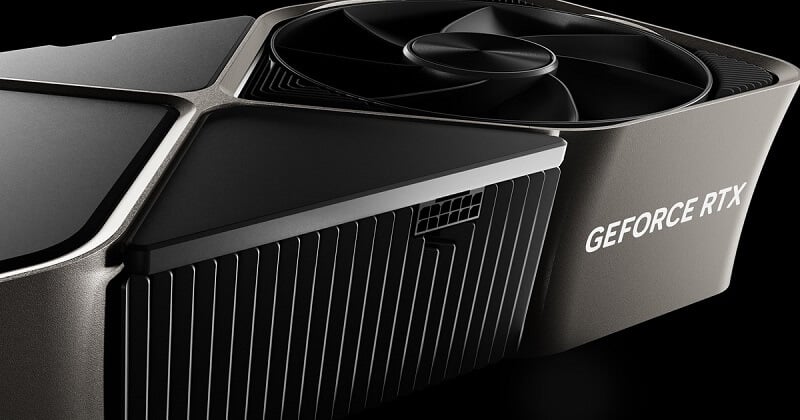 No. You can absolutely make do with an existing, high-wattage power supply for the RTX 4090.
The wattage demands are steep, and considering the transient spikes, you may want to go higher still. MSI, for example, recommends an 850W PSU only if you're using an Intel Core i5, or AMD Ryzen 5 CPU. But, if you're using an i7/Ryzen 7, or i9/Ryzen 9, it recommends 1,000W instead. That gives you a little more wiggle room, though technically you don't need to go that high.
The only spec that you absolutely need to meet in order to run an RTX 4090 is to have at least three PCIexpress 8pin connectors. If you don't have an ATX 3.0 rated power supply and therefore lack the new 16-pin power connector, you'll need to use an adapter, and that needs three PCIe 8 pins cables to power it.
Are The 12VHPWR Adapters Safe?
The short answer is, yes, but the longer answer does have some caveats.
If you're asking this question then you've no doubt heard some of the stories about 12VHPWR adapters failing, melting, or even starting fires inside gamers' cases. While these are extremely isolated incidents – maybe as few as 50 out of the hundreds of thousands of RTX 4090s that are in the wild – that's still a troubling statistic and suggests there is a real problem with the adapter design. Surely?
Not necessarily. The 12VHPWR connector is rated to handle up to 600W of power, and the adapters have to in turn. That's a lot of power to pull through some relatively thin wires and any time that happens in any kind of electronics, heat build-up can be a problem.
In the vast majority of cases that isn't the case with the new adapters. However, it has occurred in enough instances that Nvidia and its board partners are reportedly redesigning the adapters to help thwart this kind of problem in the future.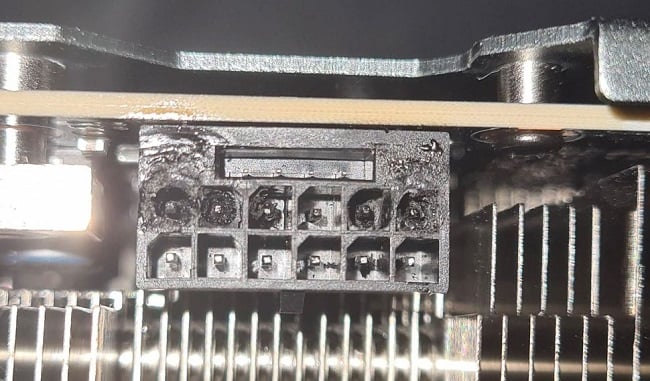 What's causing the problem?
You don't need to wait for new adapters, though. There has been some robust research from the wider enthusiast community into what the problem is, and how you can avoid it. GamersNexus conducted an in-depth investigation into the 12VHPWR connector problem and found a number of factors that may have been the cause of each of the instances of adapter failure or even combustion.
Manufacturing errors are partly to blame in some cases, it seems, although those are even rarer than the rare instance that one of these adapters will fail. A more common cause was debris in the connector itself. This could be caused by improper handling, or through repeated insertion and removal beyond what the cables are rated for, leading to a build-up of plastic or metallic shavings within the socket or connector.
However, the most common reason for the cables to fail, and likely the cause of most instances of adapter damage, is mishandling and improper insertion. That is, gamers and enthusiasts not quite slotting the power adapter in fully, which can then result in the cables overheating – especially if there is any kind of bend in the wiring, or undue pressure forcing the wires closer together.
Ultimately what this means is that if you're buying a 4090 and plan to use a 12VHPWR adapter rather than a native 12VHPWR plug, then you want to be careful about insertion. Make sure it clicks when you plug it in, doesn't have any bends in the wiring, and then leave it alone.
If you want to be doubly sure it'll be OK, make sure there's some active cooling blowing over the cabling, though any well-cooled gaming PC should have that in spades anyway.
The Best Power Supplies For An RTX 4090
MSI Ai1000p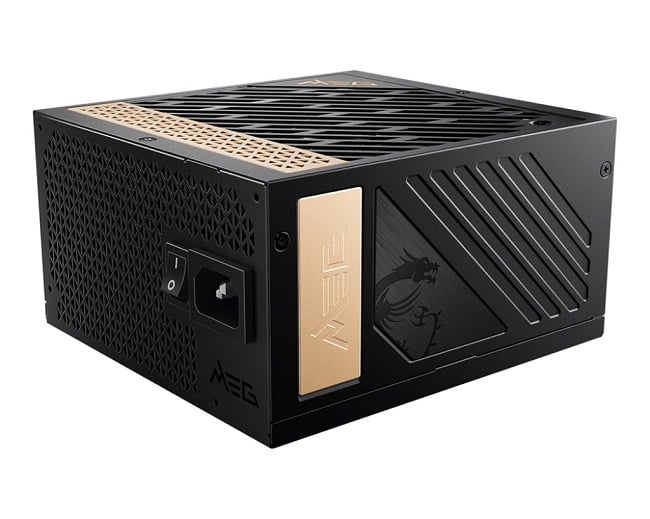 If you want the most stable of power supplies for your RTX 4090, with heaps of headroom and the ability to manage plenty of storage and a super powerful CPU as well, then the MSI Ai1000p is the power supply for the job.
It has a total output of 1300W which is not only enough for a 4090, but any future RTX 4000-series cards with even higher power draws. It has full support for the new ATX 3.0 specification with a native 16-pin connector and is rated to handle up to 3 times GPU power to manage transient spikes.
It's built with 100% Japanese capacitors for added stability, is 80 Plus Platinum rated for excellent efficiency and lower electricity bills, and is fully modular, letting you minimize excess cabling.
This is an expensive power supply, but if you want a no-compromise PSU for your RTX 4090, this is the one for the job.
Corsair RM850X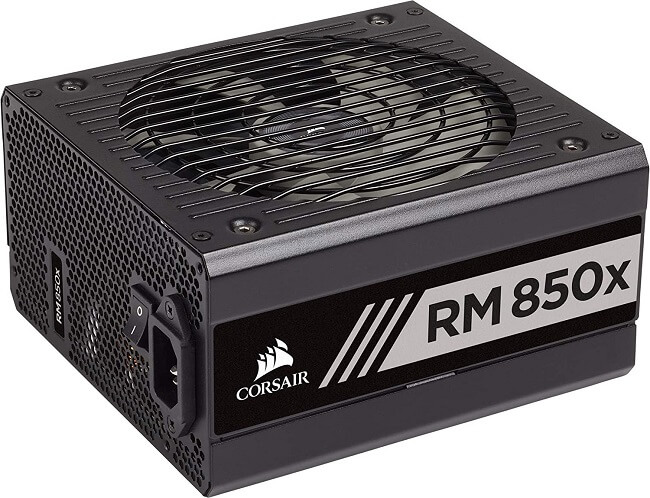 If you're happy to stick to an ATX 2 specification power supply and use an adapter to power your RTX 4090, you can get a much more affordable PSU for your new build.
The Corsair RM850X is a favourite here at Chillblast, and powers many of our top gaming machines. It has an 850W capacity, making it well-suited to handle the latest RTX 4090s from Nvidia and select board partners, with plenty of headroom for any momentary spikes.
It's fully modular, helping to keep your case neat and tidy, and it's 140mm fan is quiet, even when the power supply is working hard. It uses 100% Japanese capacitors rated to operate at up to 105 degrees – though the fan won't let them get anywhere near that toasty. The unit is 80 Plus Gold certified too, for excellent efficiency throughout most of the wattage range.
Power supplies like this one are much more affordable solutions for powering your RTX 4090, though that's likely to be their limit. If a new, higher-power RTX card comes along, you may need to upgrade to a higher-wattage PSU.
Thermaltake Toughpower Gen5 GF3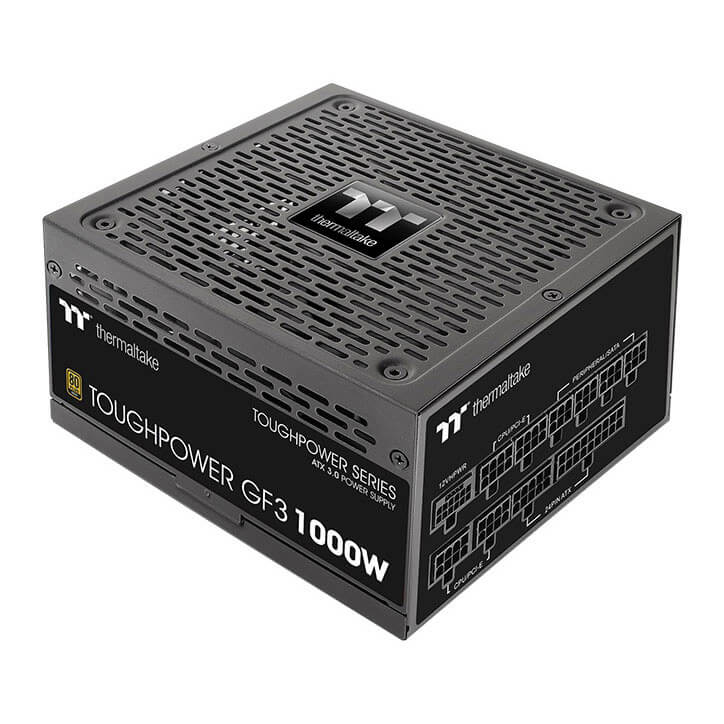 Thermaltake's new Toughpower Gen5 GF3 power supply has everything you need to run an RTX 4090 gaming PC. It has a 1000w capacity, an 80 Plus Gold efficiency rating, a fully modular design, the ATX 3.0 16pin native power connector, and a price tag that's much lower than most other ATX 3.0 units.
It's not as quiet as some units out there, especially when it starts really working, but the semi-passive operation means it'll be silent up until it does. It also comes with an extensive 10 year warranty, giving you serious peace of mind that this power supply will continue to function well beyond the life of your RTX 4090 and will be more than enough for several generations of upgrades.
ASUS TUF Gaming 1000W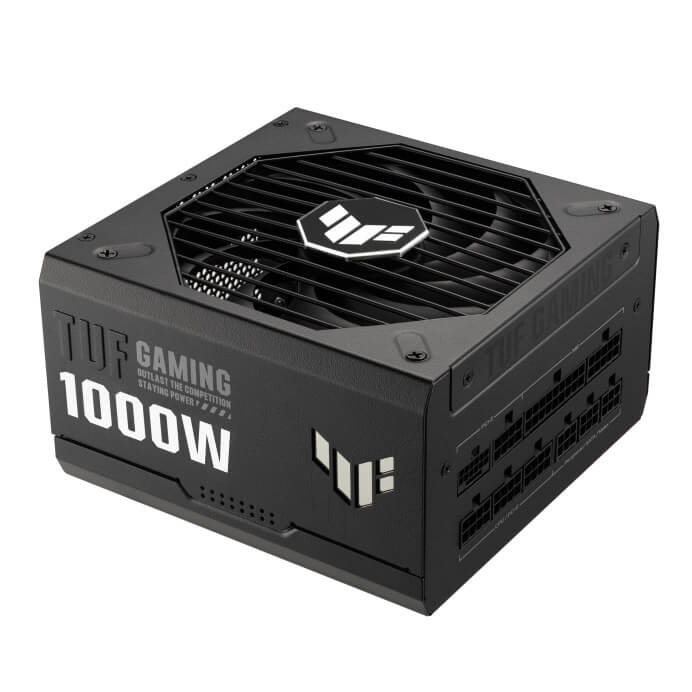 Asus has a range of new ATX 3.0 power supplies, but arguably the best of the bunch is the Asus TUF Gaming 1000W unit. It has everything you need to really make the most of your RTX 4090, as well as looking sharp and utilitarian for stealth builds.
Its 1000W maximum output is more than enough for any RTX 4090 gaming PC and it has the native 16-pin PCIe connector for easily wiring up your new Lovelace GPU. In the event this power connector proves to be another one-generation affair, or you one day want to switch to an AMD GPU, you needn't fear, as this PSU also has four traditional PCIe 8-pin cables.
It's 80 Plus Gold rated efficiency helps to keep your energy bills down, and temperatures low, reducing noise output. The fan is quiet at most times anyway, though, and with a 10 year warranty for the PSU, you can rest assured it'll last you for many upgrades to come.
Conclusion
There are a number of other great ATX 3.0 power supplies available and more will launch in the months to come, but know that you don't have to use them at all – it just makes things a little easier and more trustworthy. The latest news on the adapters suggests they're just fine the way they are, as long as you use them a little carefully.
Whether you go for an ATX 3.0 or older PSU, though, just make sure it's of consistent quality and has a high enough wattage to ward off any transient energy spikes. If you can, you'll be able to enjoy the fastest graphics card ever made, delivering incredible frame rates and detail levels in equal measure.