NVIDIA DLSS 3 brings incredible performance increases in many games and applications, and takes advantage of brand new AI technology exclusive to the RTX 40-series. The detailed and in-depth overview by Digital Foundry was a feast for the eyes (especially if those eyes belonged to a geeky gaming PC enthusiast), and although no FPS was mentioned in the demos and videos, it is clear to see how much improvement DLSS adds to games – absolutely in line with what NVIDIA has been promising.
For AAA+ gamers looking at buying an RTX 40 series gaming PC, the screamingly fast performance is a delightfully over-the-top specification, and heralds the next generation of gaming with much fanfare. But, as NVIDIA should know, you can't please everybody.
We looked at the demo and specs of DLSS 3 to put the latest NVIDIA AI technology into some kind of perspective, whilst looking at some of the speculation and controversy it now has surrounding it.
What is DLSS 3?
DLSS 3 uses artificial intelligence to render a frame of graphics between two frames, which is a "temporal" version of what that frame would look like. It is not a perfect replica of the preceding or subsequent frame, but rather something in between. And this is done in real time, basically.
Credit: Digital Foundry
In the above screenshot from the video by Digital Foundry, we can see there are some blurred aspects or pieces of the image missing altogether where the AI could not render graphics because it did not have enough data to work with. This is literally a frame you will not even see, however, and blends the two main frames together so well you couldn't notice it if you tried.
How DLSS 3 works
If you have three frames, A, B and C, DLSS 3 would intersplice an AI-generated frame between A and B, and B and C. This would have the effect of making the scene look smoother in motion. The main difference you will see with DLSS 3, therefore, is smoothness of visuals. If there are any gaps in the animation, the AI fills them.
There is a fantastic demo of this with Marvel's Spider Man Remastered PC which shows this in full effect:
Credit: Digital Foundry
The camera movement, Spidey's animation and shadow are all smoothed out with DLSS 3 frame generation, to create a more lifelike and more natural result. This, above all else, is critical to DLSS 3 success: characters in games look more lifelike, adding more realism and immersion to games, which means people will enjoy them even more.
With these real time changes to the visuals, there is some latency involved. However, NVIDIA Reflex is utilised (it's switched on by default if you select DLSS 3) to reduce this latency to the bare minimum. So much so that you would not notice the difference.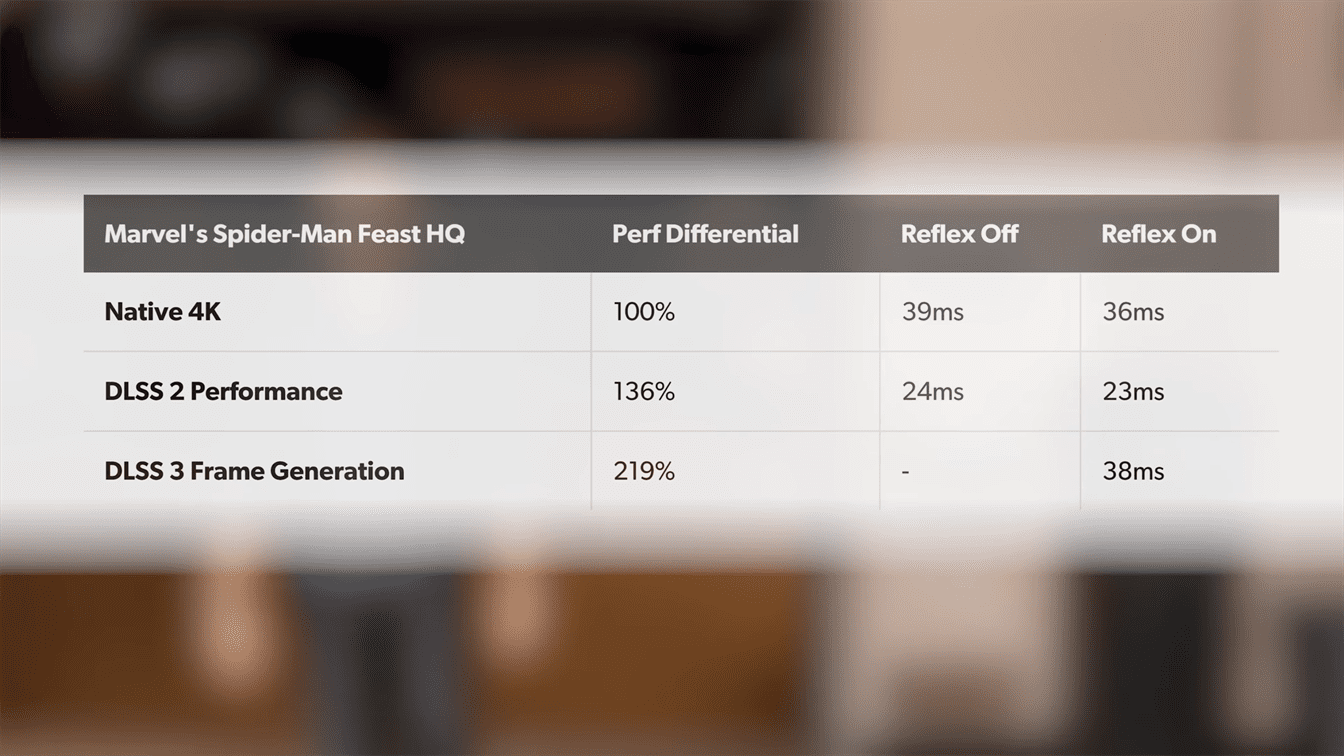 As you can see above, with DLSS 3 in Marvel's Spider Man Remastered there's an increase of 219% in performance over native 4K, and this adds 38ms of latency into the mix. In reality, this game plays at over 70 FPS using an RTX 3090 Ti at 4K resolution, with Very High settings and RTX On. With the potential 2x increase in performance from RTX 30-series to RTX 40-series, nobody is going to complain about input lag or latency of a measly 38 milliseconds.
NVIDIA Controversy: Does DLSS 3 increase FPS?
Somehow, there is controversy around DLSS 3 and FPS boosts. Some YouTube creators have been hot on the heels of the demo and slating the figures as pure marketing hyperbole, with some actually accusing NVIDIA of lying. This might well be a play for views, and nothing more than clickbait by the controversial Edge Lords of YouTube, because according to the many experts who have got their hands on an RTX 40-series for testing – DLSS 3 is the upgrade we all wanted to see in next-gen graphics cards… we just didn't know it.
DLSS 3 Controversy
Most of the RTX 4090 and 4080 performance data in the Ada Lovelace announcements centre around DLSS 3 and DLSS 2 comparisons, which some are saying is not a fair fight. To some degree, you can understand this. However, creators like Ancient Gameplays have gone the extra mile and said said NVIDIA are lying. Host, Fábio Pisco says in his video "Jensen told us that DLSS 3 would be able to deliver more FPS even in situations where we have CPU bottleneck. This is kind of hard to believe [..] because the DLSS 3 generates a new frame,".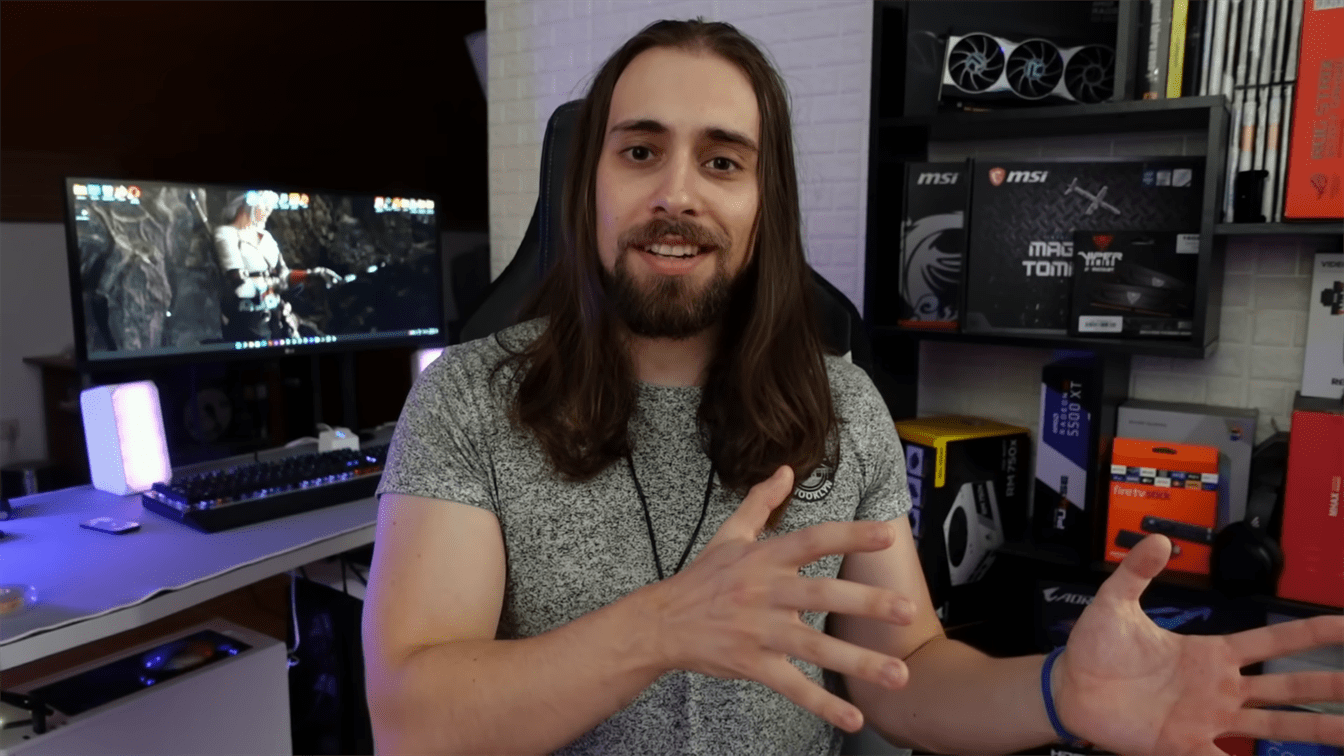 In essence, what Fábio is saying is this is not a true FPS reading from MSI Afterburner, RivaTuner or whichever software you use. You may just be running at 60 FPS, and DLSS 3 has artificially inflated this to 120 FPS. Moreover, the CPU is not having to do anything extra to achieve this framerate. While this is true, that is not what is in question. Does it feel like 120 FPS? Then the general consensus is that is all that matters.
Until developers figure out how to record actual framerate speeds with DLSS 3 enabled, these hardware monitors are going to be almost useless in benchmarks. As for gamers, they will reap the rewards without being able to record the "true" framerates. Will that be a problem? For the vast majority, absolutely not.
What the gamers say
The majority of the conversation around the RTX 40-series is not actually DLSS 3. It's about pricing. The general feeling is that the next generation graphics cards from NVIDIA are priced so only the higher tier of gamers can buy them. The most affordable GPU in the first launch batch is the 12GB version of the RTX 4080 at £949 MSRP. Of course, we won't know actual retail pricing until November for that card.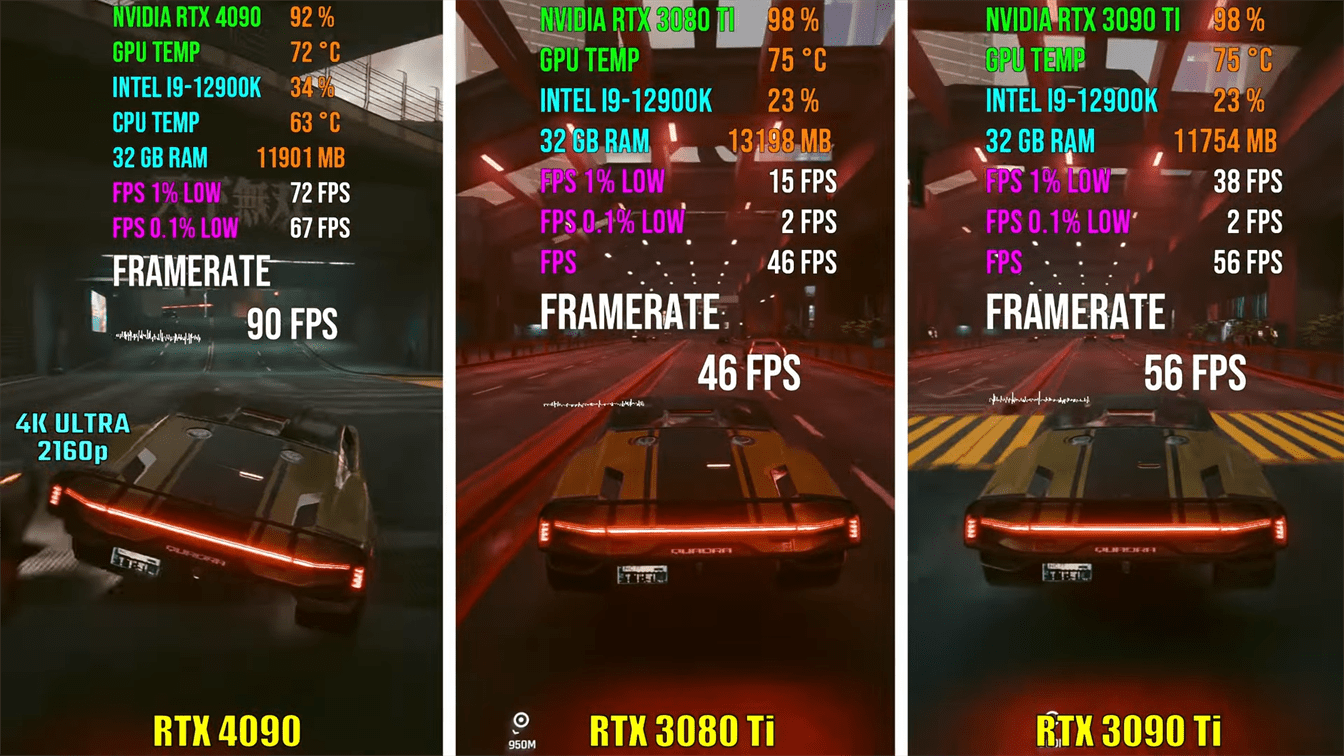 Gamers who want AAA+ graphics and breakneck performance, however, are very happy with the specifications of the RTX 4080 and RTX 4090. With benchmarks already breaking the internet showing massive leaps in performance over previous generation GPUs, it's hard not to salivate if you're in the market for a shiny new NVIDIA card.