Graphic designers need a workstation PC that allows them to get the best out of applications such as Adobe Photoshop, Illustrator and InDesign. Whilst graphic design software used to be incredibly CPU intensive, many of the features have been optimised for GPUs, capitalising on the incredibly fast calculation speeds RTX graphics cards possess.
CPU vs GPU
The best PC for graphic design must also take into account the large file sizes and complex effects, which means pairing a solid graphics card with a CPU that can handle heavy workflows. Every aspect of a drawing or design must be passed through the CPU first, and applications such as Photoshop and Illustrator rely heavily on processor scheduling as well as high capacity RAM memory to keep things moving quickly.
The CPU in a workstation PC can be fed large tasks and will often work through them all at once, scheduling and prioritising as efficiently as possible to get the best end result. All of the data can be passed to the processor, and the most efficient way of completing the task will be found using a single core or multiple cores if required.
The GPU is capable of accelerating tasks, but must be given specific work to do in order to complete it. Most design software will use the CPU for general, optimised workflow, and use GPU acceleration where necessary.
Each application also has a specific use for creative professionals, and modern workflows may require switching from one application to the other on platforms such as NVIDIA Omniverse or Adobe Creative Cloud. The workflow and demands on the system hardware are somewhat different for each application: –
Adobe Photoshop
Perfect for both digital and print design, Adobe Photoshop is the most well-known graphics application in the world, with a variety of optimised features that fit many design tasks, but the software is predominantly used for photo editing.
Is Photoshop CPU or GPU intensive?
Photoshop relies on your GPU for effects using Mercury Graphics Engine, which is associated with blurring tools, warping tools etc. Your CPU is used for general photo editing, resizing etc., and Photoshop prefers a fast single core in a CPU, and will use multithreading for complex compositing. Adobe are heavily focused on efficiencies, and there are many optimisation settings in Photoshop to find your best workflow.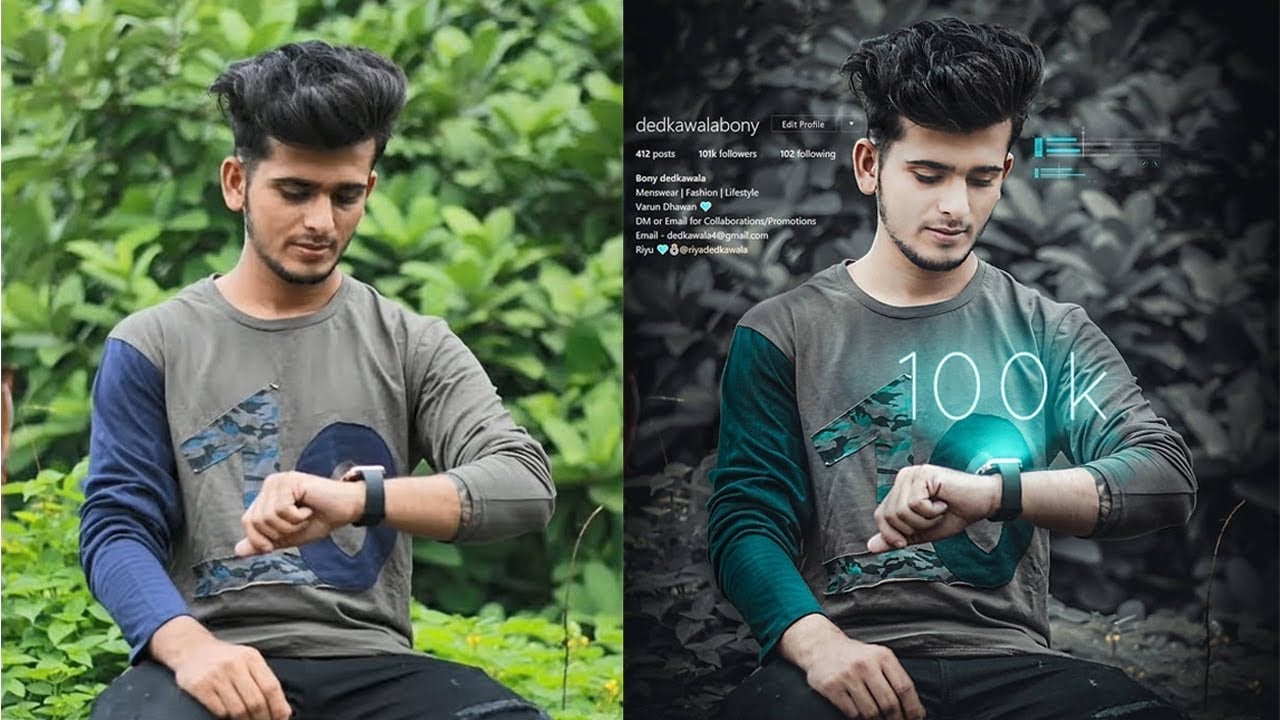 Adobe Illustrator
Primarily a vector illustration application, Adobe Illustrator is used by – you've guessed it – illustrators, and the software is particularly useful for creative professionals who design logos, icons, posters, advertisements, books, brochures, magazines and comic books. Vector graphics can be used in a variety of ways, which means some designers will often start their process with Illustrator, building the components of their design, and progress to Photoshop or InDesign as part of their workflow.
Is Illustrator CPU or GPU intensive?
Adobe Illustrator relies on both the CPU and GPU, using your graphics card to accelerate navigation, as well as displaying, previewing and manipulating images. Illustrator, though optimised for GPU acceleration in rendering tasks, relies on the processor most of all, so a CPU with high core count is essential for vector design workflows.
Adobe InDesign
Is Illustrator CPU or GPU intensive?
Adobe InDesign is now the de-facto standard in desktop publishing, predominantly used as a page layout designing application. DTP software used to be very limited in functionality, but InDesign offers advanced editing features, and is capable of high quality rendering of layouts and designs, for flyers, posters, brochures, newspapers, presentations, magazines, books and ebooks. InDesign, being a versatile application, uses optimised workflows that are both CPU and GPU reliant, and high capacity memory is also required for large designs.
"Rendering on high-density displays is best handled by the GPU. GPU acceleration makes the rendering of the documents faster while zooming, scrolling, and panning. With the GPU enhancements, InDesign now shows images in their fullest fidelity without compromising the performance." – Adobe
Which CPU do I need for graphic design?
Assuming you have chosen a suitable graphics card to optimise and accelerate your workflow, you may now be left wondering which processor from AMD and Intel are best for graphic design requirements. Regardless of which application your use the most, a graphic design workstation CPU delivers both performance and efficiency, which is essential in creating the smoothest possible workflow.
Intel 12th Gen processors
With the Alder Lake series of processors, Intel have paid close attention to the needs of the creative professional, with the 12th-Gen hybrid architecture delivering both performance and efficiency. Performance-cores process the priority workloads, while Efficient-cores can take care of background tasks in the workflow. A great example of this is would be if you are rendering a large file in Photoshop, then you minimise the window to begin working on an InDesign template. The Performance-cores deal with the most important job – the opening of another application, whilst Efficient-cores continue to render the file in Photoshop. This is all done using Thread Director, a clever piece of engineering that schedules and manages these tasks intelligently.
Intel Core i7-12700
Of the three applications we've discussed, the most CPU intensive of all is Photoshop. The Core i7-12700 is a very capable processor for graphic design, performing just above the Ryzen 9 5900X – a CPU that is predominantly aimed at high-end creative work. With 25MB L3 Cache, the Core i7 12700 can process instructions fed from the RAM much quicker, meaning smoother operation when editing, saving and undoing work.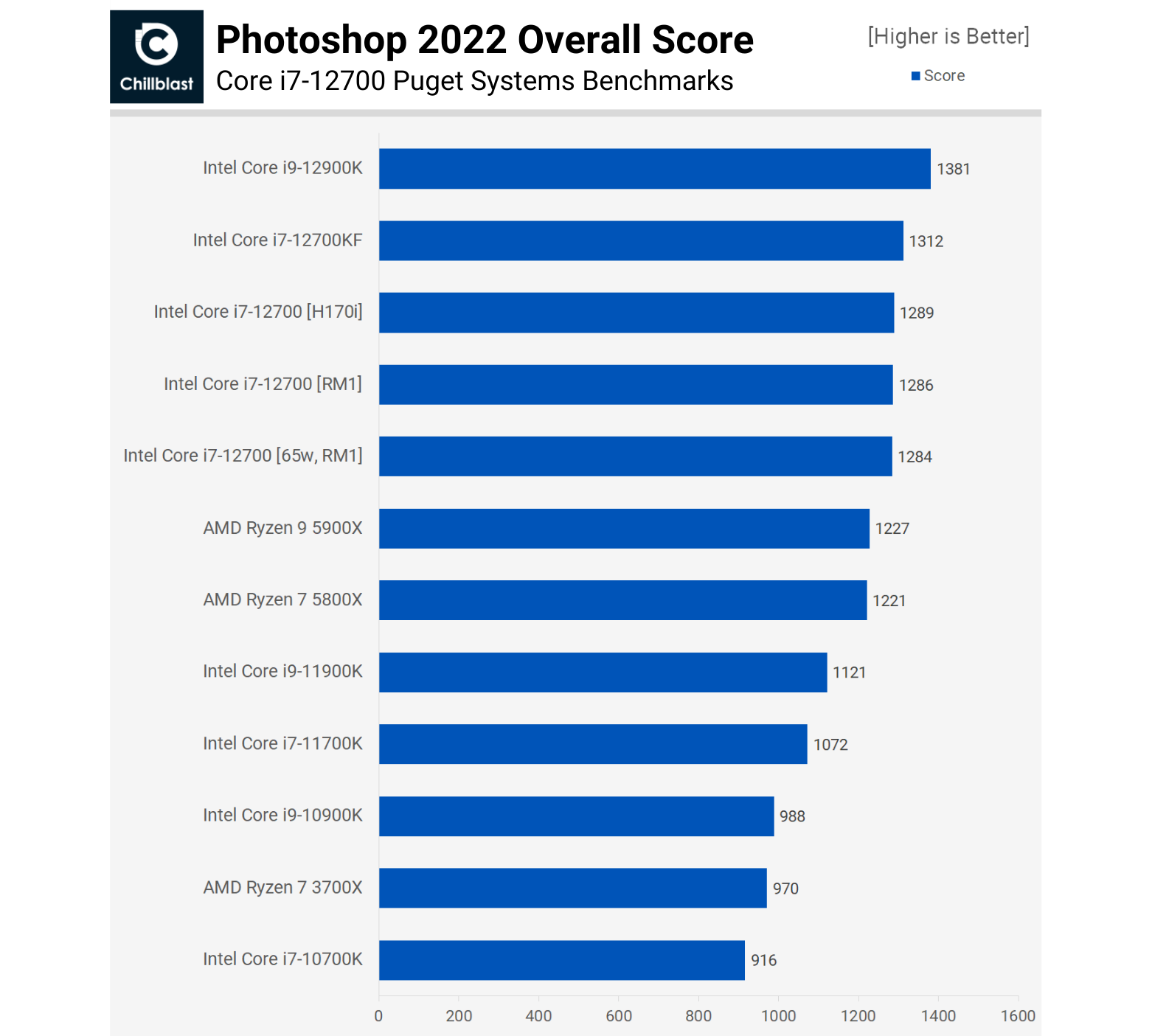 In the chart above, TechSpot.com tested the i7-12700 with an RM1 box cooler, as well as a Corsair iCUE H170i liquid cooler. Though the differences are marginal, they are indeed measurable, and this optimal speed and thermal control will prolong the life of the processor if you are using these applications over years.
The Core i7-12700 features in our Chillblast Create Core Editing PC, which also comes with 32GB DDR4 3200MHz and an NVIDIA GeForce RTX 3050 8GB that can take on any GPU acceleration workload.
Intel Core i9-12900K
Intel's flagship Alder Lake processor, the Core i9-12900K is a superb workstation processor, with 16 cores made up of 8 Performance-cores and 8 Efficient-cores. The 8 P-Cores are responsible for Hyper-Threading, and capable of completing two threads simultaneously, which – in unison with the 8 E-Cores – results in 24 threads. This multi-core operation ensures you have all the performance you require, whilst background processing is handled as efficiently as possible.
In benchmarks, the Core i9-12900K performs just below the 12900KS (though this super powerful chip is prone to being very hot under stress).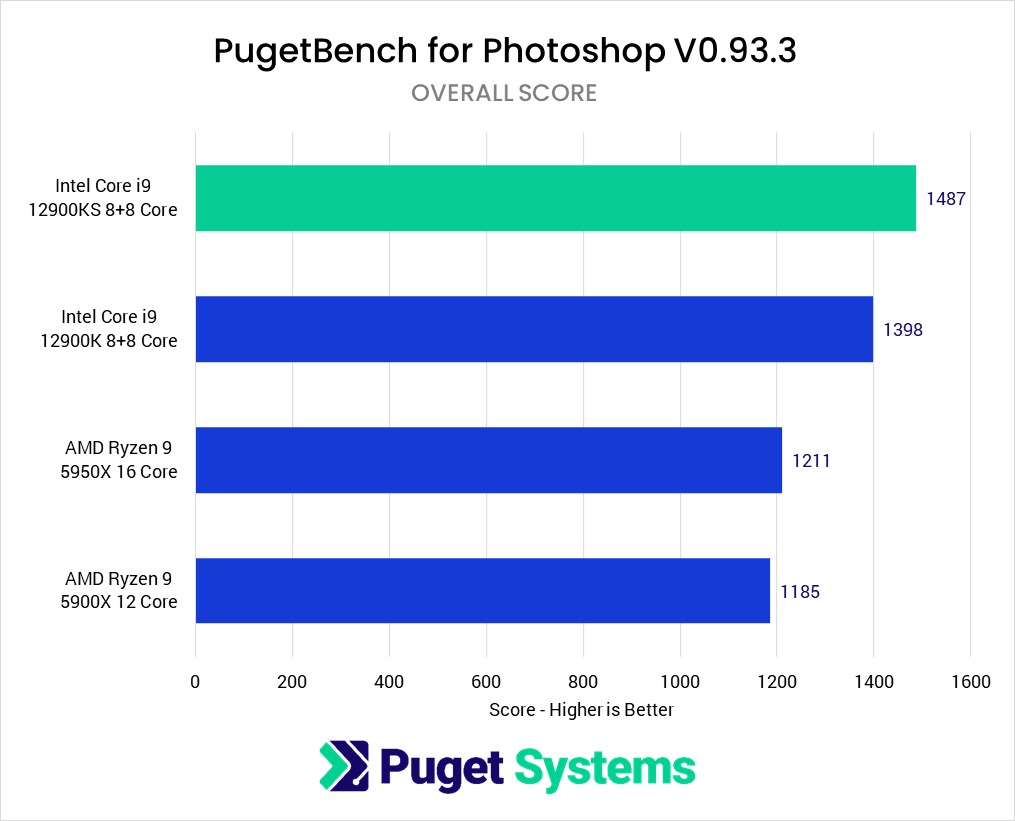 The Chillblast Create Core Pro Editing PC features the Intel Core i9-12900K and NVIDIA GeForce RTX 3060 12GB, with a massive 64GB DDR4 3200MHz memory for handling even the most intensive workloads of a graphic designer.
The future of graphic design CPUs
Whilst Intel have the creator sector pretty much sewn up with Alder Lake and Raptor Lake processors (which we discussed in our video editing article), AMD are set to rival them with the launch of Zen 4 7000 series processors. Although much better suited to video editing and 3D design, the AMD 7000 series certainly packs a serious punch, and cannot be dismissed.
"Starting at the top with the Ryzen 9 7900X and 7950X, we saw an impressive 22-26% performance gain versus the previous generation Ryzen 9 5900X and 5950X respectively, which highlights how much AMD has improved for lightly threaded applications. The Intel Core 12th Gen CPUs are very strong for Photoshop, however, so even with this large gain, the 7900X and 7950X only manage to be roughly on par with the Intel Core i9 12900K and 12900KS." – Puget Systems
That said, the future of efficient and powerful graphic design PCs will likely see Intel's Raptor Lake pushing the limits even further, and we will certainly cover the comparison between Raptor Lake vs Zen 4 very soon here at Chillblast. Watch this space!