Want to explore VR but don't know where to start or what you need? Here's a run-down of everything you need to know and the hardware you need for a smooth, absorbing experience.
Virtual Reality is one of the biggest and most exciting areas in gaming, and it looks like it's here to stay – companies are releasing new headsets and more games with accelerating pace. Whatever your requirements, choosing a VR headset is only one part of the equation – any headset needs a solid PC to run smoothly.
That's where we come in.
We've identified which areas must be prioritised in a successful VR system, and we've also highlighted a few Chillblast gaming PCs that will do the job – no matter your budget.
Recommended Specs
The key VR headsets come from Oculus and HTC. Oculus has its Rift S, which costs £399. HTC has the standard £499 Vive and the Vive Pro, which costs £1,119 or £1,299 depending on which kit you buy.
The Oculus Rift S is an updated version of the original Rift headset. It uses two controllers and boasts redesigned ergonomic features, sharper displays and better lenses.
The Rift S uses a single LCD screen with a resolution of 2,560 x 1,440. The older Rift had two screens at 1,080 x 1,200 – so the new headset has had a resolution increase. The Rift S also reduces the refresh rate from 90Hz to 80Hz, which is high enough for smooth gameplay but also reduces the demands on graphics cards.
When looking at PC specs, at a minimum the firm recommends Nvidia GeForce GTX 1050 Ti or AMD Radeon RX 470 GPUs; its recommended level then jumps up to GTX 1060 or Radeon RX 480 hardware. On the CPU side, at a minimum, you'll need Core i3 or Ryzen 3 hardware but the firm recommends Core i5 or Ryzen 5 silicon.
HTC's £499 Vive has two 1,080 x 1,200 screens for a peak resolution of 2,160 x 1,200 – a little lower than the Oculus. But it has a 90Hz refresh rate for marginally smoother gaming. They recommend that the Vive uses either GTX 1060 or Radeon RX 480 graphics alongside Core i5 or Ryzen 5 CPUs.
The pricier Vive Pro has two 1,440 x 1,600 screens for a combined resolution of 2,880 x 1,600. Despite the higher resolution, HTC still recommends the same level of graphics hardware.
If you're running older hardware, then a GTX 970 or Radeon R9 390 are the bare minimum for all these devices.
A Graphical Deep Dive
On paper, it sounds like it doesn't take much to get today's top VR headsets running smoothly. However, while the Oculus Rift S and HTC's headsets may run games if you use those recommended specs, you won't always have a particularly good time – especially if you want to play more demanding games, and if you want to play VR games for several years without upgrading your PC. That's why it's worth delving deeper into the graphical challenges that are unique to VR headsets.
Take the Rift S, which has a single 2,560 x 1,440 screen. That's demanding enough, but VR headsets actually render more than their stated resolutions – they also render a buffer around the image to compensate for lens distortion. So, in reality, the Rift S actually runs at a resolution of around 3,584 x 2,016. That's about 7.2 million pixels – only about a million pixels behind a 4K screen.
The Vive's overall resolution of 2,160 x 1,200 becomes nearer to 3,024 x 1,680 once the buffer is included – so around five million pixels. The Vive Pro's 2,880 x 1,600 output increases to 4,032 x 2,240, which is actually a higher pixel count than 4K.
That's not the only VR vagary that will increase GPU workloads. Because these headsets have refresh rates of 80Hz or 90Hz, games need to run at 80fps or 90fps to be smooth – more demanding than the traditional 60fps target for PCs. And if you can run at a higher framerate, even better.
Also, take into account that headsets actually render two slightly different viewpoints simultaneously – rather than just producing two renders of the same image. That also increases workload.
Game Developments
The games themselves need a mention, too. Oculus and HTC list those minimum and recommended specifications, and games will be developed for those headsets with those requirements in mind – so graphical fidelity will be dialled back a little to meet those markers, and games will run to a good standard.
However, the toughest games will inevitably require more demanding hardware. And non-VR games are now often modded or patched to support VR – so they won't be retrofitted to meet the minimum and recommend requirements for Oculus and HTC headsets. If a game was originally very demanding, a switch to VR won't make it easier to handle.
It's not all bad news, though. Nvidia and AMD are working on technologies to reduce the graphical demands required by VR headsets, and new generations of the headset will doubtless be more efficient. And, if you can meet HTC and Oculus' recommended requirements, you'll still be able to run games on VR – even if you do have to turn the graphics settings down a little.
The Rest of the Rig
The graphical demands of VR aren't quite as simple as they initially seem. What is undisputed, though, is that the graphics card is the key component of any VR-based build.
Elsewhere, PC requirements are more conventional. A mid-range CPU like a Core i5 or a Ryzen 5 chip will be absolutely fine – if you want to run productivity software or stream, then a Core i7 or Ryzen 7 part is a great upgrade.
Make sure you have at least 8GB of memory, with 16GB preferable if it's affordable. And, similarly, include an SSD for faster booting and loading.
It's fine to have an affordable or mid-range motherboard in a VR build, too. Just make sure that the board has enough ports to handle your headset as well as your other peripherals – and that it can accept any potential upgrades you'd like in the future.
Specific Systems
So, what should you buy? Let's start with the recommended specifications from both Oculus and HTC.
Chillblast Fusion Sentinel 1660 Super Gaming PC
Take a system like the Chillblast Fusion Sentinel 1660 Super Gaming PC which costs £1009.99 and includes an
Intel Core i5-10400F CPU and an Nvidia GeForce GTX 1660 Super – a card that's newer and better than the GTX 1060. There's little price difference between systems with the GTX 1060 and the GTX 1660 Super, so you may as well jump to the newer GPU for a performance boost that doesn't cost any extra.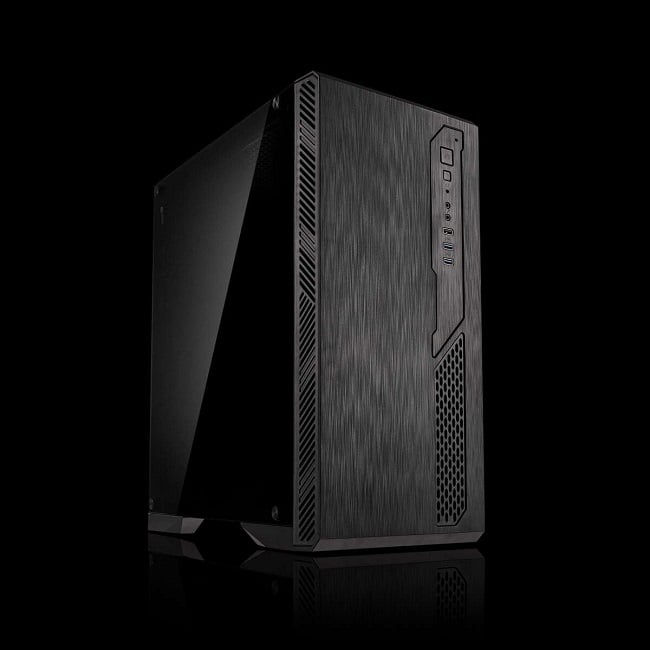 Chillblast Next Day RTX 2060 Gaming PC
If you spend £1249.99 you could grab the Chillblast Next Day RTX 2060 Gaming PC, which takes another graphical leap forward. The RTX 2060 is approximately twice as quick as the GTX 1060 in many games and still a solid distance ahead of the GTX 1660 Super.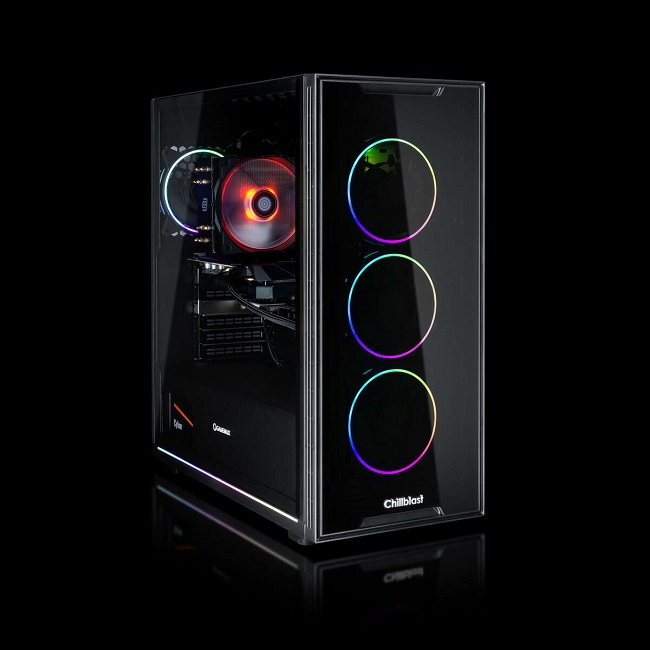 Those machines are affordable options that will handle VR gaming – the cheaper machines will match Oculus and HTC's recommended specs, while systems with the GTX 1660 Super and RTX 2060 will deliver higher detail levels and better framerates. And, importantly, the PCs all have scope for upgrading – ideal if you want to step up to a beefier GPU in a couple of years.
If you want to take another step and ensure better performance for longer, then you're going to have to look at the newer RTX 30 series GPUs. They're the new and improved generation of graphics card from Nvidia, and provide another level of performance power than the previous 20 series.
Chillblast Fusion Sorcerer RGB RTX 3060 Gaming PC
Our most affordable 3060 rig is the Chillblast Fusion Sorcerer RGB RTX 3060 Gaming PC, which includes a Ryzen 5 3600 CPU, 16GB of high-speed memory and a 512GB SSD – a specification that's easily powerful enough for VR.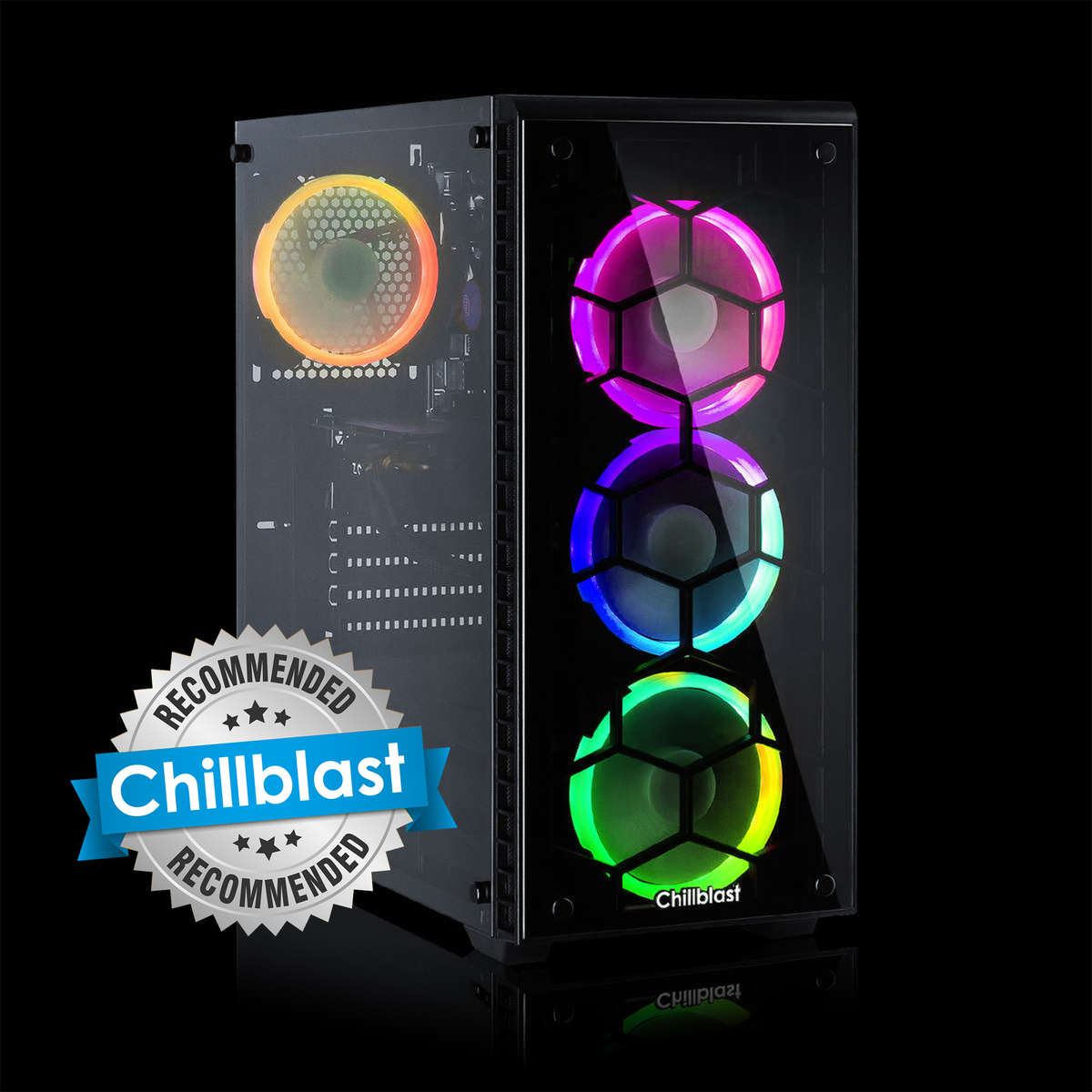 Chillblast Fusion Brutalist
A more expensive RTX 3070 option is the Chillblast Fusion Brutalist, which costs £2099.99. This machine steps it up a notch in every aspect, with a high-performance GPU and CPU, double the RAM at 32GB, better cooling and a more versatile motherboard. If you want a PC with more style and with an eye on the future, it's worth consideration.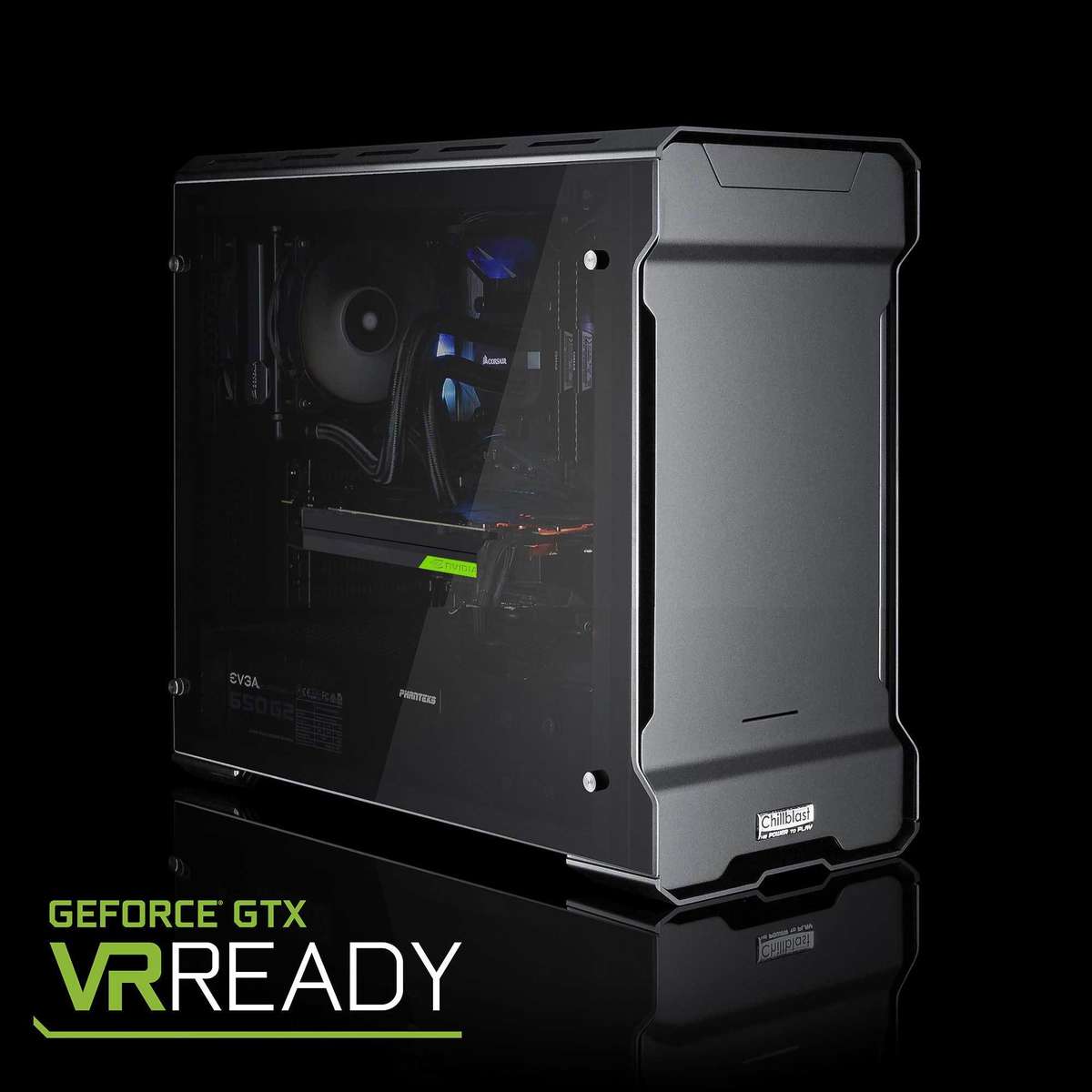 The ultimate VR experience, today and in the future, will be delivered by top-tier graphics cards. You'll have to pay extra for this level of hardware, but you'll be able to run at top settings now and for far longer than machines with lesser GPUs.
Chillblast Official Williams Esports Ultimate Gaming PC
The Chillblast Official Williams Esports Ultimate Gaming PC is a great starting point. This £2429.99 machine has a 10th generation Core i7 CPU, 16GB of memory, 250GB SSD and an RTX 3080 – so it easily has enough graphical power for VR.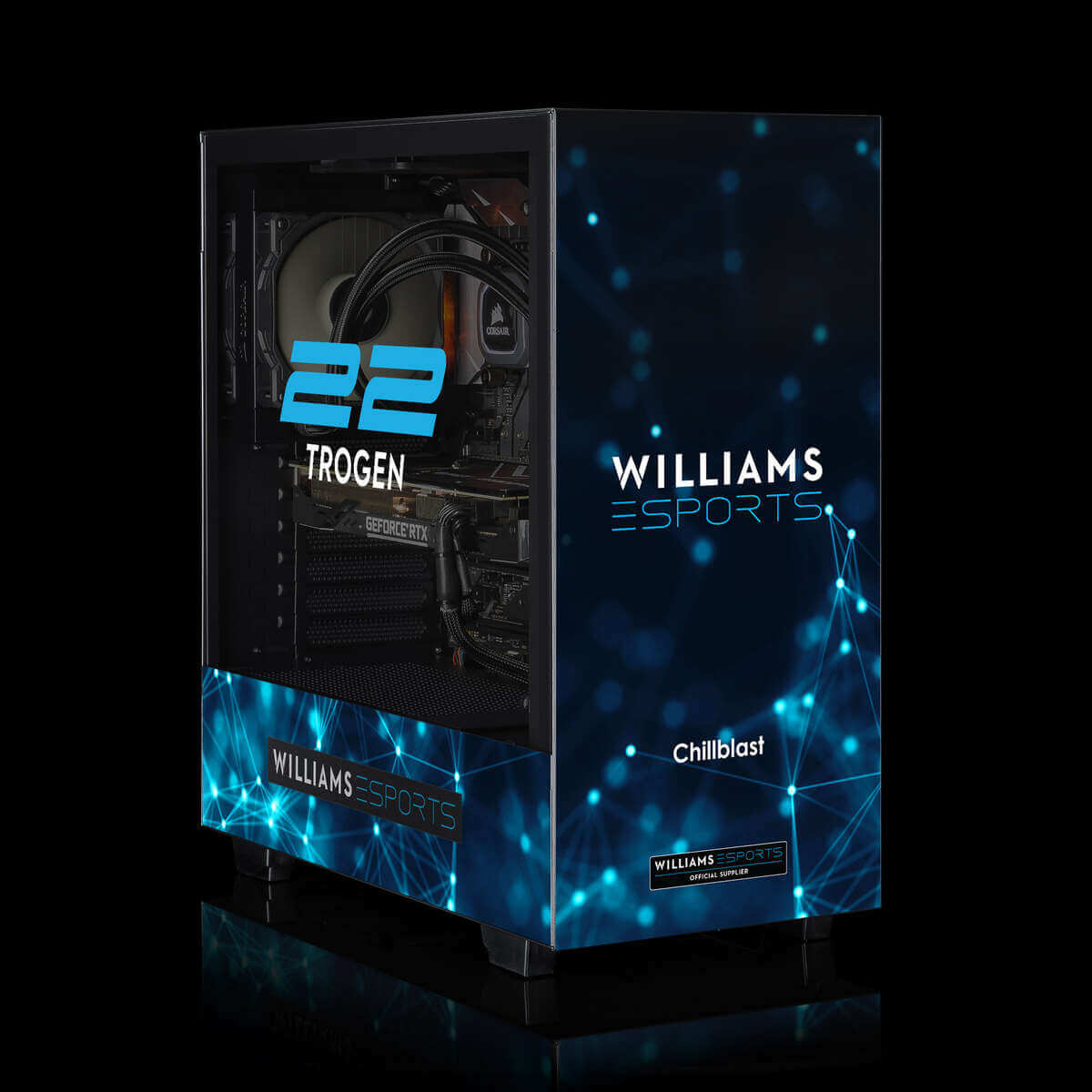 At the top of the stack is the RTX 3090. It'll deliver the absolute best graphical settings now – and, more importantly, it'll keep running VR games smoothly for longer than any of the other cards we've mentioned here.
Chillblast Serenity Elite Gaming PC
However, you'll have to spend £3629.99 or more for a rig with that GPU. Our pick is the Chillblast Serenity Elite Gaming PC, which pairs the RTX 3090 with an Intel Core i9-11900K CPU, 32GB of memory and an extremely versatile high-end motherboard from the Asus Republic of Gamers range.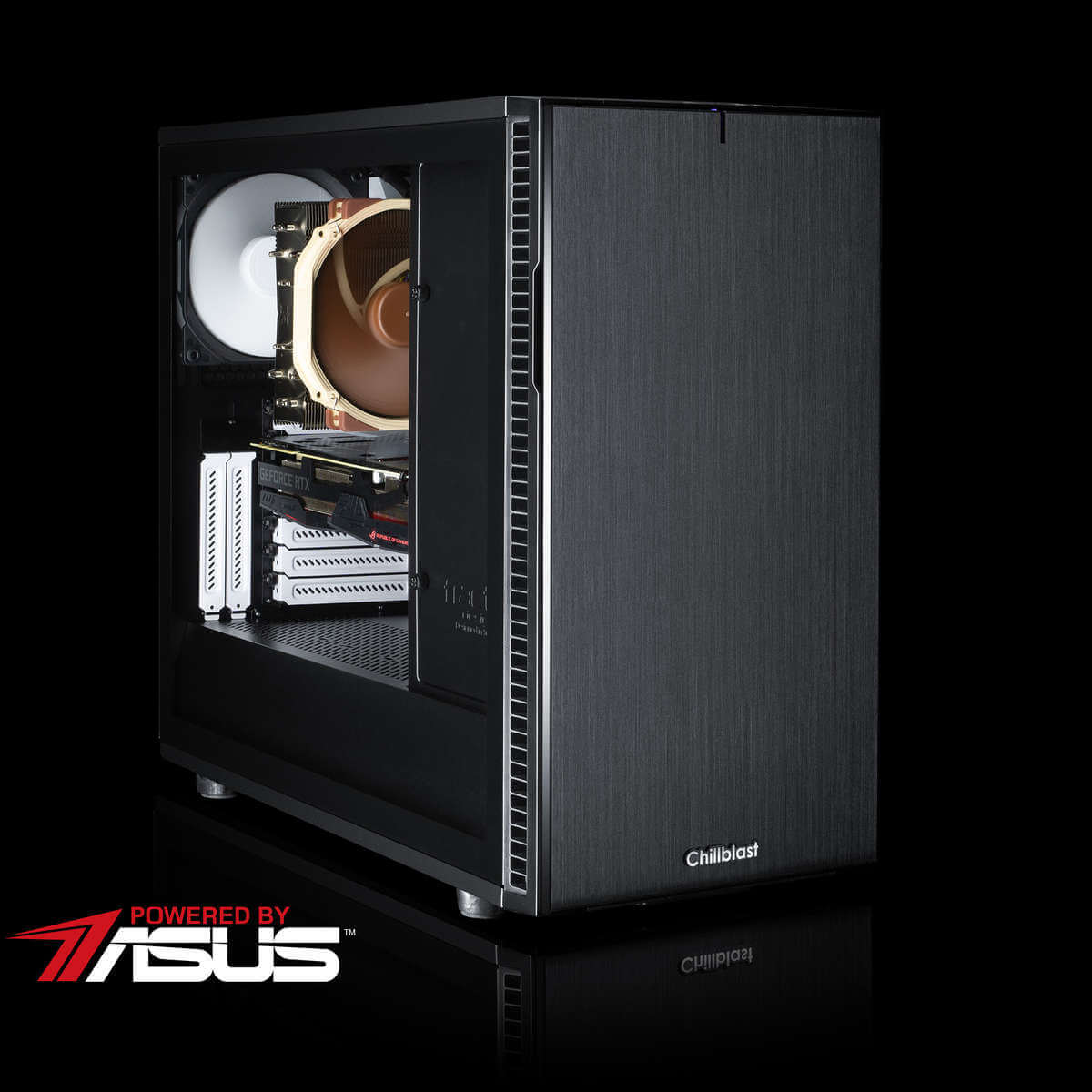 Virtual Reality Living
There's a lot to like about VR, and it's only going to get better. And, as we've seen, you can have a great experience on all kinds of hardware – from inexpensive older GPUs to top-tier graphical beasts.
While it's possible to get a smooth VR experience on more modest GPUs, we'd always recommend getting the best graphics card you can afford. It'll probably give you a better framerate right now, and it'll definitely keep your PC up to the task for longer into the future.
Nevertheless, getting started with VR doesn't have to break the bank – as we've proved here. And when you're playing games in the future, what better time to start than now?
More resources:
Check out this article that details the best VR headset for Microsoft's Flight Simulator!
Why not check out this article that details Chillblast's first experience with the HTC Vive VR headset!
If you're looking to stream your gameplay, check out this article about the best PC setup for streaming!