There are few PC hardware products that are as hard to pick apart as gaming keyboards. If you're looking to get the best from your custom gaming pc, there's little more to do than pick the ideal keyboard.
With hundreds of models to choose from, all purporting to offer the best blend of responsive gaming, RGB lighting, build quality, and media controls, it can be an absolute minefield to sift through the chaff to find that gaming wheat. The best gaming keyboard for you might be something quite different for someone else, making the choice a rather personal one.
Still, there are a number of gaming keyboards that, thanks to their blend of ingenuity, creativity, and a firm grasp of what makes a keyboard great, stand above the rest.
These are the best gaming keyboards you can buy today.
Razer Huntsman V2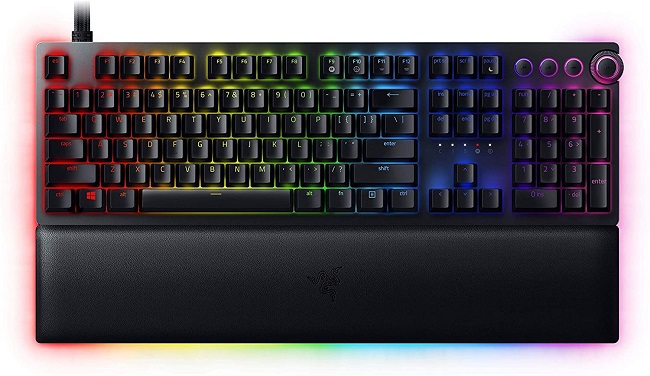 This is just about the most expensive gaming keyboard you can buy, and though its price tag is eye-watering, you absolutely get what you pay for.
Not only does it feature amazing build quality, gorgeous RGB lighting, and excellent media controls, it also features some of the lowest input lag of any keyboard ever made. If you're keen to be the fastest and most responsive gamer you can possibly be, the Razer Huntsman V2 is second to none.
It features an incredibly low response time thanks to its use of optical switches and a staggering 8,000Hz polling rate. So, the split second after you touch a key, it's registered in-game, giving you a notable competitive advantage over even mechanical switch gamers.
Its PBT keycaps are more durable and have a finer finish than more traditional plastic designs. You can pick clicky switches if you like, but the keyboard body features a layer of sound dampening foam to remove any potential for "pinging" if you bottom out a key too heavily.
Media controls come in the form of multiple dedicated buttons in the top right, alongside a multi-command dial which you can customize to do whatever you want it to. The Huntsman V2 also comes with some of the best RGB lighting of any gaming keyboard and is able to link up with other Razer Chroma devices for unified lighting amongst your devices.
Corsair K100 RGB Optical Gaming Keyboard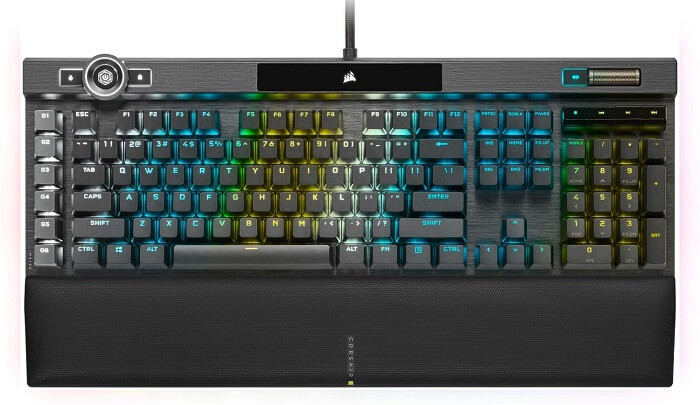 Another everything-and-the-kitchen-sink of gaming keyboards, the Corsair K100 RGB Optical is a marvel of modern keyboard design, bringing together the fastest switches, with the most detailed RGB lighting, innovative media controls, and a premium design, all backed by Corsair's excellent Utility Engine software.
If you want a wired gaming keyboard that has and does everything, then this is the one for you.
The Corsair K100 RGB Optical uses optical-mechanical switches for a tiny 1mm actuation distance and a custom SoC that ups the polling rate to 4,000 times per second, making sure that as soon as you hit a key it's registered in the game faster than almost anything else out there.
This keyboard won't make you a better gamer, but it won't stand in your way either.
The media control wheel is a nice touch, offering nuanced control for song selection and volume adjustment, and the wrist rest is comfortable. The Corsair software is a little bloated, but still incredibly easy to get to grips with and gives you all the options you need for customising key commands and lighting.
Razer Cynosa Chroma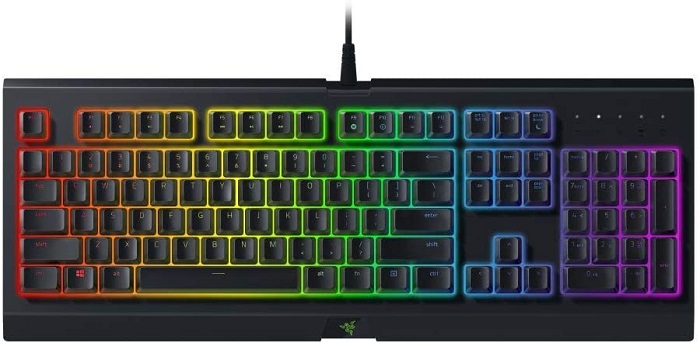 If you don't like mechanical keyboards or don't want to pay their steep price premium, the Razer Cynosa Chroma will give you everything else a great gaming keyboard needs and at a much-reduced price, too.
The Razer Cynosa looks like a gaming keyboard, with a jet black exterior, comfortable moulded keycaps, diffuse RGB lighting under each of the keys, and some basic media key integration.
Considering this is a membrane, rather than a mechanical keyboard, the RGB is doubly impressive, as these sorts of keyboards in the past have only been able to offer board-wide or zone-addressable RGB lighting. The Razer Cynosa has 104 individual LEDs hidden inside, each of which can be customized with a myriad of colour options.
It's all controlled by Razer's Synapse software as part of its Chroma platform of devices, so it's not only intuitive but well integrated. This keyboard can link up with all your other Chroma devices for a unified light show to augment your gaming station.
It isn't as fast or responsive as mechanical gaming keyboards, but the Cynosa is comfortable to game and type on over long periods. If you want the look and feel of a gaming keyboard but don't mind taking a hit on performance, then this is one of the best gaming keyboards you can buy.
Logitech G915 TKL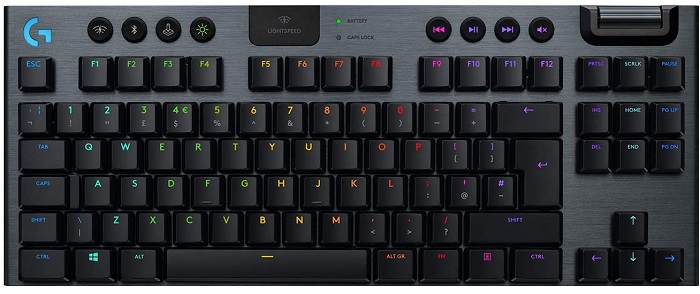 Logitech has been making some of the world's best keyboards for decades, so it's no surprise that it also makes some of the best gaming keyboards.
If you're interested in a premium wireless solution, then the Logitech G915 TKL is well worth considering. It's one of a new trend of low-profile, minimalist gaming keyboards that still offers some of the fastest switches and great media controls.
This TKL version is, by its nature, tenkeyless, so lacks the numpad. But that goes nicely with its minimalist frame and low profile keycaps. Leveraging low profile, laptop-like switches from Kailh, the keys are fast to actuate and have that lovely springy feel you typically get on laptop keyboards, with all the tactile feedback and responsiveness of a mechanical keyboard.
The wireless system is Logitech's class-leading Lightspeed, delivering an incredibly low latency wireless connection that easily rivals some of the fastest wired keyboards. That does mean you'll have to keep an eye on the battery life, but it lasts 40 hours on a single charge with the backlighting at its brightest, and you can extend that to over 1,000 hours if you're willing to turn it down a few notches.
This keyboard also gives you excellent per-key RGB lighting, a volume roller and great back-end support from Logitech's G Suite software for all your lighting and key customization needs.
Logitech G613 Gaming Keyboard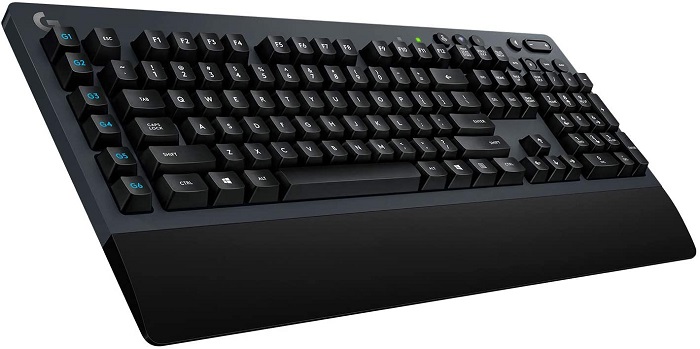 Logitech makes a more budget-friendly wireless gaming keyboard too: the G613.
It enjoys the same Lightspeed wireless connectivity as its more expensive G915 keyboard, helping it compete with more traditional wired keyboards for speed and responsiveness. It uses Logitech's own brand of low profile Romer-G switch with its tactile bump, and can last as much as 18-months on a single pair of AA batteries; though having zero backlighting definitely helps that along.
There's a dedicated set of macro keys along the left-hand side, and some media keys on the right for adjusting volume, and play/pause functions, as well as Logitech's Game Mode switch, which turns off the Windows keys temporarily.
SteelSeries Apex Pro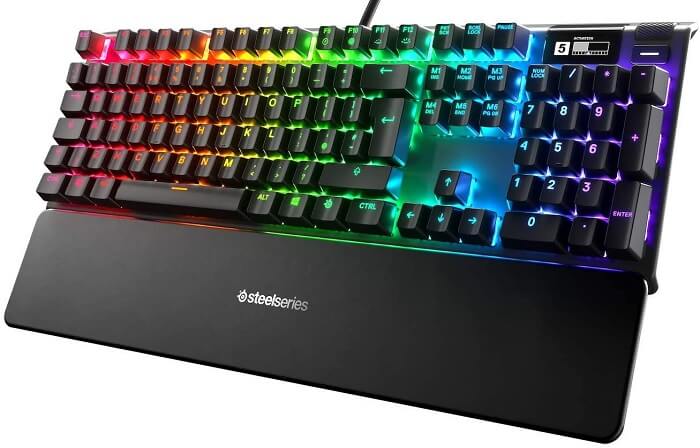 Another fantastic, premium gaming keyboard, the SteelSeries Apex Pro does everything you want in a gaming keyboard and more, offering some of the deepest customization available today. If you like your gaming keyboard to feel just right, there are no keyboards that give you as many tweaking options like this one.
Every switch has its own magnetic sensor which you can adjust to tweak the actuation point of the switches. You can tweak them between 0.4mm all the way to 3.6mm, making for a very different feeling keyboard depending on what you set them to.
This can be a great way to get a gaming keyboard that feels just how you like it, especially if you struggle to find one off the shelf that gives you that level of key press depth and responsive actuation that you like.
Alternatively, you can have multiple modes, where the keys are set to super-low actuation distance for responsive gaming, and then something a little more reasonable for typing afterwards.
The overall frame is well built and sturdy, and the RGB backlighting is vibrant and luminous, giving great keycap coverage and a nice ambience around each of them at the base, too. You also get a USB passthrough port, some clever cable management, and a comfortable wrist rest.
To top it all off, the SteelSeries Apex Pro comes with an OLED screen built into the top of it. It's a little redundant, but it looks super cool and can display information like the song you're playing, or when you get messages in Discord.
Roccat Vulcan TKL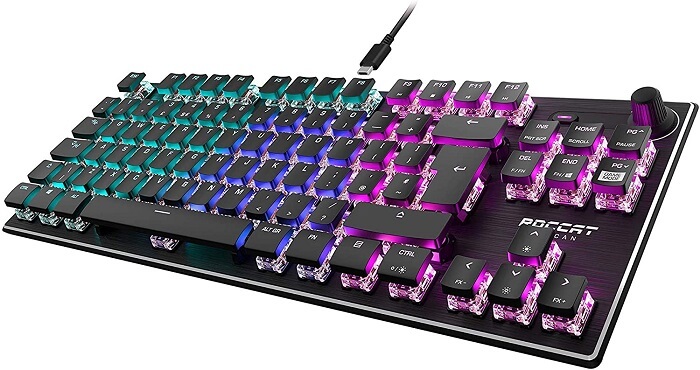 For an industrial look to your gaming keyboard, the Roccat Vulcan TKL pulls back the curtain on your switches, showing you exposed, transparent switch housings that creates a unique aesthetic with seriously diffuse RGB lighting to boot.
It has the option of Roccat's own Titan tactile switches, which offer a comparable experience to Cherry MX Browns, with that satisfying tactile bump; although they're much quieter.
This is another tenkeyless (TKL) keyboard, so it's compact for smaller playing spaces, although it is also available in full size with a numpad if you like. The keycaps are shorter than most, and flattened, aiding the unique look of this keyboard, but also cutting down on keyboard height while retaining the solid tactile feel of the switches underneath.
Macro programming is a little limited, restricting you to only the alphanumeric keys on the left-hand side of the keyboard, but Roccat's backend software is still intuitive and easy to get to grips with. Media controls include secondary function key commands, and a sturdy volume dial.
Xtrfy K4 TKL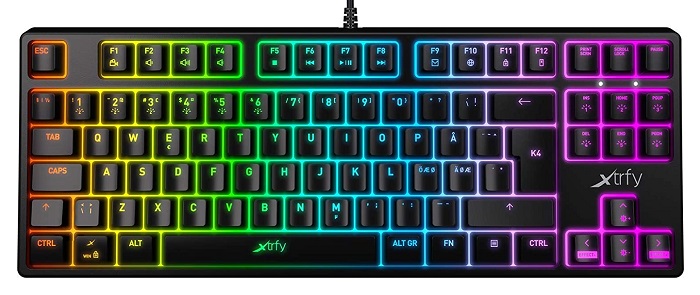 Gaming keyboards can be very, very expensive at the top end, but you can still get the full benefit of a powerful mechanical keyboard at a more affordable price if you know where to look.
One of the best budget mechanical keyboards is the Xtrfy K4 TKL, with its Kailh Red switches and additional sound dampening to make sure that there's no ringing when you bottom the keys out with heavy pressure.
The RGB backlighting on this keyboard is doubly impressive at this price, with excellent coverage throughout the keycaps, and some nice diffuse lighting under it too. Build quality is solid, and there are the typical media controls hidden in the function keys – there are no dedicated switches or buttons though.
Available in a trio of different colour schemes, there are plenty of options for anyone looking to get a great mechanical keyboard at an affordable price.
Redragon K551 Gaming Keyboard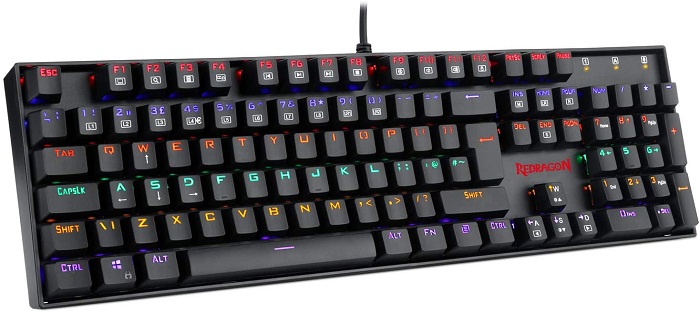 As cost competitive as they come, the Redragon K551 is the most affordable mechanical keyboard around, making it one of the most attractive options for anyone wanting that mechanical keyboard feels, at a membrane keyboard price.
Despite costing less than £50, it still enjoys Cherry MX-like mechanical switches, RGB backlighting (though not per-key), anti-ghosting for multiple simultaneous key presses, and a number of multimedia functions to complete the package.
It has its limitations on the lighting front, and the switches aren't as responsive or as comfortable as some of the more expensive keyboard options, but for a sub-£50 gaming keyboard, you get an awful lot for your money with the Redragon K551.
Razer Turret

A unique keyboard and mouse mat combination, the Razer Turret is designed to be used on your lap, making it a perfect companion for anyone looking to do keyboard and mouse gaming on the sofa while playing on a TV-connected PC or Xbox console.
It combines a Razer BlackWidow-inspired gaming keyboard with Razer's excellent clicky, tactile Green switches, with a retractable mouse mat built right into the base, and a capable gaming mouse based on Razer's Mamba design.
The keyboard component of this bundle is high quality and comfortable to use over long periods, providing a responsive gaming experience and one that works for lengthy typing sessions, if needed. Its minimalist design looks neat and understated, and the RGB lighting is robust and effective, without massively draining the battery life. You should get around 40 hours from each charge, in total.
The Razer Turret isn't cheap, but you get a mouse, keyboard, and mouse mat for the money, making it one of the better value package deals if you want to buy it all in one go.
Every component in this bundle is high quality too, so you not only get a great solution to your sofa gaming woes, but you don't even have to shop around for everything you'll need. The Razer Turret is an all in one solution.