As modern gadgets and devices get smaller, more compact, and less repairable, the desktop PC space remains one of a few holdouts that are customizable, and as hands-on as you want it to be.
When buying a new PC for gaming, work, or school, you can buy every individual component for a custom gaming PC yourself and go through the process of putting it all together with nothing but a few YouTube videos and written guides for help.
But should you?
While you can save some money that way and find a new hobby in the process, there are many advantages to buying a pre-built PC, including compatibility guarantees, extra stability testing, and the ever-useful warranty. A custom built PC can even give you the best of both worlds, with a wide array of components and extras to pick from, whilst still enjoying the peace of mind of a professional build.
That's not to say building your own can't be a lot of fun, though. Like lifting the bonnet of your car for tweaking and cleaning on the weekend, some people just love working on a custom gaming PC themselves.
Here's a look at the pros and cons of pre-built and custom built PCs to see which is right for you.
Building A Custom Gaming PC
If you're looking to build a powerful new gaming PC, then there are a lot of arguments for doing it yourself. You can pick from an exhaustive range of components, from the CPU to the motherboard, memory, hard drive, and even the colour and sleeving of your power cables.
Can Save You Money
The DIY custom built PC market is extensive and jam-packed with options for the discerning gamer who wants to learn all the ins and outs of what makes their gaming PC tick.
The upside of that is you can pick the parts that only seem likely to be the best fit for what you want to play, but you can often save some money too. If you're buying only what you need and doing all the heavy lifting of putting it together yourself, you don't have to pay anyone to make sure those components work together, nor the guarantee it will work right when you turn it on for the first time.
For many people, that's half the fun of making a custom gaming PC. The successes and failures are entirely yours and yours alone. When you finally get it up and running, nobody knows it quite like you do and you can enjoy all of the performance and savings that come with that investment.
That's also the big downside of making your own custom built PC, though.
If you don't pick the right components that are fully compatible with one another, if you overlook a must needed BIOS update, or invest more in a component that's not necessary, you can find yourself with lacklustre performance at best, and a completely non-functioning gaming PC at worst.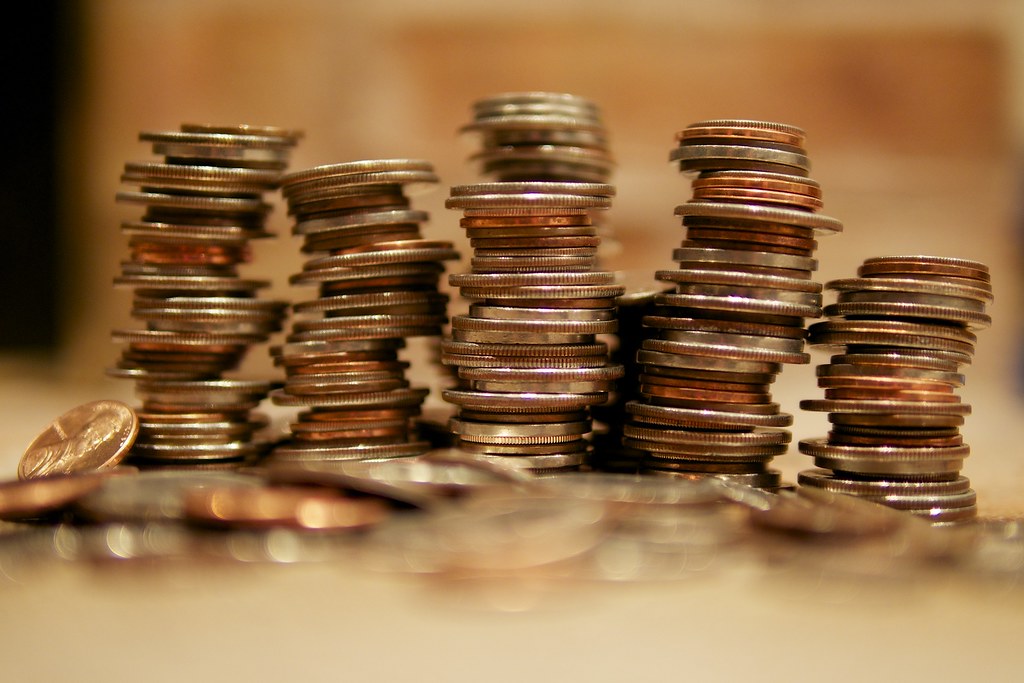 Can Be Time Consuming
There's also the time involved.
If you have a busy life, you need to consider that you will need to allocate some of your free time to building the custom gaming PC yourself. But, if you've done it many times before, that might mean just a few hours to get everything set up and working right. If you haven't, though, and especially if something goes wrong, you may need a lot longer to get it working.
Saving you that time is one of the big selling points of professionally built gaming PCs, like those made by Chillblast.
If you're short on time and want peace of mind that the PC has gone through hours of stringent testing after being built by a qualified professional in a clean environment, with industry-leading components that are specially selected for strong compatibility, then a pre-built gaming PC is a great way to go.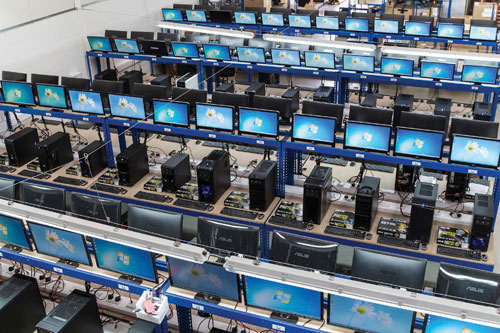 A Custom PC Doesn't Have To Be A DIY Endeavour…
You don't have to sacrifice much in the way of component choice, either. If you don't like our range of Chillblast pre-configured gaming PCs, then there's always the option of designing your own.
You can bring all your creativity to bear on designing a custom built PC, choosing from a wide array of cases, CPUs, memory, graphics cards, power supplies, and even cooling fans.
Whatever your dream gaming PC looks like, Chillblast can make it a reality. Better yet, you get the advantage of knowing it will work first time every time, and if there ever comes a day that it doesn't, you can take full advantage of our five-year warranty to secure repairs or replacement parts as needed.
Want to make the most of your budget? Chillblast also offers custom overclocking for every PC, entirely free of charge. We can't guarantee it'll make entry-level PCs compete with the most powerful alternatives, but a little overclock can get you a few extra frames per second for free – which in some competitive games can mean the difference between winning and losing.
For more information on building a custom gaming PC with Chilbllast, give us a call and we can discuss building a system that will meet your needs without any of the headaches.
What Are The Best Pre-Built Gaming PCs?
Whether you ultimately decide to buy a pre-built gaming PC or just want some inspiration for your big custom design, then Chillblast's range of gaming PCs are a great place to start.
There are options to pick a PC by the kinds of games you want to play, or the type of processor you want. Want a particularly small gaming PC? Or one that's water-cooled? We have options for that too.
Fusion Ryzen 3 GTX 1650 Gaming PC
The Chillblast Fusion Fiend GTX 1650 gaming PC is a super affordable way to make your favourite games look and play better than ever before.
Starting at just £749.99, it combines the AMD Ryzen 3 3100 entry-level gaming CPU, with Nvidia's GTX 1650 4GB graphics card, and half a terabyte of fast SSD storage. That makes it a perfect fit for all sorts of Esports and indie games, like Fortnite, Minecraft, League of Legends, or Rocket League.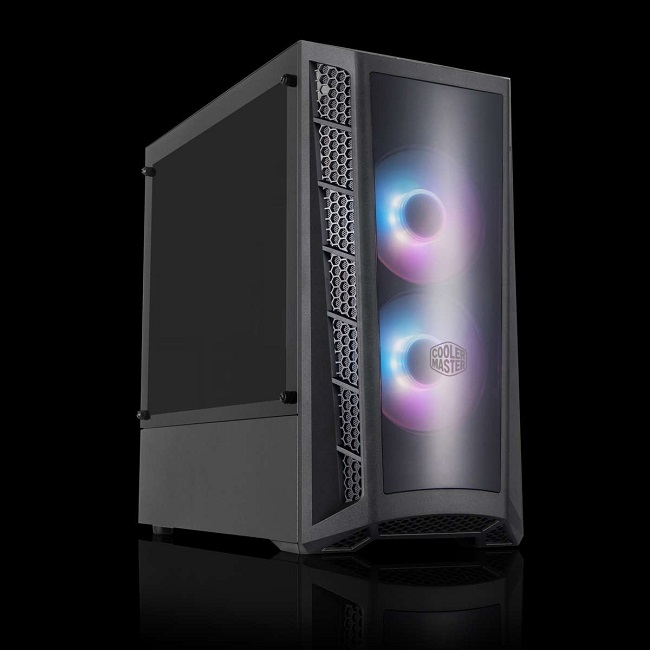 Chillblast Fusion Sorcerer RGB RTX 3060 Gaming PC
Need a little more power and don't mind paying for it?
The new Chillblast Fusion Sorcerer RGB RTX 3060 Gaming PC upgrades your processor to the super-powerful AMD Ryzen 5 3600 and pairs it with the newest GPU of its generation: the Nvidia RTX 3060 12GB. Default storage is almost two terabytes, and it features gorgeous RGB lighting in its front and rear as standard.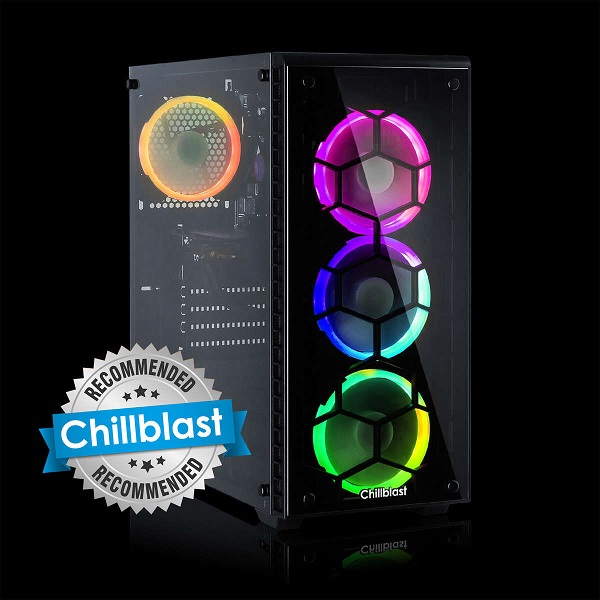 Fusion RTX 3070 Custom Gaming PC
If you want cutting edge gaming performance without breaking the bank, upgrade your Fusion to an Intel Core i7 10700K and an Nvidia RTX 3070. This system might have mid-range pricing, but its performance is undeniably impressive.
By leveraging the latest generation graphics card, it offers the kind of performance that just a few months ago you would've paid thousands for. Now you can play your favourite games at maximum settings and high frame rates, including the latest AAA games, like Assassin's Creed Valhalla, and the upcoming Cyberpunk 2077.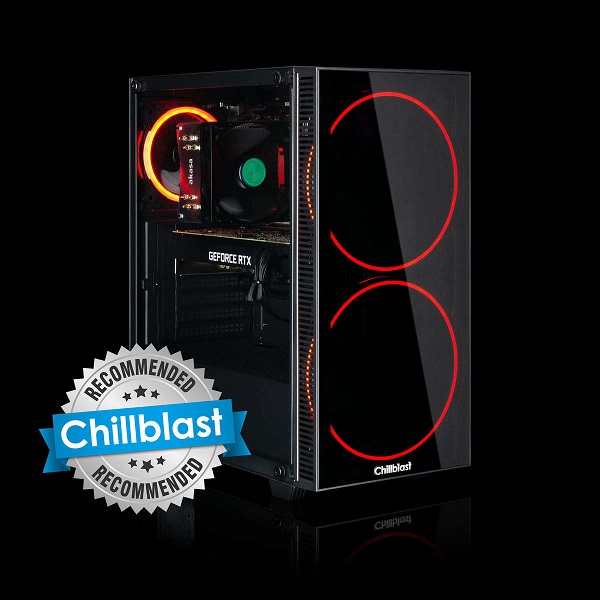 Building A Custom Built PC For Work Or School
A Great Learning Experience
If you need a new PC for work or school, then building it yourself can be a fun endeavour – especially as PCs that aren't designed with gaming in mind can be far simpler. You don't need a huge graphics cards with advanced cooling (or perhaps even do away with a discrete GPU at all). Nor do you need a fancy case or high-speed storage solutions.
That makes the build process easier, reducing the time investment compared to a custom gaming PC, and it makes it less likely that you'll run into any kind of compatibility issues or problems that would cause the system to not work correctly when you've finished putting it together. That also makes a DIY custom built PC for work or school a good learning experience, letting you crawl before you can walk.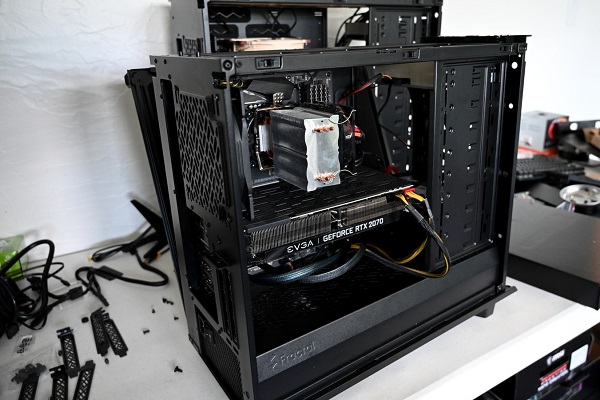 Might Not Be The Best Option If Time Is Against You
But then again, work (whether it's for your job or school) is more time sensitive. If you need to have a project finished by a certain date, your new PC needs to be up and working as soon as possible.
If you take your time and follow the instructions correctly, you're more than likely to have a great work PC up and running when you need it. But if you absolutely have to have it ready by a certain time or want the peace of mind that it will be ready and working when you need it, then buying a pre-built PC from a company like Chillblast can take all the stress out of the situation.
Chillblast offers a range of desktop PCs with pre-configured hardware that offer excellent performance, at a great price. You pay a little more for the time investment of the system builders, and the extensive testing that takes place after every build to make sure that it works correctly before it leaves Chillblast headquarters – but that kind of peace of mind can be priceless when your time is at a premium.
A Pre-Build Can Mean Less Time Spent Researching
This is a great option if you aren't entirely sure what you need, too. If you're spending a bunch of time researching your next project, the last thing you want to do is spend more time googling which components you need. Chillblast offers a range of PCs designed for students, office work, and families (they're also great for gaming when all the homework is finally done).
But you don't need to settle for any of those pre-configured PCs if you don't find them to your taste, or you had a particular component or chassis in mind. There's always the option of a custom build PC designed for work too.
If you know your Intel from your AMD, and your dedicated graphics from your onboard solution, the Chillblast system configurator opens up a wide selection of components for a custom built PC that's just to your liking.
Whether you decide on a prebuilt PC or one where you've picked all the individual components yourself, every Chillblast system has the added advantage of a five-year warranty as standard, with free delivery, and the peace of mind that it's been handcrafted by an expert in the field. Components have guaranteed compatibility and extensive testing before the PC ships out making sure that it will work perfectly from the first time you turn it on.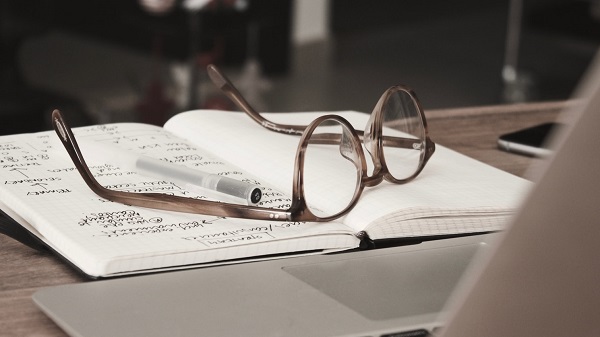 What Are The Best Pre-Built Work PCs?
Chillblast makes a wide array of work PCs, from modest systems with very affordable price tags designed for basic Office tasks, to the super power rendering machines with some of the most capable hardware in the world. Whether you're interested in buying an off-the-shelf solution that can be with you in days, or just need a bit of inspiration for designing your own custom built PC, here are some of Chillblast's best pre-built PCs for work and students.
Chillblast Fusion Pentium
For a snappy, quiet PC for all your home office needs, the Chillblast Fusion Pentium family PC offers a great entry-level processor with all the modern bells and whistles, along with a fast 500GB SSD. It won't be great for gaming, but if you need to make Excel spreadsheets, write up reports, and watch a little Netflix when you're done, it's more than capable.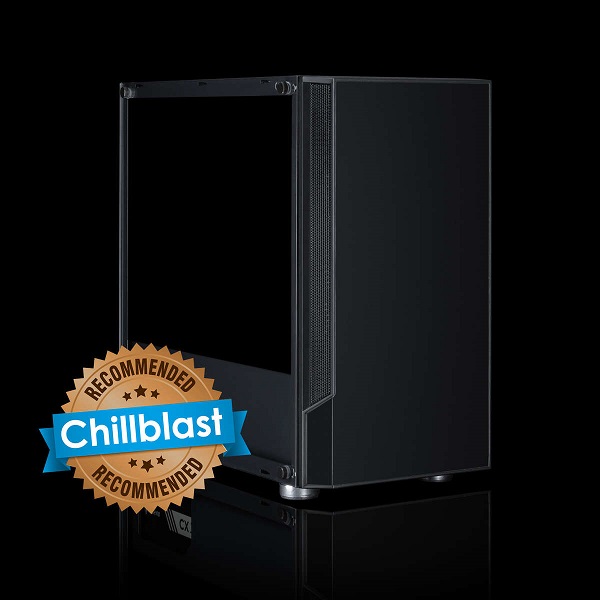 Chillblast Prestige i5
For a more capable machine with heaps of storage, the Chillblast Prestige i5 comes with one of the best mid-range CPUs of its generation, and a terabyte of high-quality hard drive space. At just over £600 it offers all the power you need for web browsing and school project research, with plenty of space for backing up your family photos.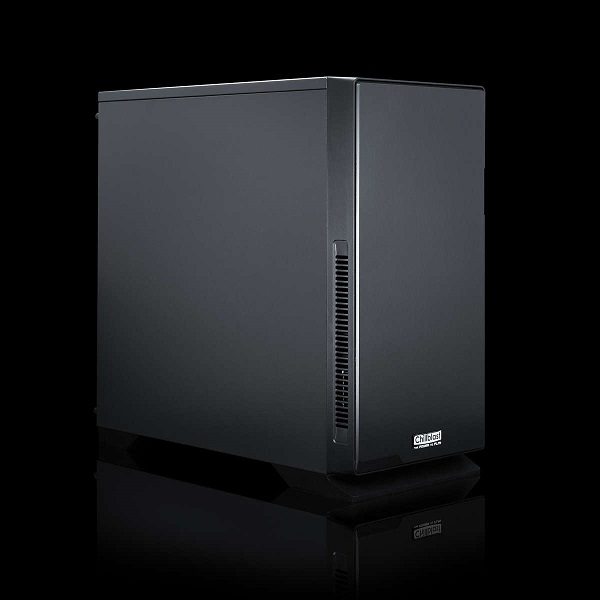 Chillblast Fusion Toro Bundle
Just want to get everything in one go with a PC that can do everything? The Chillblast Fusion Toro PC Bundle combines a powerful CPU and graphics card (letting you do a little gaming when work is done) along with a great monitor, mouse, and keyboard. This is everything you'll need for work and play in one neat, attractive, and affordable package.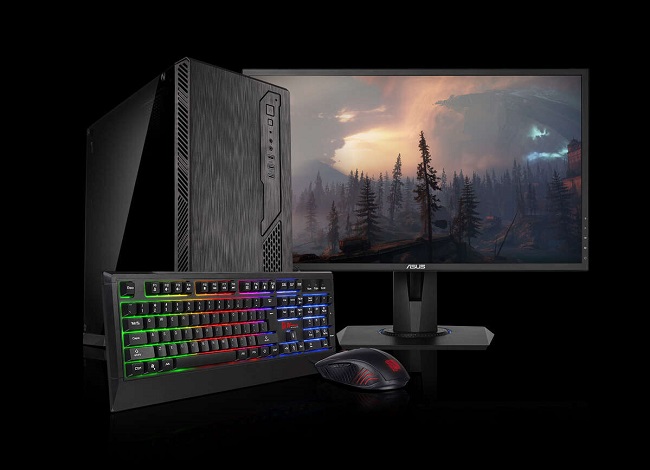 Pre-Built PC vs Custom Built PC: Which Is Right For You?
If you're looking for a new hobby, or want to learn how PCs work so that you can better fix yours in the future, going the DIY route and building it yourself is a great idea. If you're short on time and just want to enjoy using your PC though, a system from Chillblast can give you a more enjoyable experience.
Pre-built options come at a great price, with components that are pre-selected to work well together and give you great bang for buck. We can also deliver those systems more quickly too, since the designs fly off the shelf with regularity and can be more easily constructed from on-hand components.
If you want a system that specifically caters to your demands, though, a custom built PC might be more to your liking. It offers a broader array of components, and lets you maximise the return on your budget by making sure that it focuses on the hardware that relay matters for what you want your new PC to do.
If you're still unsure, be sure to give one of our expert system builders a call, and they'll talk through your needs to see if we have a pre-built PC that would suit you. If not, they'll help you design a perfect custom PC for your needs.