As arguably the most important PC gaming release from Microsoft for over a decade, FS2020, or "Microsoft Flight Simulator" as it is officially called, could not afford to make the same mistakes as the last release in the franchise; the disastrous "Microsoft Flight" – which took off with about as much success as the Howard Hughes Spruce Goose (that's the first and last flight-related pun, we promise).
The problem with Flight was, in its quest to be more accessible to beginners, it totally turned its back on the hardcore enthusiasts that had loyally supported the previous versions of the simulator.
Thankfully, after spending some time with this new addition to the franchise, it is clear that many an improvement has been made. Be sure to read on for Chillblast's full Flight Sim 2020 review.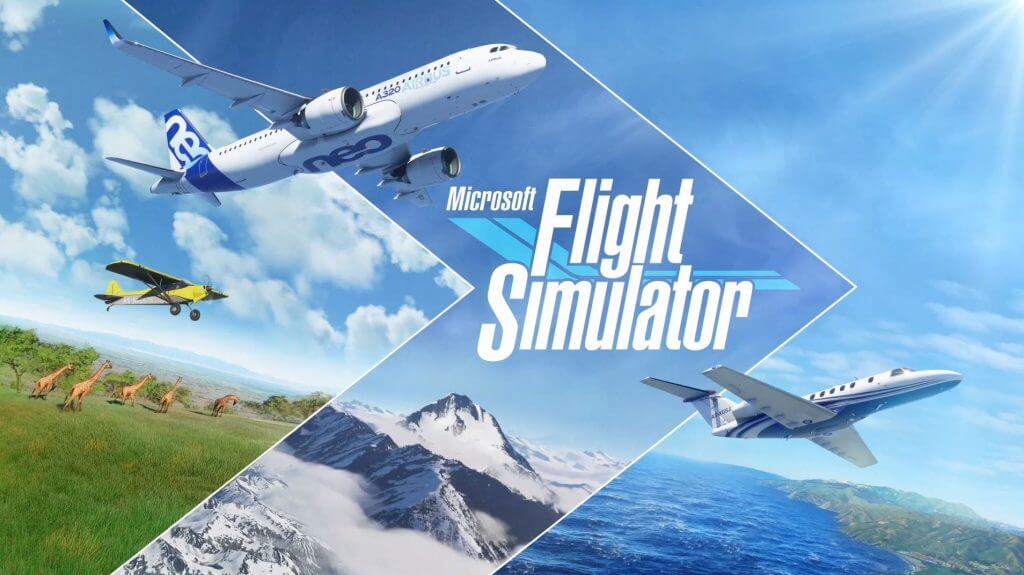 Flight Sim 2020 is Walking the Fine Line
With this new release, Microsoft has once again tried its best to tread the fine line between being easy to pick up and play, whilst retaining enough depth and realism to appeal to the legions of hardcore simmers out there who shudder at the thought of playing anything that could be described as a "game".
A game as well as a sim it needs to be, however, as it will launch as a title for the new generation Xbox console, albeit in a far more limited fashion. For the most part, Microsoft has succeeded with great aplomb.
If you want to enjoy a full 30-minute pre-flight sequence and go through an exhaustive checklist in your A320, you can do just that. If you want to just put the jets on 100% and pull up on the throttle, with the realism sliders correctly set, you can do that as well. We really do have a simulator here that can be tuned to be exactly what you want it to be.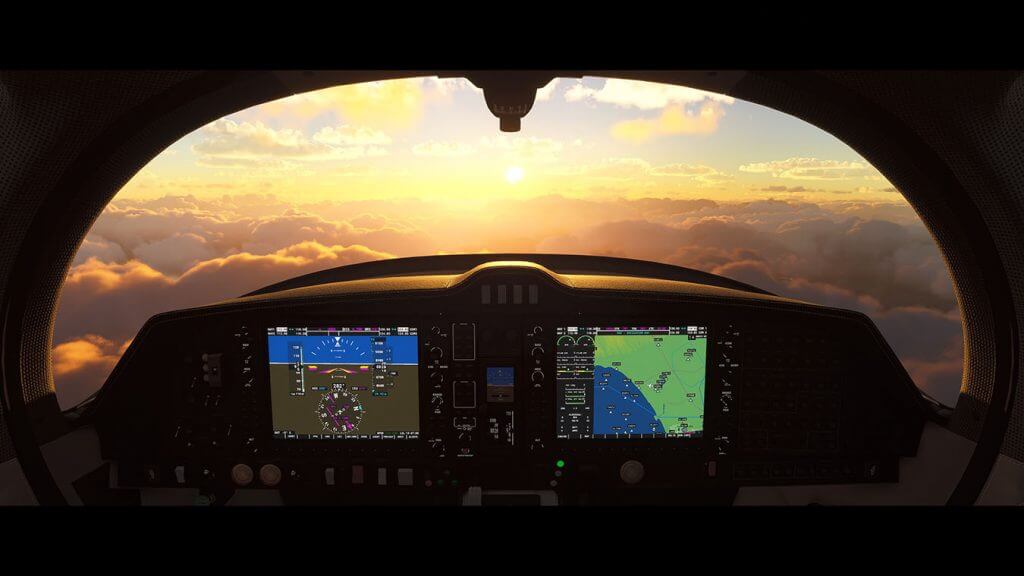 Out of the Box – The FS2020 Aircraft On Offer
As it ships, Microsoft Flight Simulator comes with a reasonable (though far from exhaustive) 30 playable aircraft. Tubeliner wise, there are three options – the ubiquitous A320neo, the 787 Dreamliner and the 747-8 Intercontinental.
These are not delivered with the same wealth of features as say, FlightSimLabs A320, but Microsoft has promised to make the simulator accessible to add-on developers, so vastly more detailed "digital clones" of the real aircraft will start to trickle out as the developers get to grips with the SDK (Software Development Kit).
Turboprops are well catered for with the Beechcraft King Air 350i, the Cessna 208B Grand Caravan, and the Daher TBM 930.
Prefer flying your very own private jet? You have the Cessna Citation CJ4 and the Citation Longitude on offer. All are detailed, beautiful models that will allow you to get some speed up and enjoy the stunning terrain engine from their wrap-around glass cockpits.
Propeller Aircraft are the most abundantly provided aircraft types. Microsoft clearly recognises that even the most ardent of commercial jet pilots like to fly low-and-slow at times to take in the majesty of the Swiss Alps as you leave Geneva.
List of Propeller Aircraft Available
Aviat Pitts Special
Beechcraft Baron G558
Beechcraft Bonanza G36
Cessna 152
Cessna 152 Aerobat
Cessna 172 Skyhawk
Cessna 172 Skyhawk G1000
Cirrus SR22
Cub Crafter X CuB
Diamond DA40NG
Diamond DA40-TDI
Diamond DA62
Diamond DV20
Extra 330LT
Flight Design CTLS
Icon A5 Amphibious
JMB VL-3
Pipistrel Virus SW 121
Robin CAP 10
Robin DR400-100
EX Zlin Savage Cub
Zlin Shick Ultra
All in all, it is a nice combination of aircraft at launch. However, glaring omissions are the lack of any modern combat aircraft where the pilot can enjoy a high-performance time-to-height.
Sometimes you only have 20 or 30 spare minutes, and nothing beats turning on the afterburners to get from A to B at speeds of up to Mach 2. It is also sad to see a lack of gliders out of the box, and a vintage fighter along the lines of the lovely Mustang that shipped with FSX Gold all those years ago would be the icing on the cake.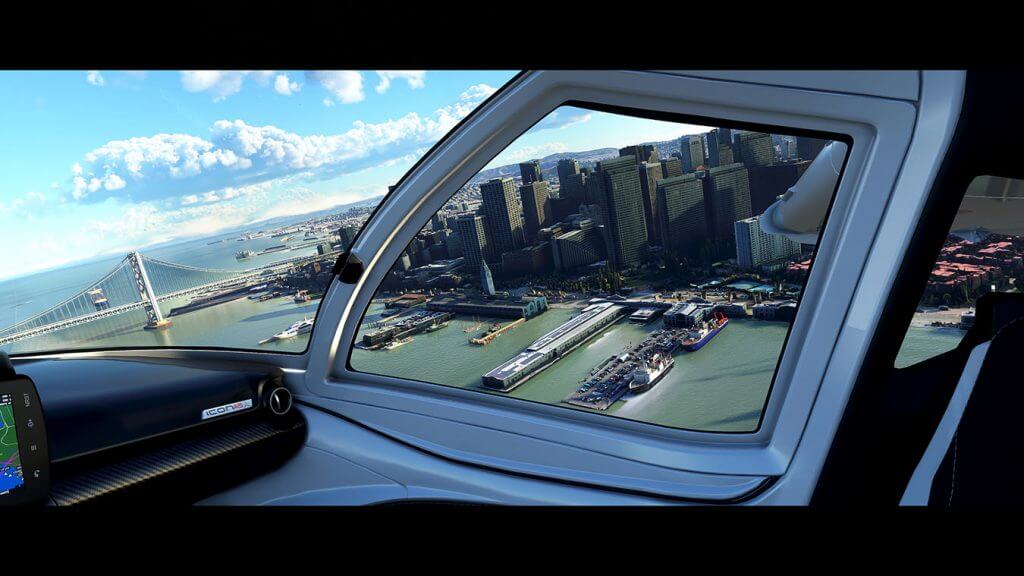 The Scenery
One thing that will not disappoint even the pickiest of simulator fans is the quality of the scenery. Want to fly around the whole world with the same detail as the very best 3rd party ORBX scenery you enjoyed in FSX or Prepar3d? You got it.
Want to be able to fly around your local town and see your road, your house and local landmarks? You betcha. It has minor details here and there that are not quite right – rooflines, for example, are far from accurate in places – but compared to any other simulator, even with the finest after-market scenery, nothing even comes close.
How does it work?
Microsoft has been collecting satellite images for its Bing mapping service for years now and has also got access to a great deal of 3D topological data that it combines using its "smart" AI-driven Azure data centres to generate and "stream" scenery to your PC.
There are errors here and there if you look hard enough. We had buses drive across the airport at times, some very odd lighting positions and trees growing where trees should not – in water bodies for instance – but these are relatively few and far between and, in famous cities in particular, the results are breath-taking.
We can't imagine much demand for aftermarket scenery packs with this simulator, because areas you have never even visited before are rendered at a detail level that puts even the finest aftermarket FSX scenery to shame.
What we do imagine, though, is enhanced after-market masking and terrain class allocation to stop glitches like trees growing in the middle of the Las Vegas strip! But, the best thing about the streaming-scenery method employed in this title, is the way that user feedback can continually improve the product.
Chillblast has been on the Alpha testing program for some time, and we've already seen many annoying niggles and scenery bugs get squashed with each iterative update.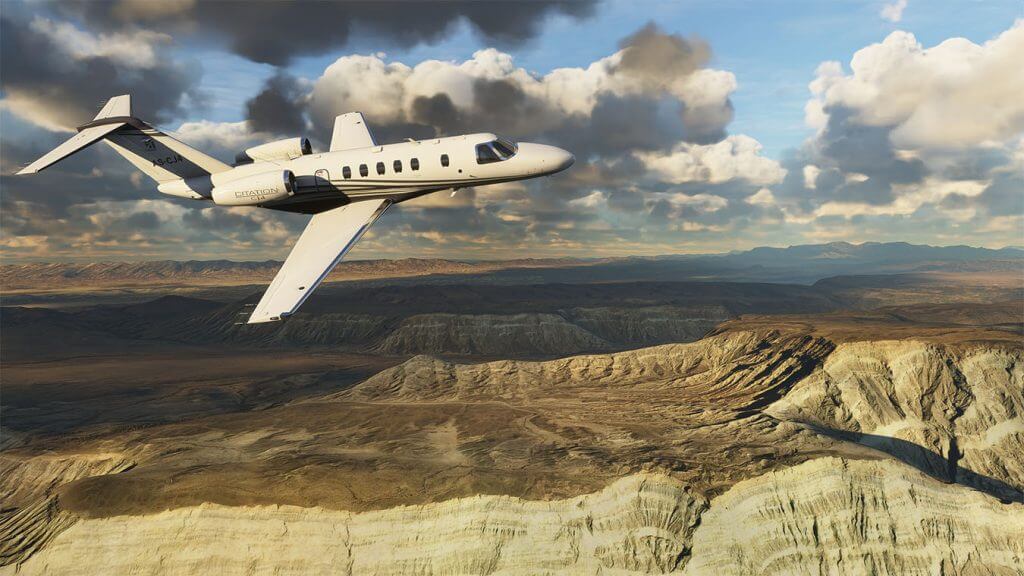 Flight Sim 2020 Hardware Requirements
Minimum Specs
Microsoft's published minimum specifications are pretty steep as PC games go. You'll need a minimum of a 4th generation Intel Core-i5 or AMD Ryzen 3 CPU, a GeForce GTX 770 or Radeon RX570, 8GB of RAM and at least 150GB of HDD space. With these specs, however, you'll be running with the sliders at minimum, and if we were being really cruel, the experience isn't that much better than FSX. Scenery density is greatly reduced and until you get over 2000 feet, the textures are muddy and unpleasant.
Recommended Specs
The recommended specs are steeper still – an AMD Ryzen 5 or 8th Generation Core i5, and a GeForce GTX 970 or Radeon RX 590 video card. With these settings you can turn up many of the sliders to their midpoint, making use of the extra VRAM to improve draw distances and even enjoy a bit of city living.
That's right – the performance in cities is very different from that in extra-urban areas. The much higher polygon count required to render, for example, the Gherkin or Shard in London in exquisite detail isn't needed when you are flying over the fields and forests of the Yorkshire dales.
Ideal Specs
We'd go as far as to say that if you want to enjoy city sightseeing you should set your sights on the "Ideal specs", which Microsoft puts at a 9th generation Intel Core i7 or AMD Ryzen 7 alongside a Radeon VII or GeForce RTX 2080. The RAM requirement is also bumped to 32GB and an SSD is recommended.
Interestingly Microsoft also recommends a 50Mbps internet connection for the best experience, as rendering high-resolution textures requires more bandwidth than lower-res ones. This will be fine for those on fibre but will come as a bit of a blow to those who have only nominal broadband. It might be time for such users to start looking into 4G or 5G alternatives.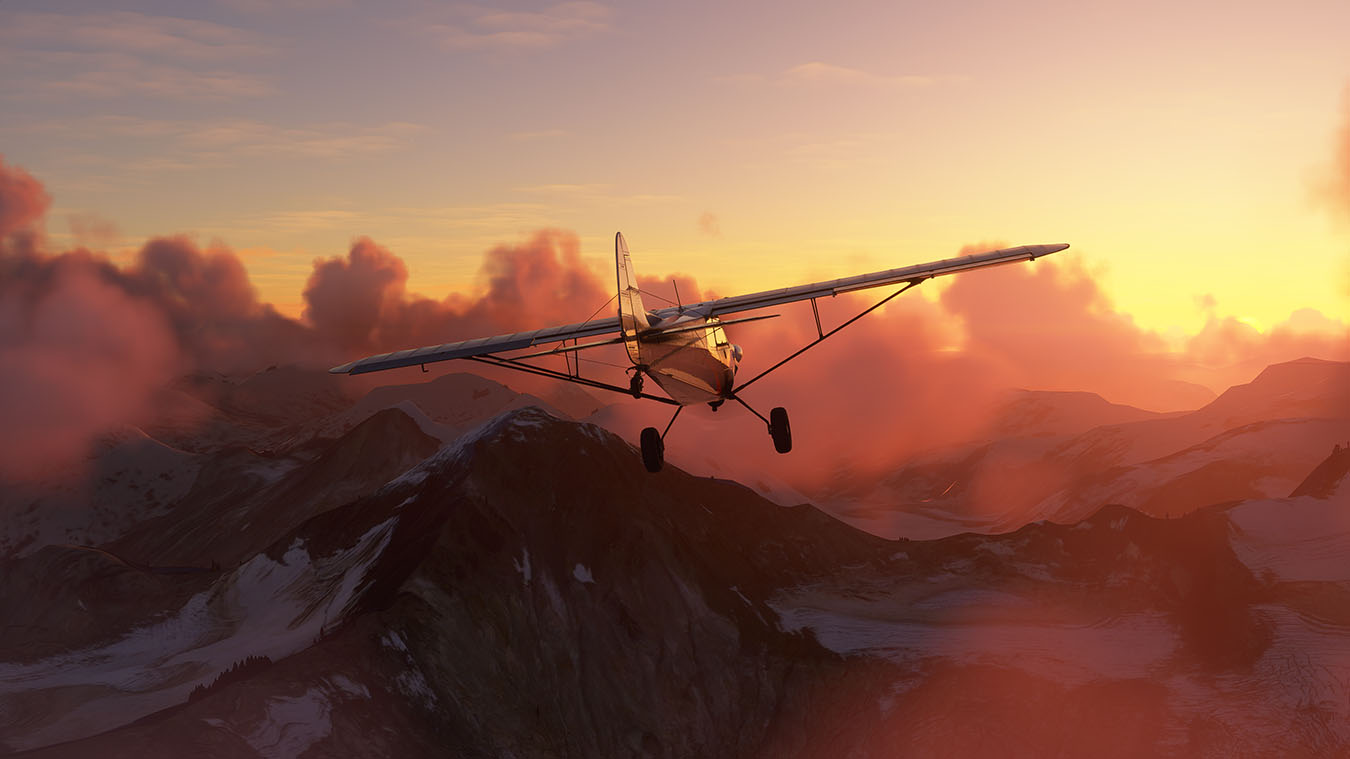 The Flight Sim 2020 Experience
Great games are not just a mundane plod from A to B; they are full of memorable moments that live with you forever. Flight Sim 2020 is full of such moments. When flying over the rocky terrain of Vulcano and Salina in The Aeolian islands north of Sicily, I found them rendered in the same exquisite detail as the rest of the sim. Experiencing them like that almost brought a tear to my eye as those places are personally special to me and in previous sims, they simply looked like sandcastles poking out of the sea.
Soaring over the crest of Madeira for the sun to rise in splendid majesty over the centre of the island was a photo opportunity beyond any other I've experienced in 30 years of flight simulation.
Flight Sim 2020 can also provide moments of high-octane fun. Flying through the twists and turns of The Grand Canyon in an Extra 330LT, pretending to be Will Smith being pursued by a hoard of angry alien fighters (Welcome to Earth!) delivered excitement not normally associated with a sedate and calming pastime like flight simulation, but it was also a welcome experience.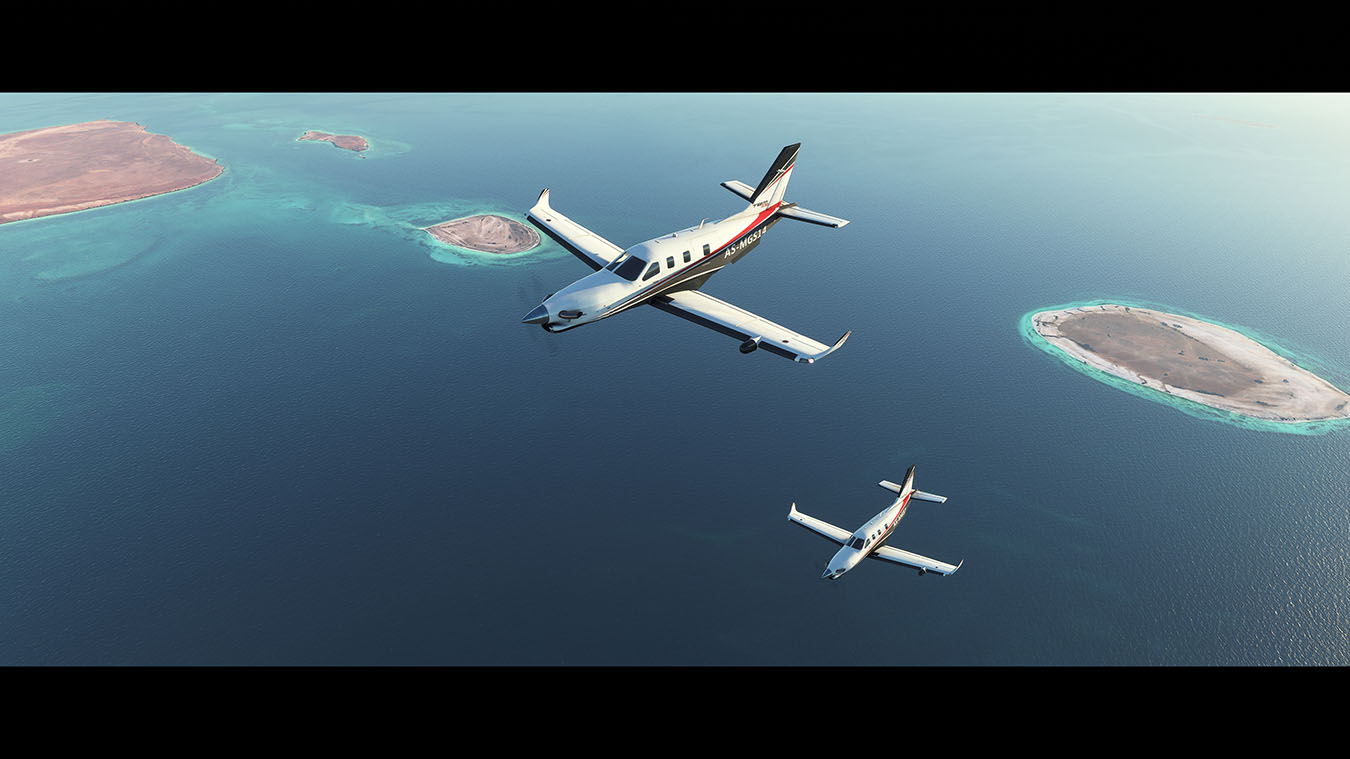 It Will Only Get Better
Whilst many will argue that Flight Sim 2020 lacks the depth and wealth of community features that FSX and P3D enjoy, there is nothing stopping you from running both simulators side by side, and the expansions and add-ons that make the existing flight simulation experience and community so rich and engaging will come with time.
What we have here is exactly what this author wanted – a sophisticated and modern engine that can support the community we love and support for another 10 years. Bravo, Microsoft, Bravo.
Want Your Own Flight Sim PC?
Don't hesitate to reach out to our team of expert sales staff! They will provide a range of dedicated Flight Sim 2020 PCs that suit your needs and most importantly, your budget. They can even help you put together your own custom PC that will have you flying above the mountains in no time.
What are your thoughts on Microsoft Flight Sim 2020? Leave them in the comment below!