At the risk of sounding like 99.9% of all other articles, we thought it was important to take this challenge on. The Intel and AMD debate will wage on regardless of how far either manufacturer gets out in front of the other, because a lot of consumer decisions are based on two factors: price and sentiment. We will go into this a little further on, but it is worth noting that as a leading PC manufacturer, Chillblast has always tried to be bi-partisan when it came to processors.
At some point, both Intel and AMD made great cases for a gaming PC, but with the new Chillblast Defiant range of laptops, we chose Intel. This article should go some way to explaining why this is, and how the price and sentiment was taken into consideration.
Price and Sentiment
Although that subheading reads a little like a marketing version of Pride and Prejudice, it really does sum up a lot of the reasons people choose AMD over Intel, or vice versa.
Price
The cost of a gaming laptop is always a focus for the consumer. They have a budget in mind, and you would need to make a great case for them to move from their ideal number. For the most part, the industry has been seriously upset by Intel, as they waged a war on the CPU market with Alder Lake. In some cases, Intel are cheaper than AMD (for the first time) at mid-tier and high-end, but also gained ground in the budget or entry level markets. Nobody saw that coming. especially not AMD. Team Red certainly rallied once the Alder Lake chips began hitting shelves, with steep discounts on their flagship Ryzen CPUs – but the damage was done.
Alder Lake's Core i5 12th-Gen CPUs are priced to sell. Even with the early adopter tax we always see with new tech, 12th-Gen compatible motherboards and DDR5 RAM have been much easier to purchase when you are getting a great price on a next-gen processor.
Sentiment
Ever heard someone say "I only buy AMD!" or "I only buy Intel!". Of course. This sentiment is borne from years of faithful vendor worship, based on reliability and the experience of individuals with a particular manufacturer. The most difficult task a vendor has is switching a customer from their preferred brand to theirs. For example, Chillblast Defiant and Chillblast Phantom laptops can easily compete with the likes of MSI, ASUS and Gigabyte gaming laptops, but the brand loyalty is going to be strong for many gamers who have been able to rely on their preferred vendor for a couple of years.
This is also where it gets a little tricky for retailers and PC builders like Chillblast, because the sentiment (or brand preference) of a consumer is hard to put a cash flow forecast around. How do you know how many customers will switch from a competing vendor to your new product? What percentage of that market can you claw back and retain as a lifetime buyer?
These unknowns for vendors like Intel and AMD, however, will usually lead them to dropping the price so they fit in the first category (read: a much easier win), or bundling their new hardware with something consumers really need/want. An example of this is AMD bundling games with new Radeon graphics cards, or Intel's Software Advantage Program for their customers.
The Solution
When all is said and done, vendors, manufacturers and retailers all doing their best to combat these two factors is great news for the general public, as they are always treated to a freebie, discount or an upgrade when new technology is released.
The only solution for companies is to sell a product that is so overwhelmingly and obviously better than the competition, that it is difficult for the consumer to argue over cost or brand loyalty. This brings us in a neat segue to why Chillblast chose Intel Core i7 12th-Gen for their range of laptops, and why other gaming laptop manufacturers are doing the same.
Comparing gaming laptops – Mission Impossible?
So, on to the meat of this article. To compare Intel and AMD in the mobile gaming arena, there are a number of factors in play. It is often extremely difficult to compare AMD and Intel when it comes to mobile gaming: laptops are made by many vendors, with completely different manufacturing processes, different battery capacities and power management, or proprietary cooling system as examples.
Although easy enough to compare base results like framerates and use stock benchmark software to compare video rendering, compression and other tasks – you will be hard pressed to compare two vendors without some competitive advantage on either side.
In a recent comparison, PC Mag pitched a battle between two outstanding mobile processors, with a view to finding out which one offered the best performance in gaming. The AMD Ryzen 9 6900HX and the Intel Core i9-12900HX are both apex predators in the mobile processor world, with efficiencies that make them perfect for gaming on the move.
What makes this an ideal comparison, is that both were Lenovo Legion gaming spec laptops, so this was a fair trade of blows in terms of vendor agnostic benchmarking.

The comparison is certainly interesting, but results in the usual fayre. The Intel 12th-Gen Alder Lake manages to get in front in both the 3DMark CPU profile and CrossMark CPU benchmark, with both performance and efficiency cores working to the advantage of Team Blue.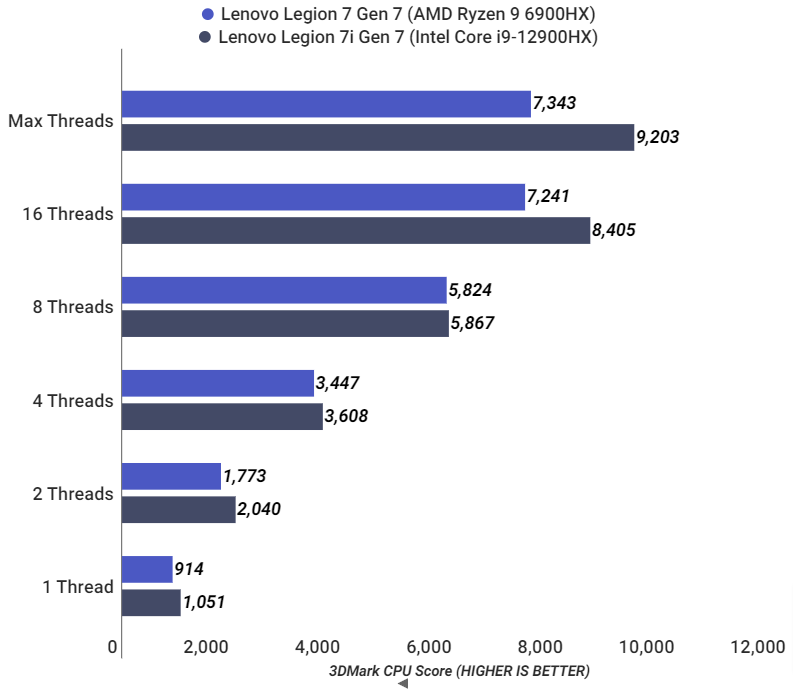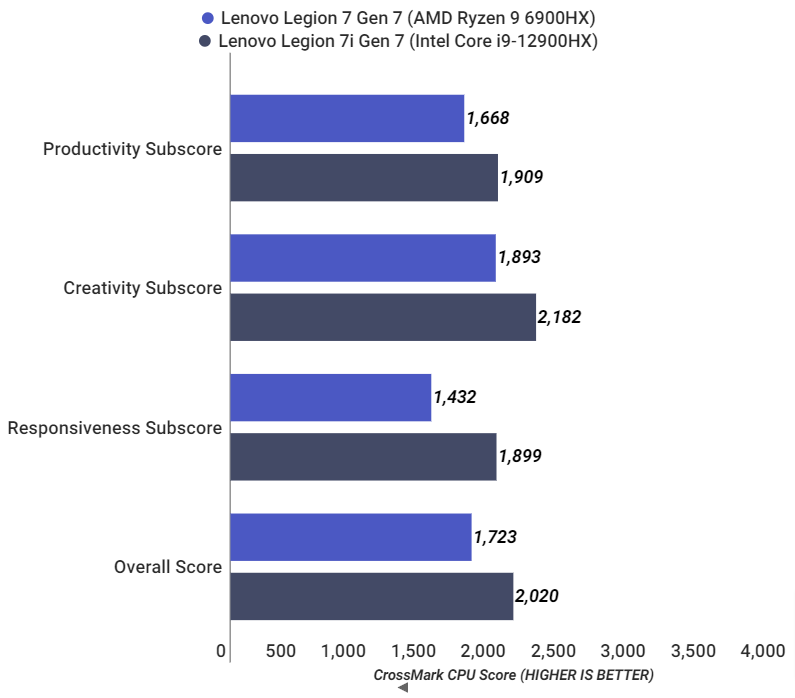 The Intel CPU really only fell behind in terms of power draw, with 10W higher TDP than the Ryzen 9. This is not uncommon with gaming laptops, however. Most gamers who use a laptop will tell you, though, that any long gaming or Twitch streaming sessions are always done with the laptop plugged into the mains. Mobile gaming is not really meant for a session of more than a couple of hours. Nevertheless, battery life does still play a part when you're weighing up your options when buying a gaming laptop.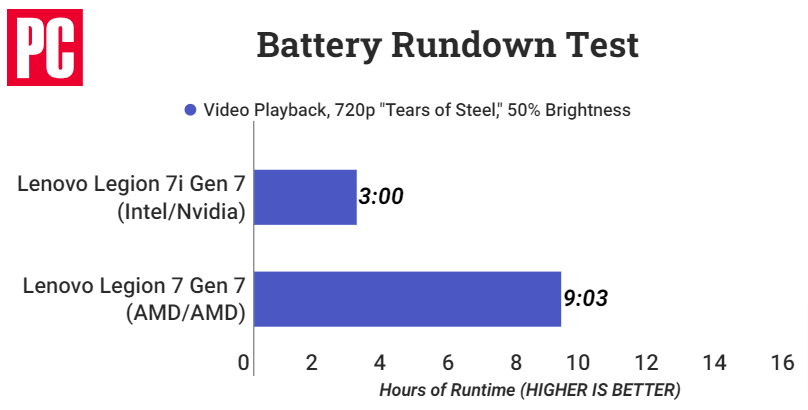 One might look at this benchmark and automatically assume that even though Intel have got the market pretty sewn up in the desktop and mobile CPU stakes, AMD still manage to win out on power draw. This is where it gets even more interesting, however.
Intel's trump card in the Alder Lake and Raptor Lake mobile families are actually not their high-end Core i9 processors. Their real advantage in gaming laptop performance is the Intel Core i7.
Intel Core i7: Made for mobile gaming
With the Core i7 family of desktop and mobile processors, Intel crushed AMD's hopes of regaining some market ownership. Sentiment for 12th-Gen Alder Lake Core i7 shifted massively when consumers realised they could get similar performance to the next generation Core i9 processors, but pay around 30% less for it.

As you can see from the Userbenchmark.com data above, based on the 48,653 and 60,685 users of the Core i9 and Core i7 respectively, there is a 104% sentiment favouring the Core i7. Furthermore, the Core i7 is a much cheaper processor.
This is not just limited to desktop processors, either. The Intel Core i7-12700H nearest equivalent is the AMD Ryzen 9 6900HS, and this is how that comparison looks for sentiment:

This sort of overwhelmingly positive sentiment for a processor is not usual. Intel got a lot right with the Core i7 mobile processors, and then put an affordable price on it for OEM vendors like Chillblast, MSI etc.
The Intel Core i7-12700H is a high-end mobile CPU, but you wouldn't think it based on the price of gaming laptops that house it. The specifications are designed to appeal not only to gamers, but to those who use a laptop for productivity, creating and more.
| Series | Intel Alder Lake-S |
| --- | --- |
| Clock Rate | 1700 – 4700 MHz |
| Level 1 Cache | 1.2 MB |
| Level 2 Cache | 11.5 MB |
| Level 3 Cache | 24 MB |
| Number of Cores / Threads | 14 / 20 |
| Power Consumption (TDP = Thermal Design Power) | 45 Watt |
| Manufacturing Technology | 10 nm |
| Socket | FCBGA1744 |
| Features | Thread Director |
| GPU | Intel Iris Xe Graphics G7 96EUs 1400 MHz |
| 64 Bit | 64 Bit support |
| Architecture | x86 |
Not only are you getting exceptional gaming performance, you also have the ability to tap into Intel's Thread Director for efficient workflows in applications like Blender, Adobe Photoshop, Adobe Premiere pro and more.
On to power management, and the Core i7-12700H shows why the mobile market is dominated by Alder Lake. The CPU TDP is rated at 45W base power, with a smaller architecture that means it runs cooler and with less power consumption.
Chillblast Defiant – Core i7 Gaming Laptops
It should now come as no surprise to you that the beating heart of the Chillblast Defiant gaming laptop is the Intel Core i7 12700H Alder Lake CPU, capable of delivering performance in hardcore gaming sessions and creator workflows. Pairing the Core i7 with an NVIDIA RTX 3060 graphics card and fast DDR5 RAM of up to 32GB means you are handling a mobile gaming battlestation that can take just about anything you throw at it.
With prices starting at under £1500, the Defiant range will meet the budget of most mobile gamers, but also convince staunch AMD fans that there is a processor out there that is virtually unmatched for value, performance and reliability.