A powerful graphics card is an essential component if you want a fast, smooth workflow and overall enjoyable video editing experience. Handling the rendering, VFX, colour settings and working with your previews and timeline is a huge task when you consider 1080p and 4K editing, so the choice is simple when it comes to technology pedigree and features designed specifically for creators – NVIDIA is your champion.
RTX graphics cards have revolutionised gaming PCs for sure, but with ubiquitous, purpose built platforms like NVIDIA Omniverse and NVIDIA Studio, the latest GPUs make creativity a priority, too.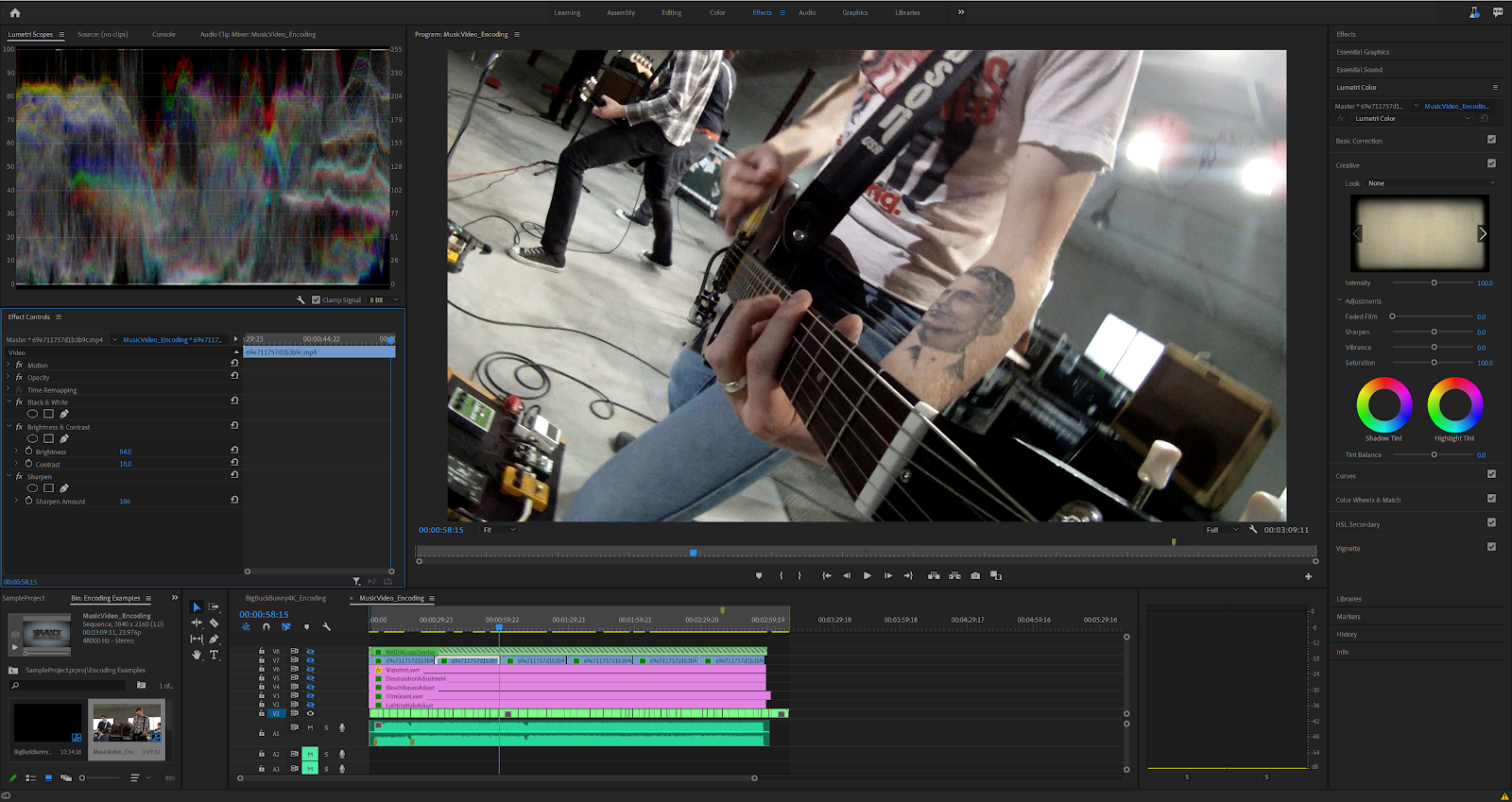 NLEs (non-linear editing) like Adobe Premiere Pro, DaVinci Resolve and Sony Vegas are common applications used for video editing, and each one has their own compatibility requirements with NVIDIA graphics cards. DaVinci Resolve, for example, uses GPU-based hardware decoding, and the level of support for each card is variable, but also relies on settings such as your codec, chroma subsampling level and bit depth of your video footage. This is a complex landscape, so attaining maximum compatibility across different NLEs is important (and you shouldn't need a data science degree to choose).
For this article, we're going to focus on the top two video editing packages – Adobe Premiere Pro and DaVinci Resolve.
How GPUs are used in video editing
NVIDIA are known for their collaborations with software companies, and realised early on that creator PCs need powerful graphics cards to get their work done quickly and efficiently. By tailoring NVIDIA Studio acceleration features to specific needs of video editors, primarily set out by Adobe and Blackmagic Design, there are significant gains in terms of time and performance.
Here are a few examples of NVIDIA integrations with NLEs: –
Encoding
As an example of NVIDIA's relentless pursuit of efficiencies and performance for creators, with Premiere Pro 14.2, there are huge time savings using GPU-accelerated encoding. Adobe worked with NVIDIA to optimise Premiere Pro for the NVIDIA hardware encoder on NVIDIA GeForce GPUs.
Creators are able to export high-resolution HD videos up to 5x faster over CPU encoding using H.264 or H.265 / HEVC codecs. When you consider the effect this can have for digital design agencies alone, this increases throughput massively, enabling video editors to move on to the next task much faster. Less time encoding means more time editing.
AI Acceleration
NVIDIA also have a seamless working relationship with Blackmagic Design, the developers responsible for the popular all-in-one NLE, DaVinci Resolve. The software is a superior solution for many editors, being capable of video editing, VFX, color grading and audio post-production wrapped up in an intuitive application that is actually free to download and use. As much as Blackmagic Design say their free version is to "inspire creativity", it is also a great way for them to showcase their Hollywood-grade video editing hardware, and upsell the paid version of Resolve Studio that offers a raft of effects and features for professional video editors.
Blackmagic's relationship wit NVIDIA runs deep, with NVIDIA Studio offering hardware encoder and decoder accelerated video transcoding, GPU-accelerated colour grading, colour scopes, and – importantly – leveraging RTX-accelerated AI features.
Below are some examples of NVIDIA Studio integrations with DaVinci Resolve, using Automatic Depth Map to separate the foreground from the background, Object Mask Tracking to track movements of objects in a scene, and powerful Surface Tracking, which uses AI to calculate and track a surface and allow the user to apply graphics to surfaces which change shape, form and perspective.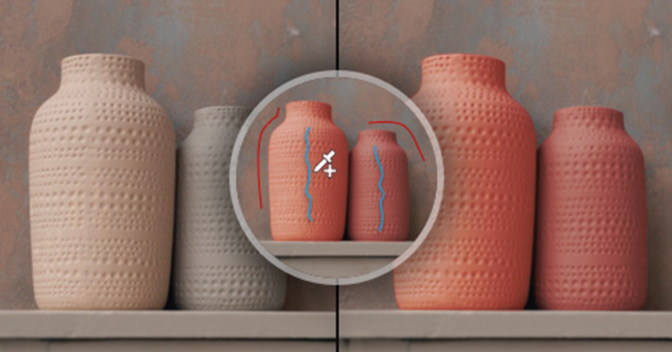 NVIDIA Studio
The above are just a few examples of how NVIDIA is embedded into video editing applications, but the list is virtually limitless. NVIDIA Studio is in a constant state of change, offering more and more professional features and integrations.
Adobe Premiere Pro
GPU-accelerated encode (NVENC) to speed up the exporting of videos (up to 5x).
GPU-accelerated decode (NVDEC) to enable smooth playback and scrubbing of high-resolution and multi-stream videos.
GPU-accelerated effects and AI features like Auto Reframe for faster real-time video editing.
DaVinci Resolve
GPU-accelerated colour grading, video editing, and colour scopes.
GPU-accelerated encode (NVENC) to speed up the exporting of videos.
GPU-accelerated decode (NVDEC) to enable smooth playback and scrubbing of high-resolution and multi-stream videos.
RTX-accelerated AI features including face recognition for automatically tagging clips and tracking of effects, SpeedWarp for smooth slow motion, and seamless video super-resolution.
Adobe After Effects
GPU-accelerated key effects for faster rendering with NVIDIA CUDA technology.
NVIDIA Ominverse
Omniverse is a newly released framework and platform for creating 3D simulations that can be seamlessly integrated into the metaverse. NVIDIA have set out with a bold mission to become the industry leader in providing next-gen RTX-powered tools for constructing and building within this new virtual environment.
At its core, NVIDIA Omniverse is a complete design collaboration platform and true-to-reality digital twin simulation tool that has the potential to transform 3D workflows in digitally forward companies of all sizes. NVIDIA has designed this boundless ecosystem to allows visual artists, designers, and team members without geographical limitations to interact and collaborate in real-time, within a virtual space. The rendering capabilities of Ampere and Universal Scene Description (USD) are responsible for making this multi-GPU cloud-native platform possible, changing the way teams interact forever with each other and with clients.
Which GPU is best for video editing?
In truth, every NVIDIA RTX graphics card has merits for video editing, and the scale of these integrations increase with each series. The RTX 30-series, which comprises RTX 3050, RTX 3060 / RTX 3060 Ti, RTX 3070 / RTX 3070 Ti, RTX 3080 and RTX 3090 / RTX 3090Ti are all based on Ampere technology, with second generation Ray Tracing and third generation Tensor Cores, DLSS technology and offers the initial gateway into NVIDIA Studio and Omniverse.
The RTX 40-series succeeds RTX 30-series, and has shown incredible improvements over their predecessors for creators. The RTX 3080 and RTX 4090 graphics cards offer fourth generation Tensor Cores, third generation Ray Tracing Cores (including concurrent ray tracing, shading and compute), DLSS 3 and is entirely based on Ada Lovelace architecture which succeeds Ampere.
NVIDIA GeForce RTX 4090 – superior creative performance
The RTX 4090 is a true gaming powerhouse, but its real strengths are in the compute power that professional creators demand. In benchmarks, the RTX 4090 showed significant gains over the RTX 3090 and RTX 3090 Ti for both DaVinci Resolve and Adobe Premiere Pro, and the RTX 4090 proved to be 34% faster than the RTX 3090 Ti, or 42% faster than the RTX 3090 in GPU-accelerated performance tests performed by PugetBench: –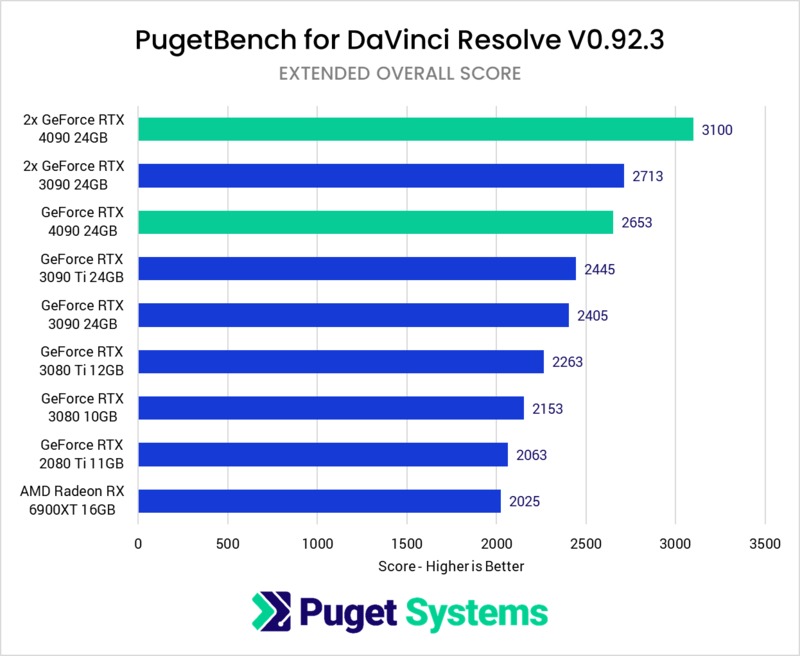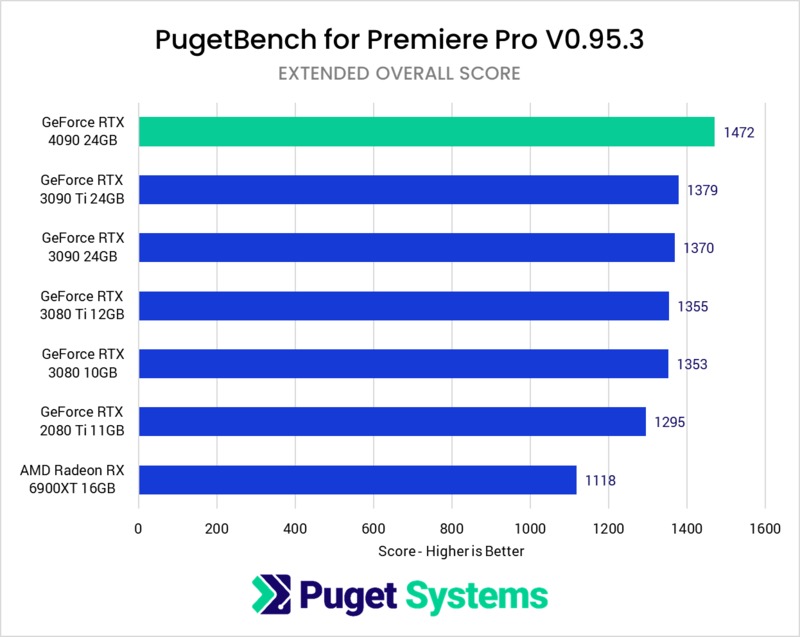 The best RTX 40-series Creator PCs
To take advantage of the benefits of NVIDIA Studio and Omniverse, an RTX 4090 and Intel 13th-Gen Raptor Lake system is the level best specification that offers superior workflow and pipeline efficiency, powered by the latest technology to achieve the highest benchmarks in the industry.
Although a gaming PC by nature, the specification of the Chillblast Sybaris is equipped for professional creator workloads: –
Operating System: Windows 11 Home (Optional: Windows 11 Pro for Business)
Processor: Intel Core i7-13700K
Graphics Card: NVIDIA Geforce RTX 4090 24GB
Memory: 32GB DDR5 6000MHz
Storage: 1TB M.2 Gen 4 Solid State Drive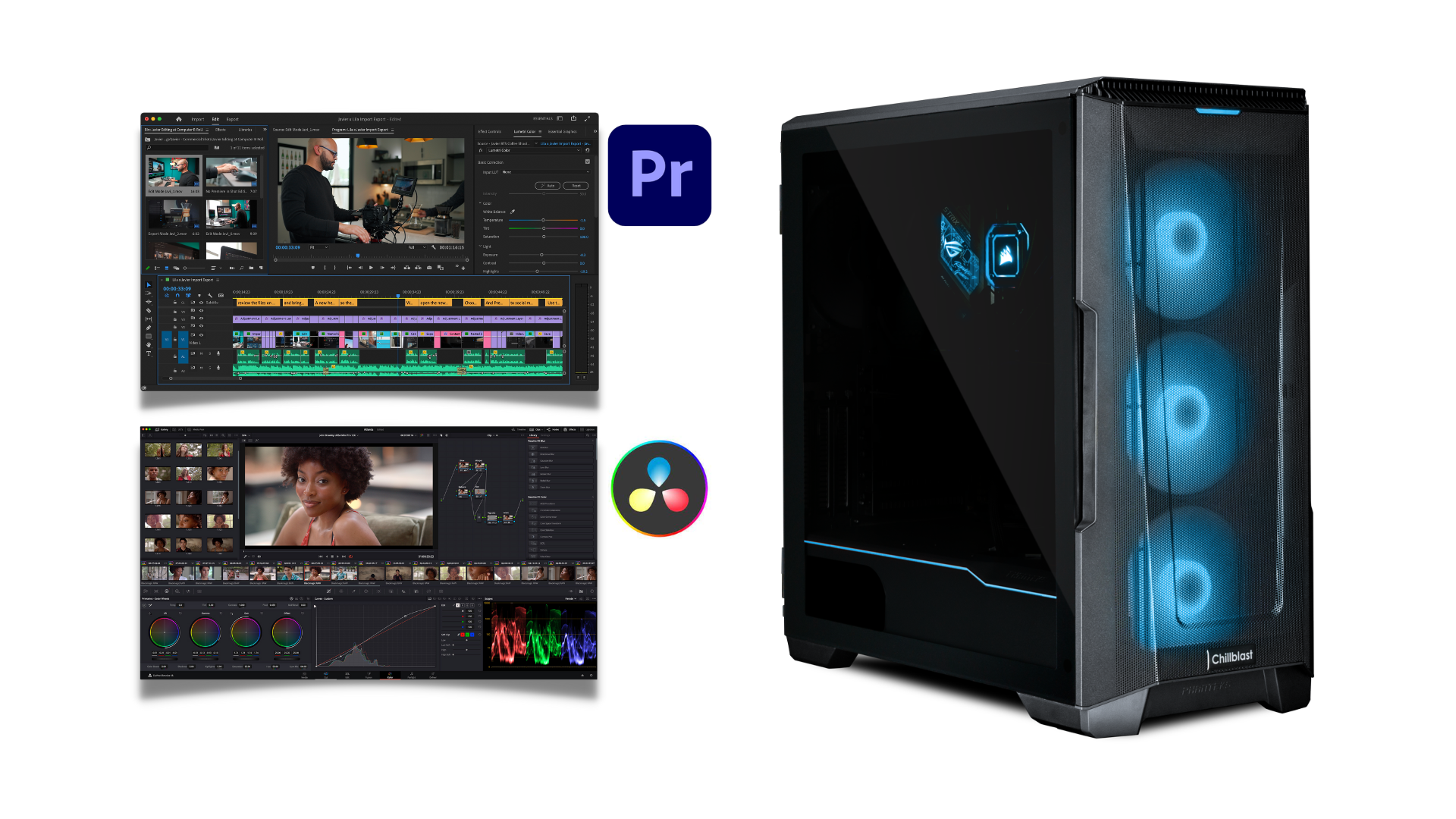 Capable of delivering insanely fast rendering and editing, and leveraging the RTX and AI-powered uplifts, the Chillblast Sybaris benefits from the latest (and fastest) 32GB DDR5 6000MHz memory for workflow efficiency, and is powered by Intel's 13th-Gen Core i7-13700K processor with 16 Cores (8 x P-Cores, 8x E-Cores), 3.40GHz base clock and 5.40GHz Turbo.
The RTX 4090 provides the ultimate in acceleration for all creative tasks, and allows you tap into the most advanced integrations in Adobe Premiere Pro, After Effects and DaVinci Resolve.
As always, Chillblast offer customisation options, so you can tailor your speed, storage and even your monitor to your specific needs.