Gaming on a PC has its advantages and disadvantages and there's no denying that if you don't already own something you can upgrade, then it can be expensive to get started. 
Gaming PCs do tend to be priced higher than their console counterparts, even if they are more capable. But how expensive does a gaming PC actually need to be to give you a solid gaming experience?
The answer is, it depends on your preferences; that's a major strength of PC gaming.
Wherewith consoles you have a choice of Xbox or PlayStation and the various enhanced versions of those, that's where your choices end. With a gaming PC, you can make big savings by trimming features and components you don't need and focusing on what you do.
A gaming PC is as expensive as you want it to be and with Chillblast, you always get what you pay for.
The Chillblast Fusion Imp
Take for example, the most affordable gaming PC we sell currently, the Chillblast Fusion Imp Gaming PC. At £604.99 it comes in a little more expensive than your average top-tier gaming console, but offers more storage space and comes in an attractive chassis.
Its CPU and on board graphics chip are great entry-level gaming solutions and though it might fall behind something like the Xbox One X in raw power, the ability to customize your in-game settings on PC means that you can tweak the experience to your tastes when it comes to detail and frame rate.
While you may have to spend a little more to get comparable performance with PC gaming, it doesn't mean that it isn't better value for money and a better experience – more on this later.
But how much would you need to spend if you wanted something more powerful than the best games consoles available today?
Go next-level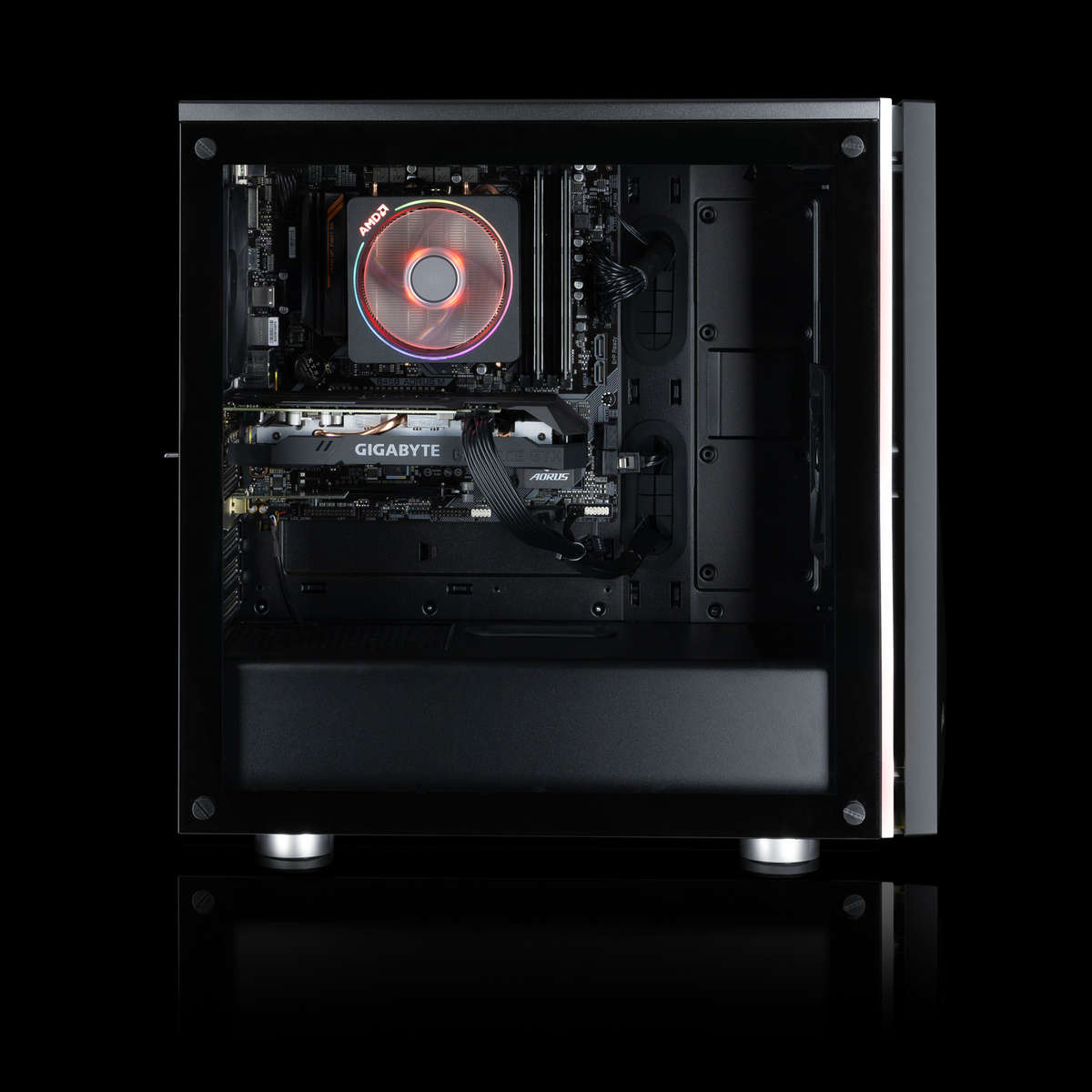 At £1139.99, the Chillblast Next Day Ryzen 5 GTX 1660 Super Gaming PC is an absolute console killer and will decimate anything Microsoft or Sony have to offer.
It comes with masses of storage space, a super-fast, AMD Ryzen six-core CPU, and an Nvidia GTX 1660 super with 6GB of graphics memory. That's more raw graphical power than an Xbox One X and will storm through anything you can throw at it at 1080p or 1440p resolutions.
Esports games like CS:GO or Fortnite will see seriously high frame rates well in excess of what a console can deliver, and you can go all the way up to 4K with playable frame rates if you're willing to sacrifice other graphical features.
If you have much deeper pockets though, the sky is the limit. Chillblast has options for gamers willing to spend £2,000, £3,000, or more if you're interested.
Check out some of our other high-end listings if you need serious power or want to output high frame rates at 4K from a system wrapped in a beautiful case with our hands-on cable management throughout.
Are there any hidden costs?
Whether you game on PC or another platform, there are always additional costs to consider. If you're playing on a 4K capable Xbox One X or PS4 Pro, then you're going to need to factor in the cost of buying a 4K TV to support it. Then there are the costs of online play and likely an external drive for additional storage to consider.
PC is much the same in that buying the system itself isn't the whole picture.
Unless you buy one of our pre-arranged bundles that include everything you need to get started with gaming, you'll need to factor in additional costs like a monitor, keyboard, mouse, and speakers or headphones. Depending on your particular needs, these needn't be inordinately expensive, but as with buying the PC itself, there are a variety of options you can choose from.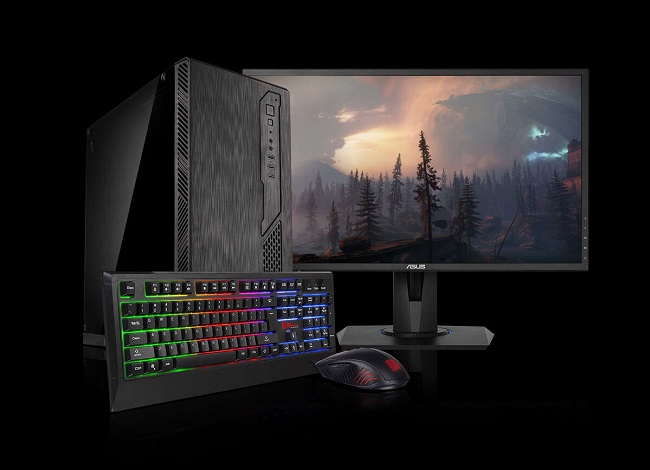 Mechanical keyboards and high-sensitivity mice offer fancy lighting and more accurate inputs for high-speed gaming, while high-refresh-rate monitors promise reduced input lag and smoother animations during frantic battle royale matches.
But if you're on a budget, you needn't buy the latest and greatest to have a fantastic time as a PC gamer. Many start out their PC gaming journey with office peripherals and upgrade as they find the time and money to invest in their favourite hobby.
How long does a gaming PC last?
One of the major advantages of a gaming PC over a console system is that it tends to last a lot longer.
If you bought your Xbox One near the start of the system's lifecycle it was only a couple of years before Microsoft had something else to sell you and it was enough of an upgrade that you might feel left out if you didn't make the jump.
Gaming PCs tend to have much greater longevity, because you can always tweak settings as you go to maintain steady performance in the new and exciting games. There's also the option to upgrade individual components on a piece-by-piece basis, so you don't need to throw the whole system out with the watercooling just to get a little more performance out of it.
That means that your new gaming PC could last you up to ten years with clever upgrades along the way.
AMD in particular offers multi-generational support for its CPUs, so if you bought a new Ryzen-based PC today, you can upgrade the processor in two to three years and enjoy an enhanced PC experience without needing to change out your motherboard and RAM as you go.
Graphics cards will work in the same sockets for years too, so you needn't worry about your beautiful new PC becoming out of date in the same kind of cycle as your average console.
If you love your Chillblast PC and want to give it a little boost now and again, we offer an upgrade service that can keep it feeling fast and fresh with some clever tweaks and improvements. Let our experts help you pick the best components to bring your PC up to date and we'll even expertly install them for you to make the process as quick and as easy as possible.
The best bit? It's all yours
As much as it's easy to point at the cost savings of console gaming and advantages in ease of use and setup, there are some serious advantages to PC gaming that are very difficult to beat. Beyond their upgradeability and long-lives, our favourite thing about them is that they are unique to you.
If you and a friend buy a new Xbox, unless you're splashing out for an overblown special edition, they're going to look and feel identical. With a gaming PC, that's never the case.
Every gaming PC in the world has a unique configuration of hardware, including a case that you've picked out yourself. Then there's your own personal lighting configuration, your own game settings, and peripherals. No two gaming PCs are exactly alike and if you like to do things your own way, there's no better way to play than with a gaming PC.
So spend as much as you want or can on a new system, but buy the one that's right for you. The one that represents you best when you sit down to take the fight to your enemies, online and off. Whether it's a £500 starter gaming system or something more extravagant, you can take pride in that no one has a gaming PC just like yours and it'll stay that way for years to come.
More resources:
Check out this article that examines why gaming laptops are so expensive!
If you are still debating which system to get, check out this article that dives into whether you should get a PS4, desktop or laptop!