Hogwarts Legacy is one of the most hotly anticipated game launches of 2023 and now that it's just a few weeks away, gamers are starting to wonder if their PC can actually run it.
That's because Hogwarts Legacy is a grand open-world game, in the vein of more adult fare like Red Dead Redemption, and it looks absolutely gorgeous. But all of that visual flair comes at a price: you're going to need a relatively powerful gaming PC to get it working and something close to cutting edge to really push it to the max.
In fact, Hogwarts Legacy looks set to alienate close to half of Steam's entire player base simply by virtue of them not having a powerful enough graphics card to run it. This is something that we've been expecting since the launch of the Xbox Series X/S and PlayStation 5, though; a truly next-generation game that demands some of the best hardware to really see what it can do.
If you're unsure whether your PC is ready for Hogwarts Legacy, here's everything you need to know about what you need to get it up and running, and what you might like to upgrade to if your existing setup can't manage it.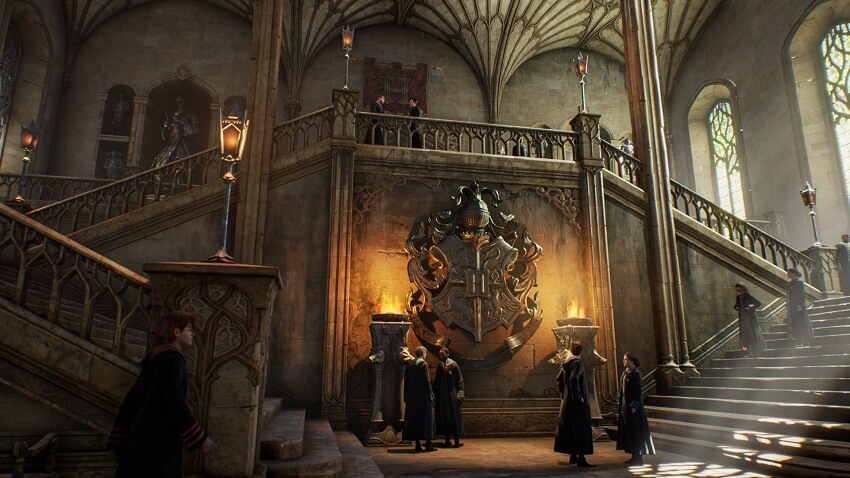 But first, what is Hogwarts Legacy?
Hogwarts Legacy is an upcoming action role-playing game set in the wonderous Wizarding World first introduced through the Harry Potter book series. But unlike the more modern-day story depicted there, Hogwarts Legacy instead invites players to experience a much older period of Hogwarts history, this time set in the 1800s.
Players will get to explore a vast open world as a student of Hogwarts, whilst learning spells, brewing potions and unlocking the secrets of a hidden past.
There is a deep customisation experience in the game, allowing players to choose what their Witch or Wizard looks like, who they interact with, plus (and maybe most importantly) which house they belong to.
Minimum System Requirements
Processor: Intel Core i5-8400 or AMD Ryzen 5 2600
Memory: 8 GB RAM
Graphics: Nvidia GeForce GTX 1070 or AMD RX Vega 56
Storage: 85 GB available space (SSD preferred)
Upscaler: Performance Setting
API: DirectX 12
Operating System: Windows 10
Hogwarts Legacy might be the most demanding game ever made. At least when it comes to its minimum specifications. These are even stricter than Plague Tale: Requiem, and that's saying something.
That's not to say that this spec is the most demanding in the world – it is a minimum system requirements list after all – but an Nvidia GTX 1070 or Vega 56 were top-tier graphics cards not so long ago. Even then, this kind of gaming PC still needs you to use the Performance setting on your upscaler of choice (it'll have to be FidelityFX Super Resolution here, since DLSS is not supported by the GTX 1070) and can only guarantee you 60 FPS at 1080p on all the lowest settings.
Still, it's great that these kinds of upscalers exist, as without their ability to gift hardware like this additional frames per second, Hogwarts Legacy would likely have even more stringent graphics card requirements.
Elsewhere the build isn't too taxing, with Intel eighth generation and AMD Ryzen second generation CPUs being old, plentiful, and affordable.
You can get away with using a hard drive for your storage too, but it's not recommended. Indeed, Chillblast wouldn't recommend you play any game on a traditional hard drive as their game load times are simply abysmal even when compared with some of the most affordable SSDs.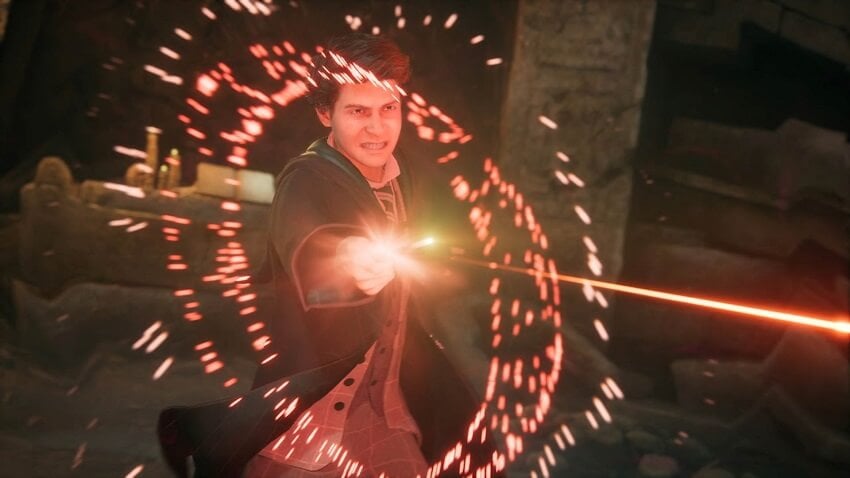 Meeting the Minimums on a Modern PC
If your PC doesn't quite measure up to the minimum requirements for Hogwarts Legacy, you could just buy some second-hand components to upgrade to the kind of spec you need. But do proceed with caution.
If the last few years of GPU shortages have taught us anything, it's that many older graphics cards are heavily overpriced and even with the current crypto winter, prices of older hardware still aren't what they should be.
You're far better off building or buying a new gaming PC that will hit these specifications without needing image-degrading upscaling, whilst guaranteeing you're future-proofed against playing the latest games for years to come.
For your CPU, you'll want something like the Core i5-12100, or Ryzen 5 5500, both of which easily outstrip the recommendations for the minimum specs. But, they're also very affordable and are fully compatible with last-generation motherboards. You have the option of DDR4 memory with these, too, so grab 16GB of it to give yourself enough for the game and some breathing room for background apps to run.
As for graphics, you'll actually want something relatively recent, even when targeting relatively modest settings in the game. A great option would be AMD's RX 6600 or Nvidia RTX 3060, either of which will easily outstrip either of the recommended graphics cards at 1080p resolution. They aren't strong contenders at 1440p or 4K, but we're not going after those resolutions with these configurations.
Round out your build with a budget SSD and a quality, efficient 600W power supply and you'll have a fantastic gaming PC for playing Hogwarts Legacy at 1080p with a few of the settings turned up to medium, or the option of improving the upscaling quality.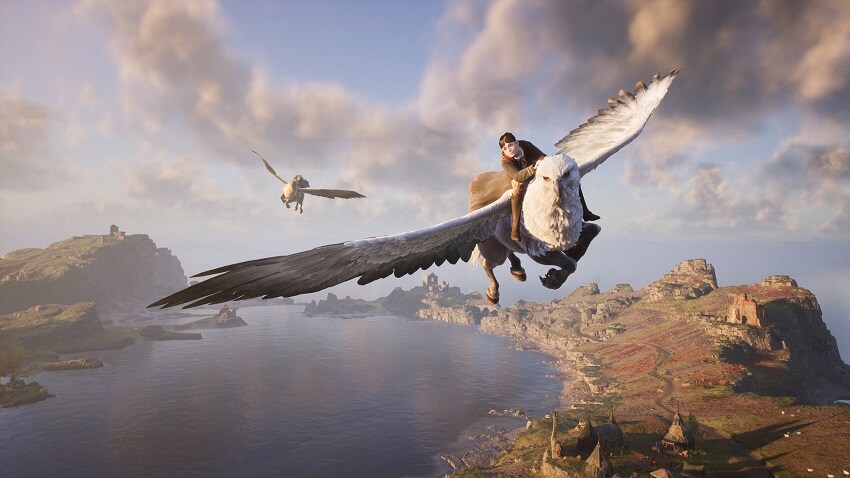 What PC do we recommend?
A PC that we'd recommend at this level would be the Chillblast Sentinel Gaming PC.
It does use a slightly less powerful GPU than the RTX 3060 in the form of an Nvidia RTX 3050, but it's still a card capable of providing an excellent 1080p gaming experience and is heaps better than the minimum requirement of a GTX 1070. Plus it utilises a better CPU than the ones suggested above in the form of an Intel i5-12400F.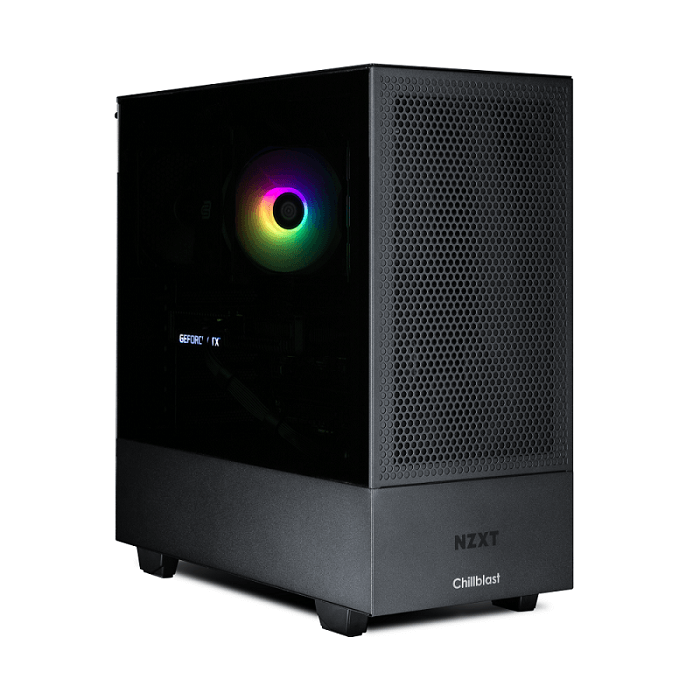 Recommended System Requirements
Processor: Intel Core i7-8700 or AMD Ryzen 5 3600
Memory: 16 GB RAM
Graphics: Nvidia GeForce GTX 1080 Ti or AMD RX 5700
Storage: 85 GB SSD
Upscaler: Quality Setting
API: DirectX 12
Operating System: Windows 10
The recommended system requirements for Hogwarts Legacy aren't drastically more demanding than their minimum counterparts. Still, they do place a greater demand on CPU and graphics again, meaning that only those with mid-range gaming PCs from the past few years will be able to enjoy 60 FPS at 1080p with high quality settings right out of the gate.
While the Core i5-8700 and Ryzen 5 3600 are capable, six core processors, they're decidedly mid-range by the standards of their day, and very much budget-chips today. Certainly, any mid-range gaming PC from the past few years will be able to match that spec.
Graphics, however, are another thing entirely.
The GTX 1080 Ti is one of the longest-lasting graphics cards ever made; just by virtue of its inclusion here. It's a near-six-year-old graphics card, but it was so ahead of its time, it's still powerful today. The RX 5700 isn't quite so iconic, but it's still a relatively modern, capable graphics card, and both are more powerful than most of the popular graphics cards among Steam gamers.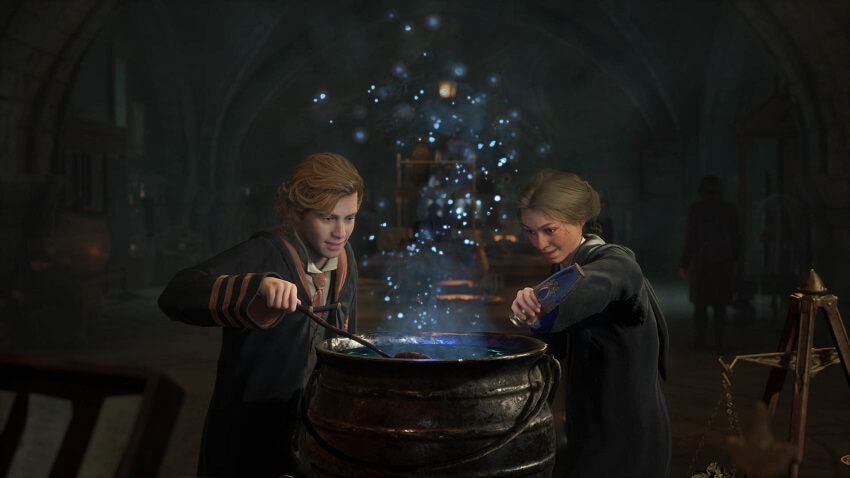 Meeting The Recommended With A Modern PC
Buying a GTX 1080 Ti second-hand will still set you back £200-300 depending on the model, which shows just how much these awesome cards have held their value. However, that's still a card that's over five years old, and who knows how much life it has left in it. Fortunately, now that GPU prices have fallen back to more reasonable levels, you can get an even more powerful card for not much more.
The Nvidia GTX 3060 Ti is a great alternative to the aged 1080 Ti, offering a higher level of performance whilst unlocking heaps of modern features, including ray tracing support in compatible games, deep learning super sampling (giving you the option of different upscalers) and better video encoding for enjoying higher resolution streaming video.
AMD fans could opt for the even more powerful – and comparably priced – RX 6700 XT for even higher frame rates or detail settings in Hogwarts Legacy, although that won't give you the option of DLSS, and in games that support it, ray tracing performance is significantly reduced.
As for the CPU, something more contemporary like an AMD Ryzen 5600, or Intel Core i5-12400 would be more than enough to handle this game at the higher settings we're targeting. With a build like this, you could retain the same settings and drop the upscaling, or alternatively enjoy higher frame rates for a smoother Hogwarts experience.
You can still stick with 16GB of RAM, though do consider its speed. These newer CPUs can really benefit from being fed with heaps of data, so faster memory can make a real difference to in-game performance – particularly on an AMD CPU.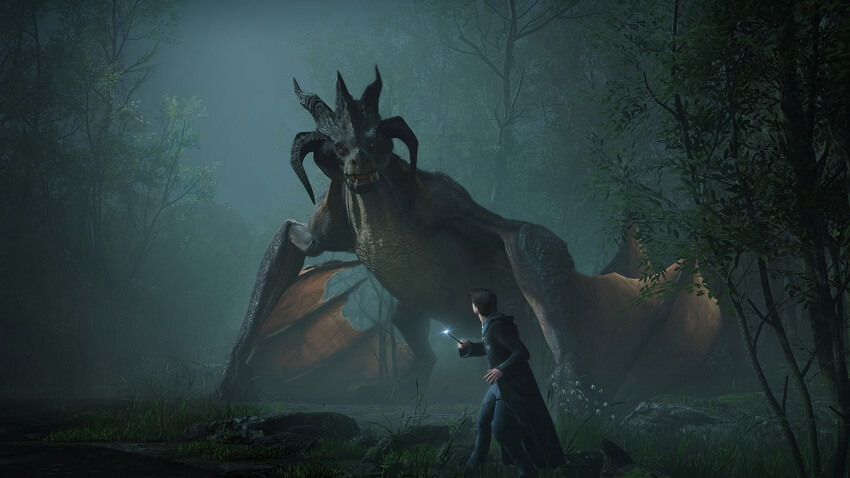 What PC do we recommend?
A PC that we'd recommend at this level would be the Chillblast Akula Gaming PC.
It ticks both boxes for the CPU and GPU as suggested above, housing the Nvidia RTX 3060 Ti and the Ryzen 5600X. Both of the components work well together to create a stellar 1080p gaming experience and will continue to provide a great experience for years to come.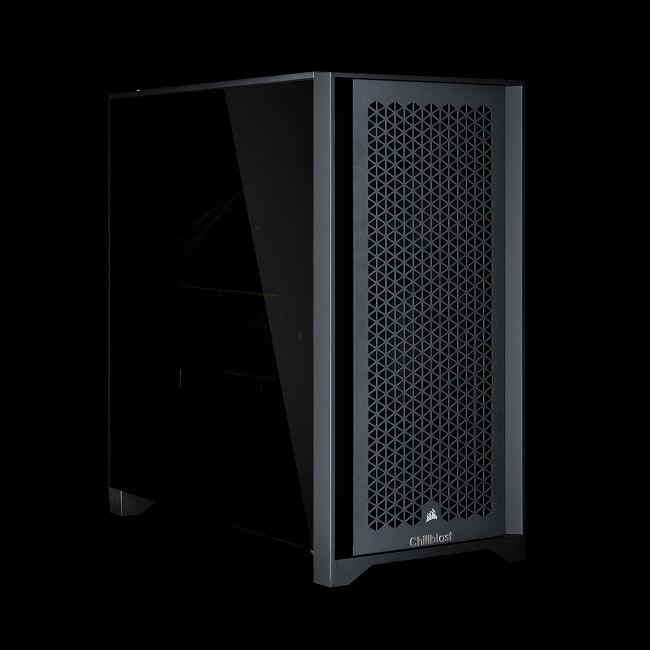 Or, Add Some Flair to Your Setup
Take your gaming experience to a new realm with an enchanting Chillblast gaming PC, with an exclusive desktop skin.
We've created an entire limited edition range of PCs to celebrate Hogwarts Legacy. Each PC features truly spectacular artwork that will let you represent your Hogwarts House in style.
But it's not only the outside that brings the magic. These systems feature an Nvidia GeForce RTX 3070 GPU plus an AMD Ryzen 7 5800X, capable of powering your content and gaming without any fuss. Coupled with a huge super-fast 1TB NVMe SSD and you'll be off exploring the world of Hogwarts before you can say Wingardium Leviosa!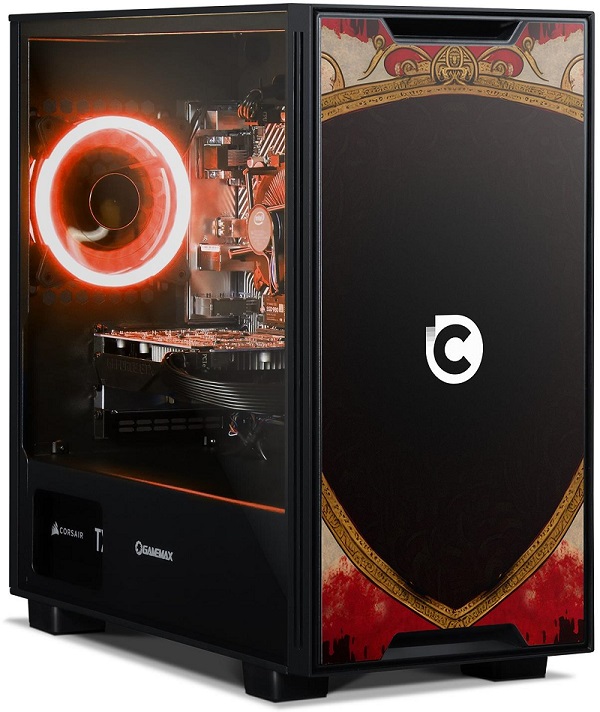 What About Higher Resolutions?
Hogwarts Legacy doesn't have official system requirements for 1440p, but since the recommended specs are only able to give gamers a 1080p experience, we've put together what we think would be a reasonable modern gaming PC configuration to play at 1440p, if that's something you want to do.
1440p System Requirements
Processor: Intel Core i5-12600K AMD Ryzen 5 5700X
Memory: 16 GB RAM
Graphics: Nvidia GeForce RTX 3080, or AMD RX 6800 XT
Storage: 85 GB SSD
Upscaler: Quality Setting (optional)
API: DirectX 12
Operating System: Windows 10
Building a 1440p PC for Hogwarts Legacy
Since the processor requirements for this game aren't too dramatic, we've gone for mid-range last-generation chips, which are still fantastic for gaming, but don't deliver the most cutting-edge performance. Still, they come with heaps of cores for modern gaming (6P and 6E cores on the 12600K, and eight full-size Zen 3 cores on the 5700X) and high clock speeds for keeping our GPU fed with all the data it needs.
Opting for these older CPUs lets us use more affordable motherboards and DDR4 (although the 12600K also supports DDR5), which cuts the overall cost where we can, so that we can funnel more of our budget where it really matters: the graphics card.
This game is already incredibly demanding at just 1080p, so raising the desired resolution to 1440p is going to bring with it some added pressure on the GPU. To make sure that we can maintain our Ultra detail settings of the Recommended specifications, and an average of at least 60 FPS, we recommend two of the best GPUs of the last-generation: the Nvidia RTX 3080, and the AMD RX 6800 XT.
Both cards are typically marketed as being designed for 4K and they absolutely have the performance for that with current games, but with these next-generation titles which really push the envelope, they may be better suited to 1440p at higher frame rates – leaving the option of 4K at lower detail settings.
The 6800XT is the more affordable of the two, but it does lack DLSS and its ray tracing support in other games is less impressive. Pair it with the AMD Ryzen CPU, however, and you can use features like Smart Access Memory for added performance. The RTX 3080 can use Resizeable BAR for a comparable effect.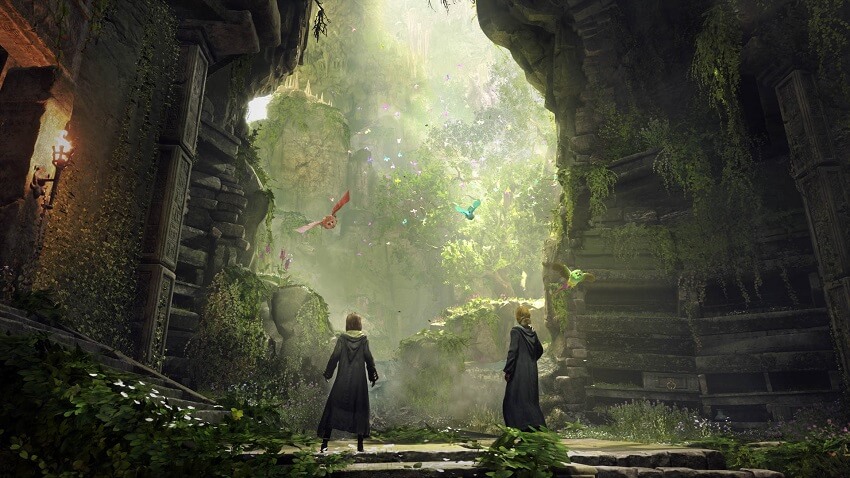 What PC do we recommend?
A PC that we'd recommend at this level would be the Chillblast Fusion Torrent Mini Gaming PC.
Not only will it provide an excellent 1440p Hogwarts Legacy experience as it utilises both an RTX 3080 and Intel i7-12700K, but it'll provide it inside a miniature package. Don't be fooled by its small-scale appearance, the Fusion Torrent Mini is a monster of a gaming PC inside a compact Fractal Torrent Nano case.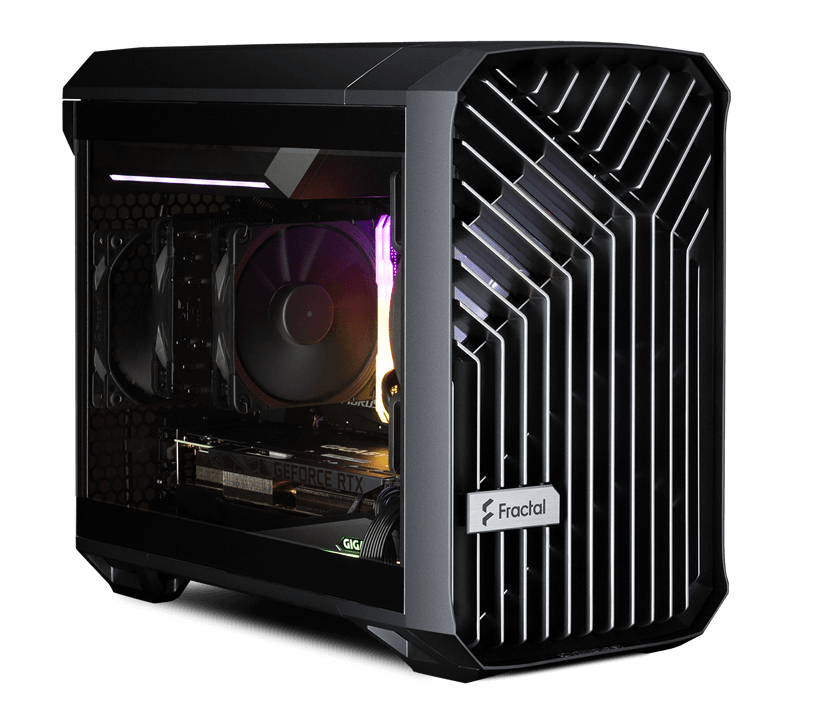 4K System Requirements
Processor: Intel Core i5-13600K AMD Ryzen 7 7700X
Memory: 32 GB RAM
Graphics: Nvidia GeForce RTX 4080, or AMD RX 7900 XTX
Storage: 85 GB SSD
Upscaler: Quality Setting (optional)
API: DirectX 12
Operating System: Windows 10
Building a 4K PC for Hogwarts Legacy
For this build we've gone right up to the modern day with the processors: an AMD Ryzen 7700X, or an Intel Core i5-13600K.
Neither of these chips are top-end, but they offer fantastic gaming performance for a relatively reasonable price. Since this game doesn't weigh on the CPU much, there's no need for us to go top tier. But, we've still gone with the latest designs so that our per-core performance is high enough to make sure the CPU doesn't bottleneck our graphics card.
Speaking of which, we've gone cutting-edge there too, with a little bit of room for something more capable if you have the budget. The Nvidia RTX 4080 is Nvidia's second-most-powerful GPU, featuring super high clock speeds and 16GB of high-speed GDDR6X memory. It has all the power you need to play any game at 4K and it can even handle intense ray tracing in other games, like Cyberpunk 2077.
Crucially too, it supports DLSS 3, which unlocks frame generation, a feature that might be in its infancy, but makes a huge difference to frame rates and could be the best way to unlock triple-digit frame rates in a game this demanding.
Alternatively, the RX 7900 XTX offers comparable or even better performance than the RTX 4080, and at a lower price. It does lack the DLSS support, including frame generation, but other features like ray tracing are much improved over the older RX 6000 cards.
If you really want top-tier 4K performance in this, and any game, the Nvidia RTX 4090 is the most powerful card in the world and is in a class of its own when it comes to performance. It's more than you need, but if you want the best Hogwarts Legacy 4K gaming experience, it's the best card for the job.
What PC do we recommend?
If you have the budget and want a gaming PC that will let you enjoy Hogwarts Legacy at 4K with intense settings like ray tracing turned on, all whilst maintaining high frame rates, this is what Chillblast recommends: the Chillblast Synapse Gaming PC.
It houses a 12th-generation Intel i7 CPU combined with the cutting-edge Nvidia RTX 4080 GPU as we suggested above. Alongside this, it has a massive 1TB M.2 NVMe SSD giving you ample room to download the game and enjoy lightning-fast load speeds.