Of all the choices you can make for your new PC, the motherboard can seem like the most opaque. It's certainly one of the least exciting compared with all of the performance promises made by high-speed CPUs, powerful graphics cards, and low-latency memory kits. But without a good motherboard – without the right motherboard – you can face spending far more than you need to, or encounter a missing feature that pulls the rug right out from under you and your system's demands.
Individual motherboards have their own features and selling points, but the main factor to consider when choosing your motherboard is the chipset. It controls what your motherboard comes equipped with, from the number of USB ports it has, to the CPUs it supports. In some cases it means additional cooling, and is often a factor in build quality and overclocking stability, too.
With each generation of CPUs often having two or more chipsets to pick from, choosing the right motherboard can be a little confusing. That's where a chipset buying guide such as this can make all the difference.
Socket compatibility
One universal rule of motherboards and their chipsets, is that they only support, at most, a handful of CPU generations depending on the socket used. Some expand their support via BIOS updates, while others are limited to just one generation. This guide addresses chipsets from the latest two generations of desktop processors and sockets from both AMD and Intel. That includes Coffee Lake (LGA 1151) and Comet Lake (LGA 1200), for Intel, and Ryzen 2000 series (AM4) and Ryzen 3000 series (AM4) for AMD.
We'll also look at the latest generation of high-end desktop (HEDT) processors and their chipsets from both companies.
Intel chipsets
Ninth-generation CPUs: 300 series
Although Intel debuted a new 10th generation of Comet Lake processors in April 2020, there are still a number of reasons you might opt for a ninth-generation CPU instead, from price, to features. Since these two processor generations use different sockets, though, going ninth-generation means a different choice of chipsets.
There are a bewildering number of chipset options for the ninth-generation processors, from the lowly H310, right through B360, B365, H370, Q370, Z370, and Z390, all with different market targets, features, capabilities, and prices.
To keep things simple though, we're going to focus on the ones that Chillblast offers to its customers, as they offer the best mix of features on the motherboards they're fitted to, and at the most budget-friendly range of prices. They are the B365, and Z390.
The B365
The B365 is a more entry-level chipset, but it is a major leap from the B360 that was considered just one step below it, and shares many features with much more capable chipsets that are typically far more costly. It offers full support for Intel's Optane Memory, and 20 PCIExpress lanes for a multitude of storage options. It doesn't support the faster USB 3.2 Gen 2 ports, but does still offer 3.2 Gen 1 speeds across its faster ports.
What the B365 can't do, though, is overclock. If you don't plan to do that yourself, or don't want Chillblast to do it for you, this can lead to some noticeable savings over the more expensive Z390 platform.
The Z390
It's not just overclocking that sets the Z390 chipset apart, though. It also comes in a much broader array of options when building a Chillblast PC. There are a wider variety of brands and form-factors available, including both M-ATX and standard ATX. Being more of a premium chipset, it tends to come with far greater cooling, higher-quality components, better support for multiple graphics cards, and a greater array of high-speed USB ports, too.
In short, if you're building a high-speed gaming PC and want the most from your new system, a Z390 motherboard is well suited to your needs. If you're putting together something more modest, smaller, quieter, and want to make some slight savings along the way, a B365 board is worth considering instead.
10th-generation CPUs: 400 series
Comet Lake CPUs utilise the new LGA 1200 socket design and therefore require a new generation of motherboard to support them. The 400 series builds off of the successes of the 300 series with a handful of new chipsets: Z490, H470, B460, and H410.
The Z490
The Z490 is the flagship design of the series and offers the most features and highest quality components, but at a premium price tag. It offers full overclocking support for compatible K-series Comet Lake processors, as well as two-way SLI and Crossfire support for multi-GPU benchmarking and gaming. These features alone make it the best choice for those wanting a high-powered gaming machine. It's less important, however, if you want to merely take advantage of Comet Lake's broader support for hyperthreading for better multi-threading performance, in which case you may want to consider the alternatives.
Alongside its performance-focused features, the Z490 chipset and its compatible boards also supports the greatest number of high-speed USB ports of its chipset generation, and can have full support for Wi-Fi 6. The H470 chipset comes pretty close in terms of ports and feature support, with just four fewer PCIExpress lanes, and two fewer USB 3.2 Gen 2 and 3.2 Gen 1 ports. It also maintains the wireless capability in motherboards that choose to support it, but does lose overclocking potential.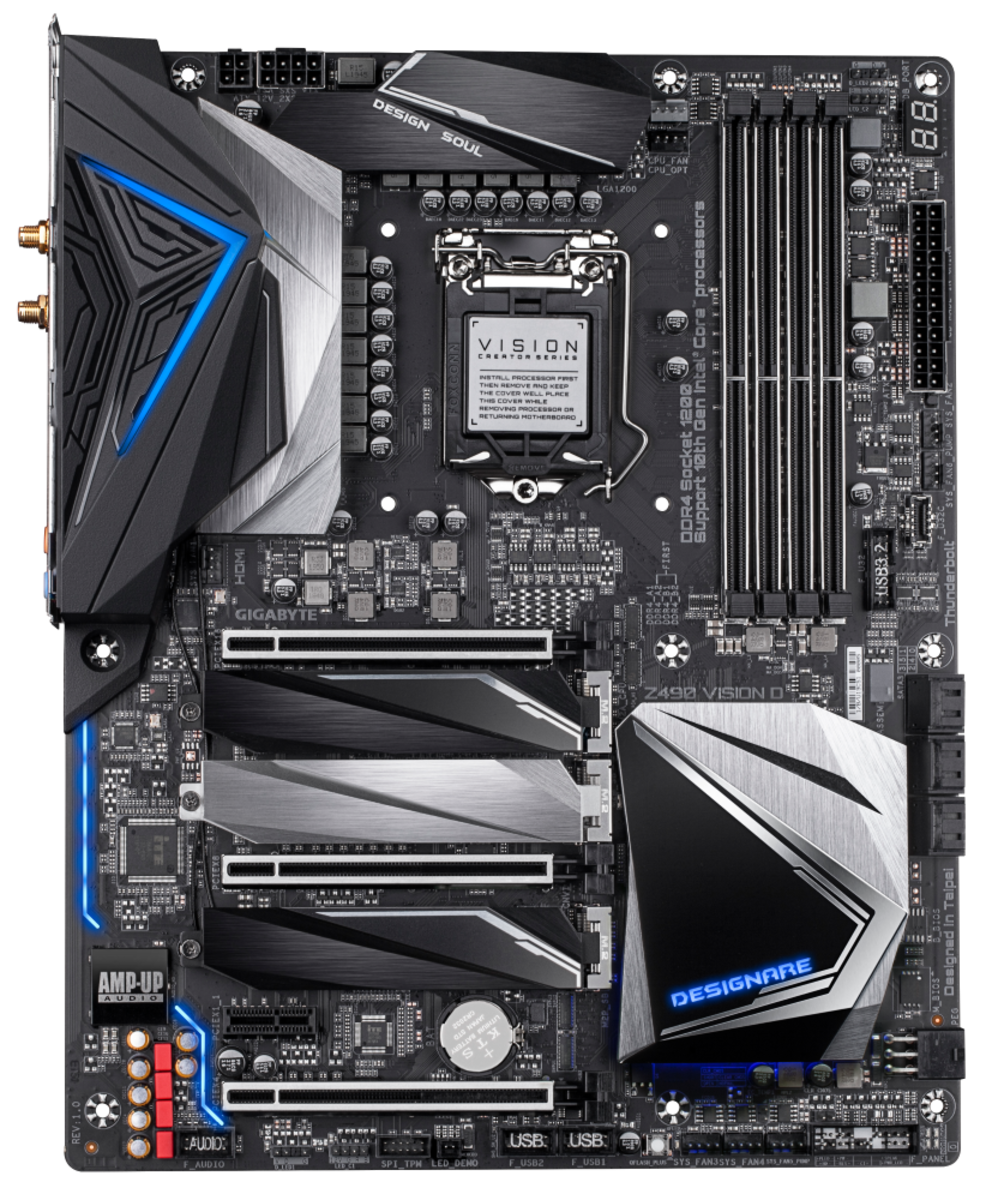 Other Options
Although it depends on the motherboard, H470, B460, and even H410 boards can handle multiple AMD graphics cards, but you will be constrained by limited PCIExpress lanes in most cases – especially as all Intel 400-series boards operate on PCIExpress 3.0. That said, some have support for PCIExpress 4.0 that will be made available by future generation processors that also support it.
As with the 300 series, the flagship Z490 is the best when it comes to raw performance, giving you the opportunity to overclock your CPU for its maximum potential, as well as sporting the greatest number of high-speed connections, both physical and wireless. H470 is worth considering if overclocking isn't your bag, and B460 can save you some money if you don't mind sacrificing wireless and port options.
The H410 chipset, on the other hand, makes serious sacrifices on memory channels, display options, and PCIExpress lanes and should only be considered for minimal HTPCs and low-grade business devices.
10th-generation X series CPUs: X200 series
Aimed at professional users rather than gamers, the 10th-generation of Intel's X series processors offer up to 18 cores at well over 4.0GHz, and needs a meaty chipset to handle all of their processing capabilities. There's only one viable option for those wanting to take advantage of these high-end CPUs, and that's the X299.
Alongside the CPUs' 44 PCIExpress lanes, it adds an additional 24 of its own, and up to eight SATA III connections, for a monstrous amount of storage potential. It doesn't have the modern USB 3.2 Gen 1 or Gen 2 support of Intel's 300 and 400 series, as it's based on older technology, but it can support up to 10 USB 3.0 connections on the right motherboards.
It also enjoys support for great features like Intel's Optane Memory standard, as well as its Rapid Storage Technology, granting a variety of configurable options when it comes to large scale, high-speed storage on this HEDT platform.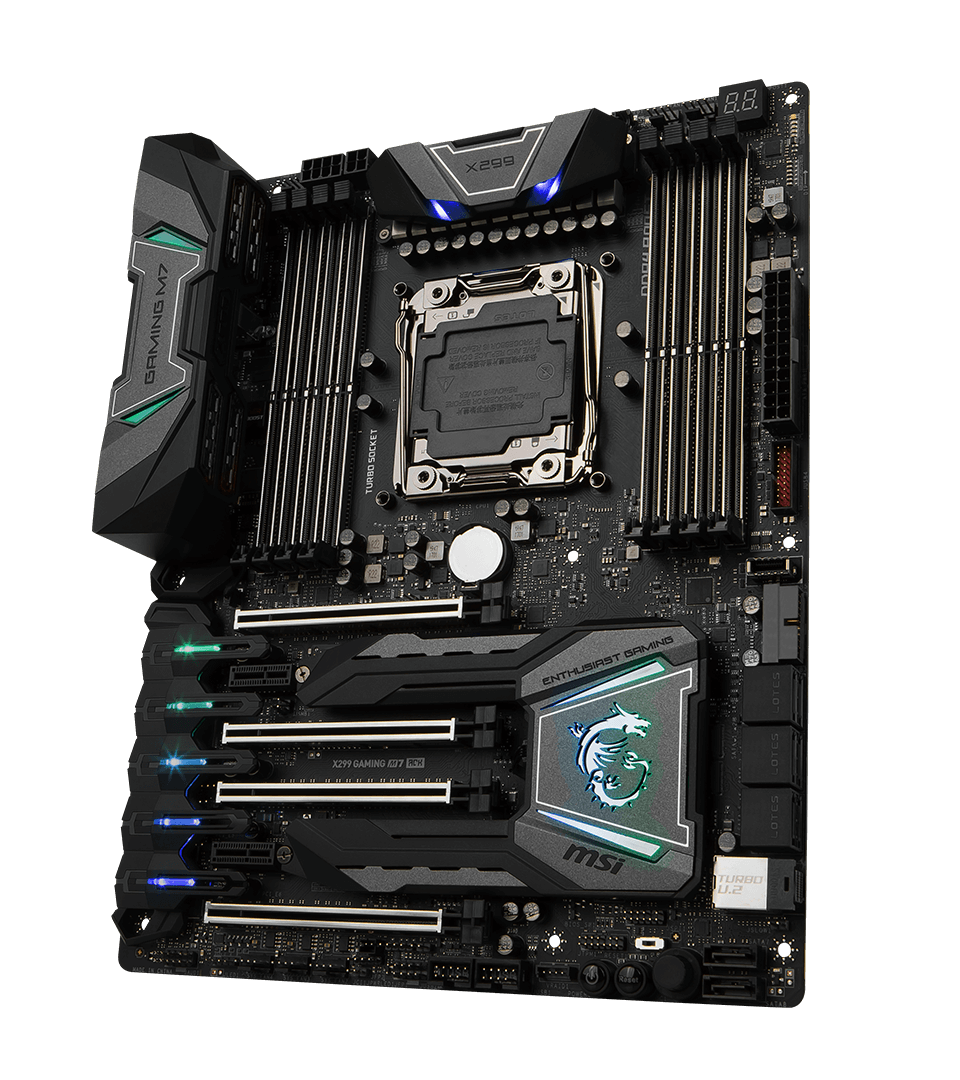 AMD chipsets
400 series
Ryzen 2000 CPUs and Ryzen 3000 APUs are both based on the Zen+ architecture and were designed with the AMD 400-series chipset in mind. This has nothing to do with Intel's own 400-series and is merely a game of one-upmanship, as it launched at a time where Intel's flagship chipsets were based on the 300 series. Fortunately, AMD's 400 series uses different lettering prefixes to differentiate them.
It also has far fewer chipsets to pick from: the B450 and X470. That makes for clearer definition between supporting motherboards and therefore an easier purchasing decision.
The X470 was the flagship AMD chipset when it debuted in March 2018 and offered eight PCIExpress 3.0 lanes, full support for multiple graphics cards in both SLI and Crossfire configurations, and a greater number of USB 3.2 Gen 1 ports. X470 boards tend to have higher quality VRMs for overclocking (although all AMD 400 series motherboards support it), better cooling, and higher quality components.
B450 boards, besides being a little cheaper and targeting more mainstream gamers and workers, drops SLI support, and doesn't have quite as many PCIExpress lanes and USB ports. B450 boards do tend to be built with lower quality components, and though the chipset supports both manual and AMD's own overclocking, you're likely to get better support and stability from higher-tier motherboards using the Z470 chipset.
Future-Proofing
Both the B450 and Z470 chipsets support first-generation, Zen-based Ryzen 1000 CPUs as well as Zen+ Ryzen 2000 chips. Many of them also support the latest Ryzen 3000, Zen 2 CPUs, although that is dependent on a BIOS update and very much depends on whether the manufacturer supports it or not. It's certainly important to check whether your Ryzen 3000 CPU is supported by your chosen B450 motherboard – although if you buy this combination of processor and board from Chillblast, we would confirm that for you before purchase and if necessary, make a recommendation for a different board.
AMD has also promised that with select manufacturer backing, it will provide support for its future Ryzen 4000 Zen 3 CPUs on B450 and Z470 equipped motherboards. This is far from guaranteed, as it will depend on the demands of those processors and whether the motherboards can handle the requirements for power delivery. It's possible that even if they do support the new generation, it will only be the most modest of the processors.
With that in mind, if you want greater future proofing and compatibility, the 500-series is more robust in that sense, but the 400 series may remain compatible for at least one more generation of CPU with the more capable motherboards of that generation.
500 Series
Launched alongside its new-generation, Zen 2 Ryzen 3000 desktop CPUs, AMD's 500 series debuted with the X570 chipset and was expanded just shy of a year later, with the B550 mid-range alternative. Both chipsets offer full support for Ryzen 3000 CPUs and future Zen 3, Ryzen 4000 processors, though only the X570 can support the last-generation Zen+ CPUs and APUs.
Like the 400 series, the flagship X570 chipset offers better support for faster USB ports (eight USB 3.2 Gen 2 vs just two) and up to 12 SATA III ports, versus just four on the B550. It also supports SLI and Crossfire, where the B550 only supports the AMD solution.
Alongside the typical use of more premium components in their construction, X570 motherboards also offer an additional 16 PCIExpress 4.0 lanes. While B550 boards will offer PCIExpress 4.0 support through a Zen 2 CPU, it is restricted to just six additional PCIExpress 3.0 lanes from the chipset. PCIE 4.0 is mainly used for high-speed storage at this time, and unless you're using a lot of it, you're unlikely to saturate a Zen 2 CPU's available lanes. If you want maximum PCIExpress bandwidth though, the X570 platform offers a lot more of it.
Consider Your Cooling
The X570 has additional demands of its own to consider, too. Due to its use of PCIExpress lanes, the x570 chipset has a TDP as high as 11w; more than double that of the B550 and all other recent generations of AMD chipset. That means that it typically requires active cooling in the form of a small fan. That can lead to increased noise levels in some designs. That's why Chillblast makes sure that all X570 system builds include excellent system airflow to guarantee low temperatures and noise levels, even during heavy use.
Whether you opt for a B550 or X570 motherboard, each are available in various form factors, including Micro-ATX and full-size ATX, and come in a broad array of styles and features. Some support Wi-Fi 5 and 6 out of the box, while others don't, so check their feature lists before choosing, or ask one of Chillblast's highly skilled system builders for advice.
Threadripper
AMD's high-end desktop platform has been one of the most exciting in recent years, going from a maximum of just 16 cores at up to 4.0GHz in 2017, to as many as 64 cores on a single chip in 2019, at even higher frequencies.
First and second-generation Threadripper CPUs utilized the X399 chipset for their TR4 socket. That was originally intended to handle the third generation Ryzen 3000 Threadripper generation too, but ultimately it had to dropped in favour of the new-generation TRX40 chipset platform. While that was a shame for those on existing Threadripper hardware, the potential uplift in performance is staggering and well worth considering if your software can make use of all the additional cores and threads that it makes available.
It offers an additional eight PCIExpress 4.0 lanes, full support for Crossfire and SLI multi-GPU configurations, up to 12 USB 3.2 Gen 2 ports, alongside full overclocking functionality. With a 15w TDP it demands active cooling of its own, so adequate system ventilation is a must to keep noise levels and temperatures low.
Conclusion
Picking the right processor, graphics card, storage drives, and memory for your new PC are all massively important considerations. Picking the right motherboard is what underpins all of them though. Without the right one, it can lock you out of next-generation upgrades, or even worse, performance and features in the here and now.
If this guide has made you curious about any of the chipsets and platforms discussed and you'd like to know more about what would be best for your new system, whatever you want to do with it, don't hesitate to get in touch with Chillblast. Our highly skilled and experienced system builders will walk you through everything you need to know about what would be best for your PC. We won't up sell, and we won't sugar coat it. You'll get exactly what you need (and a little extra for future proofing) to make sure to give you that new PC experience you've been waiting for.