The settings in Valorant play a huge part in the performance of both the game and the player. This article will help guide you through the main settings. We'll also offer some advice on the type of specification you'll need to become a competitive player in one of the most popular Esports titles in the world.
In this guide:
Esports Growth & Potential
If you are planning on forging a career in Esports, with Valorant specifically, then 2022 might very well be the best year to start.
There are hundreds of tournaments and leagues planned this year. With so many open tournaments, anyone who wants to become a pro gamer now has that opportunity. The entire industry – Esports in particular – is in a constant growth phase.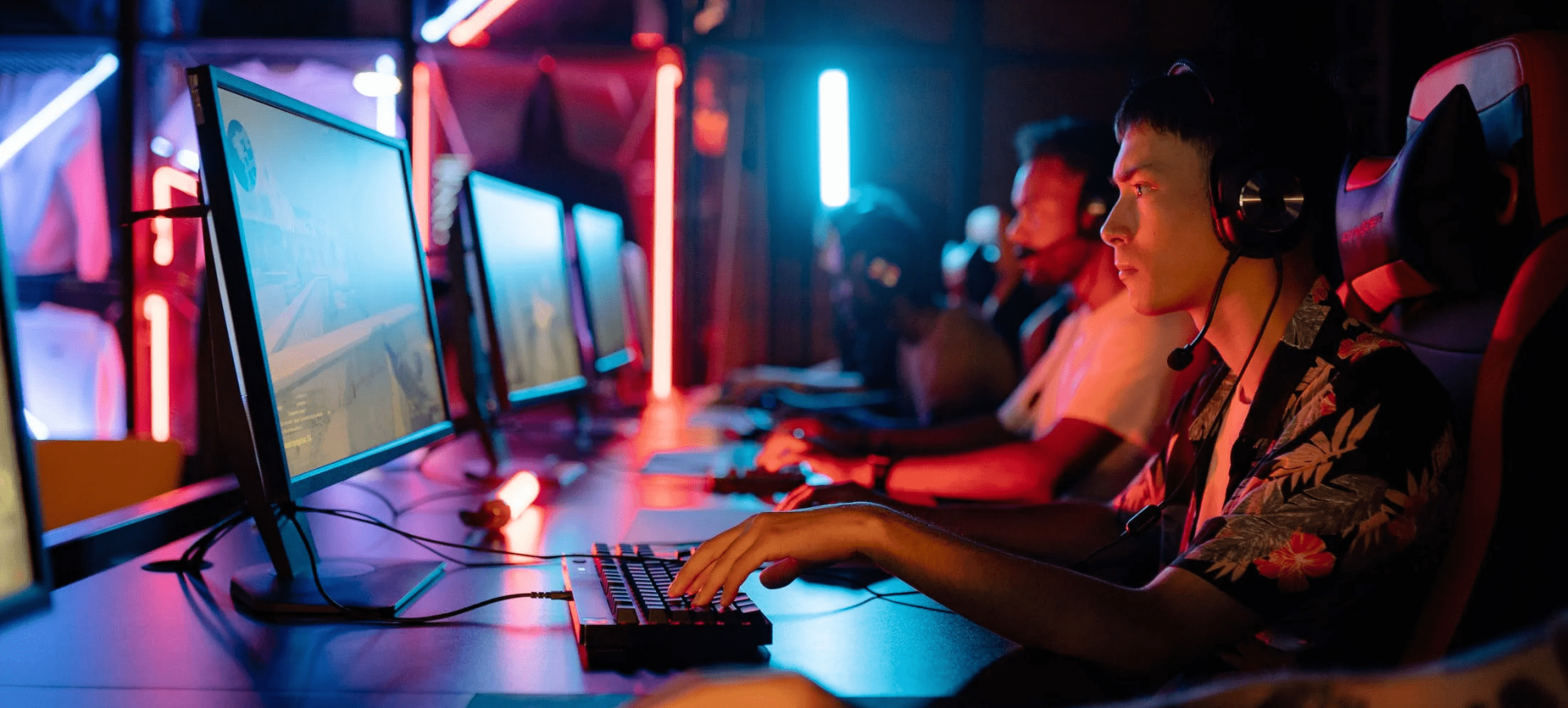 The top ten teams playing Valorant in tournaments and events have earned an accumulated total of over $3 million USD, and the total money awarded in competitions such as Valorant Champions, VCT (Valorant Champions Tour), and VRL (Valorant Regional Leagues) is over $12 million USD.
Esports prize pools are getting bigger, and teams are constantly progressing in skill level, with their own academies and coaches to scout, train and enhance the performance of up and coming gaming athletes.
Esports by the numbers
There will be an estimated 29.6 million monthly Esports viewers in the US alone this year, per Insider Intelligence data – an 11.5% growth over 2021. Globally, Esports will generate $2 billion in revenue in 2022 according to experts, and is seeing exponential growth.
A good indicator of this is Formula 1. Viewership of the real-life F1 Grand Prix in 2021 was 70.3m globally, and the 2021 F1 Esports Series presented by Aramco achieved over 23 million views. This is extremely impressive in terms of growth, and records continue to be broken year on year across the entire gamut of Esports genres.
If you want to become a pro Esports gamer, then you have a mountain to climb. Of course, you need to have the skillset to achieve at the higher levels, but there are lots of other qualities you'll need. Determination, a cool head, dedication and focus are equally as important as speed on your MnK, or how fast you can operate a controller.
There are foundations that must be laid first, and that's what we're going to be discussing in this article. We will focus on what is probably the most basic aspect of levelling up – your Valorant game settings.
Why Do I Need The Best Settings In Valorant?
With each new update from Riot Games, Valorant has increased in performance. A lightweight game to start with, it can be played on many older machines, but is absolutely best experienced on a powerful PC.
When it comes to rendering speed, crisp visuals and top-end framerates, there's no room for error in competitive gaming, which is why no pro gamer is using integrated graphics – even though could run a potato quality version of Valorant on it!
Optimise hardware + optimise Valorant settings
Using a lower specification machine and optimising high-performance graphics are two completely different things, producing polar opposite results. As you can see from the screenshot below, the first thing you'll notice is that there is a serious issue with ghosting and frame drops when using a lower spec machine with integrated graphics.
Good luck shooting an opponent when you have double vision: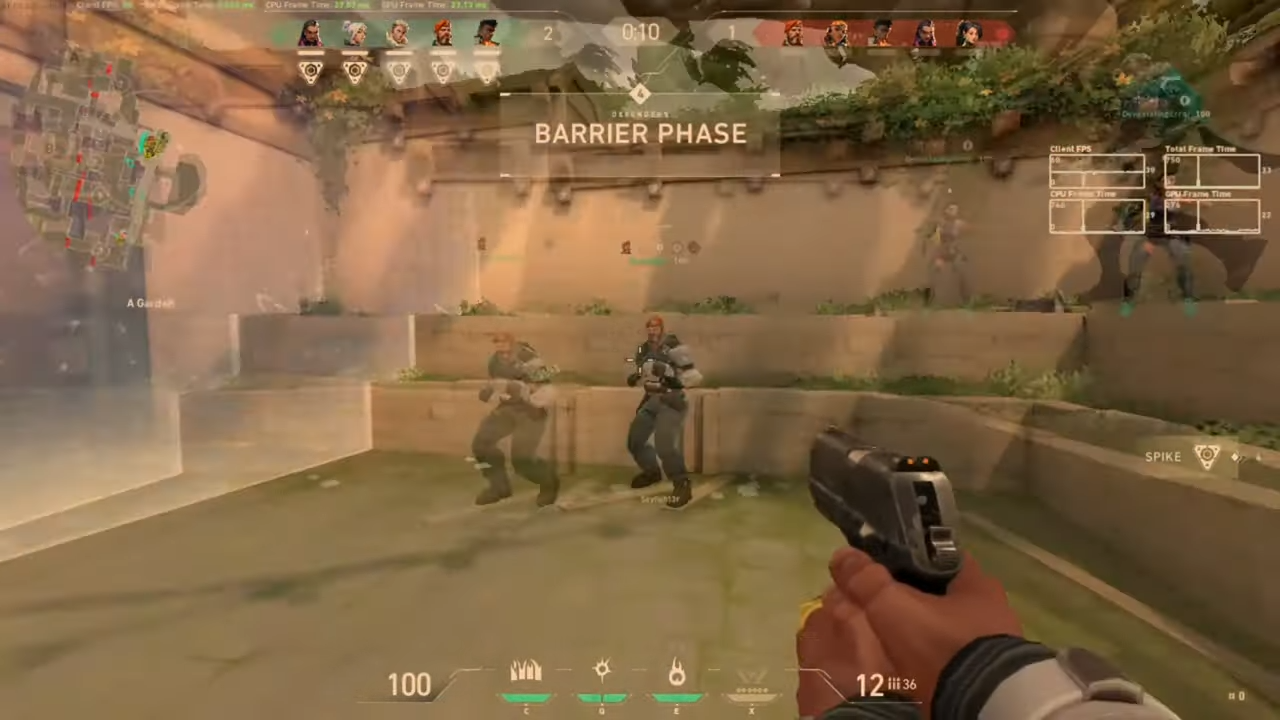 Whereas using a higher specification gaming PC, and tweaking for visual and framerate optimisation, using the best Valorant settings in-game produces the following results: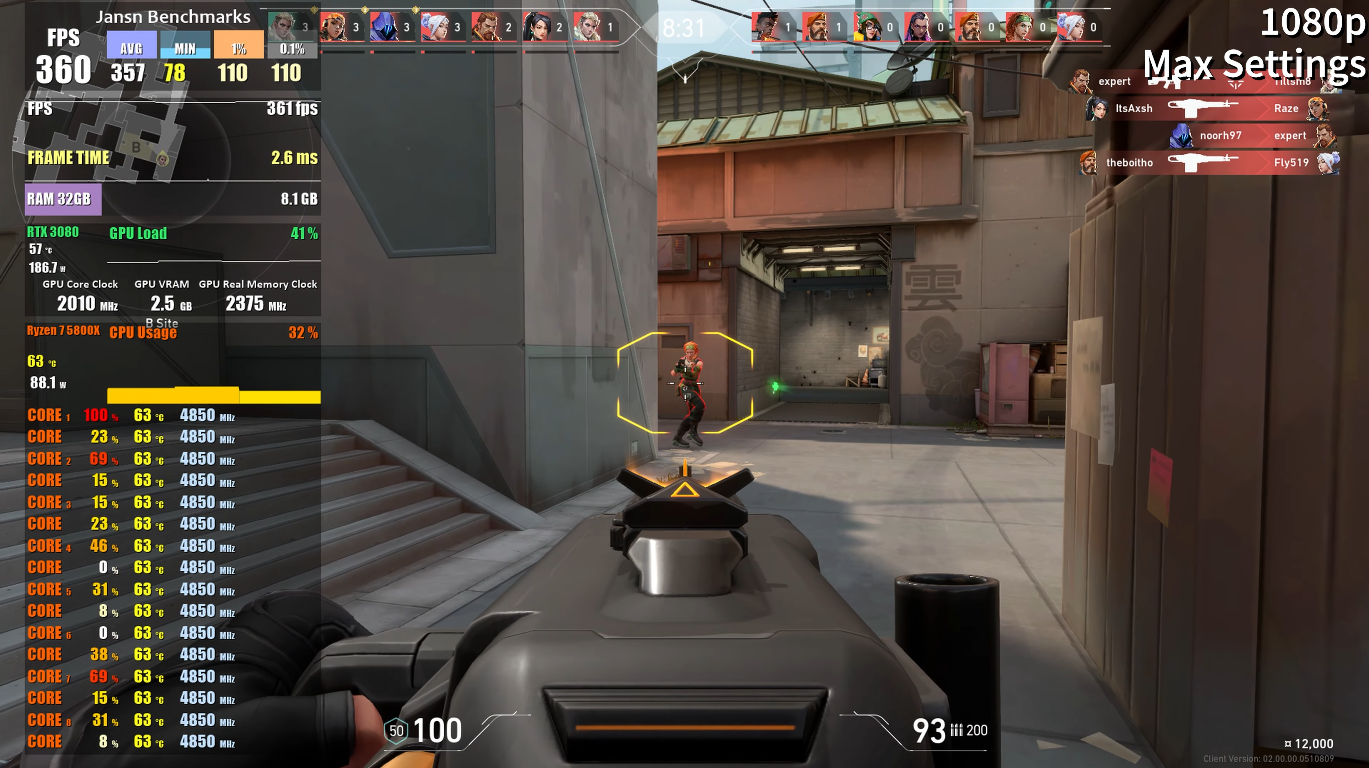 The second image above is from a PC running an RTX 3080 and an AMD Ryzen 7 5800X, with 32GB RAM. The specification produces crisp & clear visuals at long distances and framerates of over 300FPS at 1080p/HIGH.
As with most games, there is still plenty of room for improving performance, even if you are running Valorant on an RTX 3060 Ti battlestation. Tweaking and optimising game settings allows you to pinch an advantage over other players, and customising your settings specifically for your hardware and playing style is critical.
In a clutch 1v5 play, you will need all the advantages you can muster, regardless of spec.
Best PC For Valorant
To hit the kind of framerates that will enable you to play competitively in Valorant, you will need a minimum specification as outlined below. There is no need to go overkill with PC spec. You could start seeing diminishing returns once you hit peak framerates, and it won't matter how much money you throw at it – your settings will not get any better.
1080p 240Hz monitor
Let's start with the monitor. One of the most popular monitors among pro players (Gambit, KRÜ, Team Secret, 100 Thieves etc.) is the BenQ Zowie XL2546K. This Full HD monitor is capable of delivering 240FPS (240Hz Refresh Rate) and includes an ingenious feature called DyAc+, which is often applauded as being the best blur reduction technology available.
Pro Valorant players use this BenQ Zowie monitor to ensure they see a constantly high framerate with no blur or ghosting during fast-paced movement and combat.
Best PC specification for Valorant
The sweetspot in gaming used to be 60FPS. This was the benchmark before Esports really took off, and now we have moved on. Right now, for competitive play, you need to be aiming for 144FPS at a minimum, but ideally 240FPS to be in line with the professionals.
There are numerous graphics cards that can rock up with 240FPS on tournament day, starting with the RTX 2080 Super, but the sweet spot is found with the RTX 3060 / RTX 3060 Ti.
RTX 3060 – risk of overkill?
To the untrained eye, the RTX 3060 may be considered as overkill when it comes to games like Valorant, but the benefits are numerous when you have this kind of rendering power.
With an RTX 3060, you are able to –
…play at maximum and optimised settings at 240FPS
…simultaneously stream your gameplay on Twitch/YouTube
…record in-game footage
…edit high definition footage of your gameplay for upload
…simultaneously run other demanding applications
For the above (and many other situations) the RTX 3060 is not overkill, it is necessary.
Multi-tasking = 12th-Gen Alder Lake
There's no question when you take a look at the Alder Lake processors from Intel, they deliver performance in spades. If you need reliable power and you require near-instantaneous responsivity from a processor in your gaming, the Core i5 and Core i7 12th-Gen CPUs are the way forward.
The Alder Lake processors are designed for the demands of modern gamers and creators, with excellent performance in video editing, streaming and multi-tasking for extended periods. Whether it's a marathon gaming session on Twitch, or a 4K montage, Alder Lake delivers.
Recommended Valorant Specifications

"The Choice of Champions"
Chillblast Fnatic Strike Specification
Exclusive Fnatic Customised Case Livery
CPU: Intel Core i5-12400F
GPU: NVIDIA RTX 3060 12GB
RAM: 16GB 3200Mhz Corsair Vengeance RGB
Motherboard: Gigabyte B660M DS3H AX D4
CPU Cooler: Fractal Lumen RGB 240mm
Case: Game Max Commando M-ATX
PSU: Corsair RM650 80 Plus Gold 650W
M.2: 1TB Samsung 970 EVO PLUS
Connectivity: 2.5Gb Ethernet, Wi-Fi 6E AX211, Bluetooth 5.2
The benchmark dominating 12th-Gen Alder Lake processor and framerate-chewing RTX 3060 handles competitive gaming without ever breaking a sweat. Designed alongside the expert eye of Fnatic team specifically for competitive gaming, the Chillblast Fnatic Strike enables you to walk all over your opponents and smash triple-digit framerates with ease.

Chillblast Fnatic Champion Specification
Exclusive Fnatic Customised Case Livery
CPU: Intel Core i7-12700k
GPU: Nvidia RTX 3070 Ti 8GB
RAM: 32GB 3200Mhz Corsair Vengeance RGB
Motherboard: ASUS TUF GAMING Z690-PLUS WIFI D4
CPU Cooler: Fractal Lumen RGB 240mm
Case: Fractal Design Define 7 Compact
PSU: Fractal Design ION Gold 850W
M.2: 2TB Seagate Firecuda 520 M.2
Connectivity: 2.5Gb Ethernet, Wi-Fi 6, Bluetooth 5.2
The Chillblast Fnatic Champion delivers a tsunami of power in competitive, Esports and AAA titles. The critically acclaimed RTX 3070 Ti ensures highly detailed visuals regardless of how much action you are fighting through on screen.
The multi-tasking master – the Core i7-12700K – offers high-end performance in any competitive or Esports scenario, and easily handles the most demanding AAA titles at 1440p and 4K resolutions. No matter whether you are creating, video editing or streaming at high resolution, the Chillblast Fnatic Champion has got your back.
Best Valorant Settings – General
Once you have a PC specification similar to the above and you're ready to compete, you need to tweak to get the best Valorant settings and get the most out of your rig.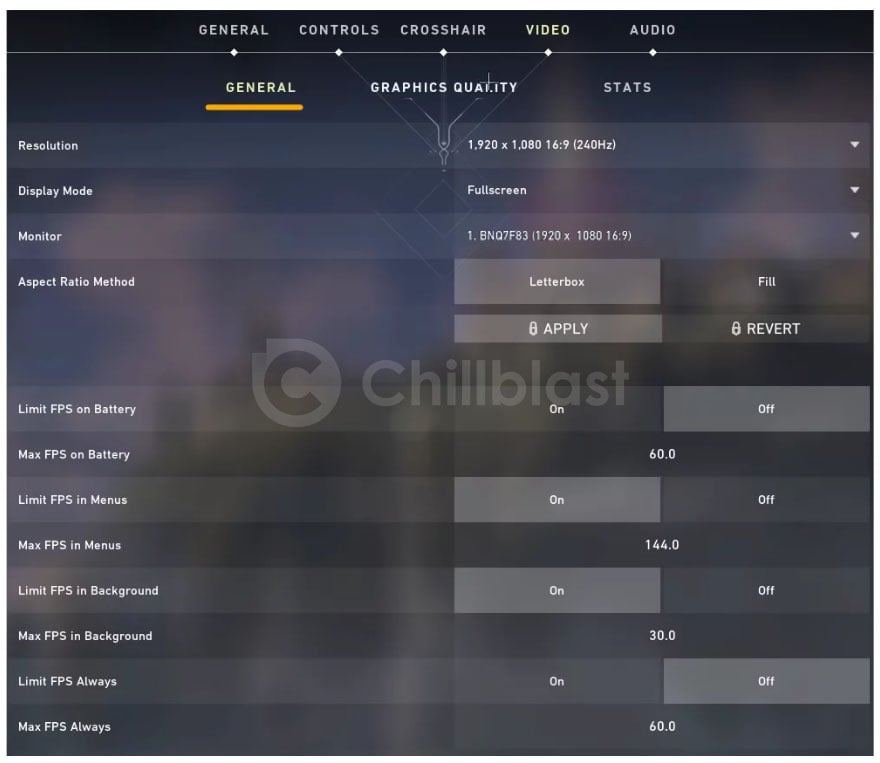 Resolution: Set to Native
It's always best to play Valorant using the native resolution of your display (1920×1080, 2560×1440 etc.)
Display Mode: Fullscreen
Set to "Full Screen" for the highest FPS in Valorant. Fullscreen enables your PC to prioritize performance over background processes, and this can also be optimised by opening task Manager, right clicking on Valorant, and setting priority to High.
Monitor: Primary
Only worthwile mentioning if you have multiple monitors to choose from. Select your primary monitor.
Aspect Ratio Method: 4:3 or Letterbox
4:3 aspect ration will stretch some textures, which results in textures of your opponents being stretched, ergo easier to get in your crosshairs and shoot.
Letterbox is used mostly by professionals, and recommended by most Valorant players.
Limit FPS on Battery: OFF
Not applicable on PC, but switch off to avoid any FPS drop.
Max FPS on Battery: Above 60 FPS
Applicable if you use a laptop, but irrelevant for desktop PC gaming.
Limited FPS in Menus: Optional
If you are streaming your gameplay in Valorant, it is helpful to have this setting switched On, for when you ALT+TAB out of the game to chat with your viewers, or doing other tasks. If you won't be switching from your game often, switch Off.
Max FPS in Menu: 30 FPS
A setting that is available to reduce GPU usage during idle time.
Max FPS in Background: 30 FPS
Having 30 FPS maximum framerates ensures you can minimise the game quickly, and reduce the number of frames your GPU is dealing with when you're not actually playing.
Limited FPS Always: Off
Turn this setting Off and framerates will be uncapped in-game.
Max FPS Always: 60 FPS
Mostly for smoother animation in the main menu
Nvidia Relex Low Latency: On
For Nvidia gamers, this setting helps reduce input lag significantly, and will ensure your actions in-game feel accurate and responsive.
Valorant Graphics Quality Settings
These settings will ensure high framerates and optimal performance when you're playing, without reducing the visual quality too much. Below you will find the best Valorant settings for competitive play, regardless of spec.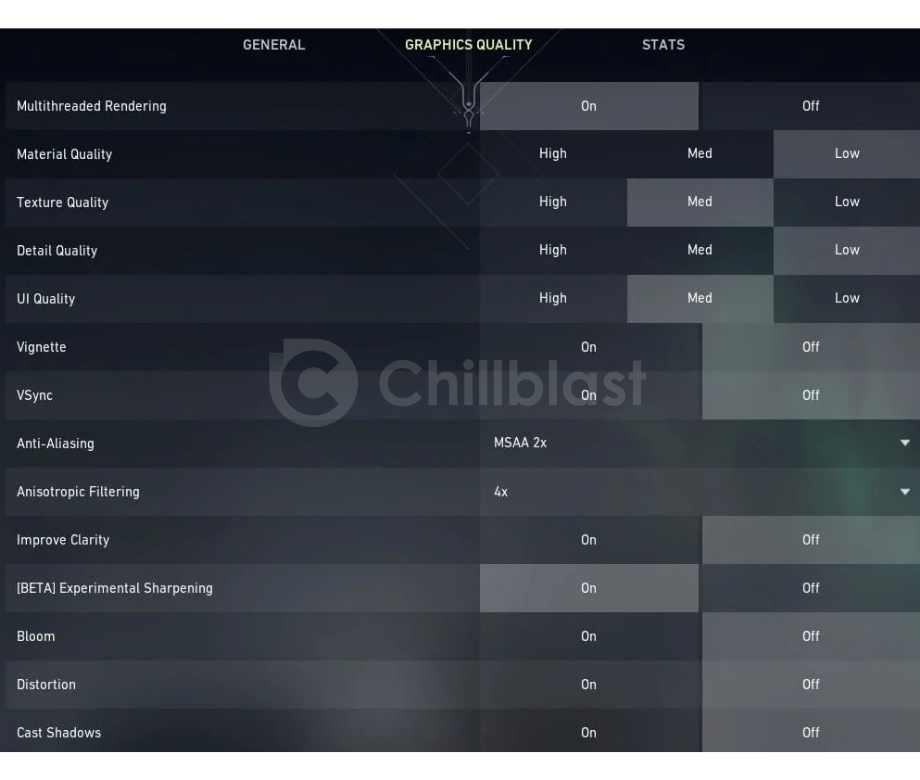 Multi-Threaded Rendering: On
Multi-threaded rendering with a capable processor ensures you are getting the most out of your hardware. This option takes all the CPU rendering work and spreads it across two cores instead of just one. If you are using other applications in the background, you might see worse performance in the visuals, so this is worth noting if you're streaming or recording footage.
Material Quality: Low to Medium
The Low setting will be more for those with lower powered GPUs, but if you have high performance at your fingertips, then Medium material quality will be best.
Texture Quality: Medium to High
Textures are not a significant performance drain in Valorant, and if you have a mid-range or high end PC, you should opt for Medium.
Detail Quality: Low
Removing vines on walls and assets such as foliage in-game can increase FPS, and means there are less distractions in competitive play.
UI Quality: Medium
Does not affect performance greatly. This setting affects on-screen graphics such as player profile images etc.
Vignette: Off
The general consensus is that Vignette offers no benefits nor drawbacks with performance, and you will rarely see it in use in a competitive game, being mainly used for a "cinematic" feel to the game
VSync: Off
With V-Sync off, you may notice the odd screen tear, so you may have to lower your max framerate settings to compensate, but with a high performance monitor like the BenQ 240Hz we mentioned earlier, you won't see any issues up in the high hundreds.
Anti-Aliasing: MSAA X2
Anti-aliasing may affect other games, but in Valorant, this aspect has been optimised very well – so there shouldn't be any problems with MSAA X2 enabled.
Anisotropic Filtering: 2x – 4x or 16x (High-End)
Depending on your specification, this setting will affect the sharpness of textures at angles, but with a powerful PC, 16x will be just fine and not affect any performance criteria.
Improve Clarity: On
Does what it says on the tin.
Bloom: Off
Only for visual effect, and does not impair performance or gameplay by switching off.
Distortion: Off
This is mainly a visual effect (read: distraction), Distortion can be switched off.
Cast Shadows: Off
This setting only affects your character, and could be left switched off.
What's Next?
In our other articles, we're looking at how you can start your Esports career in becoming a professional Valorant player, and what you'll need to hit the higher echelons to join a team. We'll also be looking at how you can improve your performance with more advanced settings such as crosshairs, Windows tweaks for higher FPS, and the settings used by professionals in-game.
Watch this space…
View the Official Range of Fnatic PCs