In this article, we're going to discuss your options for a 13th Gen gaming CPU. But let's not waste too much time getting into the real meat of this article. Raptor Lake represents incredibly good value at mid-tier and the high end for gamers and creators, at a level AMD cannot reach right now.
Granted, things may change, when the great minds get together in the bowels of AMD's Santa Clara HQ, and we just might see some musclebound 3D V-Cache refreshes of high performing AM5 Ryzen 7000 series processors. But for now, folks, it is plain to see that Intel have sewn the market up tighter than the CPU mount crews on an apprentice's first system build.
There is nothing right now that can compete with 13th Gen, and each processor in the stack offers buckets of performance – but with surprisingly good value for money.
What is a gaming PC?
It seems like a silly question, because we all know that a gaming PC includes a high performance processor and graphics card. But, essentially, a gaming PC does so much more these days, and for a broad range of users. Gamers can demand just as much performance from a system as a creator who edits 1080p HD videos, so it is not surprising that Intel and NVIDIA have been doing their level best to meet those demands with next-gen hardware.
It is a streaming PC
Variety gamers now make up a large percentage of the gaming population, with Twitch streamers opting for a multitude of titles to keep their viewers satisfied. A gaming PC also needs to be able to achieve framerates for every type of genre – from gentle RPGs like Stardew Valley to AAA blockbusters like Cyberpunk 2077, and every indie roguelike platformer and driving sim in between.
It is a creator PC
Many gamers enjoy sharing their clips, and with intuitive applications like DaVinci Resolve, dumping your gameplay footage into a video editor and making it look good is easier than ever before. Sharing on YouTube or Twitch is a breeze, and most systems with a decent CPU and graphics card will happily oblige.
It is a simulator PC
If you are a staunch simulator fan, then you will want to be hitting those high framerates and Ray Traced visuals. With the latest processors, flight simulators and driving sims are no problem, as long as you can assist with a heavy duty GPU and a decent amount of RAM.
It is a workhorse
If you want to be able to stream gameplay, edit video clips, multi-task applications and pick up and play any game you like, you want an all-rounder of a gaming PC – one that chugs along quite happily even under the highest workloads – whether productivity or gaming orientated.
It is all of these things
It seems like Intel realised that a gamer is no longer just a gamer. With Alder Lake and Raptor Lake, Intel attempted to tick as many boxes as possible, and most experts would agree – they did it.
The best Raptor Lake CPU for gaming
The Intel Core i5-13600K is a CPU that ticks a lot of boxes, and quite simply, is arguably the best gaming CPU available right now. There are many reasons, which we'll go into briefly, and all of them point to the most important aspects of buying a CPU as a gamer – you want value for money, high performance, and future-proofing for as long as possible.
Value for money
Whilst you wouldn't expect to hear those words in the same sentence as a new;y released Intel processor, that is the reality we are living in. Intel have really zoned in on making Raptor Lake affordable at mid-tier, and just gone crazy for high end gamers.
At the mid range, though, the i5-13600K shines so bright because it has been engineered to squeeze out as many performance and efficiency cores for every penny you spend. Better still, it is priced to rival AMD's 7000 series – which is a real kick in the face for them right now, when they really believed things were looking up in the value for money departments.
The Intel Core i5 13600K is a 14-core processor, with 6x Hyper-Threaded Performance-cores (P-Cores) and 8x Efficient-cores (E-cores), giving you a total of 20 threads. As a step up from the Core i5 12600K, you get four more E-cores, and this affords you significantly higher multithreaded performance.
The specification makes for the perfect partner for any decent NVIDIA RTX graphics card, enabling you to experience the very best performance in any of today's games.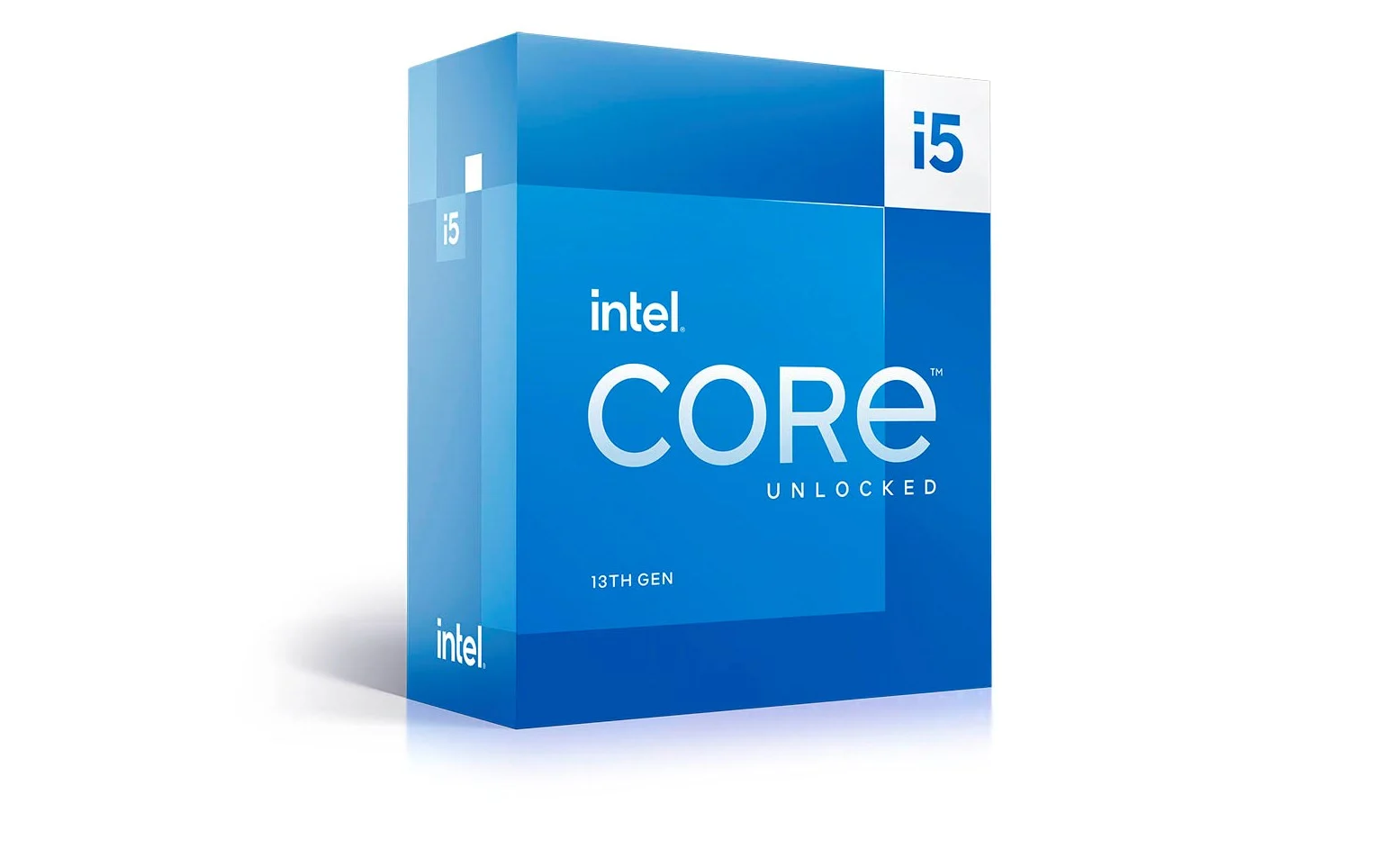 Intel Core i5-13600K Specifications
Cores (P+E): 6+8
Threads: 20
L3 Cache (Smart Cache): 24MB
L2 Cache: 20MB
P-core base frequency (GHz): 3.5
E-core base frequency (GHz): 2.6
Max P-core Turbo frequency (GHz): 5.1
Max E-core Turbo frequency (GHz): 3.9
Unlocked: Yes
Max PCIe lanes: 20
Graphics: UHD Graphics 770
Memory support (up to): DDR5 5600MT/s, DDR4 3200MT/s
Processor Base Power (W): 125
Maximum Turbo Power (W): 181
High Performance
There are many increases in performance in Raptor Lake, and none more apparent than the i5-13600K. Not only are you spending less on this processor, but you're also getting very similar performance when compared with its big brother – the 13900K.
Faster than i7-12700K, Ryzen 7 7700X and Ryzen 9 5950X
Faster than all Ryzen and Alder Lake processors in gaming benchmarks
Performance increase in gaming and productivity
Support for both DDR4 and DDR5 memory
High performance 600 and 700 chipset motherboard compatibility
Unlocked for overclocking
Integrated graphics & high performance encoding over 12600K/12700K
PCIe 5.0 support
For gamers, you can expect silly numbers when it comes to framerates, as you'd expect. If you want to tick the value for money box at the same time as the GPU box, then you'd be hard pressed to find better than the RTX 3070 or RTX 3080. Both of these cards pair beautifully with the i5-13600K, offering you a stack of enviable benchmarks: –
RTX 3080 / 1440p / Ultra Benchmarks
Cyberpunk 2077 – 81 FPS
Elden Ring – 95 FPS
Far Cry 6 – 129 FPS
Forza Horizon 5 – 102 FPS
Watch Dogs: Legion – 80 FPS
It gets better, too. At 4K Ultra settings, you can expect pretty games like Elden Ring to perform at 65 FPS with the RTX 3080, and Red Dead Redemption 2 will top the high 60s. This is no mean feat, and testament to the technology Intel have crammed into the 13th-Gen chips.
The Chillblast Quasar Gaming PC can be customised to include the RTX 3080, and comes with an RTX 3070 as standard, which will achieve incredibly high framerates in the above titles at 1080p. This is an excellent value 13th-Gen gaming PC, with 32GB 3200MHz DDR4 memory and 1TB Samsung SSD storage to round of the spec.
Future-Proofing
With Raptor Lake's feature-set, including headline acts like DDR5 and PCIe 5.0, you are lining yourself up for a very smooth upgrade path for next-gen hardware, and as technologies like DirectStorage 1.1 appear, you are just going to eke out even more performance for your 2022 CPU. As the price of DDR5 evens out, and PCIe 5.0 makes its way into more and more hardware, PC enthusiasts are eager to see the incremental differences of improvements like DirectStorage 1.1. An exciting improvement for gamers, DirectStorage will use Direct3D 12 APIs to enable developers to push faster load times and in-game asset loading times, thus making for a brand new experience in the latest titles. The eventual benchmarks that include a combined effect of all of these technologies is going to be a sight to behold – and Intel's Raptor Lake provides the gateway to them all.
Upgrading components in your LGA1700 motherboard will last you through any 13th-Gen hardware releases, which will only change at Meteor Lake, the 14th-Gen processors expected in 2023 and expected to use a new socket entirely (speculations point to LGA1871).
Summary
Intel set out to dominate the market with Alder Lake, and further cemented their stranglehold on the processor sector with Raptor Lake, leaving AMD with a lot of work to do in the latter stages of 2022, if they have any hope of competing with their AM5 releases. The fact is, right now there is nothing that compares with the performance and efficiency of Raptor Lake. Of all the processors released under this series, the Intel Core i5-13600K stands out head and shoulders above the rest because it hits the mid-tier running, with gaming and productivity features by the boat load.
The Chillblast Quasar Gaming PC is a great example of showcasing the capabilities of 13th-Gen, pairing with an RTX 3070, fast memory and storage. By customising and including an RTX 3080 or even a modest upgrade to the RTX 3070 Ti for less than £50, you are getting serious gaming and creative performance.