Ray tracing might have started out as a niche feature of Nvidia's RTX 2000 graphics cards, but it's quickly evolved to become one of the most exciting visual features of modern gaming.
There is no denying, however, that it is extremely demanding, even with the hardware accelerators in both AMD and Nvidia graphics cards. That means that though there are many cards that can do ray tracing, there are some cards that do it far better than others.
If you want to build a custom gaming PC to play ray traced games, or are looking for a pre-built gaming PC that can handle all the demands of modern ray tracing experiences, here are the best graphics cards for ray tracing you can buy today.
Nvidia RTX 2060
As one of the first generations of ray tracing graphics cards, the Nvidia RTX 2060 remains a great choice for games where ray traced shadows or reflections aren't a major component of the game. Or you just want to see what ray tracing will look like before upgrading to something more capable for higher frame rates.
With its 30 first-generation RT cores, the Nvidia RTX 2060 remains the lowest end graphics card available today which can support ray tracing. And though that does mean it isn't going to be able to make the most of the feature, it does make it a very affordable way to enjoy ray tracing.
Some games, like the indie horror game, Into the Light, aren't hugely demanding, but need a graphics card capable of ray tracing to play them since it's such a major feature of the gameplay. An RTX 2060 makes it possible to play those games without having to pay through the nose to get it.
It also supports deep learning super sampling, albeit with just 240 first-generation Tensor cores. That means that in games that support DLSS and ray tracing, it's possible to get much greater performance from the RTX 2060 than it would otherwise be capable of.
In games without ray tracing, the RTX 2060 is still a very capable graphics card, delivering excellent 1080p performance at higher detail settings, and some 1440p gaming ability if you're willing to lower the detail settings.
Nvidia RTX 3060 Ti
If you want more graphical power than the RTX 2060, the next GPU up the scale worth its salt in ray tracing games is the Nvidia RTX 3060 Ti. Its weaker sibling, the RTX 3060 is a possibility, and certainly a capable ray tracing card in its own right, but the 3060 Ti is a serious upgrade that makes it well worth its added cost over the RTX 2060.
It has more than 1.5 times the CUDA cores of the RTX 2060, and runs at comparable clock speeds, with a third more memory too, making its general gaming performance vastly superior. When you throw in its additional eight RT cores, all of which are second generation and much higher performing in their own right, it is an entirely different animal when it comes to ray tracing performance.
At both 1080p and 1440p, the Nvidia RTX 3060 Ti can beat even last generation powerhouse GPUs like the RTX 2080 Super, meaning you'll be able to enjoy contemporary AAA games with ray tracing enabled at 1080p and a steady 60 FPS with ease. Better yet, its newer Tensor cores also give it excellent performance enhancement with DLSS enabled, so in games that support both RTX technologies, you'll see much more stable, playable frame rates, even if you crank up the detail settings or play at 1440p.
If you can afford the upgrade, this is a much better starting point for a ray tracing gaming PC than its last-generation counterpart, as its performance is much more credible for 2021 and will remain so for much longer than the older RTX 2000 cards.
Nvidia RTX 3070
The RTX 3070 was a landmark graphics card in its generation because it highlighted just how much faster RTX 3000 Ampere GPUs were than their Turing predecessors.
The RTX 3070 eclipses the last-generation flagship, the RTX 2080 Ti in almost all scenarios, and that goes for ray tracing too. It has significantly more CUDA cores than the RTX 3060 Ti too, with a higher boost clock speed, and a greater number of RT cores. Altogether, that makes the RTX 3070 a real 1440p (and even sometimes 4K) gaming graphics card, that can give you stellar ray tracing performance in any modern game.
This card can maintain playable frame rates in any game at 1440p, with all settings at their maximum, with full ray tracing enabled – even in demanding games like Control and Metro Exodus. It won't always be 60 FPS, and indeed that's something you'll need to drop to 1080p for if you want it consistently, but the RTX 3070 can keep things fluid and well in excess of 30 FPS at all times without difficulty.
This is the first card in this list of best ray tracing cards that doesn't ever really struggle with ray tracing the way older and weaker graphics cards do.
If you want a gaming PC with an RTX 3070 built right in, the best way is to use the Chillblast system configurator to add one to your own custom build. Alternatively, Chillblast also has some fantastically capable pre-builds that pack its even-more-capable sibling, the RTX 3070 Ti inside. The Chillblast Fusion Wolf pairs it with a new-generation Intel Core i7-11700K for stellar gaming performance in games with and without ray tracing.
Shop our NEW & IMPROVED Next Day PCs!
Browse our range of recently revamped Next Day PCs. Choose from a selection of high-performance PCs delivered the very next day to get you set up and gaming as soon as possible.

Buy today, play tomorrow.
AMD RX 6800 XT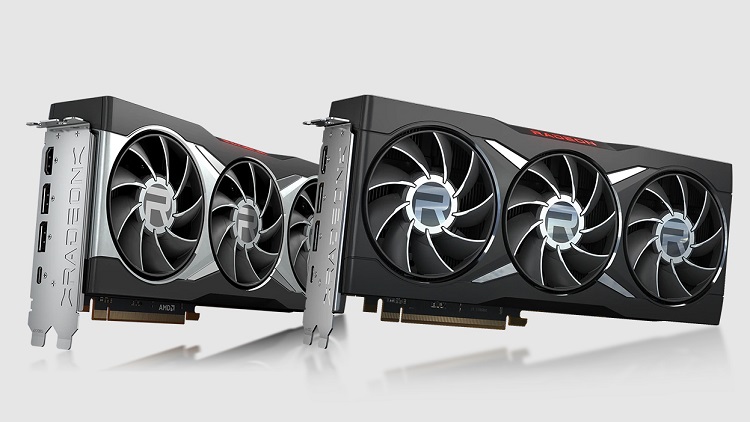 AMD was late to the game with ray tracing supporting hardware, and though all of its new-generation RX 6000-series graphics cards do support it, performance across the board isn't as good as comparably priced Nvidia GPUs.
That said, RX 6000 cards are very powerful GPUs in general, particularly those at the higher end, which makes the RX 6800 XT a great choice for a gaming PC that will play both ray traced, and more traditional games.
The RX 6800 XT is one of the fastest graphics cards ever made, with a huge increase in shading units over any AMD graphics card that came before, and it runs at an extremely high clock speed. It also has 16GB of high-speed memory, all in all making it a great graphics card for gaming at 1440P at very high frame rates, or at 4K, all with settings turned up to their absolute maximum.
Ray tracing does put a serious strain on the 6800 XT, but it shoulders it very well, delivering excellent frame rates at 1440p with ray tracing turned all the way up, and every other setting maxed out. Thanks to its more capable GPU, the 6800 XT tends to deliver comparable frame rates to the RTX 3070 with ray tracing enabled at higher resolutions, though there are some games it performs better, and others it falls behind.
The Best Value AMD GPU
For the price, this is the best AMD graphics card for ray tracing you can buy in 2021, delivering fantastic general gaming performance, and solid ray tracing power when it's needed. You can find it in some of Chillblast's top gaming PCs, and you can play around with adding one of these to your own custom gaming PC with the Chillblast system configurator.
If you want a little help in adding this card to your PC, give our sales line a ring and one of our system building experts will talk you through what we can offer.
RTX 3080
The Nvidia RTX 3080 is arguably the best graphics card for ray tracing available today. It might not be quite the fastest overall, nor the best value for money, but it delivers consistently high performance in games with ray tracing enabled at every resolution and at the highest of detail settings.
It represents a huge increase in performance over any graphics card that came before it, and though the AMD RX 6800 XT can go toe to toe with it in games without ray tracing, it pulls well ahead when it's enabled.
The RTX 3080 has a previously-unhead-of 8,704 shading units, and a boost clock speed in excess of 1.7GHz, giving it absolutely monstrous general gaming performance. With its 10GB of GDDR6X memory, it is able to handle any game at 4K resolution with all of the settings at their maximum, all while delivering fantastically smooth and playable frame rates. It's a true 4K graphics card in every sense.
Turning on ray tracing will cause it to take a hit to frame rates, but not as much as most. With its 68 second-generation RT cores, it offers fantastic performance with ray tracing turned up to its fullest in games like Watch Dogs Legion, Control, and Metro Exodus. You'll need to stick to 1440p if you want to have a near-constant 60 FPS, but 4K is still playable. In games where DLSS is available too, though, a 4K 60 FPS+ ray tracing experience is possible – something that few other GPUs can promise.
The RTX 3080 features in some of the best gaming PCs in the world and for good reason. You'll find it inside the Chillblast Official Williams Esports Ultimate Gaming PC, and the Chillblast Fusion Jumbo Signature Edition Gaming PC, both of which offer fantastic 4K gaming and ray tracing performance.
RX 6900 XT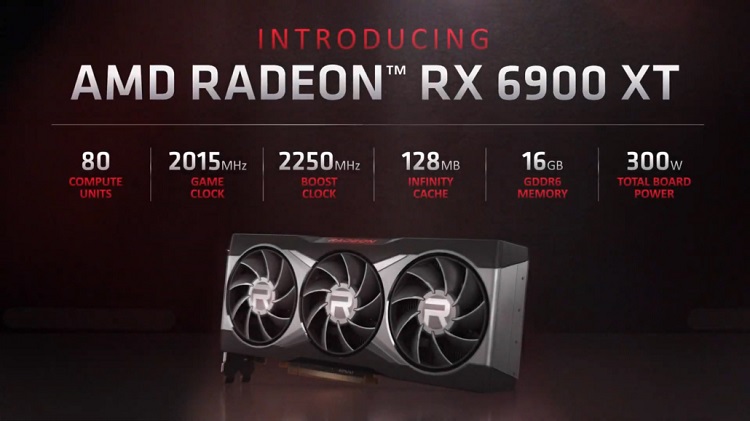 The AMD RX 6900 XT is the fastest and most powerful graphics card AMD has ever made. No matter what game you throw at it, whatever resolution and game setting you want to set it to, it can handle it with ease. It isn't significantly faster than the RX 6800 XT, but it will give you more stable 4K frame rates and will remain a competitive graphics card for longer thanks to its 11 percent greater shader unit count.
When it comes to ray tracing, its additional eight ray accelerators give it a slight edge over its AMD counterparts, making it the most capable ray tracing AMD graphics card. However, while this card can compete with the best Nvidia has to offer in general gaming, ray tracing hits its performance hard enough that it's not competitive with the top Nvidia cards.
If you want the absolute best AMD graphics card available, especially if you play games like Assassin's Creed Valhalla which show significantly greater performance on AMD GPUs, this is the best card for the job. It's also good at ray tracing, but for the ultimate ray tracing performance, Nvidia's cards are just that bit better.
RTX 3080 Ti
A much more impactful upgrade over its namesake than the 3070 Ti, the RTX 3080 Ti is almost the fastest graphics card ever made. Almost.
It takes the already stellar RTX 3080 and throws on an extra 17 percent CUDA cores, and though it has to lower the boost clock speed a little to keep everything working right, the effect is dramatic. This card makes a major leap in overall performance, delivering more stable 4K frame rates and pushing most 1440P games over 100 FPS, even with all the settings maxed out.
When it comes to ray tracing, its additional 12 RT cores help push average frame rates around 10 percent higher, which isn't huge, but in some of the more demanding ray tracing games, like Cyberpunk 2077, Minecraft RTX, and Control, that can make the difference between a steady 60 FPS and an experience that sometimes dips below that. It makes 4K ray tracing that bit more viable, although in AAA games you'll need to use DLSS to get a steady 60 FPS, even with such a powerful graphics card.
If you want more power still, the only other card worth considering is the RTX 3090. However, it is significantly more expensive again, and only offers a few percent points improvements in gaming performance. With only two additional RT cores over the 3080 Ti, it's a much less impressive upgrade.
If you're buying a graphics card for ray tracing gaming, the RTX 3080 Ti offers the closest to peak performance possible while factoring in the costs involved. But, if money is no object, the RTX 3090 does give you that bit more, but it comes at a steep cost.
If you want an RTX 3080 Ti-driven gaming PC, you'll find it in some of Chillblast's most capable next-day gaming PCs, and peak-performance gaming systems, like the Fusion Ryzen 9 5900X Gaming PC.