Microsoft Flight Simulator (the 2020 version) is one of the most demanding PC games ever made. It puts intense stress on both the internal components of your gaming PC and your internet connection, using 10s of megabits per second to stream real-time weather data and cloud processed effects, right into your experience.
Getting it going isn't too difficult, but if you want to have a more realistic flight sim experience and enjoy the game with higher resolution textures and high frame rates, you need something pretty capable.
Chillblast can't do much about improving your internet enough to make the most of the game's cloud connectivity, but we do offer a wide range purpose built flight simulation PCs, and excellent gaming PCs that cater to demands low and high and budgets big and small.
Whether you're looking to just test the skies of Microsoft Flight Simulator, want to make the most realistic flying experience possible in your own home, or just want something somewhere in between that's not too expensive, here are the best gaming PCs for Microsoft Flight Simulator you can buy today.
Microsoft Flight Simulator PC requirements and the best system for each
Minimum Specifications
CPU: AMD Ryzen 3 1200 or Intel Core i5-4460
Graphics: AMD Radeon RX 570, or Nvidia GTX 770
RAM: 8GB
Storage Space: 150GB of hard drive, or SSD space
Bandwidth: 5Mbps
The minimum specifications of Microsoft Flight Simulator are easy to meet.
This will get the game running and guarantee a relatively stable 30 FPS at 1080p with most of the settings at their lowest. It won't look great, but it'll play, and any gaming PC from the past few years will be able to match it with ease.
Better still, absolutely any Chillblast gaming PC with a dedicated graphics card will easily bypass these, so if you don't want to dig into the nitty-gritty, buy whatever Chillblast gaming PC (with a graphics card – that's crucial) you can afford, and you'll be able to enjoy a better-than-minimum spec Microsoft Flight Simulator experience, guaranteed.
Fusion Sentinel – The entry-level Microsoft Flight Simulator PC
The best entry-level gaming PC for the most affordable Microsoft Flight Simulator experience is the Chillblast Fusion Sentinel.
It comes with an Intel Core i5-10400F CPU, with six cores, 12 threads, and a 4.3GHz boost clock. That is many orders of magnitude faster than the AMD Ryzen or Intel CPUs recommended by Microsoft's minimum specs, guaranteeing that not only will the game run, but it'll run well, giving you higher frame rates in those busier city and airport locations.
Paired with the 10400F is the Nvidia GTX 1660 Super 6GB graphics card.
It's a great entry-level GPU with far more power than either the RX 570 or GTX 770 offers. That means that you'll have the option of playing the game at higher frame rates, or with some of the more beautifying details enabled or turned higher.
It's still a 1080p graphics card and you can't expect ultra-high frame rates with a hardware setup like this, but it's still enough to make the game look great.
There's also heaps of SSD storage – more than enough to fully install the game so it loads quickly and benefits from faster loading assets. And there's double the amount of necessary memory, ensuring that background tasks won't slow down your game.
The Chillblast Fusion Sentinel is more than you need to just get the game going: it's what you need to have a great flight sim experience at an affordable price.
Recommended Specifications
CPU: AMD Ryzen 5 1500X or Intel Core i5-8400
Graphics: AMD Radeon RX 590 or Nvidia GTX 970
RAM: 16GB
Storage Space: 150GB of hard drive, or SSD space
Bandwidth: 20Mbps
Microsoft Flight Simulator is part of a crop of modern games that require at least 16GB of RAM for modest settings, and since Chillblast PCs start with 8GB at the low end, you won't be able to get away with just any Chillblast gaming PC to meet these sorts of demands.
Fortunately, CPU and GPU demands aren't too strenuous, though, so most of Chillbast's gaming PCs will handle this without difficulty, especially those making use of the newer generation Nvidia RTX and AMD Radeon RX 6000 graphics cards.
Fusion Crystal Lite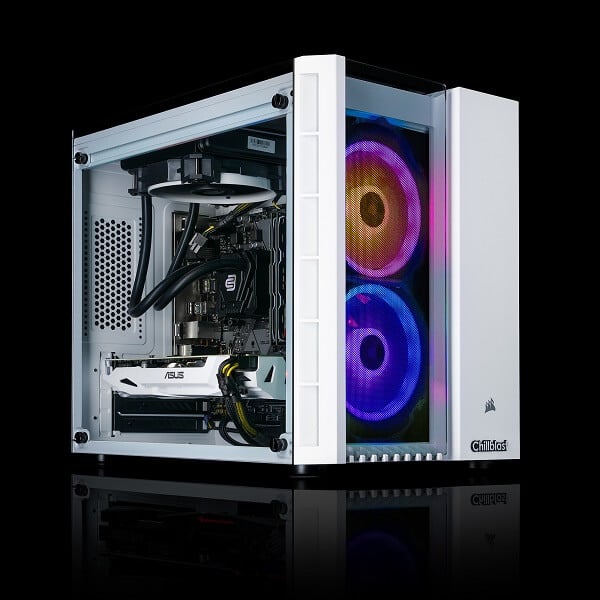 The best Chillblast PC to meet and exceed the recommended specifications for Microsoft Flight Simulator is the Fusion Crystal Lite gaming PC.
It has the same Intel Core i5-10400F as the more affordable Fusion Sentinel, as that's still more than enough to exceed Microsoft's recommendations, but it massively improves GPU power.
Leaping beyond the several-generations old suggestions of the official specifications, this PC packs the ultra-powered Nvidia RTX 3060 graphics card, with a full 12GB of VRAM. That's more than enough to play the game with almost all settings at their fullest, at 1080p, with stable, playable frame rates that ensure a smooth and enjoyable Flight Simulator experience.
Another important feature for future-proofing your experience, is the RTX 3060's support for hardware-accelerated ray tracing, with its RT cores.
Although Flight Simulator 2020 doesn't support ray tracing at this time, it's quite likely that it will in the future, and if you want to be able to enjoy that, even on a basic level, you need a graphics card that can handle it. The Nvidia RTX 3060 is the most affordable, truly ray tracing viable graphics card of its generation, making it a great pick for anyone who wants an excellent Microsoft Flight Simulator game now and in the foreseeable future.
This PC also packs 250GB of high-speed NVMe SSD storage, so the game will load quickly and you can ensure assets will be made available immediately to help reduce pop-in. There's also 16GB of high-speed memory, easily matching the Microsoft recommendations and helping to craft an overall excellent 1080p gaming experience.
"Ideal" Specifications for Microsoft Flight Simulator
CPU: AMD Ryzen 7 2700X or Intel Core i7-9800X
Graphics: AMD Radeon VII or Nvidia RTX 2080
RAM: 32GB
Storage Space: 150GB of SSD space
Bandwidth: 50 Mbps
These "Ideal" specifications are actually a lot lower than we would recommend if you want the absolute maximum performance in Microsoft Flight simulator. The game can certainly make use of far more powerful processors than the AMD Ryzen 2700X or the Nvidia RTX 2080 graphics card.
These specs were released when those sorts of components were cutting edge, however, so it makes sense that Microsoft would prioritise them.
You can exceed them with most mid-range gaming PCs from Chillblast and they will all give you good performance at 1440p, but you can't expect to have everything at ultra settings in 4K. You'll also struggle to find those specific hardware components today, especially the AMD Radeon VII, which hasn't been available for years, and the Nvidia RTX 2080, which has since been replaced by far more capable graphics cards.
Fortunately, there are many great alternatives worth considering.
Chillblast Captain Flight Sim PC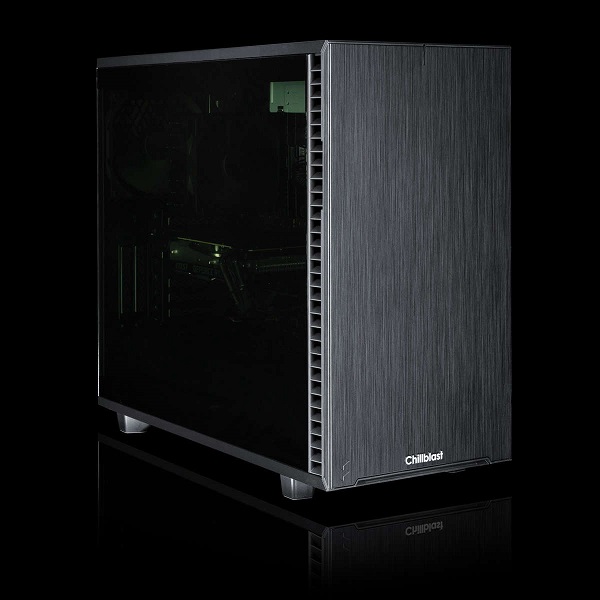 The best gaming PC for high-end gameplay in Microsoft Flight Simulator is the Chillblast Captain Flight Sim PC.
Its Intel Core i7-10700K has eight cores and 16 thread support, with vastly higher clock speeds and gaming performance than either the AMD Ryzen 2700X or the Intel Core i7-9800X Microsoft recommends, helping to handle all of the intense calculations Microsoft Flight Simulator demands.
Paired with that is the stupendously powerful Nvidia RTX 3070, which is not just faster than the two graphics cards Microsoft recommends, it's faster than the GPU one step up from them; the last generation kingpin, the RTX 2080 Ti.
That gives it an absolutely stellar gaming ability that would have been unheard of just over a year ago. It will let you turn up everything to the absolute maximum to make the world look (almost) as good as it possibly can at 1440p, with a stable 30-60FPS.
If you don't mind hovering around, and sometimes below, 30FPS, for a more cinematic gaming experience, it even has enough raw power to render the game at 4K, but you might encounter a little stuttering at times.
Ultimate 4K Specifications
Microsoft doesn't have any higher official specifications for Microsoft Flight simulator, but since some of the best PCs in the world continue to struggle to play it with absolutely everything turned up to the max, you can guarantee that you'll need something truly special to deliver the ultimate 4K gaming experience in this incredibly taxing game.
Fortunately, Chillblast has several such PCs, each of them equipped with high-powered processors and graphics cards, with heaps of high-speed memory, terabytes of ultra-fast SSD storage, and all built inside high-quality cases with excellent cooling.
Fusion Nimbus 5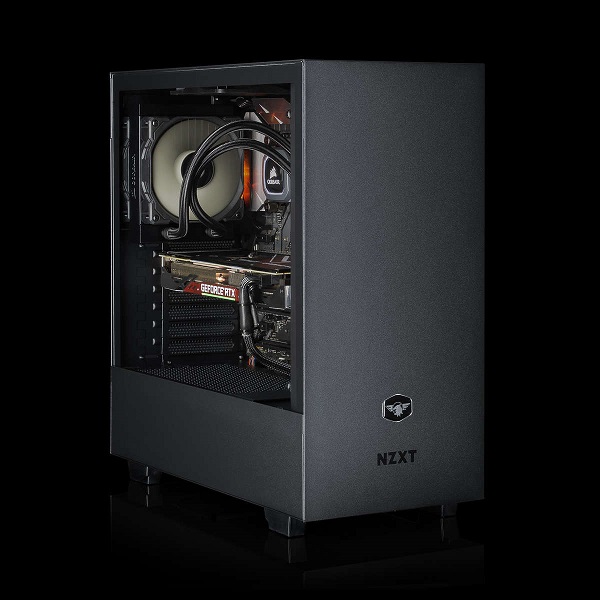 One of Chillblast's top-spec flight sim gaming PCs, is the Fusion Nimbus 5 designed by ProjectFly founder, Matt Davies himself.
It combines an Intel Core i7-10700K, with the incredibly powerful Nvidia RTX 3080, for a near-top-tier gaming performance that is ready to handle anything you throw at it – Microsoft Flight Simulator included.
Together they have all the power you need for a high frame rate 1440p, or comfortable 4K flight sim experience, with all of the settings turned up to ultra. At those sorts of settings, Microsoft Flight Simulator really comes into its own, whatever you're flying.
Fusion Ryzen 9 Gaming PC
That's not the highest spec gaming PC you can buy from Chillblast though, and it's not the most capable flight sim gaming PC either.
For the ultimate 4K experience with the highest settings, the highest frame rates, and the best future-proofing potential against any updates or beatifying features that Microsoft adds in the future, the Chillblast Fusion Ryzen 9 Gaming PC is the system you need.
It packs the vastly more powerful AMD Ryzen 9 5900X processor, with a full 12 Zen 3 cores and support for up to 24 threads. That not only guarantees that you'll have all the CPU power you need to run Microsoft Flight Simulator itself at high settings and frame rates, but it will also be able to handle all of the background tasks your PC is running with ease, ensuring that nothing gets in the way of your game's performance.
Alongside it is 32GB of high-speed, DDR4-3200 memory, and an Nvidia RTX 3080 Ti – the second-fastest graphics card ever made.
While that might seem like you're selling yourself short by not going for the best of the best, the Nvidia RTX 3090 is vastly more expensive than the 3080 Ti, and only offers a couple of extra frames per second at these sorts of maxed-out detail levels.
That's always an option if you want to pay for it – just speak to your Chillblast sales representative to get all the information you need on swapping out the GPU for something higher-spec – but at its base configuration, the Fusion Ryzen 9 Gaming PC is about as good as it gets.
The All-In-One Ultimate Flight Simulator PC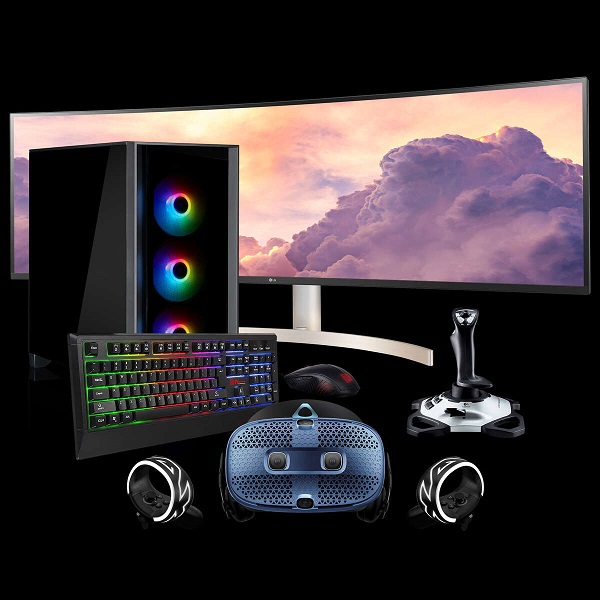 Don't have a monitor, keyboard, mouse, joystick, or a gaming PC? Have you ever wanted to fly planes in virtual reality but didn't have the headset or the PC for the job? Chillblast has a Custom Fusion RTX VR Sim PC bundle that's worth checking out.
It combines the ultra-high-end specifications of Chilblast's top-tier gaming PC (packed with an Intel Core i9-10900K 10-core CPU and an Nvidia RTX 3080) with a set of high-end gaming peripherals that includes a mouse, keyboard, and joystick.
Most crucially, though, it also comes with a 49″ LG 49WL95C-W gaming monitor included, for a massively immersive ultrawide Microsoft Flight Simulator experience.
When you feel like getting really up close and personal with your favourite planes, it also comes with an HTC Vive Cosmos virtual reality headset with motion controllers – one of the best VR systems for enjoying Microsoft Flight Simulator.
This bundle was designed alongside RAF Air Cadets to provide exceptional performance in not just Microsoft Flight Simulator, but also P3D, X-Plane, and Aerofly FS2, ensuring that whatever you want to fly, you'll have all the power you need to enjoy them to their fullest.
The flight stick, VR headset, and immersive, wraparound monitor complete the package and together help create an unparalleled flight sim gaming experience.