Battlefield 2042 is the latest release in the Battlefield series and will be coming out later this year.
As suggested in its title, the game takes place not too far in the future in the year 2042 and features a world tormented by extreme weather conditions and broken alliances. Built in the latest Frostbite engine, Battlefield 2042 is the biggest Battlefield game yet, with chaotic 128-player maps available on current-gen consoles and PC.
There are 3 versions of the game available for pre-order, starting at £49.99 for the standard edition, £79.99 for the gold edition, and ending at £99.99 for the ultimate edition (these are the prices listed on Steam at the time of writing). Those who pre-order will also gain access to the open beta later in the year.
With there not being too long a wait for the game to release, read on to find out everything we know about the game so far.
Shop for a Battlefield 2042 Gaming PC Now!
Browse our range of dedicated Battlefield 2042 gaming PCs and get a copy of the game (plus in-game items) when you purchase a system with an Nvidia RTX 3070 GPU or higher.
What is the Battlefield 2042 release date?
Originally, Battlefield 2042 was set to release on PC on October 22nd 2021. However, after an update from the Battlefield team, the game's release is now being pushed back to November 19th 2021 due to "unforeseen challenges" created by the Covid-19 pandemic. Upon release, it will be available to purchase from Steam, Origin and the Epic Games Store.
It will also release on console on the PS5 and Xbox Series X/S, with both crossplay and cross-progression support in the works.
The older generation of consoles (PS4 and Xbox One) will also receive their own version of Battlefield 2042, but it won't be cross-playable with any other console or PC. This is due to their lack of support for 128-player matches, which instead, are being limited to 64-player matches.
The Open Beta
After waiting patiently for an announcement, the Battlefield 2042 open beta dates have finally been confirmed by Electronic Arts.
The open beta will begin on all platforms on October 8th and the early access beta will begin 2 days earlier on October 6th for players who preordered the game or are members of EA Play. It will come to an end on October 10th.
In the beta, players will have access to the 4 Specialists mentioned later in the article and will get to play the 128-player Conquest mode on the map, Orbital.
These are the specs you'll need to play: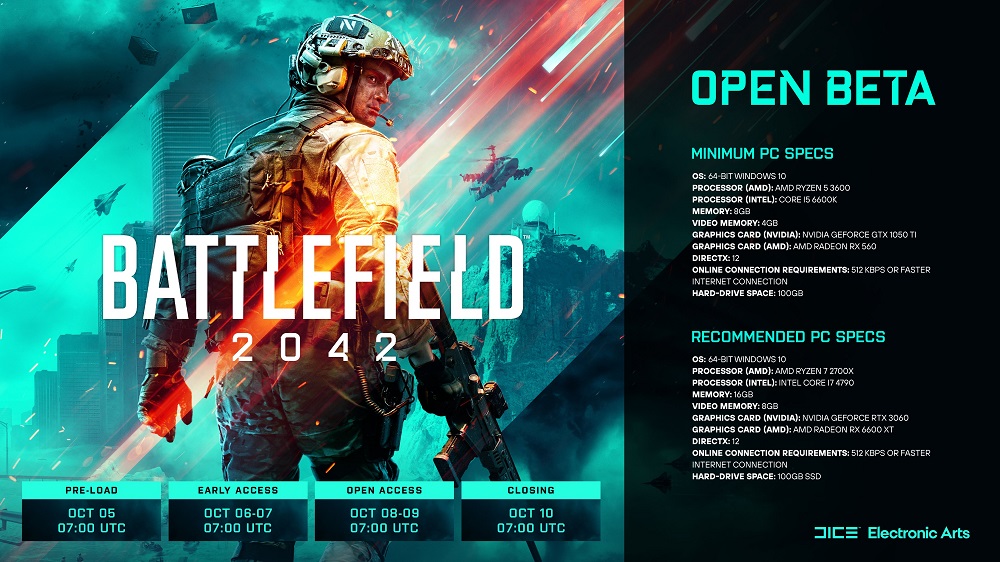 Battlefield 2042 Minimum and Recommended PC Specs
Both the minimum and recommended PC specs for Battlefield 2042 have been revealed by EA, and this is what they look like:
| | | |
| --- | --- | --- |
| | Minimum Specs | Recommended Specs |
| Operating System | 64-bit Windows 10 | 64-bit Windows 10 |
| Processor (Intel) | Core i5 6600K | Core i7 4790 |
| Processor (AMD) | AMD FX-8350 | AMD Ryzen 5 3600 |
| Memory | 8GB | 16GB |
| Video Memory | 4GB | 8GB |
| GPU (Nvidia) | Nvidia GeForce GTX 1050 Ti | Nvidia GeForce RTX 2060 |
| GPU (AMD) | AMD Radeon RX 560 | AMD Radeon RX 5600 XT |
| DirectX | 12 | 12 |
Trailers and Gameplay
Battlefield 2042 now has both cinematic and gameplay trailers released, with the latter being revealed at the recent Microsoft and Bethesda showcase at E3. Along with showcasing some incredible new gameplay, the cinematic trailer also paid homage to a multitude of famous stunts originally performed by players around the world. Check them both out below.
Battlefield Portal
Since the release of these two trailers, EA DICE has also revealed one of the new features in Battlefield 2042 known as Battlefield Portal. In short, this is a community-driven platform that gives players a way to create, share and play custom Battlefield game modes.
Watch the reveal trailer below.
Exodus Short Film
With Battlefield 2042 not including a single-player campaign, developers EA DICE have instead released a short film. Titled Exodus, the short sets up the events that will lead to players fighting for supremacy in its massive online battles.
The YouTube description reads: "Witness the events that will trigger an all-out war in this standalone short film set in the World of 2042."
Check out the short film below.
The biggest changes coming to Battlefield 2042
In hopes of regaining the fans who were disappointed with their previous release – Battlefield V – EA DICE has brought a plethora of changes to this game. These include:
The max player count being increased to 128 players (64 on each team) on current-gen consoles and PC
No single player campaign
No battle royale mode
Classes have been replaced by Specialists – Specialists are named hero characters that have one unique gadget and trait, but the rest of their loadout is fully customizable.
The Specialists – Who and What Are They?
Now that both the early and open betas have come and gone, the waiting process for the full game to release has started. To keep interests up, however, EA has released the full line-up of Specialists that will be playable at launch.
Each specialist comes with their own unique gadget and a passive trait that can't be changed, but the flexibility in playstyle comes in the form of completely customisable weapon loadouts. No matter who you choose to play as, you will always have access to every weapon you have unlocked.
With there no longer being restrictions on what weapons you can bring to the battlefield, players can fully customise their:
Primary Weapon
Equipment (items anyone can use such as a Medical Crate or Supply Crate)
Secondary Weapon
Throwable (such as Frag or Incendiary Grenade)
So far, the specialities revealed take the form of:
a Syrette Pistol which fires a healing syringe when shot at teammates, but does damage when shot at enemies
a Grappling Hook that attaches to surfaces and pulls the player to the attach point
an SG-36 Sentry System that automatically engages with enemy targets detected within a certain area
an OV-P Recon Drone used to pinpoint nearby targets and disorient them using EMP blasts
a Fortification System which includes a Deployable Cover to protect from bullets and explosives, and a Shootdown Sentinel to take down explosive projectiles
a Cyber Warfare Suite which can scramble enemy vehicle systems, disable Rangers, or trigger base defences from a distance
a SOB-8 Ballistic Shield which can be used as a battering ram, protection from incoming fire and for closing the gap on enemies
Smart Explosives which include scatter grenades and micro-drones
a Loadout Crate which provides the whole squad with armor and ammo, plus allows for the swapping of loadouts
an EMG-X Scanner which makes enemies visible, even through walls
Alongside this, the traits currently revealed include:
Nimble which allows players to move faster while aiming down sights
Combat Surgeon which allows players to return downed allies to combat with full health when reviving
Sentry Operator which gives the player a visual indicator when the sentry gun locks on to the enemy
Movement Sensor which alerts the player to approaching enemies (even when using the Recon Drone)
Veteran which provides armor, with additional bonuses from downed enemies
Trojan Network which allows players to hack into enemy systems for valuable intel
Blast Resistant which adds extra resilience to explosive damage
Wingsuit Operator which deploys a wingsuit rather than a parachute, allowing players to traverse through the air with added stealth and speed
Trauma Specialist which allows or any ally to be revived with a bonus to their armor health
Threat Perception which highlights enemy locations upon taking damage
Specialist Skins
EA has also confirmed that the maximum squad size in Battlefield 2042 is 4 players. However, in the Conquest and Breakthrough multiplayer modes, squads can consist of more than one of the same Specialist. To help each specialist stand out on the battlefield, EA will also be providing a range of skins that can make even the same two specialists look vastly different from one another.
Here is a look at the fully announced roster of specialists:
Webster MacKay
Birthplace: Canada
Class: Assault
Specialty: Grappling Hook
Trait: Nimble
Maria Falck
Birthplace: Germany
Class: Support
Specialty: Syrette Pistol
Trait: Combat Surgeon
Pyotr "Borris" Guskovsky
Birthplace: Russia
Class: Engineer
Specialty: SG-36 Sentry System
Trait: Sentry Operator
Wikus "Casper" Van Daele
Birthplace: South Africa
Class: Recon
Specialty: OV-P Recon Drone
Trait: Movement Sensor
Kimble "Irish" Graves
Birthplace: USA
Class: Engineer
Specialty: Fortification System
Trait: Veteran
Navin Rao
Birthplace: India
Class: Recon
Specialty: Cyber Warfare Suite
Trait: Trojan Network
Santiago "Dozer" Espinoza
Birthplace: Mexico
Class: Assault
Specialty: SOB-8 Ballistic Shield
Trait: Blast Resistant
Emma "Sundance" Rosier
Birthplace: France
Class: Assault
Specialty: Smart Explosives
Trait: Wingsuit
Constantin "Angel" Anghel
Birthplace: Romania
Class: Support
Specialty: Loadout Crate
Trait: Trauma Specialist
Ji-Soo Paik
Birthplace: South Korea
Class: Recon
Specialty: EMG-X Scanner
Trait: Threat Perception
Battlefield 2042 Game Modes
Battlefield 2042 is set to have 3 different multiplayer game modes to choose from, but as mentioned previously, battle royale is not one of them. The game also doesn't have a single-player campaign, however, you do have the option to play matches against bots if the stress of playing against real people makes your palms too sweaty.
EA DICE have created these new modes to allow players to "discover new innovative experiences", and play at an "unprecedented scale that adds a new dimension to multiplayer battles", as explained on their website.
All-Out Warfare
All-Out Warfare is the mode EA DICE are using to encompass the 2 standard multiplayer modes found in other games in the series: Conquest and Breakthrough. However, this time they have been revamped as "next-generation fan favourites."
This mode features huge 128-player maps (on PC and PS5) that are filled with dynamic weather events like raging tornados, plus all of the regular sandbox destruction fans of previous games will love.
Conquest is the point-capture style mode of Battlefield 2042 and will see players engaging in chaotic combat across a vast map that has been specifically broken into various sectors. Each sector will be home to multiple capture points, or flags, instead of individual control points. According to EA DICE, this will result in the maps filling up "with even more battles happening concurrently during a match."
Breakthrough, on the other hand, consists of larger attack-and-defend battles across bigger sectors of the map as the Attackers push towards the final objective. With each sector housing more players at once, players will have to be strategic with their combat choices and utilise the environment around them in order to get the advantage.
Hazard Zone
EA DICE have labelled Hazard Zone as an "all-new, high-stakes, squad-based game type that is a modern take on the multiplayer experience." They haven't said much more as of yet, but have said it is "very different from the modes of All-Out Warfare." From what we know so far, it sounds like it might take some inspiration from Escape From Tarkov's high-intensity and high-stakes gameplay.
Battlefield Portal
As mentioned previously, Battlefield Portal is a community-driven platform that gives players a way to create, share and play custom Battlefield game modes.
However, it doesn't just restrict itself to features from Battlefield 2042; it includes elements like weapons and maps from previous games in the series including Battlefield 1942, Battlefield Bad Company 2, and Battlefield 3. This gives players the power to concoct a custom mishmash of gameplay elements that they can then subject both their friends and the public to.
The Maps of Battlefield 2042
Currently, EA DICE have revealed 7 maps for its All-Out Warfare mode. Due to their 128-player size, they have been broken up into multiple distinct combat areas called Sectors, with each sector containing multiple objectives which EA DICE have called "Clustering."
EA DICE explained that this clustering of objectives has been introduced "to create deliberate areas of activity and capture areas for players to engage with." Ultimately, this works to create a higher intensity fight within each sector.
The sectors have also been designed in such a way that in order to be fully captured, the team must capture and control all of its multitude of flags. By doing so, gameplay should be more streamlined as "only when the full Sector has fallen do you make the decision on where to go next. This reduces the back and forth running between flags and puts focus on the Sector itself."
It has also been confirmed that the different game modes will utilise different sections of each map. So the areas you play on Conquest won't always be the same areas you play on Breakthrough, for example. In the words of EA, this is to "bring more variety of experiences" to the game as a whole.
Let's take a deeper look at Battlefield 2042's seven launch maps:
Orbital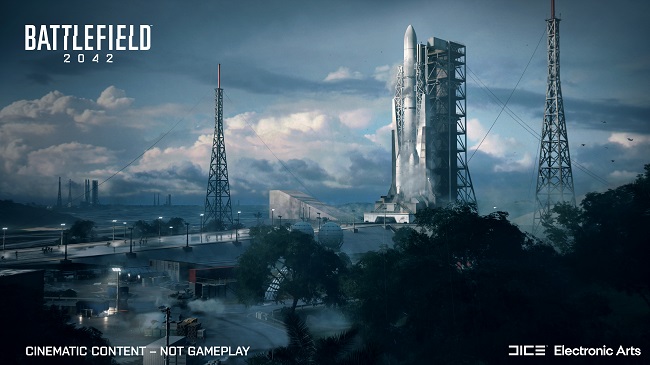 Set in Kourou, French Guiana. This map is centered around the site of an imminent rocket launch, with players fighting each other and racing against time.
Hourglass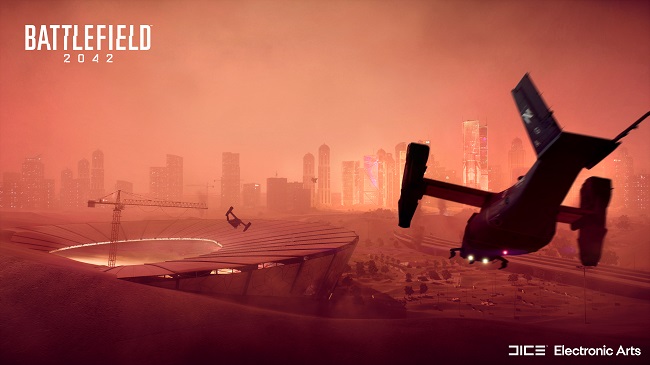 Set in Doha, Qatar. This map sees players fighting for control of a convoy lost amongst sandstorms and a city that has been buried by desertification. Natural light and clean air are hard to come by here.
Kaleidoscope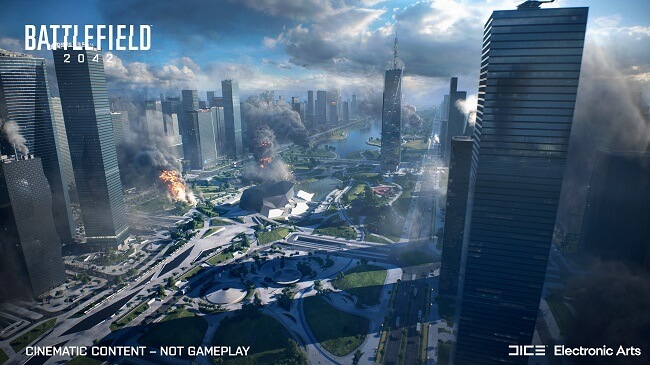 Set in Songdo, South Korea. Players will spend their time on this map ziplining between skyscrapers and fighting among the plazas surrounding the city's iconic data centre.
Manifest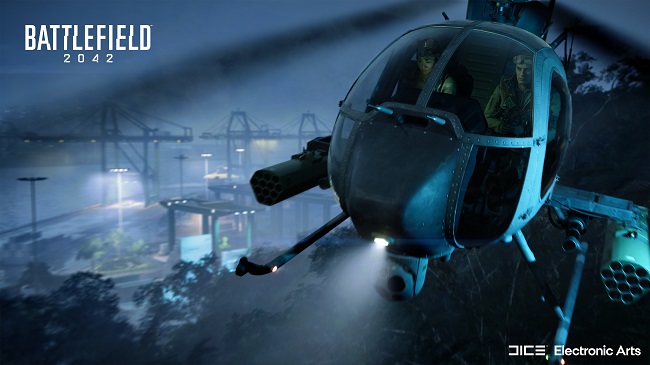 Set in Brani Island, Singapore. This map features a maze-like cargo container yard that is being lashed by tropical storms, as teams fight to regain control over a key trade location that is vital to American supply lines.
Discarded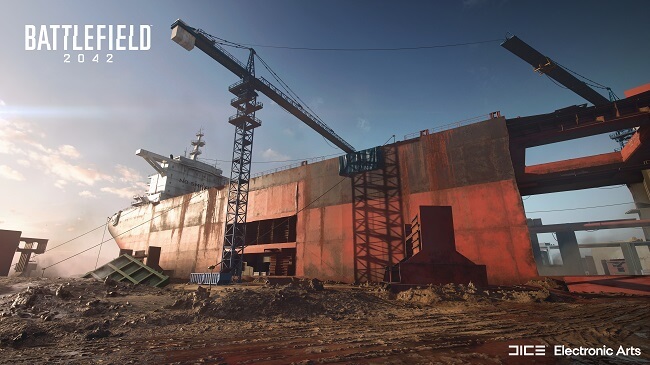 Set in Alang, India. This map sees players fighting amongst colossal ships stranded along the west coast of India after losing their battle with deadly storms and fluctuating tides.
Breakaway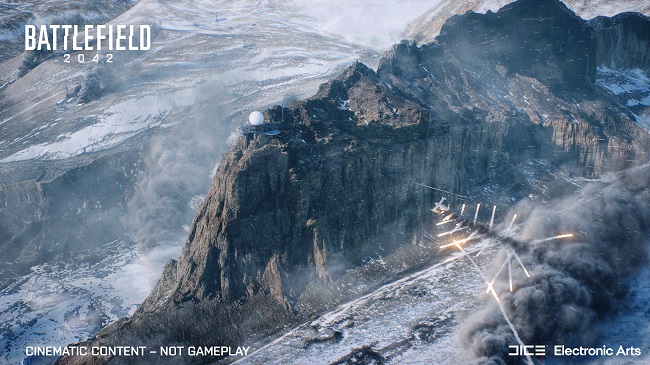 Set in Queen Maud Land, Antarctica. Breakaway drops players into the harsh Antarctic landscape, but it won't stay cold for long; oil extraction has turned the freezing area into a strategic hot spot. Players can use the environment to their advantage, as blowing up silos and fuel tanks creates permanent damage and raging fires.
Renewal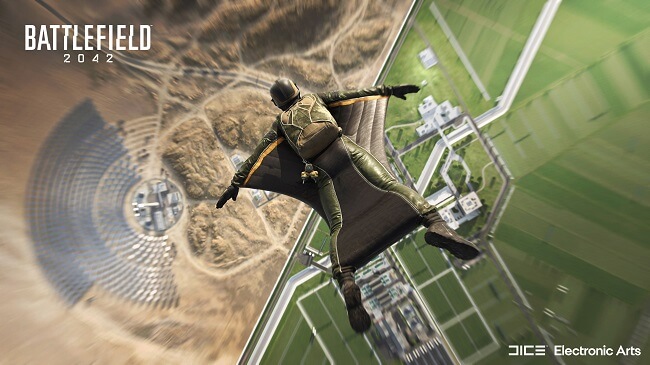 Set in Eastern Desert, Egypt. This map sees players battling it out for access to a lush agricultural technology centre in the middle of the Egyptian Desert. It features two distinct halves: one lush and habitable and the other a barren desert.
Vehicles and Weapons
Vehicles are yet another feature that will play a big role in this game, with EA explaining that they will be "more easily available and more squad focused than ever before." Players will have access to tanks, fighter jets, helicopters and even naval-oriented hovercrafts. However, EA has said that there "isn't a focus on naval specific warfare right now".
Like in previous Battlefield games, you will still be able to spawn directly into vehicles from the deploy screen, however, this time they have also added a call-in system. Accessed via a tablet interface in-game, this call-in system can be used by any specialist to deploy a vehicle when and where they are needed, but it does depend on the map and mode being played.
There are some limitations to this system, though. For example, there is a cooldown timer in place so that the feature can't be spammed and the map overrun with vehicles. Plus, each team has access to a specific budget, so vehicle call-ins will need to be strategic in order to maximise the team's funds.
Each faction will also get its own faction-specific vehicles, with the Russian side getting to play with the T28 tank versus the M1A5 tank on the US side.
Ranger the Robot Dog
Alongside this, the trailers also revealed Ranger, the armoured robot dog, that can both follow you or scout ahead for enemy whereabouts. If you find yourself in a tough situation, you can also give the self-destruct command (but we think we'll leave that for emergencies only because no one wants to see the dog die, even if it is a robot…).
EA DICE also confirmed that Ranger is not a Specialty or Trait and so is not limited to certain specialists. Every player has access to the robot companion through the call-in system, with the only restrictions being the number of Rangers currently in play and your teams budget.
Will Battlefield 2042 Support Nvidia Relfex and DLSS?
It has been confirmed that Battlefield 2042 will support both Nvidia Reflex and DLSS technology.
DLSS (Deep Learning Super Sampling) is a multi-step process, that involves artificial intelligence and machine learning to upscale lower resolution images. Essentially, it allows you to play games at higher resolutions without experiencing the performance hit of running it natively.
This could be put to excellent use in Battlefield 2042, allowing the graphics to be enjoyed in full whilst also keeping the game running as smooth as possible.
Nvidia Reflex technology will also help in boosting performance by reducing system latency, enabling you to be more accurate on the battlefield. Keyboard presses and mouse clicks will be registered significantly faster, providing a much more responsive game.
Pre-launch Plans
If you are desperate to play Battlefield 2042 ahead of its release then you are in luck. EA has confirmed that they will be doing a technical playtest and open beta later this Summer (likely around August/September).
A few thousand lucky players will get the opportunity to try out a "development-led" portion of the game that will showcase a subset of its core features for technical evaluation. Most notably, it will be for testing the game's cross-play functionality.
To become a participant in the technical playtest, you have to create an EA Playtesting profile. However, there is no guarantee you will be selected to take part as it is a highly controlled operation under a very strict NDA.
If you want to join the playtest but are worried that your PC might not be up to scratch, get in contact with our excellent sales and support team and they can take you through our range of high-performance gaming PCs.
Shop for a Battlefield 2042 Gaming PC Now!
Browse our range of dedicated Battlefield 2042 gaming PCs and get a copy of the game (plus in-game items) when you purchase a system with an Nvidia RTX 3070 GPU or higher.