We all know that the Nvidia RTX 30 series GPUs are some of the best graphics cards available for gaming. They're packed with amazing features such as Ray Tracing, DLSS 2.0, substantial amounts of VRAM and, of course, G-Sync for buttery-smooth frame rates with a compatible monitor.
But did you know that alongside this there are many added features that may also improve the day-to-day activities on your PC, outside of gaming?
In this article we will cover some of the lesser-known features as well as some niche ones, offering a brief overview of what they do and what they offer to you as a user. For each feature we will cover four main questions:
1. What does this feature do?
2. What benefits does it offer?
3. Is it available on older GPUs or Laptops?
4. What do I need to utilise the feature?
But first, in case anyone was unsure, we will discuss what RTX 30 series GPUs are and what cards are available.
What is an Nvidia RTX 30 series GPU?
RTX 30 series GPUs are the latest mainstream offerings from Nvidia. They're built on the success of the earlier RTX 20 series GPUs by firstly improving on the hardware and offering significant performance boosts (as seen in the chart below), while also offering improvements on most of the key features of the series, for example:
– DLSS 1.0 was disappointing in most games. Support was non-existent and where it was supported, it was mediocre compared to existing techniques. DLSS 2.0 on the other hand offers great improvements over its earlier incarnation, even on older GPUs.
– Ray Tracing, while available on the lower-end RTX 20 series cards was, again at best, passable in many games and required a high-end card to make the most of it. Now, even on the lowest entry GPUs, you can enjoy all the visual glory of Ray Tracing.
These performance gains shine across the board of all the new GPUs, with the largest leaps on the higher-end GPUs. Add this on top of the amazing G-Sync and gone are the days of your PC outperforming your monitor with its visual tearing or blurry images, to crisp, sharp, and beautiful gaming as the game designers intended.
Nvidia GPU Performance comparison: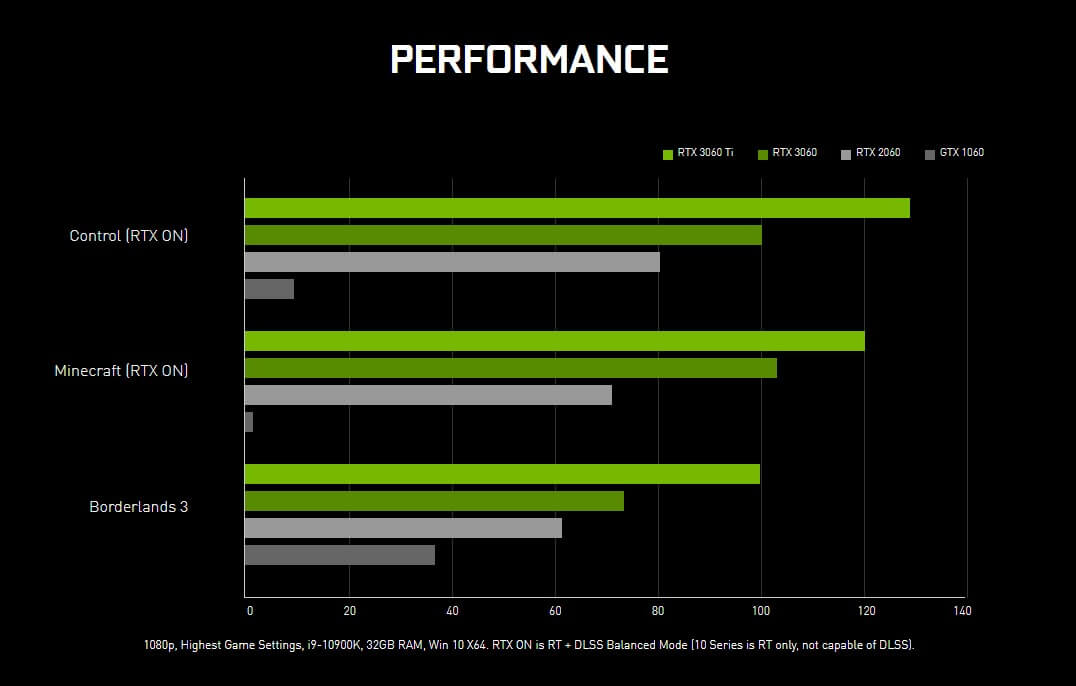 Now you know what an RTX 30 Series GPU is and some of the features it offers you as a gamer, let's start looking at some of the other lesser-known features.
First up we'll cover video-related features that Nvidia have branded under the umbrella name of Nvidia Studio – Nvenc & Nvidia Broadcast.
Nvenc
What does Nvidia Nvenc do?
Nvencoder or Nvenc for short, is a video encoder that offloads the workload of rendering files from your CPU to the GPU. This allows your CPU to carry on with its normal job of running and managing your PC, while your powerful GPU gets to work rendering your award-winning content.
What benefits does Nvenc offer?
Nvenc helps to improve the efficiency of your machine. It uses the hardware specifically designed to handle graphical-related data to process these operations. This frees up your CPU to allow you to carry on using your machine while your render is processed. Additionally, it allows you to game and stream at the same time from the same machine. This is because Nvenc is also supported on many live stream applications like OBS, meaning better visuals for you and your audience.
Also, with your GPU handling your render jobs, it can utilise its large amount of VRAM to display more demanding stream effects and overlays making your stream unique and visually stunning.
Is Nvenc available on older GPUs or Laptops?
While Nvenc is certainly not new (its first iteration appeared on the 700 series GPUs), it has come a long way in the past few years with the evolution of graphics hardware.
The difference in Nvenc between the 20 series and 30 series GPUs is mostly minor. Although, it's far more powerful in the hands of a 30 series GPU than the version that is available on older generations.
Nvenc is a feature you find on all RTX laptops, providing you with that fantastic video editing power on the go.
What do I need to use Nvidia Nvenc?
Accessing this feature is simple, as it is a setting available in many of the applications that take advantage of it; Adobe Premiere, Davinci Resolve or OBS to name a few. To use Nvenc, you may have to select the Nvenc option in settings if it's not selected by default. So, if you already have an Nvenc compatible card, you may already be using this fantastic feature.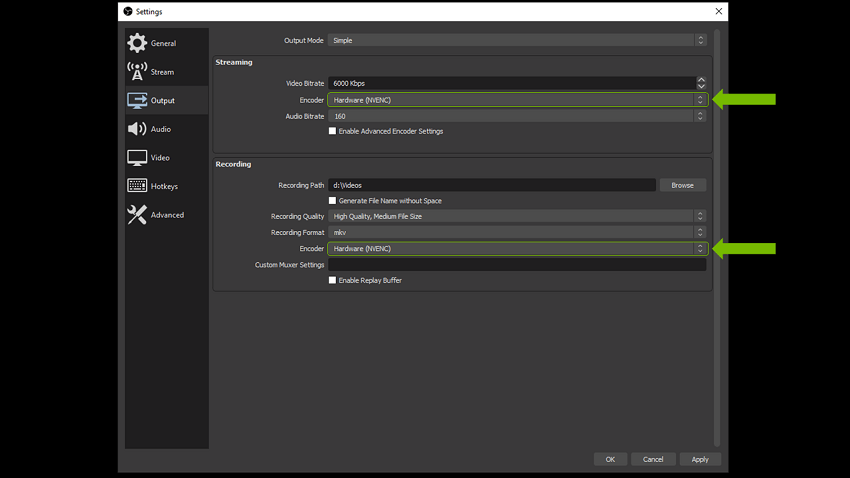 Nvidia Broadcast
What does Nvidia Broadcast do?
Nvidia broadcast is an incredibly powerful tool and has many applications. Using the AI cores specifically found on the RTX series of GPUs it, in Nvidia's words, "transforms any room into a home studio and takes your live streams, voice chats, and video conference calls to the next level."
What benefits does Nvidia Broadcast offer?
There's a raft of benefits this application offers to a vast number of people who probably don't even know it exists. This is partly because the marketing is focused towards streamers, but it's hugely helpful to anyone that works remotely or uses video calls regularly with clients.
Using some AI wizardry, this application can do the following:
– Microphone noise removal:
Not just your standard noise reduction – noise removal! That's right- all unwanted noise from your microphone is removed, even while you are chatting. This does not affect your voice quality either and it's honestly magic. Check out the clip below.
– Speaker noise removal:
Not only can the above wizardry be applied to your microphone, but it can also be applied to the audio received from whoever you are talking to. So, no more clicking keyboards distracting from your conversation, or annoying background noise you must put up with while chatting to your friends. The AI tech of the RTX GPUs is really put to astonishing use in these tools.
– Background removal:
Ever felt embarrassed by what is on show behind you on a video call? Or simply want a little bit of privacy? Or maybe you even want to portray that you're somewhere else while making a call? Well with Broadcast this is certainly another trick up this application's sleeve.
With the background tool, once again exploiting the AI cores, you can do all this. You can blur the background, replace it with a still image or mp4 video, or even remove it altogether, giving you a green screen effect without needing a green screen.
Honestly, this must be one of my favourite features of the RTX GPUs and I use it daily when talking with colleagues and friends alike. You can see more in this demo from Nvidia:
Is Nvidia Broadcast available on older GPUs or Laptops?
As this application uses the AI cores you can only find on RTX GPUs you will need at least a 20 series GPU. It's also a feature you can access on all RTX laptops, meaning you can chat on the go, cutting out background noise and distractions.
What do I need to use Nvidia Broadcast?
This feature of the RTX GPUs is accessible via a downloadable application you can access for free yourself here.
Next up we have a couple of features that Nvidia have developed to help with Game development as well as other fields – Omniverse & Nvidia Reflex.
Omniverse
What does Nvidia Omniverse do?
In Nvidia's words:
"Omniverse is a scalable, multi-GPU real-time reference development platform for 3D simulation and design collaboration, and based on Pixar's Universal Scene Description and NVIDIA RTX technology."
In simpler terms, this is a suite of tools for creating, sharing and collaborating in real-time on visually stunning projects ranging from game development to movie CGI.
What benefits does Omniverse offer?
The benefits of this workflow are massive for many applications mentioned previously. One of the coolest benefits touted by Omniverse is being able to link your existing workflows or applications to the suite, for example, the 3D modelling software, Maya.
With this linked, any updates you make in the Maya application are automatically translated into the scene in the corresponding Omniverse app. Meaning no longer do you have to constantly flick back and forth between applications, whilst editing, exporting, or ensuring file type compatibility. Omniverse does it all for you.
For any budding animators, there are also incredible tools available in the Omniverse, like the Machinima app. The app supplies all the tools you need to make exciting animations within hours instead of days. One interesting feature of this app is the AI wizardry which can take audio files and automatically animate your character's faces for you. Imagine how many hours you would spend synchronising that manually.
In addition to these amazing features, throw in collaborative workflows and it's hard to see how this tool suite could get any better.
Is Omniverse available on older GPUs or Laptops?
To access this amazing tool set you need a supported Ampere GPU and an i7/Ryzen 7 CPU. An RTX 3070 or above is recommended or the corresponding A series GPU.
What do I need to use Nvidia Omniverse?
Along with the above hardware requirements, you can download Omniverse here for free.
There are paid versions of some of these applications, but Nvidia is keen to support small creators by offering free versions or trials where applicable.
Reflex
What does Nvidia Reflex do?
Nvidia Reflex is the latest in their efforts to ensure an even playing field in competitive FPS shooters. It is an SDK (Software Development Kit) aimed at developers to help reduce system latency by offering tools to help optimise frame rendering and removing render queues altogether.
What benefits does Reflex offer?
While this is a tool aimed at developers, as gamers this feature is incredibly interesting to us too. As more developers start to use this tool, it means that within an increasing number of games, we are less likely to get beaten by someone who has a faster system than us with that all-important 'peekers advantage'.
Nvidia Reflex aims to help level the playing field, not by slowing their system down, but by optimising your favourite games for your own system.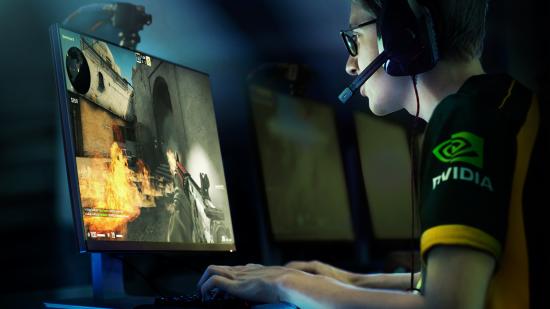 Is Reflex available on older GPUs or Laptops?
Nvidia Reflex is a system supported on all Nvidia GPUs going back to the 900 series. So, it is more than likely your PC will support this feature as it becomes more widely used.
What do I need to use Nvidia Reflex?
To use this feature, you need a few things:
– A supported GPU – anything from the 900 series or newer
– A game this feature is available in, see the link below
– A compatible high refresh monitor, see the link below
Last up is a little fun one for all of you that have made it this far into this article.
Canvas
What does Nvidia Canvas do?
Ever followed along with a Bob Ross tutorial and struggled with accepting your final results? Does your artwork look more scribbles-age-3-in-crayon than Monet? Well, this fun little feature may be for you. With Canvas, you can take a crudely drawn image and turn it into a beautiful landscape, with varying degrees of success.
Once again using the AI cores of your RTX GPU, you can create landscape images of places that do not exist, or maybe real ones depending on how good you are and how patient you can be.
What benefits does Canvas offer?
In all honesty, there aren't many benefits that come to mind for this one, outside of spending some time painting a happy little bush, or scenic beaches. Relaxing after an exhausting day of gaming is certainly difficult sometimes, so maybe this is the perfect palette cleanser after too many defeats in Valorant or Apex Legends.
Is Canvas available on older GPUs or Laptops?
Nvidia Canvas uses those magic RTX AI cores to impersonate Thomas Cole, so this will only be accessible on new RTX GPUs, and laptops fitted with them.
What do I need to use Nvidia Canvas?
As well as a compatible RTX GPU you will need to ensure you have the latest drivers and download the beta from the link below. Once installed you can get painting straight away, who knows you may become the next Vincent Van Gogh!
The RTX 30 series GPUs are an amazing powerhouse for many reasons as seen in this article. There are also many more notable features available on these GPUs, more than we can cover in a single article. Nvidia keeps pushing boundaries on performance, as well as reducing workloads for creatives all around the world. Entertainment has never looked so beautiful as it has using the power of an Nvidia RTX GPU.
If you have any questions about these (or any other features), be sure to ask us when you buy your next Chillblast machine.